Once Upon A Time…in Hollywood, the ninth film from Quentin Tarantino, is a picture-perfect tribute to the end of Hollywood's Golden Age, as it transitioned into the hippie, flower-power culture of the 70s. A lost period that has sashayed its way back into public consciousness with nostalgia-tinged films like La La Land, and music from artists like Lana Del Rey. Amid plans to reopen the legendary Formosa Cafe, and commemorating the 50th anniversary of Woodstock 1969, now might be a good time to rediscover these bygone landmarks.
Harken back to a time of alluring romantic atmospheres, soft lighting and dashing one-liners that swept women off their feet and made men weak at the knees. But Tinseltown also possesses a darkness and shadowy glamour of its own. Check out these places and savour both sides of this bygone era.
Casa Vega
This 63-year-old Mexican restaurant in Los Angeles' Sherman Oaks neighbourhood has had the most prominent stars walk through its doors. Located nearby to big-name studios, stars like Marlon Brando and Jane Fonda would come to enjoy the authentic Mexican cuisine. With its neon signboard and golden ceiling lights illuminating maroon tablecloths and furnishings, you'll enjoy your meal with equal helpings of retro and glamour.
Musso & Frank Grill
This steakhouse institution on Hollywood Boulevard has wined and dined the who's who of Hollywood for ages. Stars including Marilyn Monroe and Humphrey Bogart have indulged in the filet mignon and guzzled down martinis within the oak-brown walls. Here, you'll receive the celebrity treatment coupled with friendly service like you're family.
Electric Dusk Drive-In
You've seen it in countless films. The couple shares an intimate moment while a movie plays under a starry sky. You'll have your own retro experience at this drive-in theatre in Downtown Los Angeles. Spend an evening enjoying cinematic magic outdoors, together with exceptional offerings from the snack shack. The drive-in's social setting makes you comfortable, whether from the privacy of your vehicle, or sitting on the roof.
Regency Bruin Theatre
With its iconic curved marquee design, this long-standing member of Broxton Avenue has made appearances in films across the Hollywood canon, from 1957's The Young Strangers to 1980's American Gigolo. It's draped interiors and well-worn seats have hosted casual moviegoers and celebrities alike, and still only screens a single film at a time. It remains an ideal movie premiere venue to this day and deservedly gets a feature in Tarantino's film.
Grauman's Egyptian Theatre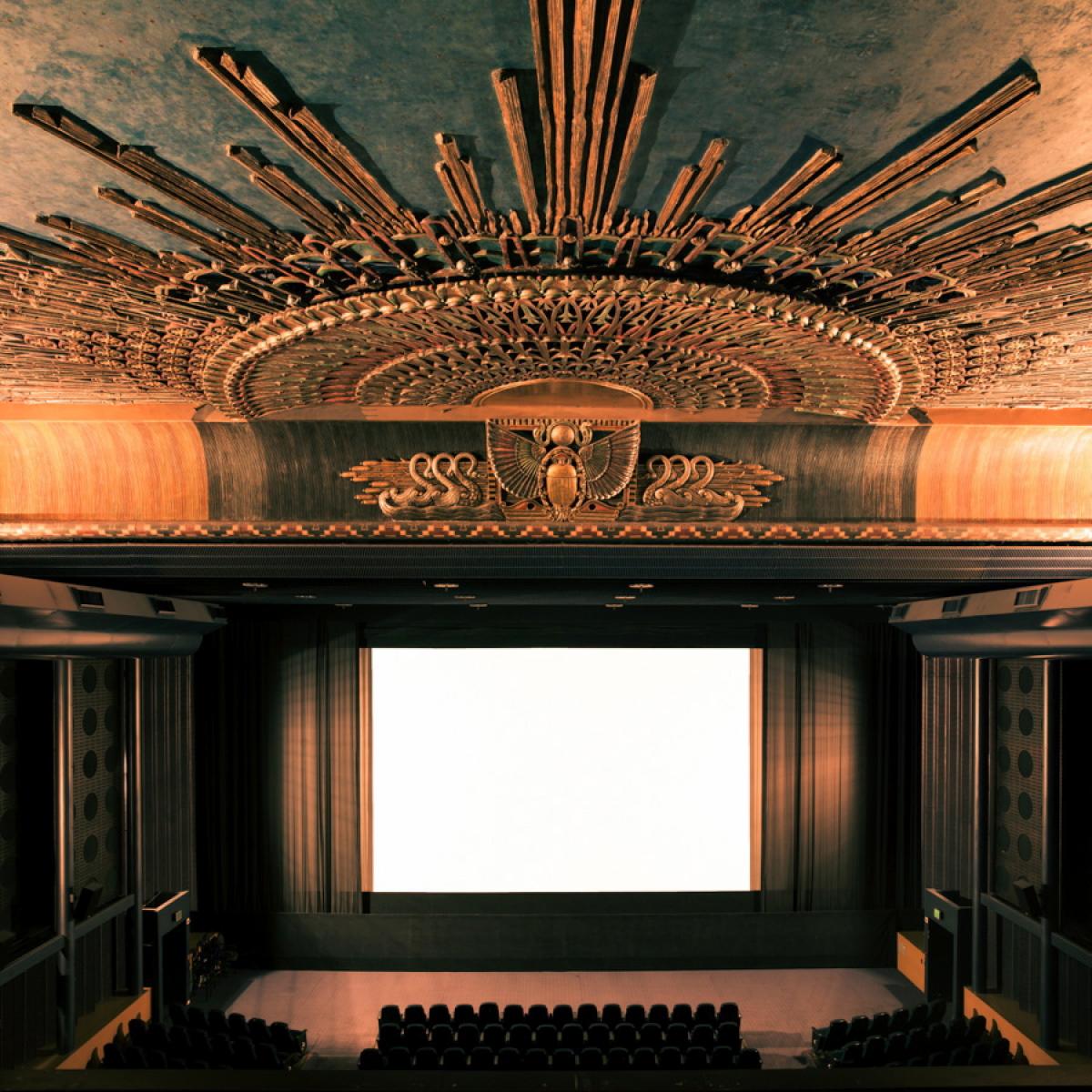 Hollywood also had a wealth of opulent cinema venues, and the Egyptian Theatre on Hollywood Boulevard is a revered presence on the list. With a forecourt showcasing Egyptian Revival columns, and a sun-inspired ceiling fresco, the massive auditorium held the first movie premiere in 1922 for Robin Hood. Now owned by the American Cinematheque film archive, you can catch a black-and-white film like movie stars of old.
Whisky a Go Go
With Parisian-styled decor, this discotheque rode the go-go dance craze and rose in prominence before becoming a launchpad for iconic artists in the 70s, including The Byrds and The Doors. This legendary institution was inducted into the Rock and Roll Hall of Fame in 2006 for its invaluable contributions to music, and inspiring rock clubs the world over. As movie stars and musicians mingled with adoring fans and go-go girls, debaucherous parties were a nightly affair.
Rainbow Bar and Grill
As the 70s roared towards its colourful peak, this bar and restaurant in the Sunset Strip was established in 1972, continuing the location's reputation for attracting cultural icons. Previously the site of the Villa Nova, a famous hangout for Golden Age actors including Judy Garland, the Rainbow became a second home for the collection of legendary musicians known as the "Hollywood Vampires". As you situate yourself in a red leather booth, you can't help but imagine the shenanigans that went down within these walls.
Drawing Room Bar
Cash-only and open from 6 a.m. to 2 a.m. Enough said. The full spectrum of Hollywood's characters has traipsed into the red hues of this dive bar in Los Feliz since its inception. From secret rendezvous to alcohol-fuelled drunken solitude, the generous pours and dim lighting have been as ever-present as its classic jukebox. With a drink in hand and conversation-starters in your pocket, you never know who you might rub shoulders with at the Drawing Room.
Chateau Marmont Hotel
Nothing defines Old Hollywood like the ambience of this gothic landmark in Sunset Boulevard. Housing guests including Sharon Tate and Roman Polanski within its posh interiors, celebrities have resided here for respite and mischief in equal measure. From John Bonham's motorcycle ride through the lobby to drug-fuelled orgies, few places have witnessed these obscenities of fame and fortune. Strict rules have been enforced by management since, but you can still spend the night and imagine the lurid details.
The Hollywood Roosevelt Hotel
Looking through the suites of this luxury hotel, along the Hollywood Walk of Fame, gives you a sense of the titans of cinema who used to frequent this establishment. In operation since 1927, its three-tiered fountain, and mural adorning the bottom of the Tropicana Pool, are but a fraction of the lavish extravagances to be found amongst the Spanish-inspired architecture and palm trees. Nothing but the best for Hollywood's elite.
Case Study House #22
Also known as the Stahl House, this expression of the dream home is an ideal venue for swanky parties and Hollywood gatherings. With its modernist facades overlooking a stunning panorama of Los Angeles, it has been featured in countless photo shoots, music videos, and films. As you look out into the golden-hour twilight hues from the living room, you'll start feeling like a star.
To bookend your nostalgic exploration, take a walk under the canopy of billboards of the famous Hollywood Boulevard and Sunset Strip. It might be a long way from its heyday, but Hollywood's panache and glamour linger amid the boutiques, clubs and restaurants. In its Golden Age, this giant of cinema was more than an industry. Tarantino saw it and closed down the Boulevard to shoot this latest film. The hitchhikers and gangsters might no longer roam freely, but look a little closer. You might find a slice of Old Hollywood hidden in a corner store or speakeasy.