This article is has been reviewed by the Wego's editorial team to ensure that the content is up to date & accurate.
UAE residents are in for a treat. Come December, a five-day holiday will grace the calendar courtesy of the Commemoration Day and the UAE National Day followed by the weekend. UAE residents will no doubt take full advantage of this extended downtime and have themselves some serious fun.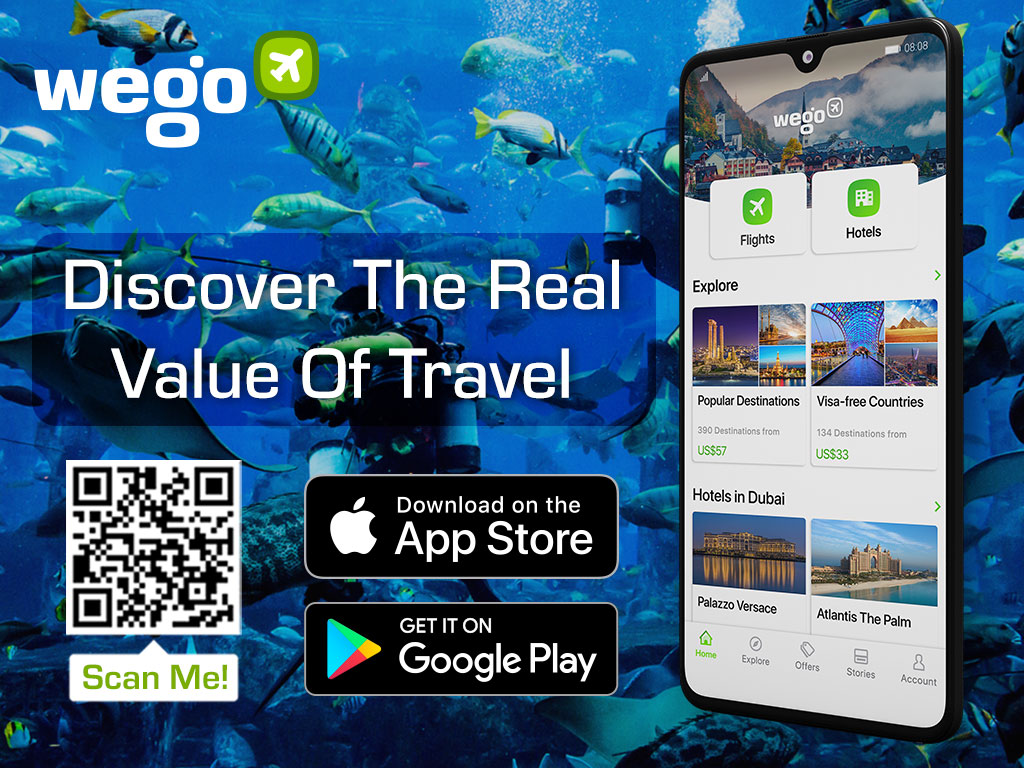 Here are our recommendations of the top 25 things to do for your 5 day weekend holiday in UAE.
Hit the beach in Dubai!
Of course we'd have beaches on our list of recommendations, Dubai is known for its numerous impeccable beaches after all. While it's a no-brainer to hit the beach during the holidays, please do mind the weather while basking in the sun, as the desert heat really does pack a punch. Get ready for a dose of vitamin Sea at some of Dubai's most prominent beaches.
Kite Beach
You'll find Kite Beach ideal if you're looking to engage in some water sporting activities. Water skiing and kayaking appeal to those looking to challenge the winds and the waves, beach volleyball enthusiasts and joggers are also often spotted here. Food trucks peddling food and drinks are available near the beach.
JBR Beach and The Walk
JBR Beach is located opposite The Walk boasting a wonderful collection of cafes offering refreshing beverages and delicious meals. This family-friendly beach area is easily accessible and offers an elegant Arabian setting with modern conveniences.
La Mer Beach
La Mer Beach offers a wide range of facilities such as restaurants, cafes and eye-catching boutiques complemented by an outdoor trampoline park. You can partake in a wide range of water sports namely jet skiing and kayaking.
Dubai Ladies Club
This ladies-only beach provides a safe haven for women looking to fully enjoy themselves at the beach away from prying eyes. The beach club is open daily from 7 AM to 10 PM with a membership system in place for women and children only. Spa treatments and art galleries are among the available facilities.
Jumeirah Beach
This white sand beachfront is considered the best tourist beach due to the presence of shopping complexes, luxury hotels and resorts in its immediate vicinity. Among said items are the Madinat Jumeirah, Burj Al Arab Hotel, Wild Wadi Waterpark and Jumeirah Beach Hotel. Available activities include surfing, paragliding and sea excursions.
Adrenaline-filled fun
This holiday, get out of your comfort zone for some adrenaline-inducing activities! From skydiving to desert safari, we've curated some of the best adventure activities perfect for the young and the young at heart!
Jump off a plane
If you've yet to try your hands at skydiving, the coming holiday provides the perfect opportunity to do just that. Jump from an altitude of 13,000 feet at either the Palm or the Desert dropzone.
Skydive Dubai provides an exhilarating but safe experience as you free fall at just under 200 kilometers per hour! The free fall lasts for about 60 seconds followed by a 5 minute gentle descent as your parachute is deployed. As an added service, Skydive Dubai provides full video documentation of your eye-opening experience.
Desert Safari
Dubai desert safari is one of those activities offering numerous approaches. You can choose to hop on a camel and let your mind enter a state of contemplation or you can take control of 4×4 SUV and power your way across the desert. You can also opt to spend the night under the desert stars and enjoy Bedouin cuisine and hospitality. Either way, the desert offers a warm welcome for you and your family.
Leap off and swing through Dubai Marina
Experience Dubai Marina through the eyes of a thrill-seeker by whizzing down the world's longest urban zipline spanning almost a kilometer long (800 meters). With the height of the launch platform at 558 feet, gravity will propel you to a maximum speed of 60 kilometers per hour as you glide down from the Amwaj Towers to Dubai Marina Mall.
Skiing in the snow
Skiing amidst the inhospitable desert of Dubai is a novelty that simply refuses wear off. Ski Dubai is spread over a total area of 22,500 square meters and is one of the best indoor resorts in Dubai. With the entirety of the spacious resort covered in snow, visitors are invited to master the basics of skiing through a variety of challenging slopes. Penguins and other winter animals can also be observed in the resort. Be sure to wear appropriate clothing as it gets really cold in there.
Discover the fundamentals of Polo
Polo is regarded as the sport of kings as it involves riding the famous Arabian thoroughbred among other things. Admittance into the world of Dubai's prestigious equestrian can only be attained by familiarizing oneself with the fundamentals of the sport. Man and beast are required to forge a kinship in order to overcome the opposing team.
Shop at Dubai's glitzy malls
Characterized by its range of world-class malls, it's no exaggeration to state that Dubai offers the world's best shopping experience. The extended holiday allows UAE residents to fully explore all the famous international brands being offered by the myriad of available stores. Of course, restaurants, cinemas and entertainment venues are also being featured here. The following are some of Dubai's most renowned shopping malls.
The Dubai Mall
Located within the Burj Khalifa complex, the Dubai Mall is considered as one of the best malls in the world. The mall consists of some 1,200 shops which include many international brands of clothes, shoes and home supplies. Additionally, the Dubai Mall features various restaurants, hotels and cinemas.
Mall of the Emirates
Located in Al Barsha, the mall features 14-screen cinemas, a game square, a range of various stores, a large theater as well as an indoor ski slope. Mall of the Emirates is a proud recipient of the world's leading shopping center bestowed by the World Travel Awards and was recognized by Forbes as one of the five best malls in Dubai.
Ibn Battuta Mall
An exceptional mall located at Sheikh Zayed Road, Ibn Battuta Mall houses more than 270 stores, 50 restaurants, 21 screen cinemas and is one of the largest shopping centers in the world. The mall is unique in a sense that both its exterior and interior design adopt aesthetics inspired by the ancient civilizations of Persia and Egypt.
City Walk Dubai
City Walk is a modern destination that includes a variety of high-end shops, restaurants and hotels, in addition to exquisitely designed outdoor spaces. The mall is renowned for its high-profile entertainment avenues such as The Green Planet and Mattel Play Town. Its European-styled pedestrian zone also adds to the mall's overall charm.
Dubai Marina Mall
A modern and family-friendly shopping mall sits on the seafront and houses a variety of cafes and restaurants with enviable views of the sea. As many as 130 stores are in operation here as well as a number of high-profile restaurants and cinemas. Taking advantage of its shoreline real estate, boat trips are also being offered here.
Get some airtime at Abu Dhabi's theme parks
Yas Waterworld
Yas Waterworld is famous for its 40 plus rides, ramps and attractions including the infamous 'Bandit Bomber,' a suspended rollercoaster allowing you to glide over the waterpark at high speed while touring the lost caves and dodging the water cannons below!
Ferrari World Abu Dhabi
Occupying an area of 86,000m2, Ferrari World on Yas Island is among the world's largest indoor theme park. Featuring a collection of high-speed roller coasters as well as family and children rides, the theme park is designed to provide visitors with an unparalleled experience revolving around speed and G-force. A karting track to is also available for the whole family to enjoy.
Warner Bros World
Warner Bros World Abu Dhabi, is the world's largest indoor air-conditioned entertainment venues, bringing together the most famous stories and characters under one roof. Its extensive grounds provide visitors with games and rides bearing the themes of iconic characters such as Superman, Batman, Wonder Woman, Bugs Bunny, Scooby-Doo and a whole lot more.
Little World Discovery Center
The Children's Exploration Center provides a safe space for children to discover their talents and discover skills that interest them. Some of its activities include reading, drawing and coloring, invention and leadership space as well as a cooking space. The center also has a computer camp where children may immerse themselves in interactive and educational games.
Yas Waterpark
Ever popular with locals and tourists alike, Yas Waterpark dozens of rides, slopes and various activities. The available pools and slopes are suitable for all ages, while surfers will undoubtedly be attracted to the park's artificial surf wave pools.
Sightseeing in Sharjah
Khalid Lake
Characterized by the corniche and the eye-catching fountain, Khalid Lake is an artificial lake providing a suitable environment for those looking to jog or cycle along its quaint banks. Visitors may also enjoy sitting under the dappled trees along the promenade and simply take in the scenery.
Al Noor Island
Located at Khalid Lake, the Light Island serves a distinctive landmark which combines nature, entertainment and the arts. The island displays illuminated paintings that can be seen only at night in addition to the many artworks commissioned from various parts of the world. The island also provides children and adults alike with the opportunity to enjoy a serene nature setting by way of its wonderful butterfly house which houses more than 500 species of butterflies of various colors.
Sharjah Aquarium
The Sharjah Aquarium allows visitors to discover the allure and magic of the endless blue with its amazing collection of undersea life. The venue boasts some 20 aquariums containing more than 150 species of marine animals, including sharks, coral reefs, and moray fish.
Sharjah Desert Park
Sharjah Desert Park allows you to observe a variety of Arabian wildlife such as reptiles, birds and large mammals The park also hosts a Natural History Museum, a petting zoo and a botanical garden. As the park is mainly children-oriented, young visitors are invited to discover and learn facts about dinosaurs, volcanoes and prehistoric fossils.
Sharjah Mega Mall
The emirate's premier shopping center, Mega Mall offers shoppers the chance to acquire various clothing apparels and jewellery from various international brands. As with any modern mall, Sharjah Mega Mall houses numerous entertainment facilities such as cinemas and eateries which augments the overall shopping experience.