We often have the false impression that big-name galleries and museums are the only places to be if we want to spend some time in the presence of fine art. In reality, artworks are found everywhere around us: in public spaces like parks and gardens, in sacred spaces like cathedrals and temples, and also in spaces more intimate to us like those we choose to live in on special occasions and vacations.
Some of these hotels are proud stewards of historic art collections, while others take the meaning of art to the next level, with their guestrooms and other spaces transformed into works of art in themselves. Here are six beautiful hotels around the world fit for an art lover's soul.
Rome Cavalieri, Waldorf Astoria (Rome, Italy)
Located at the heart of the city on Rome's highest hilltop, those familiar with the Rome Cavalieri often jest that this magnificent property is more art museum than guest hotel. A wonder in and of itself, the Rome Cavalieri contains a microcosm of all the delights the Eternal City offers.
Most noteworthy, this hotel is home to a collection of around 10,000 or so pieces of paintings, tapestries and antiques and period furniture.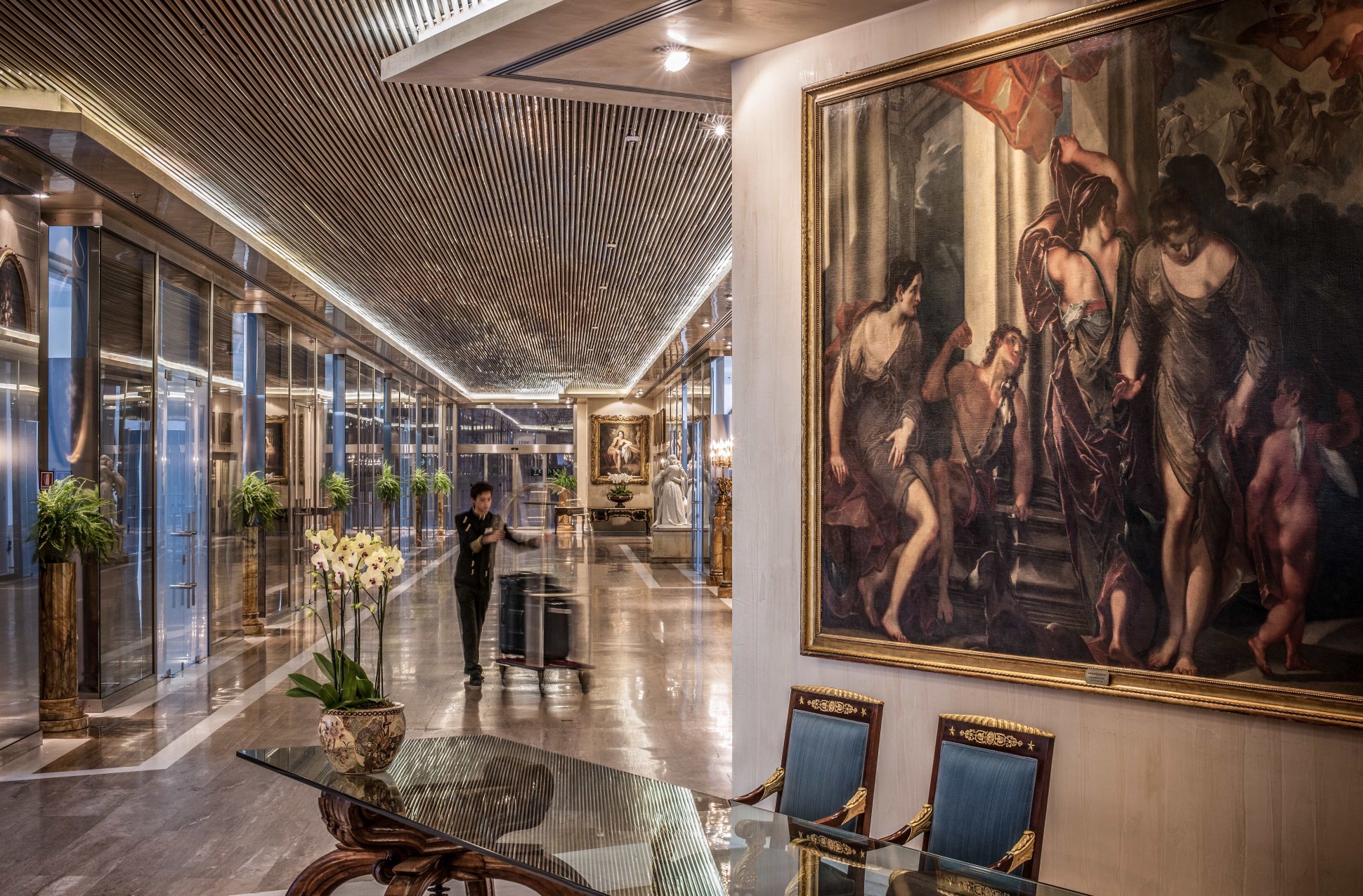 Artworks range from a host of stunning eighteen-century landscape pieces to elegant bronze sculptures and Andy Warhol's brightly-coloured dollar sign series. The Tieopolo Lounge takes pride of place in this art hotel with Venetian art by old masters adoring the parlour walls.
Dine on a parade of sweet and savoury flavours to the backdrop of Gianbattista Tiepolo's masterpieces. Art tours can be booked with the in-house art historian, or, if you prefer to wander the halls alone, an audio guide is readily available as well.
21c Museum Hotels (Louisville, USA)
Those who favour contemporary art will enjoy staying at any one of the eight 21c hotels scattered throughout the United States. Founded by two contemporary art collectors in downtown Louisville, this hotel has engaged visitors and locals alike for the better part of a decade.
The contemporary art fest even begins outside the hotel, with a towering golden replica of Michelangelo's David watching over pedestrians. Curated rotating exhibitions are open to the public twenty-four hours a day, all year round and free of charge.
Forget waking to the sight of artworks on the wall. At the 21C, you can opt to spend the night in an art project. Jonah Freeman and Justin Lowe created their site-specific installation Asleep in the Cyclone to be a fully functioning hotel room optimised for comfort with all trademark amenities. It'll be hard to find a more immersive art experience than this!
Le Negresco (Nice, France)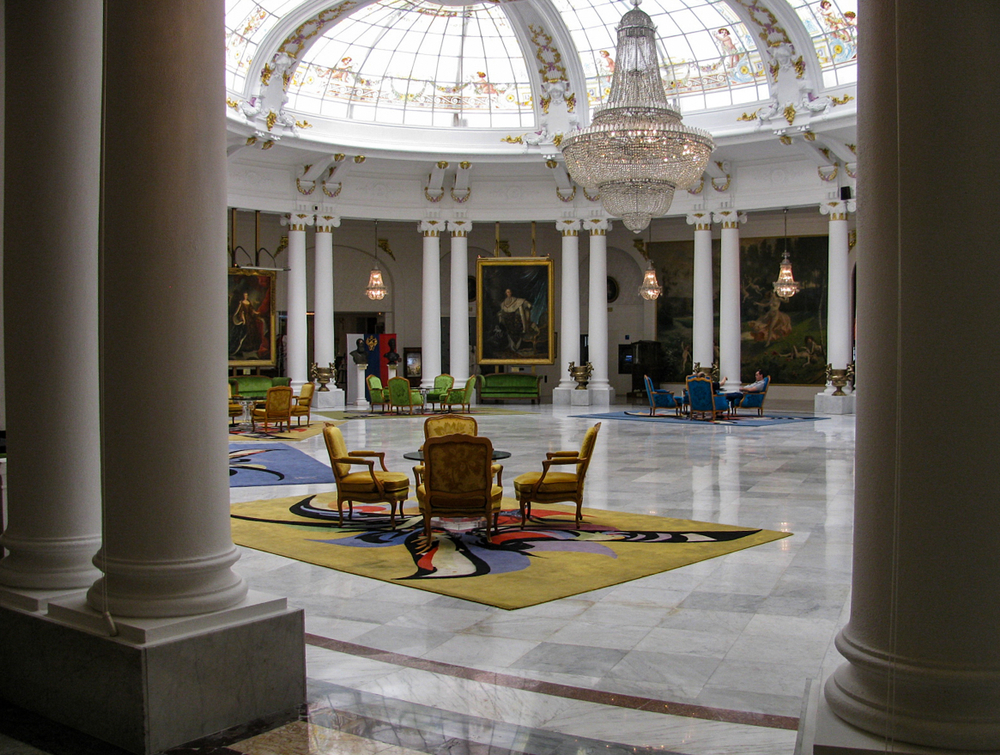 This one-of-a-kind hotel located by the French Riviera is also home to a collection of museum-worthy French artworks. With a pink salmon dome and quirky interior to match, wandering through the Negresco will remind you of the treasure hunting adventures of your childhood.
Over 6,000 pieces of artworks, sculptures and period furniture make up the treasures in question. Every room presents a new surprise of art styles and eras, ranging from salons dedicated to infamous French kings to contemporary "street art" rooms.
Everything from the chandeliers to the carpets is designed with artistic integration in mind. Among the rarities, fan favourites include prints and drawings by artists like Picasso, Cocteau and Dali, and a nationally iconic portrait of King Louis XVI by court-painter Hyacinthe Rigaud.
Other pieces of significance include a stained-glass dome designed by architect-engineer Gustav Eiffel—the same engineer behind the Eiffel Tower.
The Exhibitionist Hotel (London, UK)
Luxury boutiques are a dime a dozen along London's streets but a true dedication to contemporary art is what sets The Exhibitionist Hotel apart. Despite its mundane townhouse exterior, this hotel offers one of the most unique living experiences in London.
Everything from the hotel's corridors to stairwells is made into exhibition spaces for the best established, and up-and-coming artists to showcase their works.
The boundaries between gallery and hotel have truly blurred with all communal areas on the ground floor transformed into a buzzing hub of creativity. Guest rooms themselves are no less interesting with each suite individuality crafted and brought to life by renowned designers. The bar and restaurant are no exception.
Everything from digital art to documentary photography to interactive installations to vintage art finds have been showcased at The Exhibitionist Hotel.
Ellerman House (Cape Town, South Africa)
Ellerman House prides itself on offering their guests the best of South African luxury and hospitality, along with an art collection expressing the soul of South Africa herself. Art is seen as an integral part of understanding this country's rich heritage and tumultuous history.
An undercurrent of social commentary runs strong in the pieces here, and it is this deep-rooted belief in the individual character of South African art that undergirds the philosophy of this art hotel that has come to be known as one of Cape Town's most soul-stirring locations.
Art from the mid-nineteenth century to the present day is on display in one of Cape Town's most unique galleries. An in-house artist and curator, Talita Swarts, is available to guide visitors through the numerous pieces on display, providing behind-the-scenes information and first-hand reflections on the collection. Alternatively, opt for a self-guided tour at your leisure with the help of a digital guide.
Marina Bay Sands (Singapore)
Singapore's Marina Bay Sands is known as one of the world's most luxurious hotels. With everything from the world's largest rooftop infinity pool, to a sprawling mall connected to the hotel itself, it's easy to forget that Marina Bay Sands also has its very own Art Path showcasing an impressive array of large-scale contemporary installations created by a group of renowned international artists.
The path begins as one looks up into the 23-storey atrium of the hotel towers. Antony Gormley's Drift is created from an interconnected web of polyhedral rods and nodes. Measuring approximately 40 meters long and 23 meters high, gives off the impression of a descending metallic cloud.
Containing a total of eleven monumental artworks, any lover of contemporary art will have a field day exploring these pieces along the Marina Bay sands Art Path.
Featured image ©  giuliagrilloarchitetto.com