With so much going on in Hong Kong all year round, anytime feels like a good time to visit. But winter is especially great. With temperatures dipping between a 7 to 16 degrees celsius from November to December, Hong Kong's winter guarantees an easy and comfortable experience without the hassle of extra luggage or extra clothes.
Keeping yourself warm in the cold is a must, and so is keeping your energy high. From piping hot street eats to carefully prepared soups and classy hotpots, Hong Kong's winter delights make for a nourishing feast.
1. Hotpots
Hotpot is the quintessential get-together dish that satisfies both the hungry tummy and desire for love and community, and nothing quite warms the heart better than huddling around and enjoying a good hotpot with family and friends on a cold winter night.
Hotpot has always been a feature in Hong Kong's culinary scene, and the beloved dish has since evolved into new, more sophisticated versions. For a quadruple soup-base extravaganza par excellence, look no further than The Drunken Pot.  Boasting signature bases such as lobster-black truffle and fish maw – sichuan pepper, The Drunken Pot is anything but conventional.
If back-to-basics traditional hotpot is what you're looking for, head over to Da Hong Pao instead. Locals swear by the their traditional chicken soup base, and reservations are highly recommended.
2. Organs-in-a-pot
Fans of Kway Chap and Chee Chap Thong should find this popular street dish particularly appealing. A simple mix of offal and pig/cow innards, peppers, radish with a savoury-sweet sauce to boot, organs-in-a-pot may be daunting at first glance to the unacquainted. But what this street eat lacks in aesthetic, it more than makes up for in taste.
Organs-in-a-pot is an ubiquitous sight at many of Hong Kong's prominent street markets and shopping streets, but those sold by food stalls at Temple Street, Mong Kok Shopping Street and Causeway Bay tend to receive rave reviews.  
3. Claypot Rice
A flavourful dish kept warm with a touch of scorched rice surprise, Claypot rice is a dish most Malaysians are surely familiar with. In Hong Kong, this time-tested delight has since undergone a sort of evolution, with places offering claypot rice dishes with a modern twist. The result is a mouthwatering treasure trove of fluffy rice, mixed with ingredients both familiar and new.
Claypot rice is a popular dish in winter, and most will agree that some of the best claypot rice can be found at Four Seasons Claypot Rice and Kwan Kee Claypot Rice. Four Seasons' cured duck leg, eel and frog claypot rice is both curious in name and appeal — both visitors and locals swear by it.
Kwan Kee holds the honour of a Michelin Bib Gourmand, and their signature 3-type claypot rice mix is both highly authentic and mouthwateringly delicious.
4. Double-boiled soups
Highly nourishing and packed with flavour, double-boiled soups are a cherished hallmark of Cantonese cuisine. Double-boiling brings out even the subtlest of flavours in ingredients, and that also makes it particularly good at "locking in" the good stuff that tends to escape with other cooking techniques.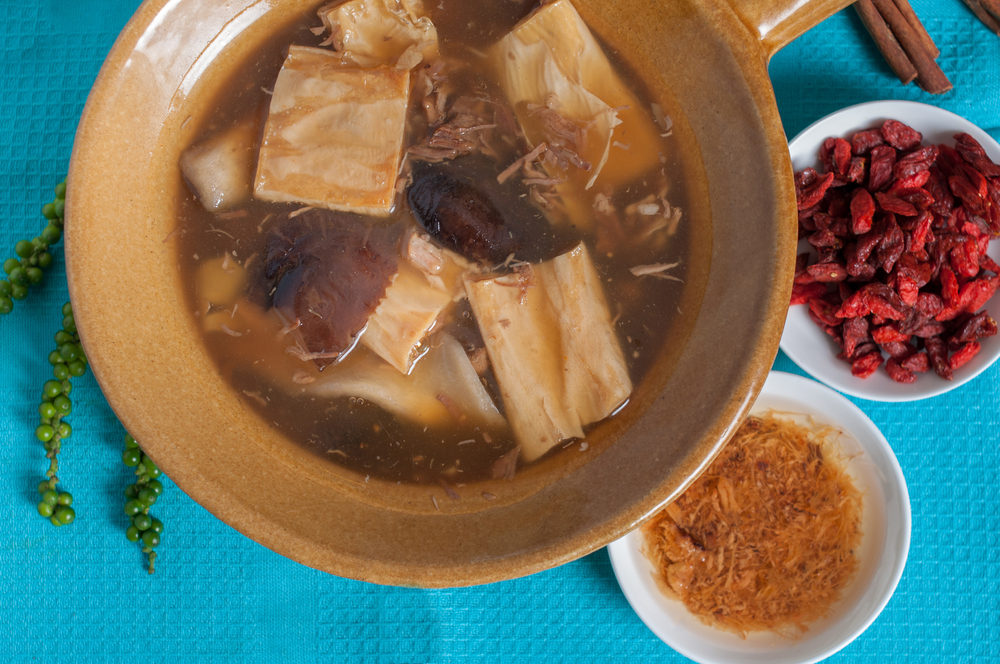 Double-boiled soups come in a wide array of flavours, and among the more exotic ones is Snake soup. Regardless of what goes into the mix, double-boiled soups are highly time-consuming to prepare and typically cost a little more than your average eat in Hong Kong.
For classic double-boiled soups done right, look no further than Jui Yau. The place offers a blend of Taishan and Hong Kong-style double-boiled soups, and signature dishes include pork lung soup with dried vegetables and yellow eel soup.
If you're raring for the unconventional, head over to Ser Wong Fun instead. Established in 1895 and the proud bearer of a Michelin Star, this joint is the place to go to for an awesome bowl of snake soup.
5. Red Bean Soup
A dessert that needs little introduction, red bean soup is as unpretentious and simple as any dish can get. Highly nourishing and versatile, a bowl of red bean soup can be the perfect treat both in summer and winter. Simple to make but difficult to master, it can probably be said that no two red bean soups are exactly alike.
The best red bean soups are done by some of Hong Kong's culinary legends — Yuen Kee Dessert, with its illustrious 100-year heritage as Hong Kong's go-to for quality cantonese desserts, and Luk Lam Dessert, whose legacy is as rich as their vast selection of traditional desserts. Yuen Kee's version sticks to tradition, while Luk Lam's take offers customers a choice of extra ingredients such as glutinous rice balls, ice cream or fruits.
6. Hot Soya Beancurd
We all love our tau huay, and Hong Kong's version of the classic dessert honestly tastes a lot like home. Silky – smooth with that melt-in-your-mouth feel, a bowl of hot soya beancurd is the perfect treat to keep you going on a cold winter day.
There's absolutely no way one can talk about beancurd in Hong Kong without mentioning the legendary Kung Wo Beancurd Factory. Beans here have been grounded by hand-operated milstone since 1893, and their beancurd's silkiness is said to be second to none.
7. Walnut Sweet Soup
Walnuts have a particularly special place in Chinese cuisine, and walnut sweet soup is even more so. Rich in nutrition and auspicious meaning, walnut sweet soup was once a favourite among royalty. What's even more special about this sweet soup is that even though no milk is added, it still tastes super rich and creamy.
Walnut sweet soup is a regular fixture at most dessert joints in Hong Kong, but locals highly recommend Jia Jia Dessert. Rich and flavourful, their version is essentially solid walnut melted down into slurp-ready oh-so-goodness.
Visiting Hong Kong in winter is the perfect excuse to indulge in good food, so why not stay a little longer and check out Hong Kong's vast array of winter eats?  Make your trip 3 days to a week-long and enjoy Cathay Pacific's well-curated offers and tours. Keep your winter trip hassle-free by grabbing your hotel deal with us , and stretch your travel budget even further when you book a flight from Kuala Lumpur to Hong Kong with us. And the merry winter goodness doesn't stop there —  Discover Hong Kong's awesome offers for Malaysians will be sure to make your trip even more worthwhile!