Singapore is many things to many people, but what is certain is that this ever-changing city of passion and possibilities one we come back to again and again.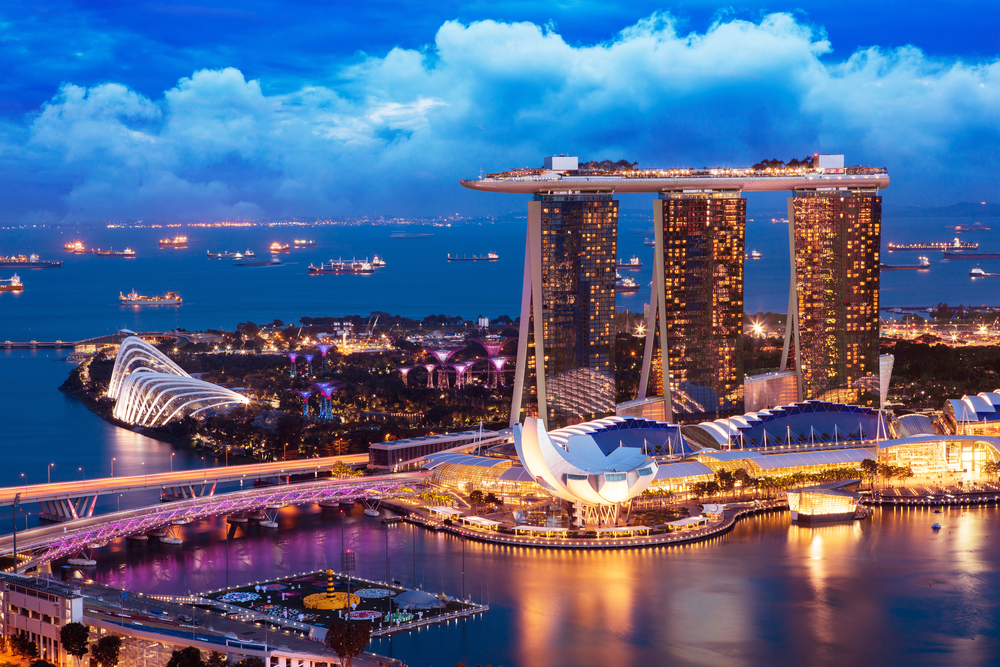 To enter Singapore is to enter a world of architectural wonders and culinary delights where lush greenery and Eco-Friendly malls coexist in confidence. Here is where friends, families and lovers come to find themselves and each other in a spirit that transcends cultures and new experiences are created every day.
The food
If the way to a person's heart is truly through their stomach, then all who embark on an adventure through Singapore's culinary landscape will find themselves falling irrevocably in love with this city. Singapore certainly lives up to her reputation as a foodie's paradise with everything ranging from world-class restaurants to tasty hawker fare.
Hawker centers dotted all through the island will give you a taste of the country's multi-cultural cuisine featuring Chinese, Malay and Indian flavors. Classics such as Maxwell Food Centre and Lau Pa Sat are locations familiar to all Singaporeans, while Glutton's Bay is a great option for those who wish to dine before a view of the Singapore skyline.
The island is as star-studded as it is diverse when it comes to the dining scene, housing a total of 44 names listed on Michelin Guide this year. Among those, two restaurants—Odette and Les Amis—are awarded three stars, a historical milestone since the launch of Singapore edition of the Michelin guide in 2016.
The guide celebrates Singaporean fine dining establishments as well as its culinary heritage; you can enjoy a traditional straits-Chinese dinner at Candlenut—the world's first Michelin-starred Peranakan restaurant, or opt for the world's most affordable Michelin-starred meals at Liao Fan Hawker Chan.
The multi-cultural atmosphere
Fans of history and culture can expect to have a field day exploring the many museums and sites celebrating the Singaporean identity and multicultural way of life. But the city itself is a living, breathing display of cultural and religious diversity. For a festive atmosphere, nothing beats visiting the major ethnic enclaves: Chinatown, Little India, and Kampong Glam.
Each one draws visitors with striking sights and scents, intriguing shops, and sightseeing spots. They especially brighten up during cultural events and festivals that are open to the public, so time your visit well!
Kampong Glam, for example, hosts night markets during Ramadan and Eid al-Fitr for both Muslim and non-Muslim visitors. Meanwhile, Chinatown during Chinese New Year is a spectacle, and Little India positively blooms with colorful decor and ornaments during Deepavali.
The shopping
Shopaholics rejoice! Retail therapy is big in Singapore with malls at every corner of the island. No stranger to the high-life, the shops along Orchard Road and Marina Bay Sands are among the most iconic shopping hotspots in the country with big-name brands from multinational groups like LVMH, Kering and Prada.
Discover world-class designs proudly made in Singapore at Design Orchard, placed along the Orchard road. Curated by beloved local retailer Naiise, the building's first floor serves as a gateway into the wondrous world of Singapore design showcasing over 60 homegrown designers, ranging from artisanal wares to furniture and fashion.
Look forward to scoring some affordable buys too. Hunt for bargain steals as you soak in the wild-child atmosphere at Bugis Street and the trend-loving Far East Plaza. The artsy boutiques at Haji Lane will cater to independent spirits with a quirky aesthetic. For some up true-blue indie stores, stop by Tiong Bahru's Yong Siak Street for cult-favourites like BooksActually and Nana & Bird.
The nightlife
When the sun goes down, Singapore's smart crowd follows the rising chorus of chatter and music to the doors of the city's coolest clubs and bars.
Join them over at Clarke Quay for the thumping beats at the ever-popular Zouk or the frenzied rock scene of Crazy Elephant. Themed bars and venues for midnight revelries line the Quay; whichever flavor of nightlife fun tickles your fancy, you'll definitely find it here.
Family friendly locations
Get ready for some family fun at these exciting locations fit for all members of your tribe.
Rated as one of the world's best zoos, the Singapore Zoo is where all animal lovers want to be. Those who seek an up-close and personal encounter with things that go bump in the night will find an adrenalin-pumping adventure waiting at the Night Safari.
Resort World Sentosa plays host to even more exciting adventures for the whole family. Your young ones will be excited to add new pictures with their favourite fictional characters at Universal Studios Singapore to the family album, while the teens and adults can soar to the skies on the world's tallest dueling coasters.
Seek relief from the tropical heat at the Adventure Cove waterpark or choose to swim with marine creatures at the SEA Aquarium. The options are simply endless!
Greenery and gardens
Singapore's sweeping concrete jungle belies hints of greenery strewn across the city. Green spaces around the corners provide safe havens from the year-round warm weather, while futuristic imaginings bloom in Gardens by the Bay as technology and nature collide to create a lush crown jewel situated in the middle of the metropolis. The Botanic Garden—Singapore's first UNESCO World Heritage Site is a perfect place for an afternoon picnic surrounded by verdant beauty.
At the heart of Singapore's futuristic facade lies an eco-friendly vision of a garden city. Park hopping has never been easier with the overhead park connectors sprawling throughout all corners of the island.
Hop on a bicycle or take a leisurely stroll along the roads, pathways, canals and riverside trails as you soak in the atmosphere of Singapore's nature sites.
Skyline and architecture
Architectural eye candies are aplenty in Singapore. Jewel-toned Peranakan-style houses, sleek metal giants, and contemporary marvels vie for your—and your camera's—attention.
Thanks to the city's compact size and well-regulated transportation system, you won't have to choose which to visit. The only question is: Which first?
Everywhere you look in Singapore, there's always something to amaze you, and the skyline is no exception. Pick your perch, from inside Singapore Flyer carriage or by the edge of Marina Bay Sands' infinity pool: relax and drink in the view that has captivated so many before you.
Arts and culture scene
When it comes to arts and culture, Singapore definitely punches well above her weight. The city lights up in a spell of light and passion as artistic and creative endeavors are celebrated at festivals like Art Week and the Singapore Writers' Festival.
At the Marina Bay waterfront, the twin domes of the Esplanade stand proudly as guardians of the arts, featuring programmes encompassing music, dance, theatre and more.
Venture into the heart of the country's Civic District for galleries and museums housing the finest collections of South-East Asian art and material culture. The National Gallery of Singapore houses thousands of pieces showcasing the rich artistic heritage of the region, while the Asian Civilisations Museum explores the ancestral cultures of Singaporeans and of greater Asia.
If you happen to find yourself here during cultural seasons like Chinese New Year or Deepavali, you're in even more luck—the whole country comes to celebrate together in these festivities of great significance with exuberance and energy.
Changi Airport
Owing to its strategic location in the region, Singapore's main air transport hub, Changi Airport, is accessible from most major cities around the world. As a gateway to and from Southeast Asia, it's often the primary stopover serving standard and budget carriers.
But the world's best airport for the seventh consecutive year also makes for an airport you won't mind waiting in; hours easily go by as shops, restaurants, cinemas, and rest spaces distract and delight you.
The newly opened Jewel sets to be an attraction in its own right as well. Step into a green paradise for a relaxing walk at the Shiseido Forest Valley. And for the pièce de résistance, be treated to a theatrical show of water and light play at the HSBC Rain Vortex, the world's tallest indoor waterfall.
Singapore hidden Passion Tours:
From visiting Singapore's historical landmarks to learning about local customs and soaking up the buzz at trendy nightlife enclaves, there is a curated tour for you to connect your passion with the possibilities of what Singapore has to offer. Refer to our official guide to unique tours in Singapore.
Featured image courtesy of Singapore Tourism Board