This article is reviewed regularly (on a monthly basis) by Wego's editorial team to ensure that the content is up to date & accurate.
Updated 6 September 2021
The capital city of the United Arab Emirates – Abu Dhabi is a bustling gulf metropolis of unique cultural legacy and modern high-rises. A prominent city with unquestionable economic prosperity, the Emirate has also been consistent in fighting its war against the coronavirus pandemic. Its testing centers, mass screenings, and enforcement of other stringent quarantine measurements have formed a solid pandemic response policy.
If you wish to travel to Abu Dhabi, read along to know more about the quarantine details and related SOPs.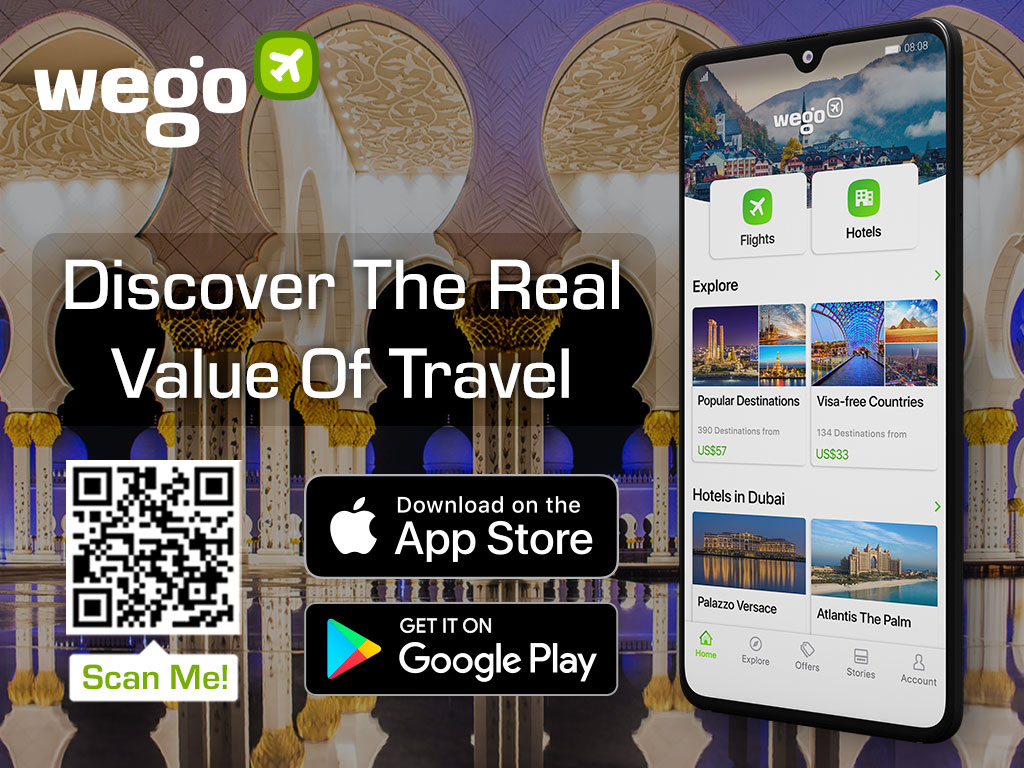 Who can travel to Abu Dhabi?
You can fly to Abu Dhabi if you are a UAE national or resident, you are eligible for a visa on arrival or you hold a visit visa for Abu Dhabi. If you are a tourist, your visa must be issued in Abu Dhabi.
If you are travelling to Abu Dhabi, you must follow these additional rules:
take the PCR test 48, 72, or 96 hours (depending on your point of departure) before your flight
download the ALHOSN UAE app on your mobile phones before you travel to Abu Dhabi
undergo a thermal screening and another COVID-19 PCR testing on arrival at Abu Dhabi airport.
The rules apply to all travellers, except children under the age of 12 and people with severe and moderate disabilities.
Although you no longer need approval from Federal Authority for Identity and Citizenship (ICA) to enter the UAE, you are recommended to visit uaeentry.ica.gov.ae and submit your passport number and Emirates ID number to receive instant verification of your entry status.
Once your entry status is verified, you can go ahead and book a flight. You must download the Al HOSN app on your mobile phones to allow authorities to monitor your health while you are in quarantine.
Dubai to Abu Dhabi entry rules
Those who wish to enter Abu Dhabi from Dubai by road must carry a negative COVID‑19 PCR test result issued within 48 hours or a negative DPI test result within 24 hours.
Quarantine and testing guidelines in Abu Dhabi
Do you need a COVID-19 report?
Yes. All arrivals to Abu Dhabi must provide a negative PCR test result taken within 48 hours of arrival, or if opting for a negative DPI test result, within 24 hours.
Furthermore, those opting for a PCR test and with plans on staying for more than four days must now take a second test on day four of entry. An additional test on day eight would also be necessary for visitors planning on staying for eight days or more.
Vistors opting for the DPI test for entry are required to take a PCR test on day three of entry if staying for 48 hours or more. If planning on staying for more than a week, an additional PCR test on day seven is required. Please also note that a DPI test cannot be used to enter Abu Dhabi consecutive times.
The above procedure applies to all citizens and residents regardless of vaccination status.
Remember to print your test results and keep them with you throughout your trip – you will be required to present your result for validation at check-in. You may also present your test result via the Al Hosn app.
Only children under the age of 12 and travellers with disabilities can be exempted from carrying the mandatory RT-PCR test report.
What about testing at the airport?
After you have disembarked from your flight, medical authorities at Abu Dhabi International Airport will perform a free PCR test. Following the PCR test, you will be requested to sign a Quarantine Undertaking form while at the airport if required.
If your test result is positive, you must stay in isolation for 14 days. If you violate home quarantine rules, you would be liable to a fine of AED 50,000.
Quarantine rules
From September 5, travellers won't need to quarantine on arrival in Abu Dhabi if they have been fully vaccinated against COVID-19, or if they are travelling from a 'Green List' country.
Abu Dhabi Emergency, Crisis and Disasters Committee has approved removing the need to quarantine for all vaccinated travellers arriving into Abu Dhabi from all international destinations and updated travel procedures, effective from Sunday, 5 September 2021. pic.twitter.com/TK12LrQjr1

— مكتب أبوظبي الإعلامي (@admediaoffice) September 2, 2021
Quarantine rules differ for vaccinated and unvaccinated travellers from green list countries and non-green list countries. if you're travelling on a direct flight from any of the countries or regions listed below from the "green list", you'll be exempt from quarantine requirements when you arrive. The list of green countries is as follows:
Albania
Armenia
Australia
Austria
Bahrain
Belgium
Bhutan
Brunei
Bulgaria
Canada
China
Comoros
Croatia
Cyprus
Czech Republic
Denmark
Finland
Germany
Greece
Hong Kong (SAR)
Hungary
Indonesia
Italy
Japan
Jordan
Kuwait
Kyrgyzstan
Luxembourg
Maldives
Malta
Mauritius
Moldova
Monaco
Netherlands
New Zealand
Norway
Oman
Poland
Portugal
Qatar
Republic of Ireland
Romania
San Marino
Saudi Arabia
Serbia
Seychelles
Singapore
Slovakia
Slovenia
South Korea
Sweden
Switzerland
Taiwan, Province of China
Tajikistan
Turkmenistan
Ukraine
Moreover, due to travel corridors, fully vaccinated travellers (final dose received at least 28 days before travel) will not be required to quarantine when they travel between the UAE and:
Bahrain
Greece
Serbia
Seychelles
Guidelines for vaccinated passengers
If you are coming from green countries, you do not need to quarantine yourself. However, you will need to do an RT-PCR test on arrival and on day 6 from arrival.
If you are coming from other countries, you do not need to quarantine yourself. You will need to do an RT-PCR test on arrival, day 4 and day 8 from arrival.
To be fully vaccinated, you must have received two doses of the same vaccine at least 14 days before departure. Information about the vaccine must be documented on the Al Hosn app.
Guidelines for non-vaccinated passengers
If you are coming from green countries, you do not need to quarantine yourself. However, you will need to do an RT-PCR test on arrival, days 6 and 9 from arrival.
If you are coming from other countries, you must quarantine yourself for 10 days. Additionally, you will need to do an RT-PCR test on arrival and on day 9 from arrival.
If you have arrived from a country that the UAE authorities deem are high-risk, then you will be subject to quarantine at a government facility.
Travellers from the non-green list countries will be provided with a medically approved tracker watch for monitoring, after you clear immigration.
All costs for quarantining and medical assistance, whether at home or in another designated facility will be at the cost of the individual primarily. In certain circumstances, employers of the returning individuals shall bear all costs related to the medical examination and quarantine.
Centres for follow-up testing
Follow-up testing for those in home quarantine after arriving from countries on the Green List can be done free of cost at the following SEHA drive-through centres.
Abu Dhabi City:
Zayed Sport City
Al Bahia
Al Madina
Al Shamkha
Al Wathba
Corniche
Al Ain:
Asharej
Al Amsoudi
Al Hili
Al Dhafra:
Madinat Zayed
Ghayathi
Al Marfa
Al Sila
Liwa
Delma
You can take the test at other SEHA centres too, but it will cost you AED85 per person.
Tests are also available at the Fever Clinic in Madinat Zayed Industrial Area and the Flu-like Diseases Clinic.
Centres for tracker watch removal
Passengers flying out of Abu Dhabi who still have their medically approved wristband can remove them at the airport in urgent cases, provided they have a negative PCR test result before they arrive.
Abu Dhabi City: 
Purple Hall
Abu Dhabi Cruise Terminal at Mina Zayed
Al Ain:
Al Ain Convention Centre, Al Khabaisi
Al Dhafra:
SEHA facilities at:
Madinat Zayed
Liwa
Al Sila
Ghayathi
Al Marfa
Dalma