This article is reviewed regularly (on a monthly basis) by Wego's editorial team to ensure that the content is up to date & accurate.
Updated 12 May 2022
The capital city of the United Arab Emirates – Abu Dhabi is a bustling gulf metropolis of unique cultural legacy and modern high-rises. A prominent city with unquestionable economic prosperity, the Emirate has also been consistent in fighting its war against the coronavirus pandemic. Its testing centres, mass screenings, and enforcement of other stringent quarantine measurements have formed a solid pandemic response policy.
If you wish to travel to Abu Dhabi, read along to know more about the quarantine details and related SOPs.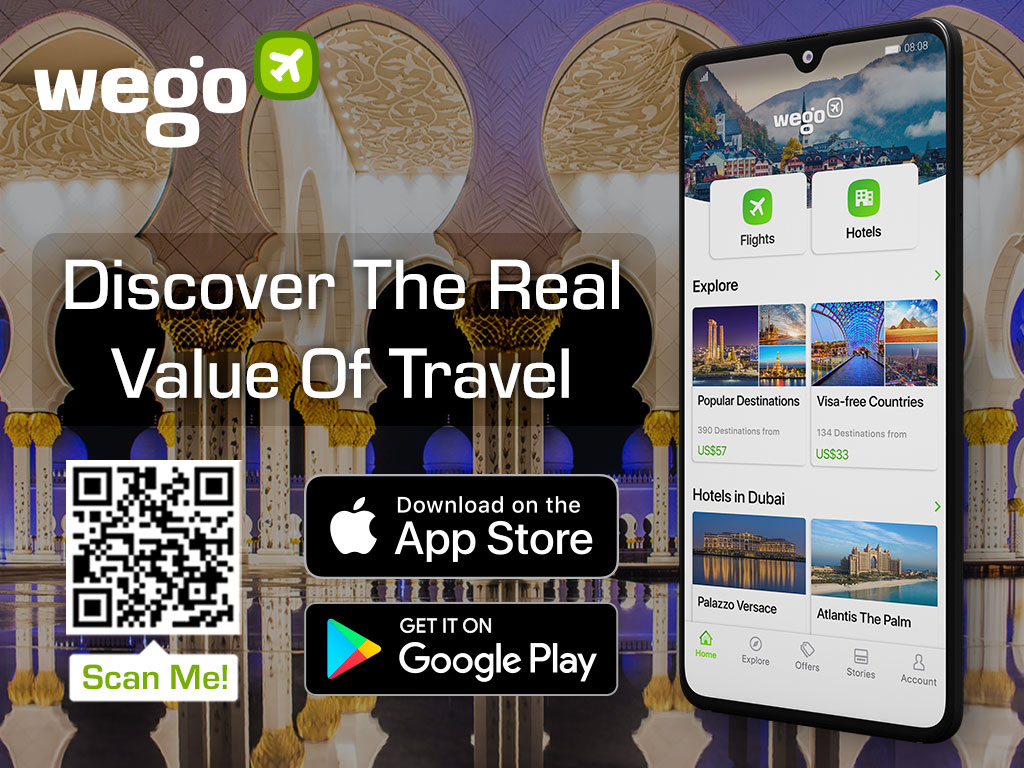 Who can travel to Abu Dhabi?
You can fly to Abu Dhabi if you are a UAE national or resident, you are eligible for a visa on arrival or you hold a visit visa for Abu Dhabi. If you are a tourist, your visa must be issued in Abu Dhabi.
All requirements to enter Abu Dhabi from Dubai or any other emirate within the UAE have been removed.
As per the latest regulations on 28 February 2022, EDE scan and requirements for the Al Hosn green pass are no longer required. However, the green pass will still be required to access majority of the public places in Abu Dhabi.
Abu Dhabi has also done away with the green list countries and the 'on-arrival testing' mandate. However, all travellers coming to the UAE from international destinations will need to present an approved QR code and vaccination certificate.
Dubai to Abu Dhabi entry rules
Travellers wishing to enter Abu Dhabi from Dubai need not get tested for coronavirus before they enter the capital.
Thus, the negative PCR test report issued within 48 hours or a negative DPI test result within 24 hours to enter Abu Dhabi from Dubai will not be a requirement anymore.
Quarantine and testing guidelines in Abu Dhabi
Do you need a COVID-19 report?
No, all arrivals to Abu Dhabi will not be required to provide a negative PCR test result taken within 48 hours of arrival, or a negative DPI test result, within 24 hours.
It was also announced on September 19 that Abu Dhabi authorities will no longer require people to get tested for coronavirus before they enter the capital from other emirates. Thus, the negative PCR test report to enter Abu Dhabi from within UAE will not be a requirement anymore.
What about testing at the airport?
It is now no longer mandatory to take a PCR test upon arrival in Abu Dhabi International Airport. However, the testing facility remains at the airport for any visitors that wish to take a PCR test to activate their Green Pass in Al Hosn app and facilitate access to Abu Dhabi's public places and tourist attractions. The cost of this PCR test is AED 40.
If your test result is positive, you must stay in isolation for 14 days. If you violate home quarantine rules, you would be liable to a fine of AED 50,000.
Quarantine rules
If you test positive for COVID-19, you will be required to follow the guidelines issued by your Emirate's health authority. Here is a breakdown of the announcements that have been made for rules you need to follow after testing positive for COVID-19:
On February 25, Abu Dhabi's Emergency, Crisis and Disasters Committee announced that the wristband requirement for home quarantine has been removed.
According to the Abu Dhabi Public Health Centre (ADPHC), if you test positive, these are the steps you must follow:
Those who are 50 years old and above, have symptoms, have a chronic disease or are women who are pregnant have been asked to visit one of the designated COVID-19 Prime Assessment Centres for medical assessment and isolation measures.
To end isolation you must:
1. Get two negative results 24 hours apart
2. Or conduct a PCR test on Day 8 and Day 10 and complete 10 days in isolation with no symptoms in the last three days of isolation, after medical evaluation.
Those with mild or medium symptoms and no chronic disease have been asked to follow these steps:
1. Retest in any health facility in the Emirate and continue to isolate.
2. If your PCR test result is negative, wait for 24 hours and do a retest. If your second PCR test result is negative, ADPHC advises people to resume normal activities and continue to follow precautionary measures.
3. If your PCR test result is positive, a specialist will contact you to complete the isolation procedures.
Centres for follow-up testing
Follow-up testing for those in-home quarantines after arriving from countries on the Green List can be done free of cost at the following SEHA drive-through centres.
Abu Dhabi City:
Zayed Sport City
Al Bahia
Al Madina
Al Shamkha
Al Wathba
Corniche
Al Ain:
Asharej
Al Amsoudi
Al Hili
Al Dhafra:
Madinat Zayed
Ghayathi
Al Marfa
Al Sila
Liwa
Delmai
Since March 1, PCR tests at medical facilities in Abu Dhabi now cost Dh40. The decision to reduce the cost of PCR tests in the Emirate was announced by the Department of Health – Abu Dhabi (DoH) on February 28. To find the closest PCR testing facility near you in Abu Dhabi, read here.