This article is reviewed regularly by Wego's editorial team to ensure that the content is up to date & accurate.
Check if you can travel to Bali from your country of residence, using the following travel planner widget. Input the full details of your trip, and find out exactly if you're able to enter Indonesia.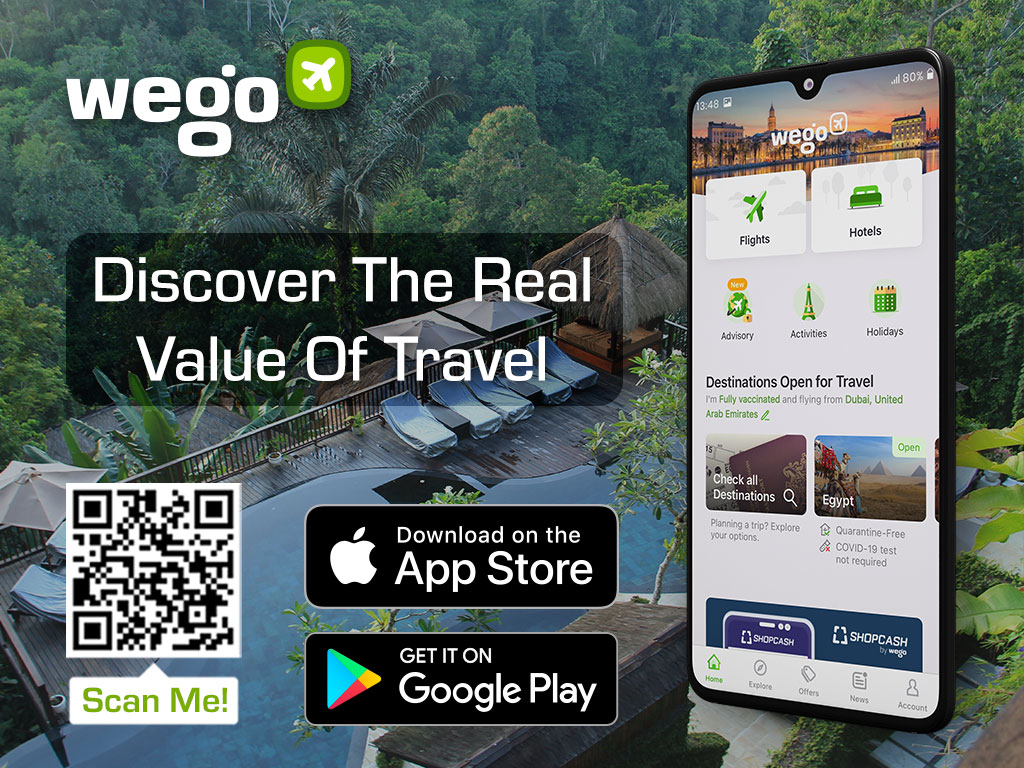 Updated 3 December 2021
What is the current situation like in Bali?
As of 3 December 2021, the official tally has reported a total of 4,256,998 confirmed cases in Bali, where the population is more than 4.2 million. With 4,105,352 cases of recovery, Bali's recovery rate is at 96.4 percent.
At present, the number of Bali residents who have been partially vaccinated against Covid-19 stands at 100,76 percent while more than 87.6 percent have been fully vaccinated.
While Indonesia has allowed international travel to recommence to the Island of Bali and the Riau Islands for 19 specified countries (detailed below), there is still a travel restriction in place for Indonesia where passengers are not allowed to transit or enter the country, with a few exceptions.
Are there airlines flying to Bali now?
A search through Wego showed that there are several domestic flight schedules operated by a few local airlines.
The country's national carrier, Garuda Indonesia, is among the airline resuming domestic operations. Other airlines such as AirAsia, Batik Air, Lion Air, Sriwijaya Air, and Citilink are operating multiple daily flights from cities across Indonesia.
There are also international flights departing to Denpasar from countries the likes of Singapore and Malaysia. Other flights to Denpasar airport will start next year with countries the likes of the UAE, Turkey, South Korea, Thailand, the Philippines, and Australia expected to establish direct flight routes.
Among the more notable airlines are Malaysia Airlines and Singapore Airlines.
Am I allowed to visit Bali now?
Yes, if you are a resident of Indonesia or travellers arriving from 19 specified countries.
In a recent announcement, the Indonesian government has given permission to 19 countries to be able to travel to Bali along with the Riau Islands. The permitted countries are Bahrain, China, France, Hungary, India, Italy, Japan, Kuwait, Liechtenstein, New Zealand, Norway, Poland, Portugal, Qatar, Saudi Arabia, South Korea, Spain, Sweden, and the United Arab Emirates.
Please note that travellers from the above countries will not be permitted to travel to Bali if their travel history indicates that they have been to Angola, Botswana, Eswatini, Hong Kong, Lesotho, Malawi, Mozambique, Namibia, South Africa, Zambia and Zimbabwe in the previous 14 days.
According to officials, the specified countries were chosen based on data showing low positivity rates. Other international tourists remain banned from visiting Bali in line with the policy of the Government of Indonesia.
In a recent update, Indonesia's tourism and foreign ministries are contemplating the possibility of including Australia on the Bali green list. However, no official announcement has been made.
Singapore and Indonesia have established a Vaccinated Travel Lane (VTL) between them allowing residents from Singapore to visit Bali. Do note, however, that Singaporean travellers wishing to visit Bali must adhere to testing and quarantine requirements of up to five days.
What is the B211B visa?
International travellers from outside the permitted countries wishing to visit Bali may be able to do so by applying for the single-entry visitor visa B211B. As per the Indonesian embassy website, the B211B visa allows any foreign nationals to gain entry into the country in some industrial or business-related capacity, so it's NOT a tourist visa.
The B211B visa is valid for six months and can be extended up to four times, with each extension valid for 30 days. Please note that one of the requirements of obtaining this visa is a presence of a company willing to sponsor said foreign national. However, visa agents in Bali can arrange for this requirement to be fulfilled.
While it's by no means ideal, the B211B visa is currently the only possible way of gaining entry into Indonesia and spending an extended amount of time in Bali.
What do I need to prepare if I need to visit Bali now?
Domestic travellers
Travel requirements from Java to Bali (and vice versa)
Must be able to produce a vaccine card confirming the administration of at least the first dose
A negative PCR test is valid for 48 hours
A negative antigen test is valid for 24 hours (valid only if you are in possession of a fully vaccinated certificate)
Certificate of a negative RT-PCR/Rapid Antigen test result must incorporate a barcode/QRCode
Note: The results of the Rapid Antigen test are only valid if the passenger has an accompanying vaccine certificate of the second dose. If you only have a certificate for the first dose, the result of the RT-PCR test prevails
Travel requirements from/to Bali other than Java
Must be able to produce a vaccine card confirming the administration of at least the first dose
A negative PCR test is valid for 48 hours
Antigen test does not apply
The negative RT-PCR test result must incorporate a barcode/QRCode
Vaccination participants at I Gusti Ngurah Rai International Airport (DPS) Bali are not allowed to fly on the same day following the vaccination
Passengers who have been exposed to COVID-19 in the last three months may produce a COVID-19 Survivor Certificate in lieu of a vaccine certificate
Specifically for departure from Bali to the passenger's home country: Foreign nationals departing Bali to an international destination via domestic flights and transiting for no more than 24 hours are not required to show a vaccination card
International travellers
For travellers from the recently-permitted specified countries, the requirements are as follows:
Must be fully vaccinated. The second/final dose of the COVID-19 vaccine must have been taken at least 14 days prior to travelling to Indonesia
Must be in possession of a valid insurance plan covering COVID-19 treatment. The insurance plan must be worth at least USD 100,000
Subject to a five-day quarantine period. Travellers must also cover the cost of their quarantine accommodation.
Other international travellers will not be permitted entry into Indonesia, save for the following:
Diplomatic Visa and Service Visa holders

Holders of Diplomatic Stay Permits and Official Stay Permits

Holders of Limited Stay Permits and Permanent Stay Permits

Foreigners with health and humanitarian purposes (after receiving a recommendation from the ministry/institution that carries out the COVID-19 function)

The crew of the conveyance that comes with the conveyance

Travellers arriving from countries covered by the bilateral Travel Corridor Agreement (TCA) scheme

are eligible for

special consideration/permission in writing from the relevant Ministry/Agency
Generally, visas are only issued to foreigners deemed urgent and skilled workers, paramedics or investors. Foreign nationals married to Indonesians are also eligible for entry.
When will Bali reopen for tourists?
Bali has so far had a slow reopening. Although Bali's Ngurah Rai International Airport has been reopened and is slated to welcome international tourists from 19 countries, no international flights are slated to arrive there as of yet. It is expected that international arrivals would start pouring in starting from November.
It's also important to note that the reopening will be evaluated periodically and that "this list of 19 countries only applies specifically to direct flights to Bali and the Riau Islands," according to officials.
Is it safe to travel to Bali?
As of late, Bali has begun to relax PPKM (Community Activities Restrictions Enforcement) from level 4 to level 3 and 2. The Island has also been included in the list of areas with high rates of vaccination; as mentioned, 99 percent of Bali residents have been partially vaccinated against Covid-19 while more than 80 percent have been fully vaccinated.
It has also been reported that the national Bed Occupancy Rate (BOR) in hospitals across the islands of Bali and Java has seen a significant decrease.
What are the things that are open right now in Bali?
In line with the government's level 3 community restrictions, most tourist attractions remain closed. The operational hours of shopping malls, restaurants, cafes and bars continue to be limited but can now accommodate 50 percent of their total capacity. All establishments are required to continue practising stringent health and safety protocols and will be closely monitored by the authorities.
Meanwhile, children under the age of twelve are not allowed to enter supermarkets, traditional markets, movie theaters and other public venues. Pharmacies and drug stores may open for 24 hours.