ShopBack is a cashback reward program that allows users to earn cashback as they shop online. Join us this ShopFest where we will value-add your online purchase decisions and help you to shop the smarter way. ShopBack is currently prominent and empowering customer and online merchants across 7 countries – Singapore, Malaysia, Indonesia, Philippines, Taiwan, Thailand and Australia.
There are so many beautiful islands in Southeast Asia that we seem to be spoiled for choice. Being citizens of the world in a tropical climate also means that we can visit all these islands almost any time of the year.
If you're searching for a nearby island to visit, the name Boracay would probably surface on your radar. Read on to make the most out of holidaying in Boracay.
Bora-Who?
Boracay is a rather small island about 315 km south of Manila. It is only 7km long and 1km wide. The entire island is shaped like a dog bone and is home to a small population of people known as the Ati.
In recent years, Boracay has been swamped by tourists. The overwhelming amount of visitors caused the Filipino government to close the island for 6 months in early 2018. This was so that upgrades on the island's outdated sewage and drainage system could be carried out. It was reopened in late 2018.
The island is still very pristine, with white powdery sand and crystal clear waters. The main attractions here are water sports, swimming and other activities related to the sea. Boracay has won numerous awards for its natural beauty. In 2011, TripAdvisor listed Boracay as the second-best beach in the world, as voted by travellers.
How do I get to Boracay?
The first thing you need to do is fly to the island of Panay. There are two major airports here you can land in, namely Kalibo Airport or Caticlan Airport. Once you land, you can take a taxi to Cagban Jetty. Here, you'll find plenty of tickets for ferries that will ship you straight to Boracay.
Alternatively, if you've booked a hotel in Boracay, they will usually provide pick-up services from the airport and escort you straight to a ferry trip to the island. The cost of the ferry and other transportation is included in your hotel fees.
What is there to do in Boracay?
Cliff dive off Ariel's Point
Leaping off cliffs into the open waters may seem pretty extreme. At Ariel's Point, you can perform an adrenaline-pumping jump from various heights. The lowest cliff is 3m high while the highest is 15 m above the sea. It will take all your courage to actually jump, especially since there are no harnesses or cables provided. It's just you and the water.
You'll have to experience the cliff dive as part of an eco-adventure package. Get your tickets at Boracay Beach Club for RM250 for a full day trip. The boat departs from Boracay Beach Club at 11.15am and returns by 5pm. Tour activities include a boat cruise, snorkelling, paddling, a bbq buffet lunch and snacks in addition to cliff diving.
Address: Boracay Beach Club Balabag, Station 1, Boracay, 5608, Philippines
Opening Hours: 11.15 am-5pm daily
Website: http://www.arielspoint.com/
Explore local cuisine
As Malaysians, we just can't go anywhere without checking out the local food scene. The food scene in Boracay is pretty diverse, with restaurants selling Western food like pizza and burgers, to shops with Malaysian Rendang and other ASEAN favourites. Your best bet is to try out restaurants with local Filipino fare, like Nonie's that sells healthy, low salt, low-fat versions of Filipino cuisine.
You'll want to try the Bistek Tagalog (RM35) and Chicken Longganisa Grain Bowl (RM28), as well as their Green Coconut Detox smoothie (RM15).
Feed the fish while diving
Get to know the underwater creatures living around Boracay by going diving. Boracay is home to schools of colourful tropical fish, jellyfish, mantis shrimp, and even turtles. There are about 20 dive sites around the island and several diving schools.
Drop by any of the diving schools, like Free Willy Diving and you'll be equipped with everything from a diving suit to lessons. A guide will also accompany you every step of the way. Free Willy charges RM144 per person per dive and RM48 for snorkelling.
Soar into the skies
Parasailing is a popular activity in Boracay's beaches, especially during sunset. Imagine gliding over the water while the sun sets in front of your eyes! For many tourists, parasailing is a must-do activity. We recommend parasailing above White Beach, one of the most beautiful beaches in Boracay. It only costs RM 160 per person!
Address: Astoria Boracay, Boat Station 1 Boracay Island, Brgy. Balabag, Malay, 5608 Aklan
Opening hours: 9am-4pm
While away your time at White Beach Boracay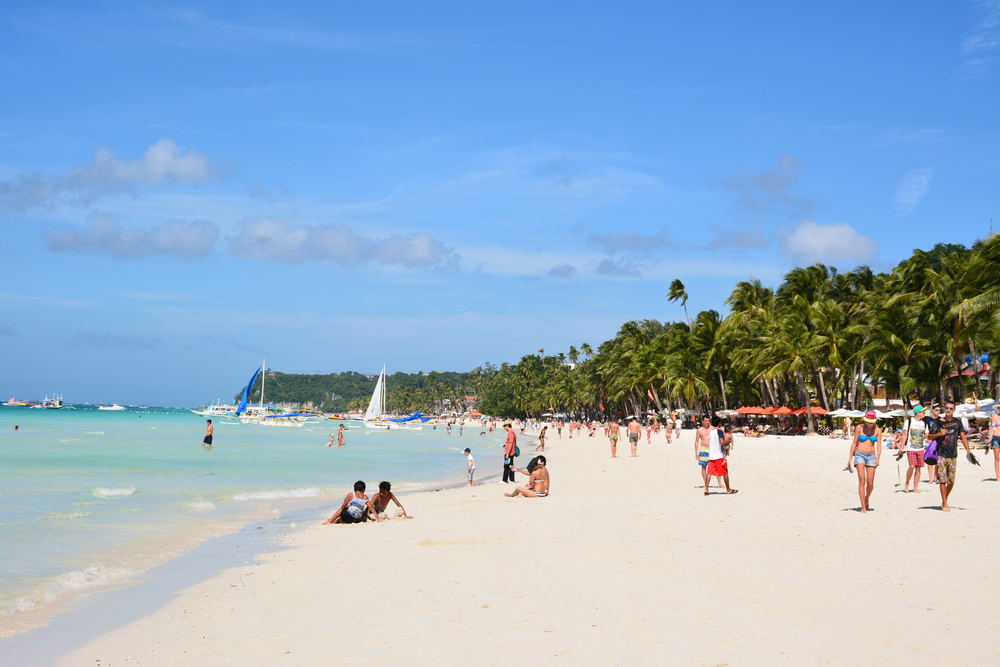 The biggest and most popular beach in Boracay, White Beach is a hit among tourists. With its pristine waters and white sand that is named for, it is an inviting spot to pull up a deckchair and get a sun-tan. There are many beachside activities you can do, like paragliding, or go diving in White Beach.
Address: White Beach Boracay, Aklan, Philippines
Make new friends with PubCrawl
Visit five of Boracay's most happening pubs with PubCrawl by Haqqy Life, and make a new friend or two!
The attraction has been operating for years and features free shots and special drink deals at every stop. Party it up till 1.30 am without worrying about taking any pictures because PubCrawl's dedicated photographer will do it for you.
Recharge With Shangri-La's Boracay Resort And Spa
Wind down with a stunning view from your room at Shangri-La's Boracay resort and spa. With Seaview rooms and water sports facilities, there's something for everyone. Check out their spa if you want some downtime, or drop your kids at the Adventure Zone so you can relax.
Address: Boracay Island, Malay, 5608 Aklan, Philippines
And there you have it, a guide to the beautiful island of Boracay. We hope we have helped you a little in your holidaying in Boracay with this handy guide!
This article originally appeared on Shopback