This article is reviewed regularly by Wego's editorial team to ensure that the content is up to date & accurate.
Updated July 2022
With the role of smartphones being nothing less than crucial these days, we as travellers gradually find ourselves becoming more and more reliant on our mobile apps to find and secure flights, accommodations, and of course the best travel deals. Apps offering said perks are abundant allowing travellers to choose one that best suits their needs.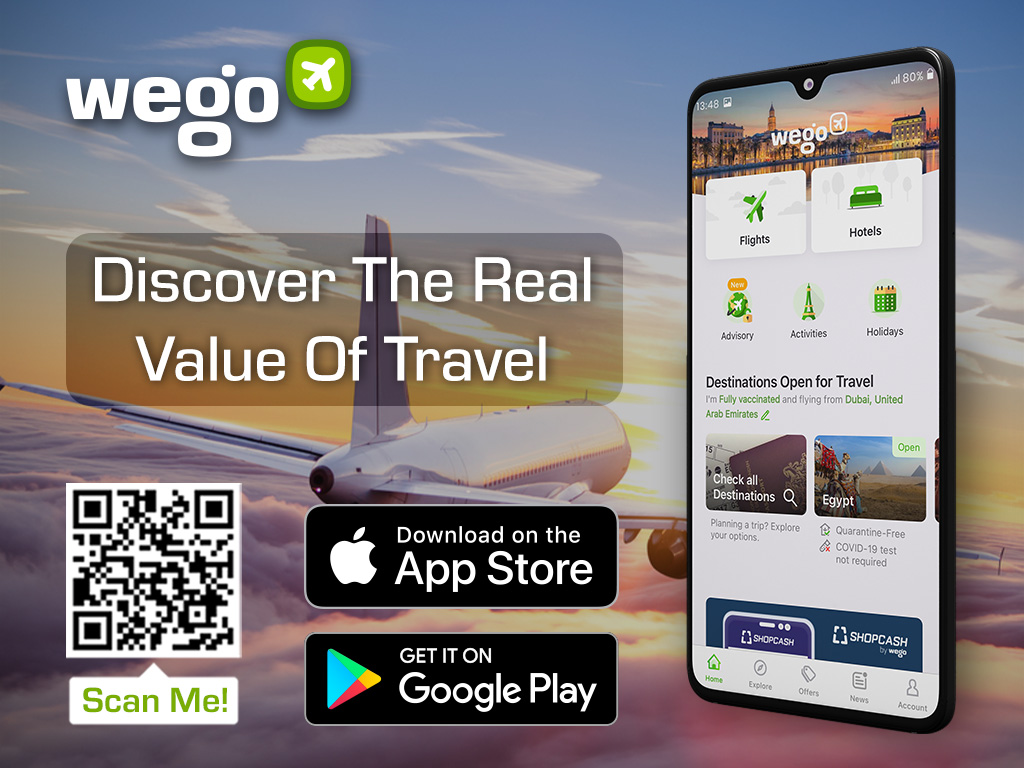 But be that as it may, not all flight-booking apps are created equal — some noticeably offer more value and functionalities in addition to also having excellent web versions. For discerning Saudi travellers looking to maximize the value of their travels, let's take a closer look at the Wego travel app, arguably the best flight booking app available in Saudi Arabia. 
Why even use a flight-booking app?
In a word, convenience. While it's true that you can always do your own research, finding the best deals for flights is not always a straightforward affair. It can take hours upon hours of scouring the interweb and comparing airfares between individual airlines to find that cheapest flight.
What makes a good flight-booking app?
With so many flight-booking apps out there, how do we determine which one is worthy of our phone's storage space? While people have their own take on what makes a good flight-booking app, generally speaking, a flight-booking app is considered good if it allows the user to do a number of essential things relating to their travel needs.
Saves you time and money  
All flight-booking apps worth their salt should be able to at least find and compare hundreds of airfares (as well as cheap flight offers) to your preferred destination in a matter of minutes. As opposed to doing your own research, a flight-booking app does the legwork for you which will inevitably save you both time and money.
Book from anywhere
The main advantage of mobile apps when compared to their desktop counterpart is the fact that they're, well, mobile. Modern travellers can easily plan and book their flights anytime from virtually anywhere. Those embarking on extended journeys necessitating on-the-go travel planning will most certainly find the features of a mobile flight-booking app nothing short of indispensable.   
Access to the latest travel information
Travelling has pretty much changed over the past few years. While standard travel requirements the likes of visas and entry permits remain in effect, the COVID-19 pandemic has introduced additional factors to the equation. A good flight-booking app allows you to learn about the latest testing, vaccination, and even quarantine requirements of your destination. There's really no point in booking your flight only to later discover that you can't actually travel to your destination.
What is the best flight-booking app for Saudi users?  
There's no definitive answer to this question as travellers do base their priorities on different things. 
But with that being said, other than having ticked all the boxes mentioned above, we're more than inclined to nominate our Wego travel app as one of the best flight-booking apps for Saudi users for a number of additional reasons as follows.
Latest offers
We all love a good offer or two, right? That's exactly what Saudi users can expect on our Offer section dedicated to helping you land the best deals. Vacations can be expensive and this feature is great for those hoping to save some cash on their glob-trotting adventures. 
While the Wego app primarily caters for users looking to book flights and accommodations, offers on other lifestyle and travel recreational activities based on your location are also featured in the Offers section. Who knows? Perhaps you'll come across an irresistible deal and end up going on another adventure.
Trip Ideas
Have a general idea of where to go but still need that extra nudge? We totally get it. Inspiration can be hard to come by at times. That's where our Trip Ideas section comes in handy.   
Trip Ideas categorizes locations based on different travelling styles, themes and concepts. For example, if you're looking to embark on a halal-friendly vacation, simply tap on the corresponding tab for a curated list of destinations. Or if you're looking to travel for the summer, the Wego app's Summer Special tab will provide you with a list of prime summer destinations.
With the abundance of trip categories being offered, you're bound to find something that tickles your fancy.
Destinations Open for Travel
Figuring out where you can actually travel from Saudi Arabia is a breeze thanks to the Wego app's Destinations Open for Travel feature. Simply set your city of departure and your vaccination status, and the app will automatically sort out destinations where you can travel to without having to serve quarantine and/or testing.   
Additionally, selecting a destination from the list will provide you with further information regarding price trends, flight deals, local prayer times, and other vital information to ensure a hassle-free trip.
Cast off your worries and install the Wego App for a smooth travel-planning experience!
[Total:

102

Average:

4.9

]