This article is reviewed regularly (on a monthly basis) by Wego's editorial team to ensure that the content is up to date & accurate. 
Last Updated – October 2020
Fancy experiencing the wilderness but not keen on sleeping on the ground in a bag that's made out of other bags? Truth be told, we don't blame you. Who wants to give up the comfort of their bed to stay in an amenity-free place where the animals are not afraid of humans? That's just a tad too intense for our liking.
In Malaysia, when we camp, we glamp; there's really no reason why we can't rekindle our connection with nature in style and comfort. With fluffy beds, clean and fully functioning toilets, pools and jacuzzi, glamping allows us to root our spirits in nature while we enjoy the finer things in life. It's a best-of-both-worlds type of a deal.
On that note, here are our top 10 picks of the best glamping places in Malaysia.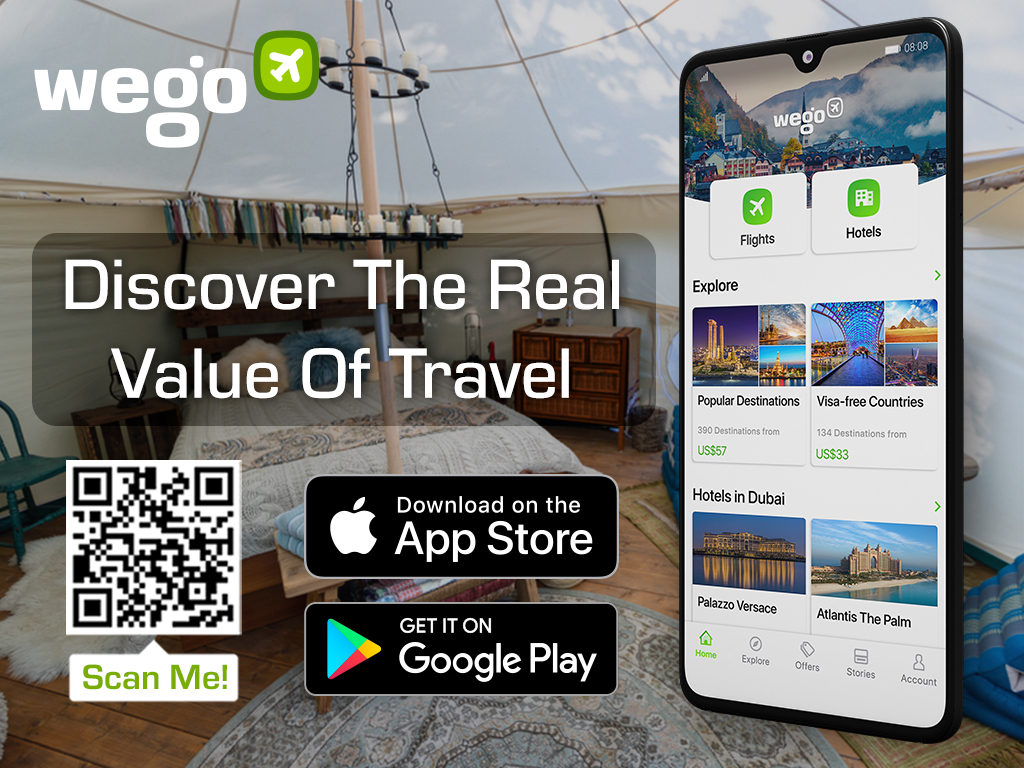 Tiarasa Escapes, Pahang
Nestled in the cool foothills of Janda Baik, Tiarasa Escapes Glamping Resort envelops your senses in its verdant green surroundings and calming atmosphere. If you have yet to experience a stay in a treehouse, this place offers the perfect opportunity for an airy glamping experience in the midst of a tropical rainforest. All around wonderful silence, clean air and early morning encounter with exotic birds put Tiarasa Escapes on the list of Malaysia's best glamping options.
Available accommodations include 20 safari-style tents and 5 treehouses, with amenities ranging from air conditioning, private bathrooms, complimentary WiFi to an outdoor pool, in-room breakfast and picnic baskets.
Price: From RM 990 per night
Website: Tiarasa Escapes
Glamz at Genting, Pahang
Escape the rush of the city and experience the glitz and glam of the great outdoors. Glamz at Genting features unique dome-style lodges with generous windows allowing you to gaze at the stars just before you doze off. After all, nothing screams 'nature retreat' more than sleeping under the stars, right? Glamz also offers a more traditional approach to glamping in the form of bell-shaped tents.
Available amenities include private jacuzzis, private bathrooms, BBQ tents, inflatable playground and a cafe.
Price: From RM 300 per night
Website: Glamz at Genting
The Sticks, Selangor
Make your way through the dense jungle of Kuala Kubu Baru, negotiating narrow jungle passage, soothing stream and river to reach your destination. Your prize? The Sticks jungle resort, where you may avail yourself in modern conveniences amidst an unpredictable nature. This off-the-beaten-path establishment allows you to spend your retreat at rustic, charming tendoks (you guessed it, short for tent and pondok) bathe or swim in the river and partake in a variety of adventurous jungle activities.
Available lodgings include various tendoks and tents with or without attached bathrooms. Available jungle activities include jungle trekking, white water rafting and paragliding.
Price: From RM 229 per person per night
Website: The Sticks
Gopeng Glamping Park, Perak
Enter Gopeng Glamping Park, a family-friendly outdoor glamping experience surrounded by hills, river, caves and forest. Aiming to reconnect guests with nature, the available tents are purposefully kept basic to keep distractions at a minimum. Be prepared to rediscover the lost art of conversation as you share stories with other campers around the bonfire. Forge bonds with fellow adrenaline junkies by partaking in a slew of challenging activities provided by the camp.
Available amenities include buffet meals and BBQ dinner, outdoor activities, free WiFi, entertainment and family service.
Price: From RM 158 2D1N per two persons
Website: Gopeng Glamping Park
Cabana Retreat, Sabah
Ah yes, the smell of the ocean. The beachside Cabana Retreat provides couples with some memorable alone time as well as the chance to relax and reconnect. The aptly named Romantic tent features a private 12 square-meter balcony where couples may lounge in the sun and enjoy intimate activities such as couple BBQ and stargazing. For more adventure-oriented couples looking to explore the surroundings, the glamping resort offers a collection of water sporting activities and boat tours.
Available amenities include pool, WiFi, daily housekeeping, in-room dining service and open cinema.
Price: From RM 240 per night
Website: Cabana Retreat
Tadom Hill Resort, Selangor
Being within close proximity to Kuala Lumpur (some 45-minute drive), it's kinda hard to believe that such an exquisite bamboo-inspired resort reminiscent of some remote pacific islander village truly exists here. Its vast 45-acre real estate houses campsite, lodging and chalets encircled by limestone hills, emerald lake and soothing trees.
Guests may choose between the available accommodation including garden tents, lakeside tents and hammock spheres. The resort also offers a plethora of leisure activities both on land and water, namely, archery, water swings and bamboo diving platforms among others.
Available amenities include ensuite private bathrooms, air-conditioning, ceiling fan and canopy mosquito net.
Price: From RM 106.60 per night
Website: Tadom Hill Resort
Sekeping Serendah, Selangor
Perhaps the closest entry you'll get to a traditional camping experience, Sekeping Serendah adopts a minimalistic approach to glamping with their accommodations purposefully kept simple.
The open and airy sheds highlights the surrounding vistas set within 5 acres of tropical rainforest. Stillness and tranquility reign supreme here as the forest and babbling brook commune to those willing to attune themselves to it.
Available amenities include bathroom, kitchen, BBQ facility and WiFi in common areas.
Price: From RM 300 per night
Website: Sekeping Serendah
Tanah Aina Fahad, Pahang
Those longing to put their mettle to the test may find Tanah Aina Fahad to their liking. Nature trails and guided jungle trekking through the dense jungle of Raub beckons to both adventurers casuals alike, while companies looking to build cohesiveness and foster teamwork between them will find the obstacle course and its certified instructors more than sufficient.
As there is no WiFi available, the probability of anyone being glued to their phone is practically non-existent. Lodgings are in the form of tents, which vary from basic single tents to the lavish King Tent.
Available amenities include ensuite bathroom, meals, and complimentary guided jungle trek.
Price: From RM 250 per night
Website: Tanah Aina Fahad
Time Capsule Retreat, Pahang
Pack light and ensure you're not claustrophobic before deciding to depart for Time Capsule Retreat glamping spot. This is due to the nature hideaway's unique accommodation offerings in the form of a 'time capsule' that's barely enough to squeeze in two people.
While this may or may not sound ideal depending on your preference, between its tranquil setting, rainbow waterfall and its promise of sunrise above the clouds, the place sets the tone for a quiet discovery and a deepened appreciation of mother nature. Cottages for larger groups are also available for those opting to stay with their family and friends.
Available amenities include free WIFi, BBQ and drinks and access to town in under five minutes.
Price: From RM 118 per night
Website: Time Capsule Retreat
Sailor's Rest Resort, Pahang
Weary sailors are welcome to drop anchor here and momentarily forget the turbulent storms of the unforgiving seas. In our case, that actually means getting away from the chaos of the stress-inducing modern life and enjoy the warm and comforting embrace of mother nature. Sailor's rest offers two unique accommodation options, namely the Boathouse and Glamping.
Naturally, the Boathouse deal involves staying in a room in an actual boat with an ensuite bathroom and private lounge. No need to worry about getting seasick as the boat floats on calmer waters. The glamping option focuses on Janda Baik's lush surroundings which offer an enchanting waterfall, and the Orang Asli village. Tents are the designated accommodation option here.
Available amenities include common hall, dining hall, playground and a plethora of jungle and river activities.
Price: From RM 500 per night
Website: Sailor's Rest Resort