This article is reviewed regularly by Wego's editorial team to ensure that the content is up to date & accurate. 
Updated November 2022
As of now, all 32 teams have qualified for the World Cup 2022 set to be held in Qatar this November. The last two spots were claimed by Australia and Costa Rica; notably edging out the UAE and New Zealand in the process.
With all the finalists confirmed, the match schedule for the World Cup has now been finalized. For the duration of the tournament, a total of 64 matches will be held with 48 matches taking place in the group stage and 16 matches in the knockout phase.
Fans basing their World Cup excursion outside of Qatar will naturally need to plan their flights accordingly to ensure they reach the stadium before the kickoff whistle blows. For fans who have yet to book their World Cup travel packages we've written a comprehensive guide on the best time to fly to Doha for a match. 
World Cup match timetable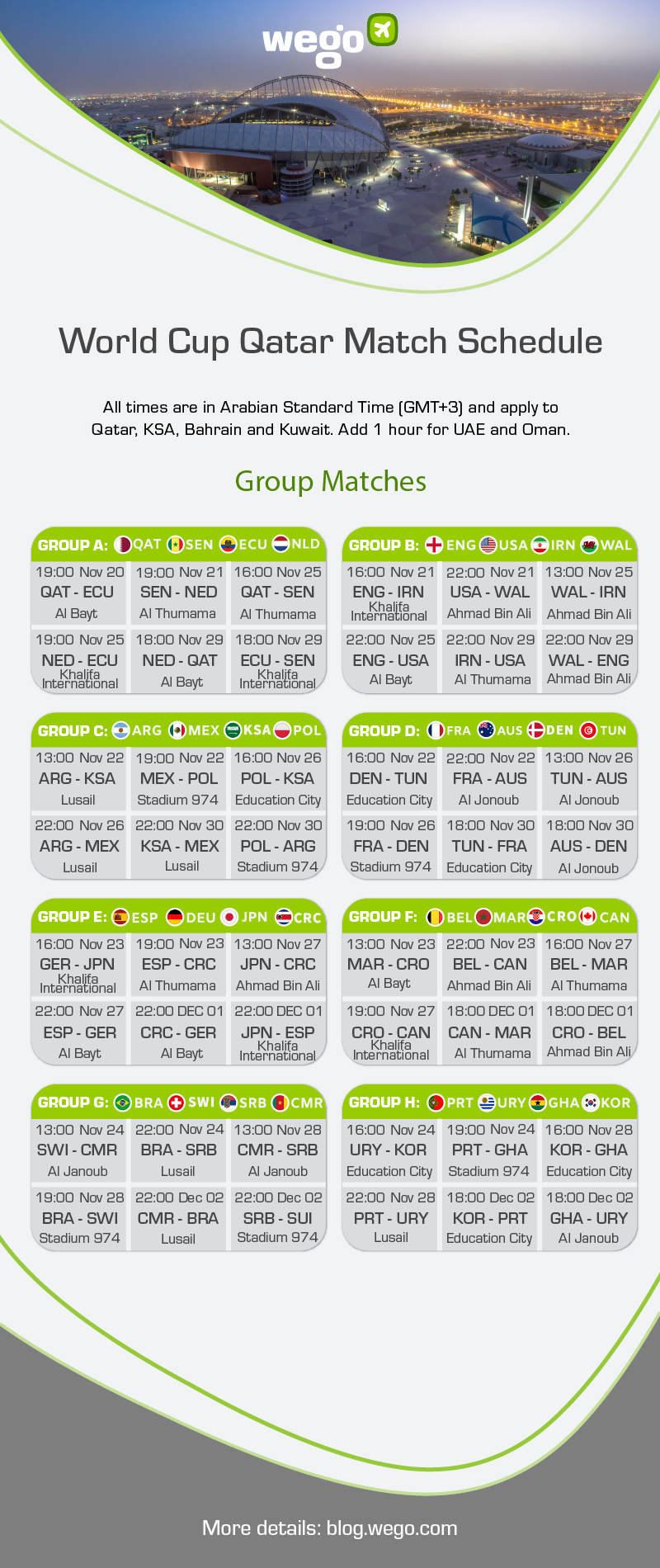 Opening match
The opening match between host Qatar and Ecuador will take place on 20 November at 7 PM Arabia Standard Time (GMT+3). 
We recommend flying from the city where you're staying at least four hours in advance so that you have ample time to make your way to Al Bayt Stadium and attend the opening match. Our recommendations for the best flights to Doha are as follows:
Regular flights
Group matches
The 48 matches in the group stage for the Qatar World will be divided into three matchdays:
Matchday 1: 21 – 24 November

Matchday 2: 25 – 28 November

Matchday 3: 29 November – 2 December
A total of four matches will be played on a single match day. For the first and second matchdays, the timing of the matches is at 1 PM, 4 PM, 7 PM, and 10 PM.
For matchday 3, two matches will be played simultaneously at 6 PM and 10 PM. 
Please properly determine your team's match schedules and timings, and plan your flights accordingly.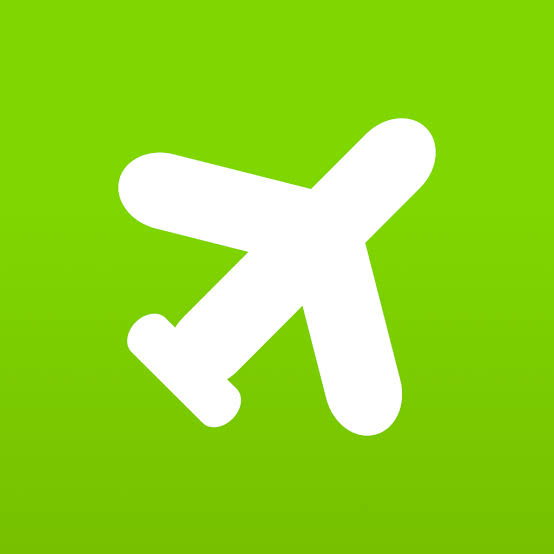 Book cheap flights to Doha
Round of 16
The knockout stage starts with the round of 16 scheduled to take place from 3 to 6 December. Two matches will be played each day at 6 PM and 10 PM. Our recommendations for the best regular flights to Doha are as follows:
Quarter-finals
The quarter-finals will be held from 9 to 10 December. Two matches will be played each day at 6 and 10 PM. Our recommendations for the best flights to Doha are as follows:
Semifinals
The semifinals will be held from 13 to 14 December. One semifinal match will be played each day at 10 PM. Our recommendations for the best flights to Doha are as follows:
Final match
The World Cup 2022 tournament will culminate on 18 December 2022. The final match will be held at 6 PM at the Lusail Stadium. Our recommendations for the best flights to Doha are as follows:
Best time to fly for a match
Since it's clear that not all fans will be basing their World Cup trip in Qatar due to the lack of available accommodation and other factors, the question of when the best time to fly to Qatar would depend on where you're staying. 
For the purpose of this guide, we'll categorize international football fans into two groups; those staying in Qatar and those staying in neighborhood countries. 
Fans staying in Qatar
If you're fortunate enough to have secured your Qatar accommodations for the World Cup, all that's needed is to make sure that you book your Qatar flight accordingly and arrive in Doha on the date of your accommodations booking. Our advice is to book your flight as soon as possible since the demand for tickets will only rise as we approach the World Cup.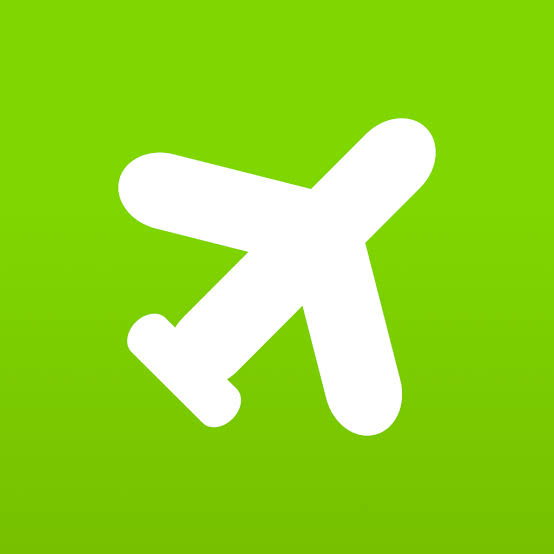 Book Cheap Flights to Qatar
If you're planning on staying in Qatar but are yet to book accommodations, we recommend booking your Qatar hotel as soon as possible. It's best to set your booking date for one or two days prior to matchday so you can rest and recuperate before attending the World Cup matches.
While FIFA encourages fans to book through their official portal, you can also find hotels, apartments, villas, and other types of accommodation on Wego.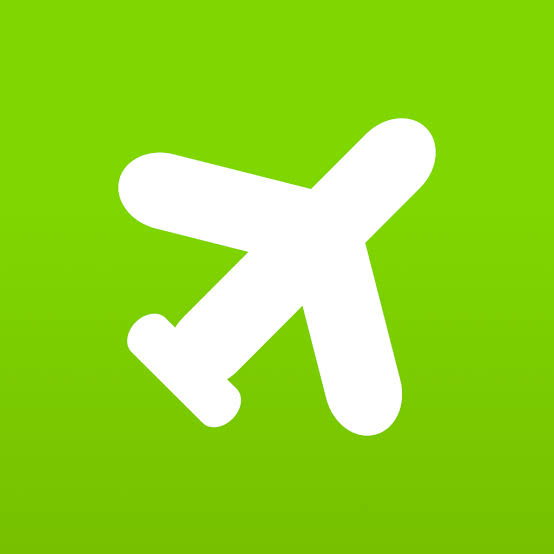 Book Qatar hotels on Wego
Fans staying in neighborhood countries
Qatar is a stone's throw away from countries such as the UAE, Saudi Arabia, Kuwait, Oman, and Bahrain, and as such, many will opt to stay in these countries for the duration of the World Cup. Day trip fans staying in nearby countries may obtain their Hayya Card without a hotel booking. All they need to do is provide their day trip details which typically involve shuttle flight bookings through the Hayya portal or Hayya app. 
The flight duration for the above countries to reach Doha is as follows:
the UAE: Most World Cup flights will likely depart from Dubai and Abu Dhabi with an average flight time of one hour
Saudi Arabia: Fans will likely opt to stay in either Riyadh or Jeddah as they're the two closest major cities to Doha. Flight times are 1 hour 30 minutes and 2 hours 20 minutes respectively on nonstop flights
Bahrain: While Bahrain is geographically close to Qatar, there are no direct regular flights operating from Manama to Doha. A connecting flight between Manama and Doha typically takes 3 hours and 40 minutes to complete
Oman: For fans opting to embark on day trips for the World Cup, the flight time from Muscat to Doha typically takes 1 hour and 30 minutes to complete
Kuwait: Direct flights from Kuwait City to Doha typically take 1 hour and 25 minutes to complete 
Types of available flights
Shuttle flights
The best option for fans staying outside of Qatar is shuttle flights. Airlines in the region have aligned themselves to provide fans with plenty of options to attend matches in Doha from cities such as Dubai, Muscat, Riyadh, Jeddah, and Kuwait City. These shuttle flights will allow fans to reach Doha and return to said cities on the same day. Read more about the World Cup shuttle flights here: 
As of now, it's been reported that these special shuttle flights will be scheduled up to five hours before any given match. With travel to Doha from these cities ranging from one to two hours, it's highly likely that fans will be able to arrive in Doha within three hours before the match. 
Airlines that officially announced their shuttle flights are Qatar Airways, Air Arabia, flydubai, Jazeera Airways, Kuwait Airlines, Oman Air, and Saudia. 
Moreover, Dubai Airports has advised match-goers to check all necessary requirements with their respective airlines before arriving at the airport as it gets ready to welcome a large upsurge of passengers at Dubai World Central with the match-day shuttle flights to Doha for the Fifa World Cup the following week.
For travelers using the shuttle service from all airlines who are departing from Dubai Airport, the only checked baggage that will be accepted are wheelchairs and strollers. All other passengers are only permitted to bring hand luggage according to their class of travel.
Chartered flights
Apart from shuttle flights, the next best option for your flight to Qatar is by chartering private flights from the country you're staying in. Although it may seem quite pricey at first, if you're travelling in a group chartering a private flight can be both cost-effective and convenient since you have more control of your flight.
For fans staying in the UAE and Saudi Arabia, you can check out our articles on chartered flights UAE and chartered flights Saudi Arabia for more information.
Regular flights
Regular flights will also be an option to travel to and from Qatar. Keep in mind that regular flights will likely be less and less available near the World Cup. We suggest booking as soon as possible to increase the likelihood of securing your Qatar flight.
For suggestions on the best possible timings for regular flights, please consult our timetable section below.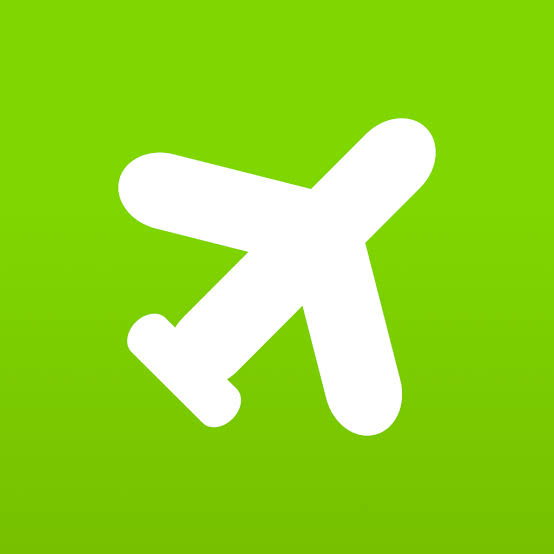 Book Cheap Flights to Qatar
[Total:

134

Average:

4.7

]