Welcome to Australia's laid back and beautiful tropical north. Cairns sits up towards the pointy, north end of the east coast and enjoys a tropical climate that's perfectly suited to a chilled out holiday. It's also a gateway to the dramatic natural wonders of two World Heritage listed sites – inland; the Daintree Rainforest, and oceanside; the Great Barrier Reef.
As a busy coastal city, Cairns manages to retain a relaxed feel that seems to continuously beat to a holiday rhythm. It's in the air as you wander the beautiful beaches, pop into town for lunch and check out the great cafes and bars, local markets, or just find yourself a chic resort and lose yourself in a book by the pool.
An easy day trip, only two hours north of Cairns lies the magnificent Daintree Rainforest.
For 135 million years this incredible rainforest has remained untouched. The wilderness has its own unique ecosystem and local inhabitants, including a kangaroo that prefers to live in the trees than on the ground, and the very prehistoric looking (and endangered) cassowary.
It's Australia's largest continuous piece of tropical rainforest and there's a few ways to get the most out of it.
Take a quiet cruise down the Daintree River and play spot the crocodile, or follow one of many treks on foot accompanied by the unique forest sounds as you make your way to the ocean, and the sparkling turquoise ocean of Cape Tribulation.
Directly connected to Cairns, the bohemian and artistic community of Kuranda is a quaint little town, and a perfect place to shop away at the galleries and markets. It's worth the trip just for the way you get there.
Cruise 7.5kms over the rainforest canopy in a cablecar on the Skyrail Rainforest Cableway. The unique journey takes around 90 minutes with stop off opportunities at Red Peak and Barron Falls; two rainforest stations.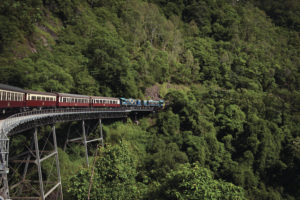 Another great way to get to Kuranda is aboard the Kuranda Scenic Railway. Make your way through the rainforest and mountain range (up to 328m) past roaring waterfalls and the breathtaking Barron Gorge.
The history of this little railway line goes back to 1891, when it was first built to help transport supplies to remote tin workers. And for views like this one (below), it's worth every minute.
Dating back over 40,000 years, Aboriginal culture is widely thought to be the oldest living culture in the world. Just 15 minutes from Cairns you can have an authentic Australian Indigenous experience at Tjapukai Aboriginal Cultural Park.
No one tells stories of this unique heritage the way that the locals do and these stories are thousands of years in the making. You'll see live performances that incorporate music and dance into fabulous storytelling.
You'd be hard pressed not to notice the deep blues of the sea off the coast of Cairns. Gateway to one of the world's most magical underwater ecosystems, the Great Barrier Reef is within easy reach and a must-do.
There are a multitude of professional local operators who can take you out for a snorkel, sail, dive or just a day island-hopping. There's over 400 types of reef coral, 1,500 types of fish and dazzling seas and sky. Speaking of sky, you can also take a helicopter flight which gives you an amazing perspective on the reefs below as they sit in relatively shallow waters.
For adventurers and lovers of the extreme, take off for some white-water rafting on the Tully or Barron River, or a tandem skydive, quad biking, horse riding or hang-gliding. It's a perfectly framed setting to any adrenalin rushing experiences.
A little less extreme but no less enjoyable, stroll Rusty's for some sweet locally grown pineapples and macadamia nuts as well as other fresh, regional produce, or check out the Esplanade market on Saturdays for clothing, accessories and other great finds.
Plan your tropical north getaway and get some great airfares to Cairns from India here, from Singapore here, and from Malaysia here.
Images courtesy of Tourism Australia