For many, Ludwig van Beethoven is so much more than a 'mere' musical genius; he is regarded as a painter of passion, a scribbler of symphonies and a litterateur of life par excellence who has embodied the face of classical music for more than two centuries. Beethoven shattered the chains of classicism by inventing new musical harmonies infused with the torments of man in the face of his destiny.

It is almost impossible not to be overwhelmed by the Ninth Symphony's famous finale, Ode to Joy, where Beethoven unequivocally calls for harmony and brotherhood. His unwavering optimism and affinity toward humankind's sense of freedom and justice is precisely the reason why the Council of Europe adopted this choral symphony as their anthem in the year 1972.
If you're looking to retrace and celebrate the life of a genius, here's the route you can follow.
Visiting Beethoven's home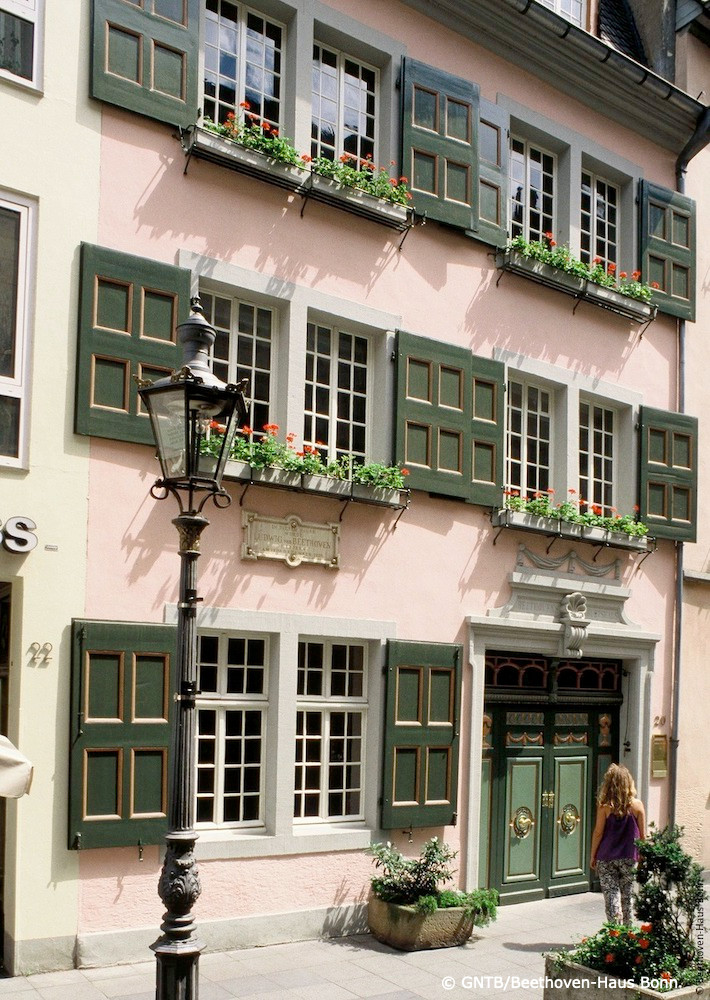 The German composer, whose 250th anniversary is being celebrated this year, was born at a modest and unassuming house located at a cobblestoned area in Bonn, in the month of December 1770. It was in this historic abode that Beethoven's musical prowess started to materialize at an exceedingly early age.   
The Beethoven-Haus, as it is presently known, offers insights into his early days along with the underlying sentiments and philosophy behind all of his masterpieces. For the numerous Beethoven devotees worldwide, this small house-museum on Bonngasse which safeguards a collection of paintings, instruments, letters and musical notes handwritten by Beethoven himself, serves as their holy grail.
Today, visitors wishing to enjoy live performances of Beethoven's masterpieces may do just that in the museum's small but intimate Chamber Music Hall. For a grander and more formal atmosphere, the Hermann J. Abs half-amphitheater located right across the street. 
Beethoven monument
Beethoven's dominion over the hearts and minds of the people of Bonn has always been nothing short of absolute; a bronze statue was thus erected in the 19th century in commemoration of his 75th anniversary.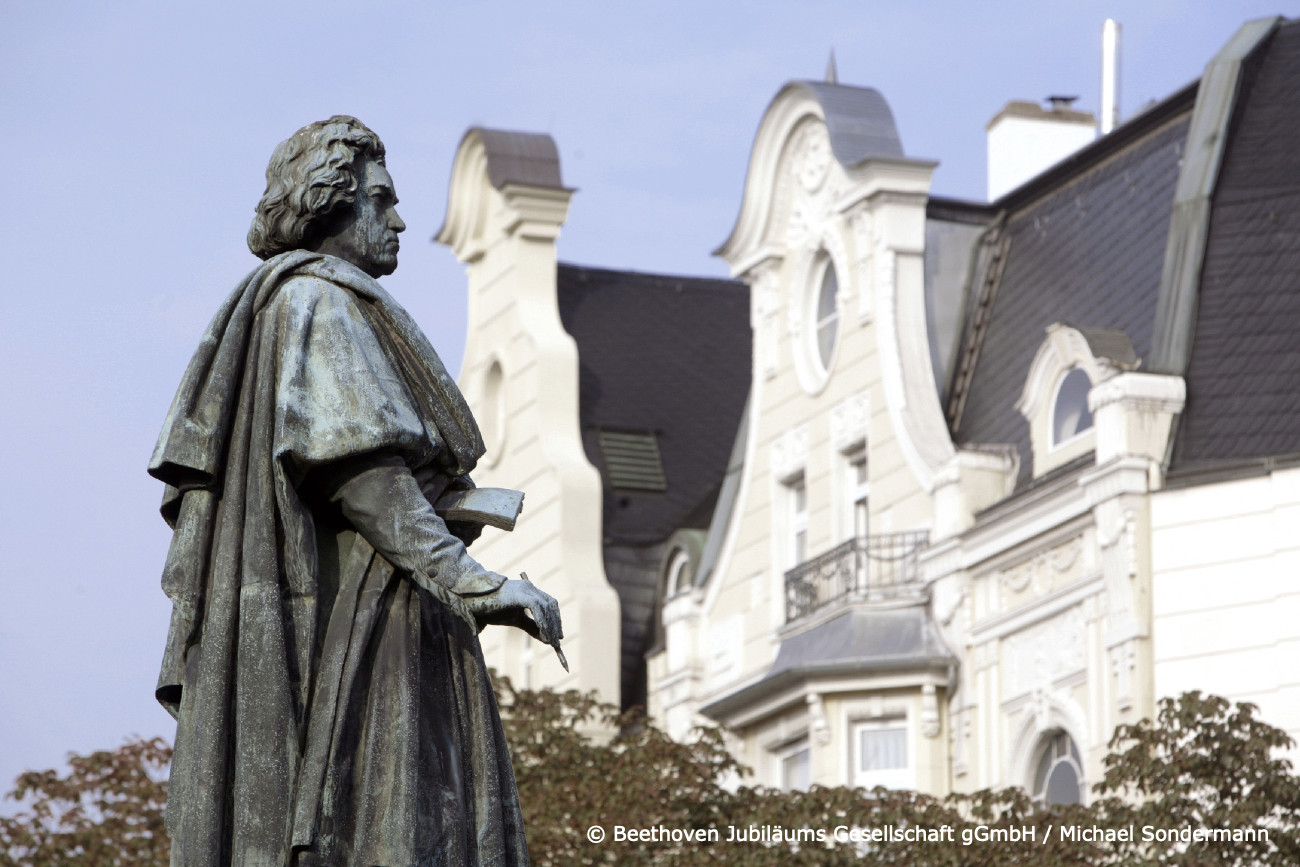 Standing proudly as the centerpiece of the Münsterplatz, the Beethoven Denkmal (monument) directs his gaze slightly upwards with a pen and musical note in hand, as if lamenting his fate to the heavens.
Impromptu recitals are often held under the watchful eyes of the maestro and to the delight of numerous passersby.
Beethoven Story in the city of Bonn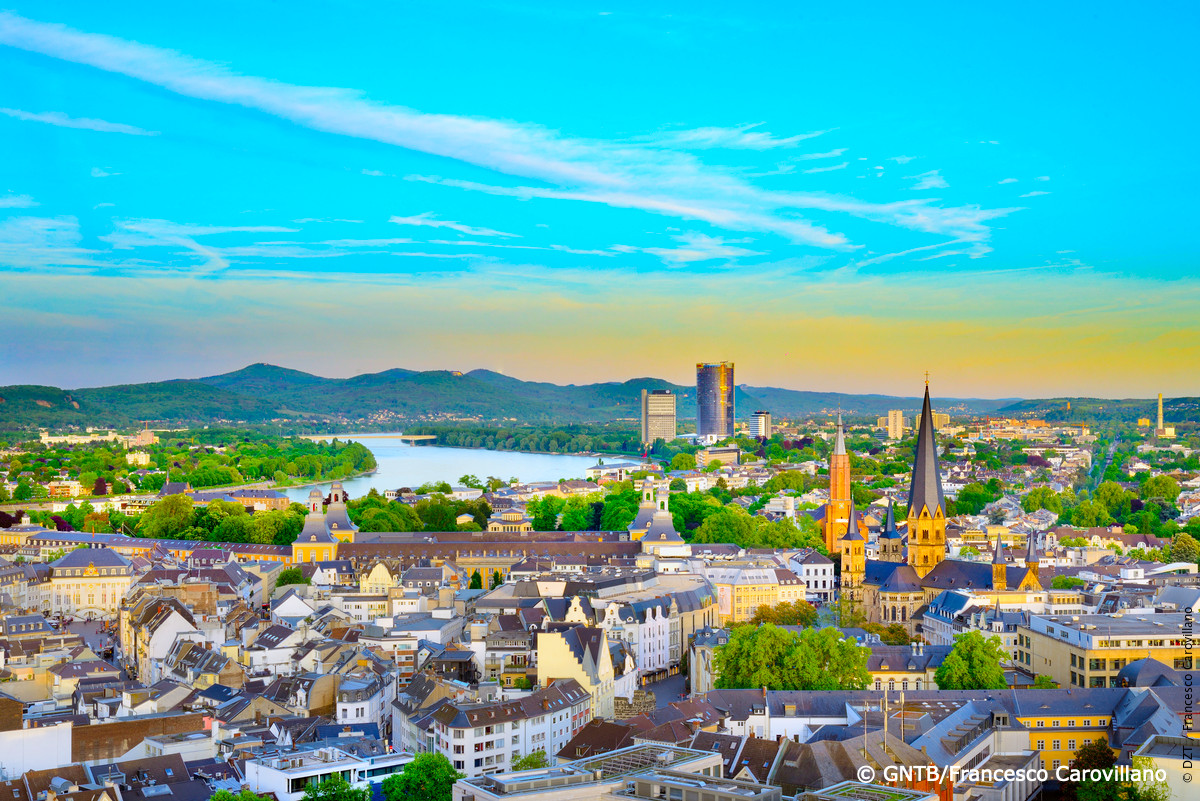 In the year 1777, a Teutonic Knight by the name of Hofrat von Breuning, was killed in a fire ravaging the royal palace. He was survived by his wife Helene, and his four young children, who continued to reside in their three-story classical dwelling at the center of Bonn. The grieving widow and especially the children had no choice but to continue living while being surrounded by mementos of their loving father in the form of musical instruments, books, and toys.
The following year, the eighteen-year-old Ludwig van Beethoven arrived at the von Breuning home to provide piano lessons for the younglings Lorenz and Leonore. Beethoven was welcomed into the family with open arms and quickly found the warmth and comfort he had not found in his own home. The next couple of years saw Beethoven visiting the house daily and it was among the von Breunings that he spent his last day in Bonn before departing to Vienna in the year 1792.
Retracing Beethoven's steps
Those visiting Bonn to specifically learn of Beethoven's story will no doubt be intrigued by the numerous historical accounts of the gifted composer as depicted above. The Beethoven Tour arranged by BTHVN2020 has deployed a total of 22 information steales, eleven of them are scattered strategically in the city of Bonn while the remaining eleven can be found in the Beethoven Region of the Rhine-Sieg District. 
These innovative information stelae offer further insight into the life of Beethoven by presenting visitors with numerous stories and trivia in the form of images, sounds and texts, accessible through a single scan of a QR code. Visitors retracing Beethoven steps within the city of Bonn will find these stelae helpful, as they have been purposefully deployed in places where young Beethoven used to frequent. Sadly, some of these places no longer exist due to various reasons.   
However, a tour in the Rhine-Sieg district is a different story altogether. The eleven remaining steales take visitors to centuries-old castles where Beethoven taught piano lessons to nobilities, as well as monasteries and healing water springs which were part of his regular hiking route. Simply taking a stroll along the romantic River Rhine where time seems to crawl to a halt will allow anyone to eventually connect with the spirit of Beethoven. 
Planning your Bonn Visit
Three airports serve as entry points to the city of Bonn, namely Cologne, Düsseldorf and Frankfurt. 
Arriving at Cologne airport located some 16 kilometers away, you may continue your journey by taking the airport bus to Bonn. While a train ride to Bonn is recommended should you be arriving at either Düsseldorf or Frankfurt airport.  
If you've never visited  Germany before, you may need a bit of help in finding the most suitable accommodations prior to your arrival. Not to worry though, you can peruse through our selection of excellent hotels in Bonn and Cologne so you may fully maximize the value of your Bonn trip.   
Be inspired by the Dreams become Reality website of the German National Tourist Board. This article was brought to you by Wego and The German National Tourist Board.
For more information on traveling to Germany during this time, please click here