This article has been reviewed by Wego's editorial team to ensure that the content is up to date & accurate.
So the turkey's in the oven, the church bells are ringing and the Christmas tree is all lit up. But as you look around your home, you realize there's barely anyone there. As with practically every event and celebration taking place in the year 2020, sacrifices will have to be made for the greater good, which means that Christmas 2020 is shaping up to be a far more 'peaceful' affair.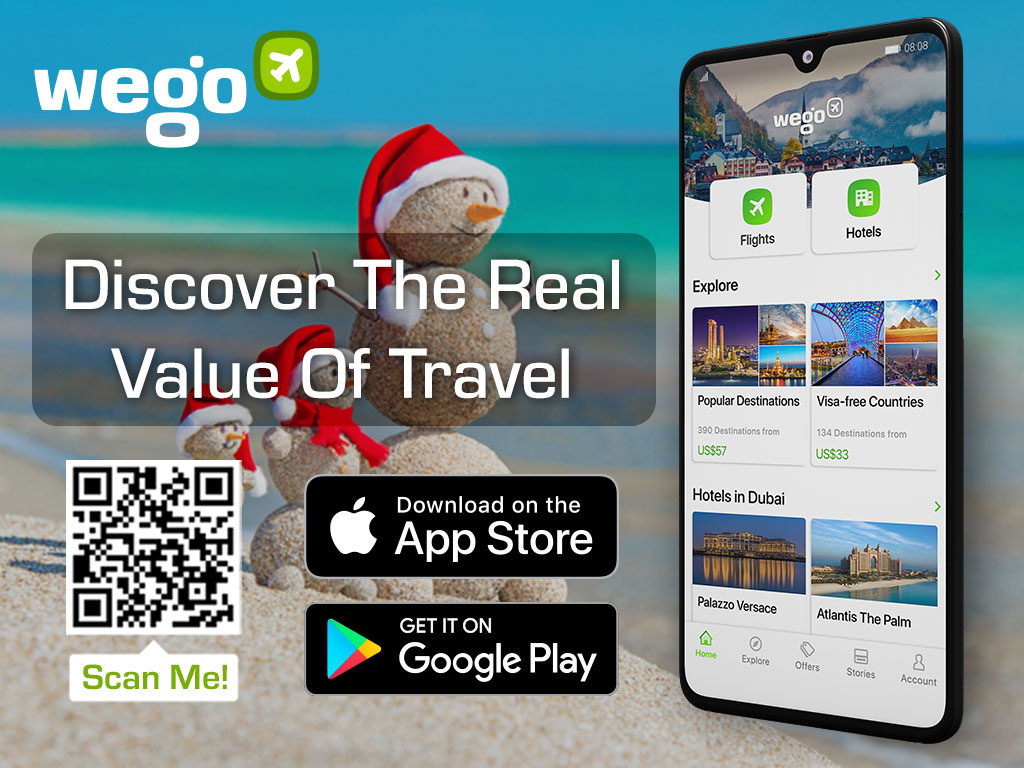 Consequently, travelling for the holidays may just be the best option in order to avoid the grim scenario above, and yet there's simply no getting around the pandemic. Rigid covid-related restrictions have and will continue to severely limit people's ability to gather and travel for the foreseeable future. And while travelling would still be theoretically possible, it would inevitably pose unprecedented challenges and heightened risks especially for those who are older or have underlying medical conditions.
Still, with a little bit of extra planning and some due diligence, travelling for that Christmas vacation would still be possible. Here is our take on how Christmas will look like in some countries along with some ideas on where people can spend their Christmas vacation.
The United Kingdom
With the UK undergoing yet another lockdown until early December, it's more than likely that most people will choose to stay home and keeping things low-key instead of travelling. In all likelihood, even if the lockdown is lifted as previously planned, travelling would entail going on short, closer-to-home trips where activities are based outdoors and appropriate social distancing measures can be properly maintained. With numerous Christmas markets being cancelled, radiant Christmas trails may very well be the only remaining option. You can find these Christmas trails in various cities, including Lightopia in Manchester, Blenheim Palace Illuminated Light Trail in Oxfordshire and Christmas at the Botanics at Edinburgh among many others.        
The United States
Americans are torn between going on a Christmas vacation or avoiding the coronavirus altogether by staying put according to a recent survey. While states across the US are relaxing restrictions as of late, Americans remain largely unconvinced on whether or not they should go ahead with their trip.
However, those that are looking to travel generally find destinations allowing them to enjoy the great outdoors particularly appealing. Most respondents also say that travelling by car in lieu of public transport such as planes or trains is preferred to minimize contact and health risks. Some of the more popular destinations include Myrtle Beach, Colorado Springs, Las Vegas and Los Angeles. 
Germany
In light of a month-long partial lockdown, Christmas festivities in Germany is currently under threat. Should the current lockdown extends to Christmas, then the typical Christmas celebration involving warm gatherings with family, friends, colleagues and subsequent visits to the Christmas markets are likely to be cancelled.
In fact, most of the country's 3,000 traditional Christmas Markets are currently facing cancellations. Since the lockdown also strongly discourages non-essential travel and determines the number of people who can come together for a private celebration, Germans may indeed have to settle for a truly silent celebration.  
New Zealand
New Zealand is currently at alert level 1, which means that domestic travel is allowed providing travellers adhere to the prevailing health protocols. The epidemiological situation in New Zealand has been largely favourable with the country recording no new cases in the last 14 days, which means that Kiwis can largely celebrate Christmas the way they've always done.
As there is no limit on the number of people who can attend a gathering, the Kiwi Christmas tradition of having a barbecue with family and friends will no doubt continue to be upheld. For Kiwis looking to travel abroad, a travel bubble between New Zealand and Australia is currently in effect. A special travel arrangement with Singapore is also in place for those looking to visit the city-state for both essential and non-essential purposes.     
Australia
Australians looking to travel domestically for Christmas will need to first familiarize themselves with the travel restrictions of various states.
Western Australia's borders remain closed until November 14. Until then, interstate travellers cannot enter Western Australia without an exemption and supervised quarantine may be required.
Northern Territory's borders are open to all interstate travellers apart from those coming from Greater Melbourne. There are no restrictions in place within the state.
Queensland will not grant entry to arrivals from Victoria and Greater Sydney. The state has reopened to other parts of NSW. Queenslanders can travel to areas outside of the 32 LGAs of Greater Sydney, with transit via Sydney airport allowed.
New South Wales Victorian border will reopen on November 23. Until then a permit scheme is in place for border residents and those in transit. NSW residents returning home from Victoria must fly to Sydney airport and go into quarantine. There are no restrictions on other states.
Australian Capital Territories' borders are closed to travellers from Victoria. Residents are free to travel for holiday and recreation purposes.
Tasmania is open to travellers from low-risk areas (NSW, Qld, ACT, SA, WA, NT and NZ). Travellers can register with Tas e-Travel and need not quarantine.
Travel restrictions for residents inside Victoria have eased, but other states' rules mean there are severe limits on travel from Victoria to anywhere else in Australia.
South Australia's borders with Victoria is closed, with allowances for border residents. Travellers from other states and New Zealand can enter without restriction but must complete Cross Border Travel Registration.
Philippines
The Southeast Asian country is well known to have a zeal for the festive season—anticipation and preparation start as early as September—so this year is shaping up to look and feel different to the Filipinos. 
As Philippines continues to struggle with the pandemic, tight social measures have been taken to assert control: Gatherings are prohibited, curfews are enacted, and Christmas parties seem to have been outright banned in Metro Manila. While restrictions over non-essential international travel have been relaxed since end of October, reports indicate that there's no immediate surge in bookings. People may look to spend the holiday close by or stick to what they know best: celebrating with their loved ones, albeit in a smaller capacity this year.