Sweltering heat waves hitting wide swaths of Europe have been making the news these past few days. Popular destination countries such as France, Germany and the Netherlands among other nations experienced record-high temperatures with some cities soaring above 40 degrees Celsius.
While these temperatures were once uncommon in Europe, many countries closer to the equator deal with high-temperatures all year round. Regardless of where you're from, if you're looking for a vacation spot to beat the heat and escape the paralysing summertime humidity, consider going to one (or more!) of these cooling locations where the heat will be no more than an afterthought.
Cape Town, South Africa
Typical temperature in August: High 20° / Low 12°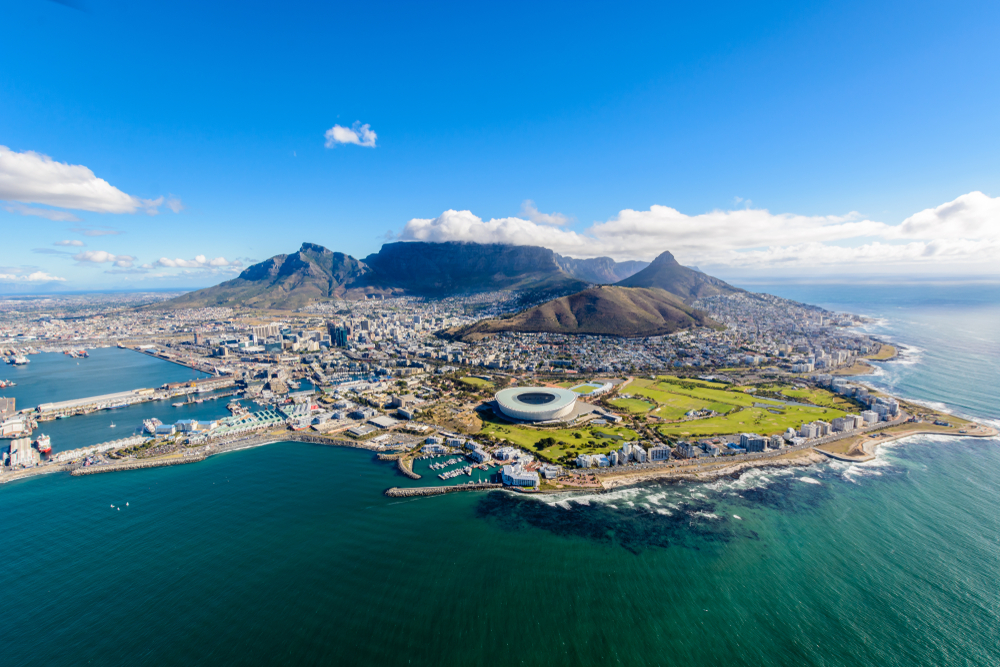 Located between towering mountains and the roaring seas, the stunning city of Cape Town is full of creativity and natural wonders with endless opportunities for outdoor adventures. The Table Mountains and surrounding National Park is sure heaven for those who enjoy getting active. Activities like hiking, biking and rock climbing are all hugely popular among travellers to the city.
The skies provide no less excitement either, and adventure sports operators offering skydiving, paragliding or zip-lining activities are aplenty around Cape Town.
August sees winter mellowing out here, so you can expect balmy weather with a smattering of light rainy days in between. Even then, the city that has so much to offer outdoors offers chances for excitement and discovery indoors as well. Look out for Cape Town's collection of magnificent museums and indulge your tastebuds at some of its prominent restaurants.
Find cheap flights to Cape Town
Hobart, Australia
Typical temperature in August: 14° High / 6° Low
Tasmania's capital is every bit as Aussie as the mainland, and yet carries an air of the delightfully different. This sleepy port-city has truly grown into herself in recent years, humming to life with new museums, restaurants, boutiques, a thriving live-music scene, and the constant presence of natural beauty.
Hobart's iconic waterfront attractions are among her many other attractive features. While it's probably too cold for swimming, a stroll on the lovely, mostly-deserted beaches is just what we prescribe!
Local markets offering the best of arts and crafts, fresh produce and home-goods fill streets of Salamanca palace on Saturdays. Many opt for a weekend getaway to Bruny Island to see the Southern Lights and camp under clear, starry skies.
Lhasa, China (Tibet)
Typical temperature in August: High 22° / Low 11°
Nestled deep in the Himalaya mountains is the city of Lhasa. Monasteries, temples and pilgrimage routes abound in this colourful jewel of a city. The pulsing heart of the Tibetan Buddhist world is a place of spiritual grandeur, including monuments such as the iconic red-and-white fortress-like Potala Palace—the historic winter residence of the Dalai Lamas, and the 1300-year-old Jokhang Temple.
Prostrating pilgrims from all around the world make their way to Jokhang Temple for a glimpse of the iconic Golden Buddha image. Outside, wide-eyed travellers walk spellbound through Barkhor Street, a cluster of streets and squares selling Tibetan goods and souvenirs.
Despite the rise of commercialisation in this area, Barkhor still remains a spiritual stronghold. Small restaurants found among the shops also make this a good place for a taste of Tibetan cuisine.
St. Petersburg, Russia
Typical temperature in August: 21°C High / 13°C Low
St. Petersburg's location as a port city facing the Baltic Sea provides her with cooling weather all year round. This city is Russia at her most vibrant and spirited. Rich in history and strong in culture, St. Petersburg abounds with museums, palaces, cathedrals and theatres sure to satisfy those with an eye for architecture and a taste for the finer things in life.
The Winter Palace, once the residence of Tsars and Tsarinas, is now a museum exhibiting art objects from around the world. In the historic heart of the city is the Summer Garden, perfect for a leisurely summer stroll among the sculptures and greenery. Elsewhere, monumental Orthodox cathedrals located throughout the city continue to inspire devotion to the divine. Away from these monuments, St. Petersburg also boasts eight wildlife sanctuaries and nature reserves for those seeking a natural escape.
Find cheap flights to St Petersburg
Fuji, Japan
Typical temperature in August: 13°C High / 8°C Low
It is worth making a trip to Fuji at least once in your life to visit the mythical mountain that has inspired the imagination of the Japanese people for centuries. Climbing up the iconic Mt. Fuji will be an experience of a lifetime, but also be sure to check out the myriad of other scenic sites located around.
Northwest of Mt. Fuji lies the Aokigahara Jukai Forest, a favoured spot for a peaceful hike through a sea of ancient trees. Located within the forest are the Narusawa Ice Cave and Fugaku Wind Cave where ice ponds and illuminated icicles of over three meters in length never melt away. Winter sports are also common, and many choose to ski or snowboard to the backdrop of the magnificent mountain at one of the various resorts in the area.
Reykjavik, Iceland
Typical temperature in August: 14°C High / 8°C Low
The capital of Iceland is a perfect destination for any traveller seeking to experience a slice of Nordic life. Despite her small-town appearance, Reykjavik more holds her own in terms of excitement, boasting a thriving music scene, creative culinary culture, vibrant nightlife and ambitious cultural institutions.
Long Icelandic summers mean that there is plenty of daylight for spending time outdoors, and Iceland's natural beauty only further intensifies during the summertime. Be prepared for some paradisal displays of the natural world at work. Something as familiar as the rising and setting sun is elevated to new heights in this magical city with nearly 24 hours of daylight.
Colourful volcanic hills, hot springs, surreal crater lakes and ancient volcanoes from the Ice-Age can be found in this city where a short hike will bring you to beautiful views beyond your wildest imagination.
Dublin, Ireland
Typical temperature in August: 20° High / 11° Low
Ireland's fair capital offers her visitors a mixture of classic sights, hidden treasures, and the best pubs in the world. The most popular attraction is by fair the Guinness Storehouse, but options are plenty for travellers of every kind.
Those who prefer a more contemporary experience often enjoy shopping, feasting and gallery-hopping along Temple Bar or surrounding streets, while the literarily inclined can spend a good few days checking out sites related to famed Irish writers such as Oscar Wilde, Samuel Beckett and James Joyce.
People-watch on green manicured lawns of the city's Georgian parks, or take a short trip away from the city centre to the perfect birdwatching spot on North Bull Island. Ireland is a great city to travel around on foot, but biking around the city is also becoming a popular option among travellers.