This article is reviewed regularly (every month) by Wego's editorial team to ensure that the content is up to date & accurate.
Last Updated 19 November 2020
As countries all over the globe are slowly opening up for leisure tourism, globetrotters are getting eager to jet-set once again. Although the onset of coronavirus pandemic has changed the picture of international travel, the tourism industry has figured out a way to alleviate some of the concerns concerning the pandemic through COVID-19 travel insurance!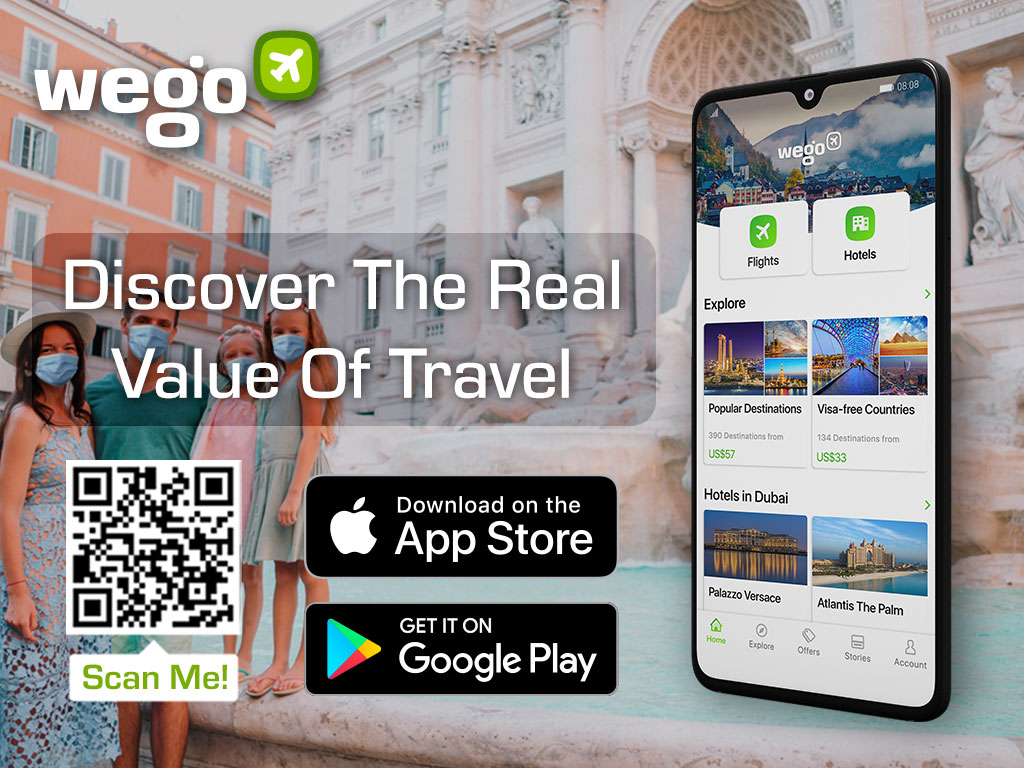 Why is COVID travel insurance an absolute must?
As of November 19, the total case count has crossed 55 million across the globe, with most of the touristy countries seeing widespread transmission. With no end to this unprecedented pandemic in sight, hygiene and safety continue to be the utmost priority for travellers, leisure or otherwise.
Contraction of the virus in a foreign country will undoubtedly cost you an arm and a leg, consequent to the tests, medication and quarantine. In severe cases, hospitalization may be required, further skyrocketing your bills.
The COVID-19 travel insurance reimburses emergency hospitalizations, medical treatments and acts as a safeguard against all such contingent expenses. Some insurance providers also cover the cost of quarantine in their policy. Most policies also cover the losses in case of last-minute cancellations of the trip. However, it is prudent to confirm this with your insurance provider. Some of them also include COVID-19 vaccination charges, whenever it becomes available to the public.
Additionally, most countries, such as UK, USA, Costa Rica, Bahamas, Egypt, UAE, Ukraine, Brazil and the Schengen countries, have made travel insurance covering COVID-19 mandatory for incoming passengers.
What types of insurance are essential?
Traveling is inherently risky, and more so during the pandemic. The following types of essential insurance can safeguard you from certain financial and health risks that may occur while traveling during this time period.
International health insurance
If you are detected with coronavirus while traveling abroad, this base policy covers the expenses of your diagnostics tests, hospitalization, ICU, doctor fees, surgical appliances, medicines, PPE kits, ambulance, post-hospital care, etc. Make sure that you plan specifically covers coronavirus, as COVID-19 insurance is subject to the country you are visiting and the prevailing government restrictions.
Travel cancellation insurance
It indemnifies you for any prepaid, forfeited and non-refundable costs you incur, in case your trip gets delayed or canceled due to COVID-19. Depending upon your plan, it will cover all such expenses up to the time and date of departure. Some companies sell this as an optional add-on, while some offer it as a standalone policy.
Additional covid travel insurance
This takes a step further and reimburses you for any expenses incurred, in case you are forced to extend your trip or stay in quarantine because of the virus.
Choosing the right policy
Do thorough research on free insurance
Cognizant of the needs of their passengers in present times, airlines like Emirates, Virgin Atlantic, Etihad, WestJet and Air Canada have started providing free COVID insurance with their tickets, for a limited period of time. However, these policies may leave out essential benefits, so it may be better to buy a full policy for comprehensive coverage.
Consider your health situation
If you have pre-existing conditions like heart disease, diabetes and other chronic or existing health conditions, you will be considered high-risk individuals and may need to look for a policy with maximum coverage.
Go for a Family Floater Policy if available
Families can opt for the family floater policy to avail of a higher sum insured. However, if respiratory diseases run in the family, a dedicated critical illness cover is recommended.
Opt for a cashless system
Prominent insurance companies have partnerships with different hospitals and offer cashless settlement option, which saves you from the hassle of gathering liquid funds in the event of emergency.
Read the T&C thoroughly
Needless to say, pay attention to the terms and conditions of the policy. Some policies offer full coverage in their basic package while some offer it as add-ons, some policies may state the limits to their coverage in fine lines. It's on you to be an informed customer, so don't skip the fine lines and don't hesitate about asking questions.
For example, if you purchase your travel insurance before March 12, when WHO declared coronavirus as a pandemic, your existing policy would cover COVID-19 related medical expenses. However this is something you'll need to check with your insurance provider for details.
Look for a disruption cover
The best policies will include a comprehensive disruption cover, which will reimburse you for delays and missed departures. Moreover, if you are compelled to extend your stay for reasons beyond your control, such policies will cover your additional expenses as well.
If you cancel plans to travel to an area which has not been explicitly advised against by the government, there's a chance that your insurance will not reimburse you. So, this is something you'll need to clarify with your provider if you're looking for this type of coverage.
Do a background check and comparison
Take a look at the provider's claim settlement record to get a fair idea about his reliability and the likelihood of them reimbursing your expenses. The only surefire way to know the best one is to research and compare. Reviews online and news on the company are good places to start.
A bit of common sense goes a long way
Travel insurance will most likely not cover a region which has been severely affected or has been warned against travel by the government.
That's why you need to carefully consider the health risks associated with your travel destination. If you've taken into account all the factors involved and are set to make that trip, make sure to familiarize yourself with the prevailing rules and regulations of your destination and prepare yourself accordingly. Always wear your mask and practice social distancing measures when appropriate.