This article is reviewed regularly (on a monthly basis) by Wego's editorial team to ensure it's up to date and accurate.
Updated 6 July 2021
Wondering where you can get yourself or your family member tested for COVID-19 in Kolkata? How long do you need to wait for your test reports to arrive? What is the price of the test? Are testing facilities available at Netaji Subhas Chandra Bose International Airport, Kolkata? Read along to find answers to all your questions regarding coronavirus testing in Kolkata.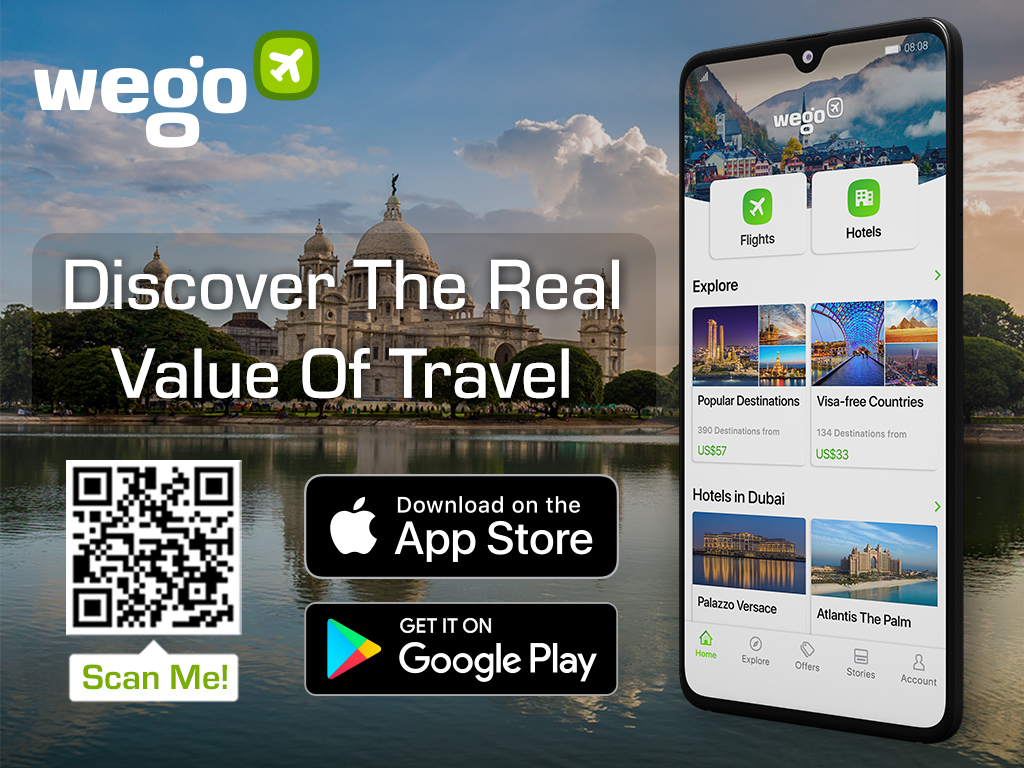 What types of tests are available in Kolkata, India?
Currently, coronavirus testing in Kolkata are of the following types, as sanctioned by the Indian Council of Medical Research (ICMR), the apex body of biomedical research in India:
RT-PCR Tests
The RT-PCR test or the Reverse transcription-polymerase Chain Reaction is considered to relay the most accurate outcomes for COVID-19 diagnosis. To detect the virus's presence, the suspect's nasal and throat swabs are collected. Researchers use an enzyme that converts the genetic material RNA in the virus to DNBA through a process called Reverse Transcription. A fluorescent signal in the RT-PCR machine marks the presence of the virus in the swab, even from asymptomatic patients.
Rapid Antibody Tests
In the antibodies test, laboratories probe the blood sample of the suspect for a possible antibody that the body may have developed in response to the virus infection. While they cannot really be used for the detection of virus presence, the serological test points out if the person had exposure to the virus recently. Laboratories search for the presence of two varieties of antibodies, namely, IgM and IgG antibodies, each of which arrives at different points of infection.
Inter-state travelers, residents of containment zones, police, and paramilitary workers usually undergo this COVID test in Kolkata. ICMR advises for a confirmatory test after the antibody test because it can result in false positives. The test is quick and inexpensive, hence the name rapid test.
Rapid Antigen Tests
The antigen is a toxin that engenders an immune response in the body. Here too, the presence of the virus is checked instead of its antibody. Professionals try to do so by detecting the spike protein in the coronavirus possibly present in the nasal swab of the suspected patient.
Since the test is reliant on a small quantity of test material that doesn't undergo multiplication like in the RT-PCR test, enough antigen material may be missing for rightful detection. This can result in false negatives. So, ICMR advises that if your antigen test comes out to be negative, you should then go for an RT-PCR test for confirmation.
TruNat Tests
TruNat is a chip-based testing system which is originally used to diagnose HIV and tuberculosis. It works like an RT-PCR test to detect the virus genes and not the antibody in the patient. The portable kit is battery-operated and collects nasal or throat swab. Kolkata received the green signal to conduct TrueNat tests as early as April with several government hospitals and private testing labs being at the receiving end of the approval.
CB NAAT Tests
CB-NAAT or Cartridge Based Nucleic Acid Amplification Test is also a testing procedure for tuberculosis but just like TrueNat tests, it can be used for COVID-19 detection. While TrueNat operates on battery, CB-NAAT systems require a steady power supply.
Where can I get tested in Kolkata?
The uptick in the number of coronavirus positive cases in Kolkata and all of India was met with a quick rise in the number of COVID testing centers. Along with government medical centers, numerous private labs were set up following ICMR guidelines to meet the testing demands. Below you can find a list of government and private labs in Kolkata from where you can get a COVID test report.
Note that you cannot just walk into any of these centers for a COVID test without a referral. As advised by the Ministry of Health and Family Welfare, you should call on the toll-free number 1075 or central helpline number +91-11-23978046 for information before going. In Kolkata, you may also call 1800313444222 or 03323412600, the state helpline number for COVID-19. You can go ahead with the test only if you have a COVID-19 test prescription from a qualified physician.
Government Institutes
RT-PCR Tests
ICMR-National Institute of Cholera & Enteric Diseases, P-33, C.I.T. Road, Scheme XM, Beleghata, Kolkata: Google Location
Queries: 033-2363-3373
Institute of Post Graduate Medical Education & Research, SSKM Hospital Rd, Bhowanipore, Kolkata: Google Location
School of Tropical Medicine, 108, Chittaranjan Avenue, Kolkata: Google Location
Phone: +913322123697
Command Hospital, (Eastern Command), Alipore, Kolkata: Google Location
Call: +913324791567
Direct Contacts: MAJ GEN SUNIL KANT, VSM Director & Commandant (9674777967, [email protected]), Brig S Hasnain, Dean & Deputy Commandant (9764621253, shahbazhsnnPomail.com), Col Shuvendu Roy (9871137588, shuvendurovsgmail.com)
Chittaranjan National Cancer Institute, 37, S.P.Mukherjee Road, Kolkata: Google Location
Contact: +913324765101
R.G. Kar Medical College & Hospital, 1, Khudiram Bose Sarani, Kolkata: Google Location
Phone: +913325304557
Nil Ratan Sircar Medical College, (NRSMC&H), 138, AJC Bose Road, Kolkata: Google Location
Medical College, 88, College St, Calcutta Medical College, College Square, Kokata: Google Location
ESI-Postgraduate Institute of Medical Science and Research (PGIMSR), Diamond Harbour Rd, Bratachari Gram, Joka, Kokata: Google Location
Calcutta National Medical College and Hospital, 32, Gorachand Rd, Beniapukur, Kokata: Google Location
College of Medicine and Sagore Dutta Hospital, Kamarhati, Kokata: Google Location
Multidisciplinary Research Unit, R.G. Kar Medical College Hospital, 1, Khudiram Bose Sarani, Bidhan Sarani, Shyam Bazar, Kokata: Google Location
TrueNat Tests
M R Bangur District Hospital, Deshapran Sasmal Road, Tollygunge, Kolkata: Google Location
Contact: +918820702070
Chittaranjan Seva Sadan, 83, Shyama Prasad Mukherjee Rd, Bakul Bagan, Bhowanipore, Kolkata: Google Location
CB-NAAT Test
Central Hospital, South Eastern Railway, 11, Garden Reach Road, Kolkata: Google Location
Private Labs
RT-PCR Tests
Apollo Gleneagles Hospitals, 58 Canal Circular Road, Kolkata: Google Location
Contact: +91-33-2320 3040 / 2122, 8420106001
Tata Medical Center, Rajarhat, Kolkata: Google Location
Contact: 91-33-66058041, [email protected] Note that the lab accepts samples only from referring hospitals, not private individuals.
Suraksha Diagnostic Pvt Ltd (Dept of Lab Services), 12/1, Premises No 02/0327, DG Block (Newtown), Action Area 1D, Newtown, Kolkata: Google Location
Send your queries at [email protected] or call 7596049509/08 or 9903363242. Find more detailed guidelines here.
Dr. Lal Pathlabs Ltd – Kolkata Reference lab, Plot No CB-31/1, Premises No 031-0199, Street No 199, Action Area 1C, Newtown, Kolkata: Google Location
Queries: 8420005637. Home collection contact: 033 39885050 or call for booking an appointment at  033-39527100. Book directly from the website by visiting here.
Dept of Lab Services, Medica Superspeciality Hospital, 127, Mukundpur, E.M. Bypass, Kolkata: Google Location
Contact: +91 33 66520000, +91 33 66520100
Remedy Life Care, Plot 6, Nani Gopal Roy Chowdhury Avenue, Entally, Padmapukur On Main Road, Kolkata: Google Location
Email: [email protected] or call 033-22944015, +919874444837 or WhatsApp +919874444835
Laboratory Services, Peerless Hospitex Hospital & Research Centre, 360, Panchasayar, Kolkata: Google Location
Call: +913340111222, 9883160144
Desun Reference Lab – A Unit of Desun Healthcare and Research Institute Limited (Department of Laboratory Services), S-16, Kasba Industrial Estate, Phase III, Kolkata Google location
IICS Laboratory Services, Rabindranath Tagore International Institute of Cardiac Sciences, Premises No 1489, (124) Mukundapur, EM Bypass, Kolkata Google locationContact:+918067506860
Dept of Lab Medicine, AMRI Hospital, 38/1A, Gariahat Road, Kolkata Google locationEmail:https://www.amrihospitals.in/
Probe Diagnostics Pvt Ltd, 121, AJC Bose Road, Opposite NRS Hospital, Sealdah, Kolkata Google location Call:+913322171184
SRL Limited, P S Srijan Tech Park, DN-52, Saltlake Sector V, Kolkata Google location
R B Diagnostic Private Limited, P – 857 Block A Lake Town, Kolkata Google location Call +913340854085
Pulse Diagnostics Pvt. Ltd., 75, Sarat Bose Road, Kolkata Google location Call +913371981800
Repromed Diagnostic Private Limited, 21/1A/3, Darga Road, Jindal Tower Block B, 1st Floor, Park Circus, Kolkata Google location Call:+913330288100
Molecular Diagnostics Laboratory, Saroj Gupta Cancer Centre and Research Institute, Thakurpukur, Mahatma Gandhi Road, Kolkata Google location 
Nightingale Diagnostic and Medicare Centre Pvt. Ltd, (Department of laboratory services), 11, Shakespeare Sarani, Kolkata Google location
Apollo Diagnostics New Town Kolkata, A Unit of Apollo Health and Lifestyle ltd, Astra Towers, Unit No.401, BC Premises No.05-444, New Town, Kolkata Google location
Pathkind Diagnostics Pvt Ltd, JC 18, Salt Lake City, Kolkata Google location
LifeCell International Pvt. Ltd., Astra Towers Signature building,1st Floor Unit No AST -101, Plot No. 2C/1 Action Area IIC, New Town, Rajarhat, Kolkata Google location
Apollo Clinic, C/o Sanjeevani Health and Lifestyle Private Limited, DLF Galleria, Action area 1B, Newtown, Rajarhat, Kolkata Google location
The Apollo Clinic- Vasundhara Dealer Pvt. Ltd. (Department of Laboratory Medicine), P-72, Prince Anwar Shah Road, Kolkata Google location
Krishna Medica Lab (A unit of Krishna diagnostics Pvt Ltd). B- 180, Survey Park, Santoshpur, Kolkata Google location
Nirnayan Health Care Private Limited, 145, Rajarhat Road Jyangra, Kolkata Google location
Organ Diagnostic Centre, 285, Banerjee Para Road, Kolkata Google location
Specialist Clinic & Diagnostic (A Unit of Banerjee Health Care Services Pvt. Ltd), 71, Bijoy Laxmi Colony, Nabapally, Barasat, N 24 Parganas, West Bengal, Kolkata Google location
CB-NAAT Tests
AMRI Hospitals, Dept of Lab Medicine, JC 16-17, Sector-III, Salt Lake City, Kolkata: Google Location
Contact: 9903080258. Check out booking request form or COVID-19 isolation hotel booking here.
The Calcutta Medical Research Institute (Dept of Pathology), 7/2 Diamond Harbour Road, Kolkata: Google Location
Visit the contact page for more.
Dept of Lab Medicine, AMRI Hospital, 38/1A, Gariahat Road, Kolkata: Google Location
Contact: 033-668-00000
Woodlands Multispeciality Hospital Limited (Department Of Pathology), 8/5 Alipore Road, Kolkata: Google Location
Email inquiries: [email protected], call 033-24567075-89 or  helpline 7604075551-55  (8am to 10pm)
ILS Hospitals DumDum, 1, Mall Road, near Nager Bazar Flyover, Kolkata: Google Location
GD Hospital & Diabetes Institute, 139A Lenin Sarani, Kolkata: Google Location
B P Poddar Hospital & Medical Research Ltd, 71/1, Humayun Kabir Sarani, Block-G, New Alipore, Kolkata: Google Location
SRL Limited Fortis Hospitals, Anandapur, 730, EM Bypass Road, Anandapur, Kolkata: Google Location
Ruby General Hospital, 576, Anandapur, E.M. Bypass, Kasba Golpark, Kolkata: Google Location
Cliniperfect Polyclinic and Diagnostics, 47/64/1, Suryasikha Apartment, Word No 13, Khardaha, Kolkata Google Location
Department of Laboratory Services, Zenith Super Specialist Hospital, 9/3 Feeder Road Belghoria (RATHTALA), Kolkata Google Location
Home Collection
If you want to get tested for coronavirus, you can opt for an at-home collection facility for COVID testing through online booking. Many labs such as Suraksha Diagnostics in Kolkata are providing the facility. This essentially means that you no longer need to step out of your house for a COVID test. Trained health officials arrive, clad in PPE, and collect the samples, ensuring minimum contact all the while.
For home testing, you also have rapid antigen test and antibody test kits available on Indiamart from ICMR-approved testing labs in Kolkata. In some municipalities like North Kolkata's Paikpara, the Kolkata Municipal Corporation (KMC) has begun free doorstep testing. You'll get the Rapid Antigen test results within 30 minutes and post that, your swab will be collected for the RT-PCR test if you test positive.
Testing Kiosks
In a quest to further trim down the virus transmission by early detection, government authorities and testing labs are joining hands to set up COVID-19 testing kiosks at several places in Kolkata. One such kiosk has been set up on the Mela grounds in New Town by the NKDA (New Town Kolkata Development Authority) for RT-PCR tests.
COVID testing at Kolkata airport for arriving passengers
Airport Authority of India (AAI) has arranged a COVID-19 testing facilities at Kolkata Airport. Six counters have been set up by Suraksha Diagnostics at the Calcutta airport to collect the swab samples. Beneficiaries will be the passengers who couldn't carry a negative RT-PCR report (for a test conducted not before 72 hours of departure). The facility can be accessed through gate number 3C on the departure level, near the airline counters. If you test positive, you would need to quarantine at any hotel in Kolkata.
How much do COVID tests in Kolkata cost?
ICMR encourages labs and hospitals to conduct tests free of cost or at least at affordable rates. Expect to pay around INR 950 as it is the new maximum rate. Collection charges apply for home collection and PPE+consultation charges (capped at INR 1000). The testing of the sample is free at government laboratories.
Rapid antigen test kits are usually available in the country at INR 450. In several municipalities in northern Kolkata such as Barasat, Kamarhati, and Madhyamgram, the COVID-19 RAT test is free for residents. For TruNat and CB-NAAT testing, you may still need to pay around the cap prices INR 1,200 and INR 2,400, respectively.
When should you take a COVID test?
Sure, this is the most confusing part since the initial stage of COVID-19 symptoms is nothing different from your common flu. The wide-spread variety of symptoms in infected individuals with some even going asymptomatic makes it no easier. But in most cases, the following symptoms tend to last longer than your regular fever or flu:
Fever
Difficulties in breathing
Cough
Other clinical symptoms included in the list by ICMR are:
Sore throat
Fatigue
Mucus formation and running nose
Muscle pain
Anosmia or loss of taste
Ageusia or loss of smell
Gastrointestinal problems are also not uncommon. It is advisable that if any symptom surfaces, you seek medical assistance instead of indulging in self-medication. Take medications as your physician prescribes. If you see the symptoms are persisting for more than three days even after administering medicine, you can go for a COVID test.
ICMR also prioritizes testing of high-risk contacts and asymptomatic suspects who need to undergo any acute surgery. The high-risk category involves individuals in their 60s or above and those suffering from non-communicable diseases such as cancer, diabetes, chronic kidney ailment, hypertension, cardiac diseases, etc. If you are suffering from influenza or other acute respiratory infections, the same applies to you. In keeping with these guidelines, West Bengal tests all asymptomatic direct and high-risk contacts of confirmed COVID-19 cases.
If you wish to travel to a state or foreign nation which asks for a negative COVID-19 test report before entry, you can get a test done, thanks to the Union Health Ministry's advisory on 'Testing On Demand'. Even if you are not traveling, you can take a test if you wish to, for other practical reasons. That being said, try not to take a test out of panic or fear as that overburdens health officials for no reason.
To avoid potential foul play, you must get your test done only from an ICMR-accredited testing center. If need be, you can cross-check the lab's authenticity by checking their ICMR registration number, which the governing body states should be prominently mentioned by the labs in the test reports.
What documents are needed for a COVID test?
For any COVID test in Kolkata, you'll need to bring a doctor's prescription as mandated by the Ministry of Health and Family Welfare in India. You also need to submit your Kolkata address proof using government ID (Aadhar card/ Passport/ Voter card) and ICMR specimen referral form for COVID-19 filled out with details of the suspected patient.
For some labs, you can find similar patient information forms on their respective website like this one for Suraksha Diagnostics. At the time of sample collection, the lab will also collect your phone number.
How long until I get my COVID test results?
RT-PCR tests can be complete in as little as three hours. However, due to the large number of tests being conducted, labs take anywhere between six hours to a day to reveal the test reports. Government units can take up to 48 hours for processing after sample collection. Until the test results arrive, you must stay in isolation to prevent the potential transmission of the virus.
Rapid tests typically produce a positive or negative result within 30 minutes. While the outcome is fast, they serve the purpose of merely preliminary tests rather than giving any reliable, substantial result. TruNat takes around 60 minutes for interpretation.
What happens after the test?
Testing labs would inform you of the results of the test either via phone or over email. If you test positive for coronavirus, stay calm, and follow along with the directions of the health officials. Other residents of your home are likely to undergo a COVID test as per the health team's instructions. They would also start contact tracing and put them in quarantine unless a test is arranged.
Asymptomatic cases or those with mild symptoms are often deemed suitable for home isolation. Apartments with at least two separate rooms with separate washrooms can qualify for home isolation. Otherwise, medical officials would transfer you to a COVID care center.
You will have all the prescribed medicines and a pulse oximeter at your disposal. Other consultations will take place over the phone. Download the Aarogya Setu app which will let the nearest hospital know about your health status. If your situation deteriorates, you will be transferred to a dedicated care center.