This article has been reviewed by Wego's editorial team to ensure that the content is up to date & accurate.
Updated 6 May 2021
Hyderabad, the capital city of Telangana reels under the ruins of the raging pandemic. The unprecedented second wave of fresh coronavirus infections has bought the state to a standstill. With a huge caseload hovering in the background of people's life, citizens of Hyderabad are eagerly looking forward to the deployment of vaccines to put an end to this global crisis, once and for all. 
With the mass immunization drive having started on January 16, what are the latest updates about the vaccination procedure in Hyderabad right now? How is it being carried out?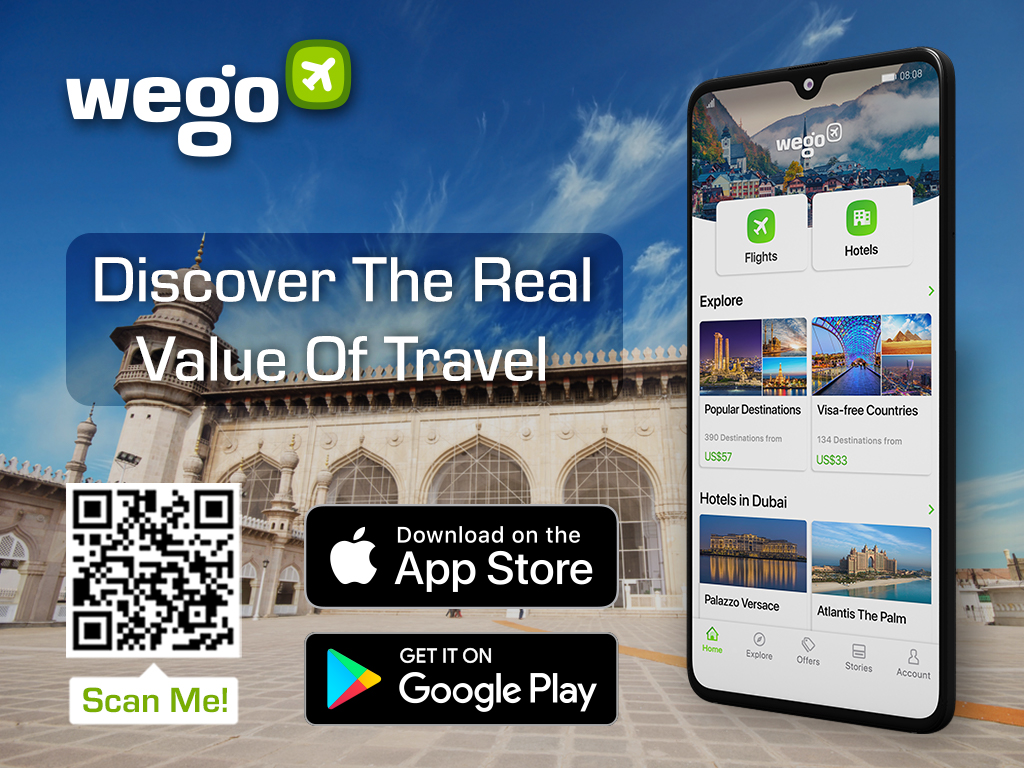 Updates on the COVID vaccine in Hyderabad
Hyderabad is home to Bharat Biotech, the bio-pharmaceutical accredited with the development of India's first indigenous COVID-19 vaccine, Covaxin. Despite the state government granting permission to private hospitals to vaccinate people above the age of 45, many are not having sufficient stock for first-time vaccinators. 
The first batch of Russia's coronavirus vaccine, Sputnik V, had arrived in Hyderabad on May 1. A number of states also launched the third phase of the nationwide vaccination drive on Saturday, inoculating those aged between 18 and 45. According to reports, the first batch comprises 1,50,000 doses of Sputnik V. Another 30 lakh doses of the Russian-made vaccine are due to arrive in India later this month. These doses will be delivered to Dr Reddy's Laboratories, the Indian partner of the Russian vaccine.
First batch of #SputnikV vaccine arrives in Hyderabad, India! That's the same day the country starts mass COVID vaccination drive covering its entire adult population. Let's jointly defeat this pandemic. Together we are stronger.✌️ pic.twitter.com/312Kvtax1L

— Sputnik V (@sputnikvaccine) May 1, 2021
What vaccines are available now?
Covishield
The Oxford AstraZeneca vaccine candidate, also going by the moniker of Covidshield in India, would likely also be authorized for emergency use in the country by the end of the year. Phase 2/3 trials of the vaccine are underway in a joint effort by the Serum Institute of India and the Indian Council of Medical Research.
The Central Drugs Standard Control Organisation (CDSCO) is closely reviewing all the data from the vaccine's application in its third phase of trials.
Overall efficacy: around 90%
Covaxin
Developed by Bharat Biotech and the Indian Council of Medical Research (ICMR), COVAXIN is India's first indigenous COVID-19 vaccine candidate to undergo phase 3 trials. This inactivated coronavirus vaccine has been injected in around 28,500 volunteer candidates in over 25 centers across India. Data from the previous trials show that it is safe and promisingly efficient.
Overall efficacy: 80.6%
Sputnik V
Sputnik V got approved by DCGI on 13 April and will soon become available for distribution.
Russia's Sputnik V has also conducted a combined phase two-three trial in India. This has been under the initiative of Dr. Reddy's Laboratories and the Russian Direct Investment Fund (RDIF) which went into a distribution partnership with the firm in September. Now approved, it will be manufactured domestically in the country by five different companies.
Overall efficacy: 95%
When can Hyderabad residents be vaccinated?
Like the rest of the country, vaccination in Hyderabad will be carried out in four phases: 
Phase 1 focuses on health care workers. 

Phase 2 is for the police, armed forces, and disaster management volunteers.

Phase 3 focuses on individuals above 50 and those under 50 with comorbidities. 

Phase 4 will includes everyone above the age of 18.
Phase 4 started on 1 May and will open the vaccine stores of the country to most of its population. However, due to the shortage of supply, Hyderabad citizens in the 18-45 age group may have to wait longer for their turn.
Where to get vaccinated in Hyderabad?
Government vaccination centres:
GHMC:
Gandhi Hospital
NMS Gachibowli District Hospital, King Koti
Fever Hospital Chest Hospital
Govt. Ayurveda Hospital
Nature Cure Hospital
Govt. Homeo Hospital
Govt. Nizamia Hospital
Medchal
Ranga Reddy:
Private Vaccination hospitals:
GHMC:
AIG Hospitals Gachibowli
Ankura Hospital
Apollo Hospital, Barkatpura
Apollo Hospitals Enterprises Ltd Jubilee Hills
Apollo Hospitals, Jubilee Hills
Apollo Spectra Hospital
Aster Prime Hospital
Aware Gleneagles Hospitals
Basavatarakam Indo American Cancer Hospital And Research Institute, Hyderabad
Care Hospitals Banjarahills
Care Hospitals Gachibowli
Care Hospitals Mushirabad
Care Hospitals Nampally
Century Super Speciality Hospitals Pvt Ltd
Chalmedaanand Rao Institute Of Medical Sciences, Karimnagar – Lab
Contlnental Hospital Private Limited
Fatima Hospital
Kamineni Academy Of Medical Sciences And Research Cenre, Lb Nagar
Kamineni Hospital King Koti
Kims Hospital, Kondapur
Krishna Institute Of Medical Sciences Ltd, Secunderabad
Little Star Hospital
Medicover Hospitals (a Unit Of Sahrudaya Health Care Pvt. Ltd.) Secretariat
Olive Hospital
Omega Hospitals
Omni Hospitals
Pace Hospitals
Padmaja Hospitals – Kukatpally
Prathima Hospitals, Kachiguda
Prathima Hospitals, Kukatpally
Premier Hospital
Rainbow Children Hospital Banjara Hills
Rainbow Hospital, Hydernagar
Rush Superspeciality Hospital
St. Theresa Hospital
Sunshine Hospital
Sunshine Hospitals Gachibowli
Thumbay Hospital New Life A Unit Of Thumbay Hospital India Pvt. Ltd.
Virinchi Heathcare Private Limted
Yashoda Hospital Malakpet
Yashoda Hospitals – Secunderabad
Yashoda Hospitals – Somajiguda
Zoi, Attapur
Medchal:
Global Eye And Laser Hospital Pvt Ltd
Malla Reddy Narayana Multispeciality Educational Society Hospital – A Unit Of Chandramma
Srl Sri Holistic Hospital A Unit Of Sree Ramchandra Health Services Private Limited
Ranga Reddy:
Apollo Hospitals Enterprise Ltd DRDO
Citizens Hospitals A Unit Of Cyberabad Citizens Hospitals Pvt Ltd
Continental Hospitals Limited
Medicover Hospitals A Unit Of Sahrudaya Health Care Private Limited Madhapur
Ozone Hospitals
Three steps are involved at the vaccination centers:
The first step is the registration or verification counter, where a beneficiary has to show an ID card and an Aadhaar card. The details will be cross-checked in CoWin/ Arogya Setu/ Umang software. 

After that, they would be given the vaccine. 

Then they will be directed to the Observation Room, where the beneficiaries' condition will be monitored for half an hour.
How to register for vaccination in Hyderabad?
Appointments for vaccination can be booked through the CoWIN website, Aarogya Setu app, or the UMANG app. Keep in mind that every user of either platform can register at the most 4 beneficiaries.
For detailed instructions on registration and appointments, click here.
CoWIN
Open the CoWIN online portal.
Click on the 'Register/Sign In Yourself' yellow button. Those who are using it for the first time will need to register themselves with their photo ID proof (Aadhar Card/ Driving License/ PAN Card/ Passport/ Pension Passbook), photo ID number, name, and birth year. Those who have registered can sign in with an OTP.
Click on 'Schedule Appointment'.
Once you enter the pin code of your area, you'll be shown a list of vaccination centres in that area of Chennai.
Select the timing slot comfortable for you and 'confirm' your appointment.
Upon successful registration, you will receive an SMS with the appointment details.
Aarogya Setu
Download the app on Google Play or iOS App Store.
On the app's homepage, click on the 'CoWIN' tab on the top right.
Select the 'Register Now' option and verify your mobile number with an OTP.
Fill in details such as name, age, gender, year of birth, etc, and upload a photo ID proof.
Search for your convenient vaccination centre in Chennai by entering the pin code of your locale, and choose the date and time of your appointment.
Upon successful registration, you will receive an SMS with the appointment details.
UMANG
Download the UMANG app on Google Play or iOS App Store.
First, register yourself on the app (if you haven't already done so) with an OTP.
Click on the "Health" category and select "Co-WIN".
Fill in details such as name, age, gender, year of birth, etc, and upload a photo ID proof.
Search for your convenient vaccination centre in Chennai by entering the pin code of your locale or your district, and choose the date and time slot convenient to you.
Upon successful registration, you will receive an SMS with the appointment details.
How much will the vaccination cost?
The vaccines are available free of cost in all government centres while private facilities can charge Rs 600 for Covishield and  Rs 1200 for Covaxin. The price of Sputnik vaccine has not been released yet.