When in London don't think that you will have to restrict your culinary experiences to just the English breakfast and fish-n-chips. British cuisine's most famous contributor is its Indian origin rather than its own. Every small town in London plays host to 100s of curry houses but we give you the top 5 you must visit to gorge on!
GYMKHANA, Mayfair
Image courtesy: Gymkhana, Mayfair
This one-star Michelin awarded sit-down, in the posh Mayfair locality of London, will tingle your taste-buds but will be surprisingly light on your pocket! Its seasonal game-heavy menu with its stunning Indian club themed decor will surely take you back to the grandeur of the British Raj era. Taking a leaf out of old gymkhana clubs of British India where the members of high society would socialize, Gymkhana is a wonderful place to visit and go back in time.
Address:  
42 Albemarle Street, London W1S 4JH
Opening times:
Monday to Saturday –  Lunch: 12:00 pm to 2:30 pm | Dinner: 5:30 pm to 10:15 pm
The bar is open until 1:00 am.
TAYYABS, Whitechapel
Image courtesy: Tayyabs, Whitechapel
A local favorite that serves killer lamb chops and has BYOB available – Tayyabs is a Punjabi food lover's paradise. Opened in 1972, it's one of Whitechapel's finest family owned and run businesses. Beware of the snaking queue that is a clear indication of its delicious menu – you will find Tayyabs to always have a vibrant and bustling environment to hangout with your group. Booking a table beforehand is much advisable if your gang does not like waiting!
Address: 
83-89 Fieldgate St, Poplar, London E1 1JU
Opening times:
All days of the week – 12:00 am to 11:30 pm
DISHOOM, Covent Garden
Image courtesy: Dishoom, Covent Garden
The name itself is a clear depiction of its Bollywood-inspired Bombay menu. Bacon Naan Roll for breakfast? Check. Lamb kababs with hot fluffy naans for lunch? Check. A pot of Green Darjeeling for afternoon tea? Check. Or an East Indian Gimlet for slowly savoring the evening vibes by the bar? Check. Needless to say, Dishoom will have you spoilt for choices by taking you back to the classic Irani Cafes of old Bombay. The interior and the variety of the menu will have you bowled over as soon as you enter any of its 7 cafes open all over the UK.
Address:
12 Upper St. Martin's Lane, London WC2H 9FB
Opening times:
Monday to Thursday – 8:00 am to 11:00 pm
Friday – 8 am to midnight
Saturday – 9 am to midnight
Sunday – 9 am to 11 pm
AMAYA, Belgravia
Image courtesy: Amaya, Belgravia
Situated in the heart of exclusive Belgravia, this location has lived upto its reputation of a decade long Michelin Star awardee. The menu largely consists of a sophisticated blend of the Indian grills and spices. With its open kitchen, you can watch the dramatic preparation of your food done in the right way that will leave you drooling.
Address:
Halkin Arcade, Motcomb Street, London SW1X 8JT
Opening times:
Monday to Saturday – Lunch: 12:30 pm – 2:45pm | Dinner: 6:00 pm – 10:45pm
Sunday – Lunch: 12:45pm – 2:45 pm | Dinner: 6:00pm – 10:15 pm
CINNAMON CLUB, Westminster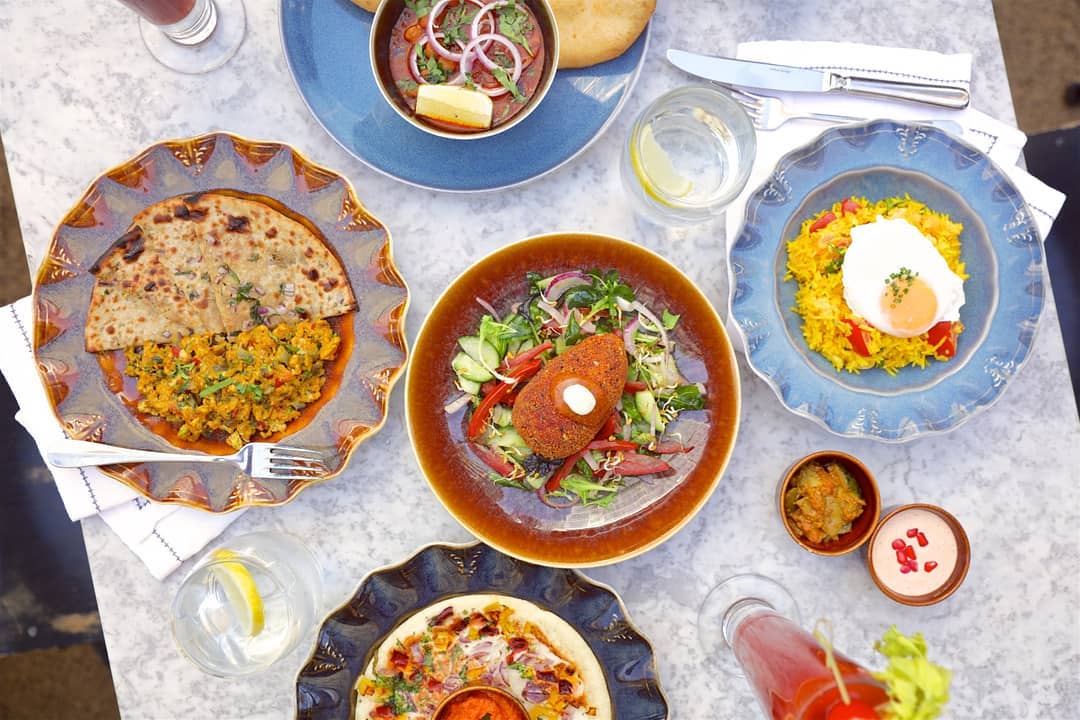 Image courtesy: Cinnamon Club, Westminster
How about some upmarket authentic Indian delicacies in a Victorian library? Chef Vivek Singh is a celebrity in the Indian curry house circle and he serves up scrumptious meals in this exquisite venue. Indian food at its fine-dining avatar – the experience is much more precious than its affordable set menus. Feast like a king on colonial dishes of the Royal Indian era while sipping on smooth cocktails and the finest wines from the curated cellar.
Address:
The Old Westminster Library, 30-32 Great Smith Street, London SW1P 3BU
Opening times:
Monday to Friday – Breakfast: 07:30 am – 10:00 am
Monday to Saturday – Lunch: 12:00 pm – 2:45 pm | Dinner: 6:00 pm – 10:45 pm
Sunday – Lunch: 12:00pm – 3:00 pm | Dinner: 5:30pm – 9:00 pm