This article is reviewed regularly (on a monthly basis) by Wego's editorial team to ensure that the content is up to date & accurate.
Updated 16 July 2021
Even before Delhi could recuperate the initial hit of the pandemic, the second wave struck the capital city of India, causing a spike in caseload yet again. Taking the bull by its horn, the Delhi government had announced a state-wide lockdown since the third week of April.
Delhi has started the process of cautiously resuming activities that were stopped about two months ago. Here's everything you need to know about this unlock and reopening: what's open, what's not, and who's exempted.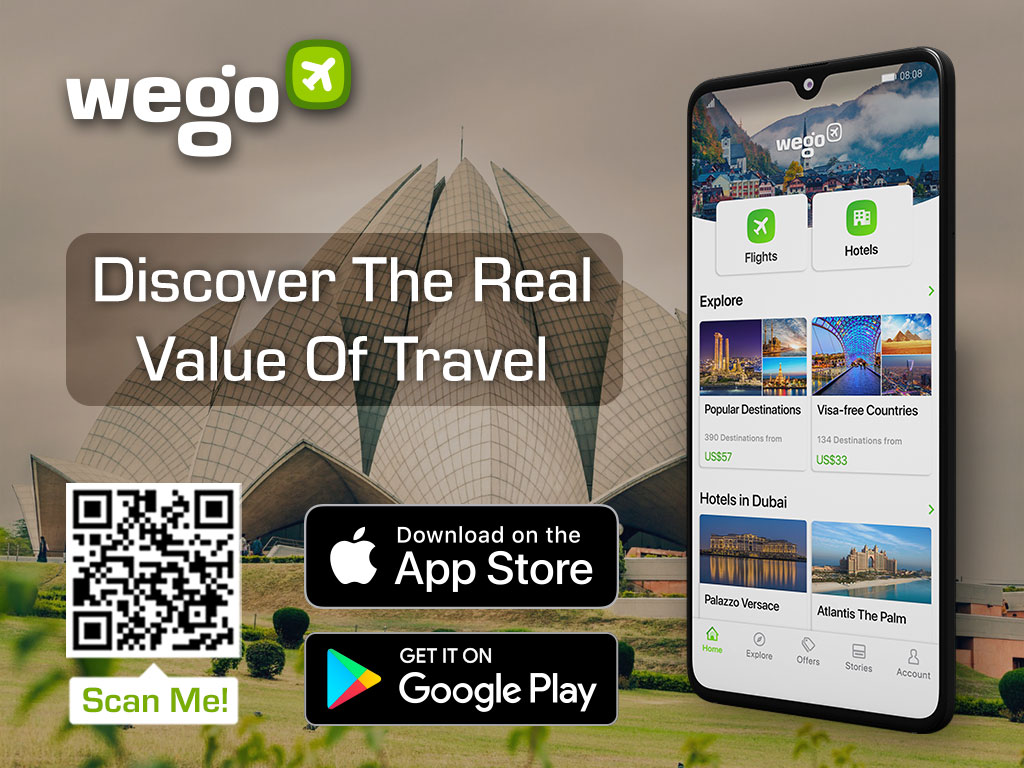 Delhi lockdown
The lockdown restrictions in Delhi are being eased as the national capital sees a steady drop in the COVID cases.
Delhi Unlock
As the coronavirus situation improves in the capital, more relaxations have been announced. The government has now released a graded response action plan, which harks back to a similar mechanism to fight air pollution during pre-winter months. This was drafted by an expert committee formed by the Delhi government and approved by the Delhi Disaster Management Authority (DDMA).
The new "Graded Response Action Plan"
The Graded Response Action Plan classifies outbreak severity into four bands – yellow, amber, orange and red – with each representing a more severe outbreak and, thus, stricter curbs than the one preceding it. The colour-coded classifications take into account three factors: the test positivity rate over two consecutive days, new cases over a seven-day period, and the average weekly hospital occupancy rate.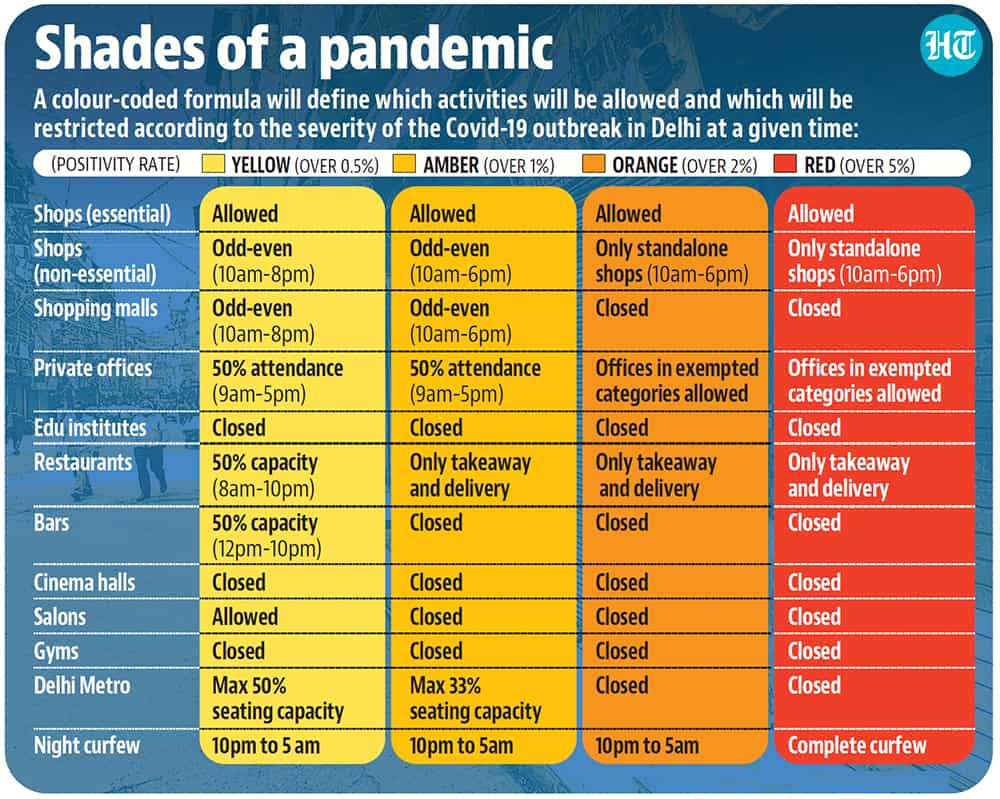 Image © Hindustan Times
According to the plan the first of curbs are triggered when the positivity rate crosses 0.5%, or new cases over a week exceeds 1,500, or if there are more than 500 oxygen beds occupied on average over a seven-day period. Read along to know what the different colour codes mean.
Yellow Alert
Once any of the above mentioned thresholds are breached, the city is under a yellow alert mechanism in which non-essential shops are allowed to open only on an odd-even basis, a night curfew comes into force, and offices are required to move half of their staff to a work-from-home function.
Amber Alert
If test positivity, case numbers and hospitalisations rise further, the amber alert comes into effect. In this scenario, some venues and activities are completely halted: parks need to close, barber shops cannot open, and dining in at restaurants will be prohibited (as will the opening of bars). Amber alert is when TPR rises above 1%, or if there are more than 3,500 cases over a week, or if oxygen bed occupancy surpasses 700.
Orange Alert
The next alert level, orange, takes effect if TPR breaches 2%, the number of new cases in a week goes beyond 9,000, or if the average number of oxygen beds occupied over the week goes beyond 3,000. In this scenario, private offices, malls, Metro rail services and weekly markets will be shut down.
Red Alert
In the most severe red alert category (if TPR is above 5%, cumulative weekly case above 16,000 or hospital occupancy above 3,000), there will be a 24-hour curfew with people allowed outside only for essential services. In this scenario, all offices engaged in non-essential work need to shift to a completely work-from-home functioning.
What is allowed?
Many activities are resuming in Delhi. As part of the unlock, the following activities can resume with certain restrictions:
Gymnasiums and yoga institutes have been permitted to open up to 50 per cent of the capacity
Bars at 50% capacity between noon and 10 pm. Restaurants (with licenses) have also been allowed to serve alcohol and hence their closing time has been revised from 8 pm to 10 pm. Restaurants can open at 8 am.
Public parks, gardens, golf clubs are allowed as is outdoor Yoga
All markets, malls, shops are allowed to open between 10 am and 8 pm
Weekly markets have been allowed but only with one in each zone a day. Only half of the permitted vendors will be allowed to put up stalls. Weekly markets on roadsides will not be allowed.
Places of worship will be open but no visitors will be allowed
In malls, only half of the shops will be allowed to reopen.
Salons are allowed to open
Weddings in banquet halls, marriage halls, hotels, are allowed but only with up to 50 people. A maximum of 20 people can attend funerals.
Government and private offices are open. In government offices, with 100% of grade I staff allowed. Only 50% staff is allowed in private offices, between 9 am and 5 pm
What is closed to visitors/attendees?
Despite several relaxations, the government is yet to allow the opening of the following establishments:
Schools, colleges, coaching institutes
Spas
Swimming pools
Gatherings for social, political, sports, entertainment, academic, religious and cultural activities
Stadia and sports complexes (except those being used for training sportspersons in national and international events)
Movie halls, theatres, multiplexes
Amusement parks, water parks etc
Banquet halls/ auditoria
Business to business exhibitions
Will transport facilities be available?
Transport services will be available but with strict caps on the number of passengers.
Public buses: up to 50% seating capacity
Autos and e-rickshaws: up to 2 passengers
Taxis and cabs: up to 2 passengers
RTVs: 11 passengers at the most
Metro: 50% seating capacity
DDMA also discussed the situation outside stations of the Delhi Metro, marked by long queues due to a cap on the seating capacity at 50 per cent in each train coach. However, restrictions in the Metro will remain for until further notice.
Can you travel to/from Delhi during the lockdown?
Yes. There is no restriction on movement of people within Delhi or between Delhi and other states.
The new graded mechanism also makes it mandatory for incoming passengers in the national capital to produce a certificate of full vaccination (both doses) or a negative RT-PCR test report not older than 72 hours if Delhi is on red alert. People coming by air from states with positivity rate higher than 5%, or if they come by any mode of transport from a state with positivity rate is of 10% or more, irrespective of the alert applicable in Delhi, too, will be subjected to the same requirements.
People coming from a state where a new variant is found spreading, irrespective of the nature of alert in Delhi at that point, will also need to show vaccination certificates or a negative test.
What is the Delhi e-Pass and who needs it?
E-Pass is being issued for those who are engaged in providing essential services, but do not have a valid(/Government) ID. The process of obtaining a Delhi e-Pass is quite simple. Just follow these steps.
Open the Delhi Government portal and choose the language comfortable for you.
Select the 'e-Pass for travel during night/weekend curfew' from the dropdown and submit.
Scroll down and enter your details such as name, contact number, address, service type, the time period for which you need the pass, etc.
Upload documents like ID proof, visiting card, shop/business license, etc. (Make sure the file size for each is within the 4MB limit)
Check the acknowledgment box.
Click submit to apply.
Note down the e-Pass ID for future reference.
Those who are travelling in the National Capital Territory, i.e from Noida/Ghaziabad to Delhi, will also need an e-Pass issued by the Delhi government.