For GCC travelers, Europe has consistently been a sought-after travel destination due to its stunning cities, pleasant climate, and captivating sightseeing experiences. One of the highlights of exploring Europe is the abundance of shopping destinations at every turn, whether you're searching for the latest fashion trends, accessories to complement that flawless festive outfit or even gifts to bring home for loved ones.
What could be better than shopping for luxury designer brands such as Prada, Jimmy Choo, Saint Laurent, Balenciaga, Hugo Boss, Balmain, and Salvatore Ferragamo at discounts of up to 70% all year round?
This is precisely what McArthurGlen Designer Outlets offer at their 24 locations across seven European countries (plus one in Canada!), featuring over 300 luxury and premium fashion brands near the most prominent European cultural cities, including London, Malaga, Milan, Rome, Venice, Paris, Vienna, Salzburg, and Dusseldorf.
Situated in picturesque, village-like settings, shoppers can discover the latest trends and timeless, iconic pieces that will endure for a lifetime. From beauty products and perfumes to children's wear, accessories, jewellery, home goods, and sportswear, these villages are shopping paradises for the entire family.
Celebrate Eid al-Fitr with McArthurGlen
Not only do GCC customers have the advantage of tax-free shopping for additional savings, but there's also another reason to visit!
In celebration of Eid-al Fitr, shoppers from GCC can enjoy exclusive benefits, royal treats, and bespoke Brand Offers at selected McArthurGlen Centers in cities like Milan, Venice, Rome, Vienna, Salzburg, Berlin, Roermond, and Malaga. To avail yourself of this opportunity, simply download the voucher from this page and enjoy an extra 10% off!
Claim Your McArthurGlen Voucher Here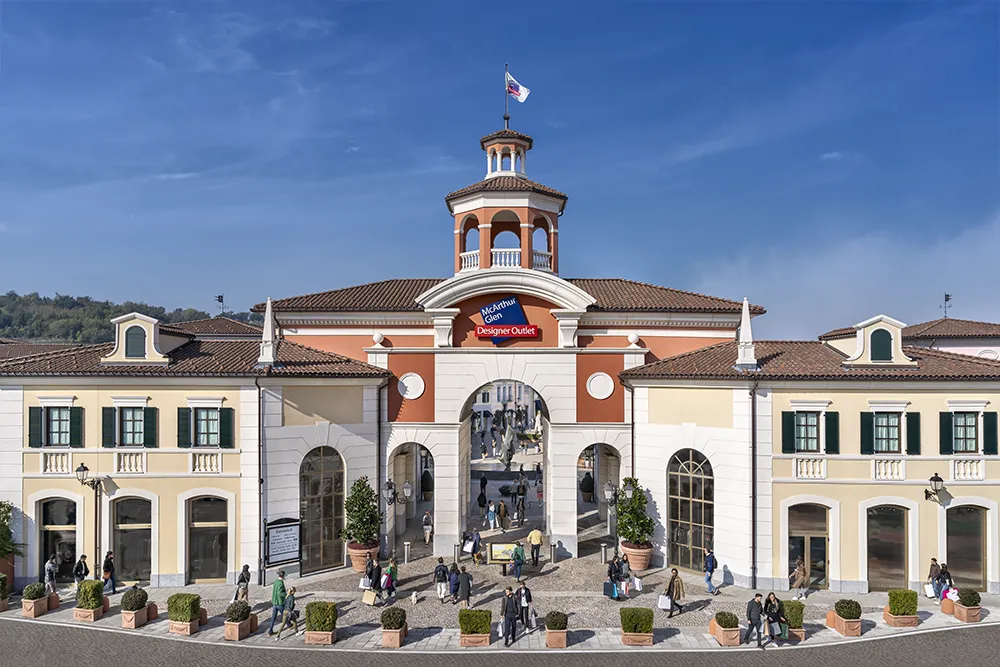 An amazing shopping experience
McArthurGlen Designer Outlets are the ultimate shopping destination in Europe, with over 300 of the most sought-after international brands available at 70% less all year round.
But shopping is just the beginning of the McArthurGlen experience.
From the moment visitors arrive, they are greeted with wide avenues and squares enriched with fountains and sculptures created by renowned contemporary artists, adding to the overall relaxing and luxurious atmosphere that the designer outlets are known for.
The centres are designed with the shopper in mind, offering spacious walkways and seating areas for rest and relaxation in between shopping sprees. Each outlet is also designed to reflect the local architecture and culture of the surrounding region, providing visitors with a truly authentic and immersive environment.
Shop like royalty at McArthurGlen Designer Outlets
Indulge in a shopping experience fit for royalty at McArthurGlen Designer Outlets, offering an array of exclusive VIP amenities and services to ensure every visit is nothing short of luxurious.
Take a break from shopping and dine at one of the many available cafes, fine dining restaurants, local gelateria, or halal and vegetarian options to suit every palate. These centres also offer playgrounds and baby parking for children, as well as baby strollers available at guest services.
Children can enjoy the available playgrounds and baby parking facilities while parents shop. Designer Outlet Serravalle even has an acquapark for the little ones to splash around in. Baby strollers are also available at guest services to make the shopping experience even more convenient.
Other services include hands-free shopping, luggage drop-off points, convenient tax refund and currency exchange offices, prayer rooms, free Wi-Fi, and multilingual staff.
All centres are within easy reach of prominent European cities. Those arriving by car will find the ample parking facilities most accommodating and stress-free, allowing guests to jump straight to shopping and dining. Shuttle buses from nearby city centres are also an option, while limousine transportation can easily be arranged upon request (please check the centres' individual web pages for detailed information).
For a truly indulgent experience, take advantage of the VIP lounges available at selected centres. These upscale spaces are adorned with designer furnishings and feature a dining area complete with a range of delicious snacks and beverages. Access to the lounges is available exclusively through personal invitations from selected travel partners.
Claim Your McArthurGlen Voucher Here
McArthurGlen Designer Outlets in Europe: Locations and nearby cities
Explore the various locations of McArthurGlen Designer Outlets across Europe. Here are some of the key outlets.
Designer Outlet Serravalle – Milan, Italy
Designer Outlet Serravalle, the largest outlet in Europe, is located near Milan, the Italian capital of fashion. It boasts over 230 stores that feature men's, women's, and children's wear, home goods, and top luxury shopping brands such as Givenchy, Prada, Saint Laurent, Balmain, and Ermenegildo Zegna available at up to 70% off all year round.
Serravalle Designer Outlet is easily accessible from Milan, with shuttle buses connecting it to the city within an hour's drive. It is also located 45 minutes from Genoa and less than 90 minutes from Turin.
Designer Outlet Noventa di Piave – Venice, Italy
Designer Outlet Noventa di Piave offers a unique shopping experience with 160 stores featuring top brands such as Armani, Burberry, Bottega Veneta, and Fendi, all available at up to 70% off all year round. For even greater discounts, visit during the summer sale in July and August.
There are plenty of dining options to suit all tastes, including Farinella, Panino Giusto, and Sutto Osteria.
The outlet is easily accessible from Venice, which is just a 45-minute drive away. It is also located 30 minutes from Treviso and 40 minutes from the beaches of the Adriatic Coast.
Designer Outlet Castel Romano – Rome, Italy
Castel Romano Designer Outlet is the only outlet in Rome, offering a premium shopping experience with over 150 stores featuring top brands like Valentino, Burberry, Nike, Michael Kors, Adidas, Levi's, and more. Find luxury clothing for men, women, and children, as well as beauty products at up to 70% off. Take a break at one of the onsite restaurants, including Signorvino, Obica, Illy, and the famous pizza of Farinella.
The designer outlet is easily accessible from downtown Rome via shuttle bus and is located in close proximity to both Fiumicino Airport (32 km – 38 minutes) and Ciampino Airport (23 km – 20 minutes).
Claim Your McArthurGlen Voucher Here
Designer Outlet Paris – Giverny – Giverny – France
This Spring 2023, discover McArthurGlen Paris-Giverny, the new premium Designer Outlet to the west of Paris, set in the stunning Normandy countryside, just 45 minutes away from the capital. Celebrate design in this contemporary new addition to the McArthurGlen portfolio, where fashion, art and gastronomy combine to offer you a memorable day out of exceptional experiences in a unique environment.
Designer Outlet Parndorf – Vienna, Austria
Located just 30 minutes away from Vienna, the town of Parndorf is home to many hidden gems, including the Designer Outlet Parndorf. The outlet boasts 160 stores offering luxury and premium brands such as Hugo Boss, Dolce & Gabbana, Michael Kors, Tommy Hilfiger, and Polo Ralph Lauren, with discounts of up to 70% on the European retail price. Categories range from men's, women's, and children's wear to sports and outdoors.
There are plenty of onsite dining options to cater for all the family, including the famous Sacher Café.
Visitors can easily drive from cities like Vienna and Budapest in under 30 minutes.
Designer Outlet Roermond – the Netherlands
Located on the east bank of the river Meuse, the historic town of Roermond offers a unique riverside shopping experience at Designer Outlet Roermond. With 186 stores, shoppers can find luxury clothing for men, women, and children, as well as beauty products, all from top brands like Off-White, Hugo Boss, Diamond House, Versace, Polo Ralph Lauren, and Karl Lagerfeld, all at up to a 70% discount.
Choose from 25 onsite restaurants and cafes, including well-known brands such as Starbucks and restaurants that offer halal options. Designer Outlet Roermond is easily accessible by public transport from Amsterdam and Dusseldorf. The outlet is also located a 45-minute drive away from Eindhoven and Maastricht.
Designer Outlet Malaga – Spain
Discover the Malaga Designer Outlet in the south of Spain, which boasts over 100 stores offering men's, women's, and children's wear, as well as homeware and beauty products. Find brands like Armani, Furla, Coach, Samsonite, and more, all at up to 70% off all year round.
Satisfy your appetite at one of the five onsite restaurants, including MásQMenos and Café y Tapas. Access to the outlet is convenient thanks to the onsite train station, which is just 3 minutes away from Malaga International Airport. Visitors can also easily reach the outlet by car from Gibraltar Airport, which is just an hour and 35 minutes away.
Tax-free shopping: Adding extra value to your shopping spree
Tax-free shopping is another sought-after feature of the McArthurGlen Designer Outlets. GCC shoppers can claim back the Value Added Tax (VAT) on their purchases and get even more value for their money.
When shopping at McArthurGlen Designer Outlets, shoppers need to simply ask for a tax-free shopping form at the point of purchase and present their passports. After completing the form, shoppers can head to the Global Blue or Planet Payment tax-free desks in selected centres or at the airport before leaving the EU and claim their refund. It's that easy!
Unforgettable shopping and family fun at McArthurGlen Designer Outlets
As part of McArthurGlen's Eid campaign, from 22 April to 28 May 2023 , shoppers arriving from the GCC are eligible for a fantastic additional 10% discount* on top of already unbeatable outlet prices.
To claim your Fashion Passport and take advantage of exclusive offers and vouchers, simply download your voucher and present the QR code to Guest Services.
If you're planning a trip to Europe for Eid al Fitr or beyond, make sure to add McArthurGlen outlets to your itinerary for an unparalleled shopping experience!
(*) conditions apply