Bahrain International Airport (BIA), situated in the Arabian Gulf, is renowned as one of the busiest and most well-established airports in the region. More than just a waiting area for a flight, it is a destination in itself, offering travelers an exceptional experience, enriched with Bahraini culture and hospitality.
BIA has earned a remarkable reputation in a short time. Within just two years of launching its new passenger terminal building, it received the prestigious five-star rating from Skytrax, the world's leading airport and airline rating organization, a testament to BIA's outstanding services and facilities.
The airport recently underwent an expansion to raise its capacity to 14 million passengers annually, which opens up its wide array of amenities and services to an ever-growing number of travelers.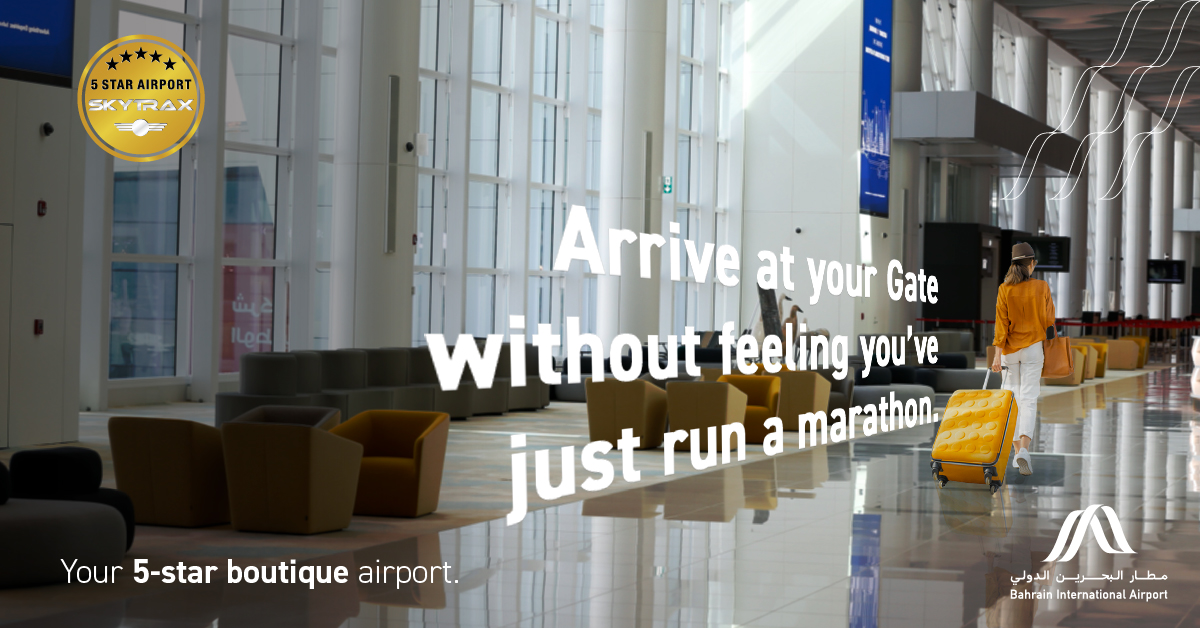 A luxurious, hassle-free, and memorable experience
BIA prioritizes passenger comfort and convenience, with an intuitive, user-friendly layout that is quick and easy to navigate.
Recognizing that families with young children require special attention, BIA's Entertainment Zone features interactive toys, gaming consoles, climbing domes, and comfortable seating arrangements to keep youngsters engaged and occupied while waiting for a flight.
Aside from the usual airport services such as fast and free public WiFi, ATMs, and currency exchanges, BIA has a well-appointed Airport Clinic on all three levels to provide the highest level of medical care.
In addition, the airport boasts an impressive selection of duty-free shops, restaurants, lounges, and prayer rooms, ensuring that passengers can indulge in retail therapy, savor gourmet meals, relax in comfort, and perform their religious duties with ease.
For travelers seeking extra luxury, BIA has a VIP terminal that provides personalized services, including a private entrance, check-in, and immigration facilities, a dedicated lounge, and transportation to and from the aircraft. The airport also offers premium valet and limousine services that operate through the main terminal.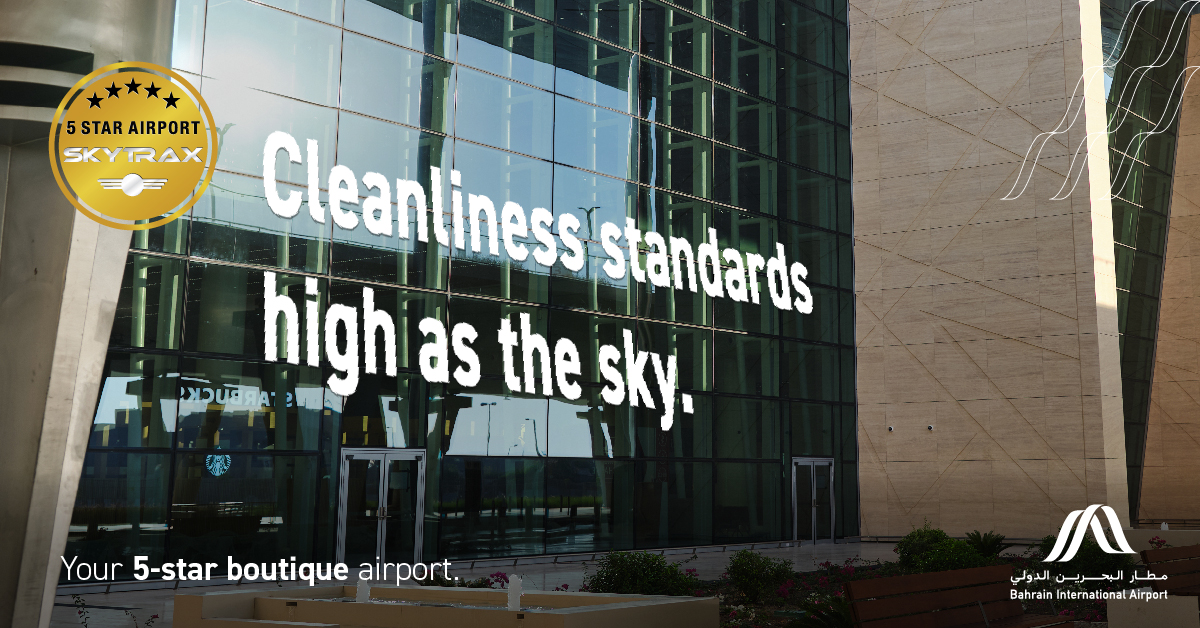 Cultural immersion
BIA is proud of its rich culture, showcasing Bahrain's artistic heritage through regular archaeological, cultural, and art exhibitions within the terminal. They offer visitors, even transit ones, a chance to catch a glimpse of Bahrain's vibrant culture and history. With several thought-provoking sculptures, artwork ranging from abstract to realism, and glass paintings to behold, layovers pass by quickly here.
Travelers can also take back a piece of Bahrain with them. Souq Al Qaisariya at Duty Free, styled like one of Bahrain's traditional open-air markets, offers a fabulous selection of Bahraini jewellery and local products.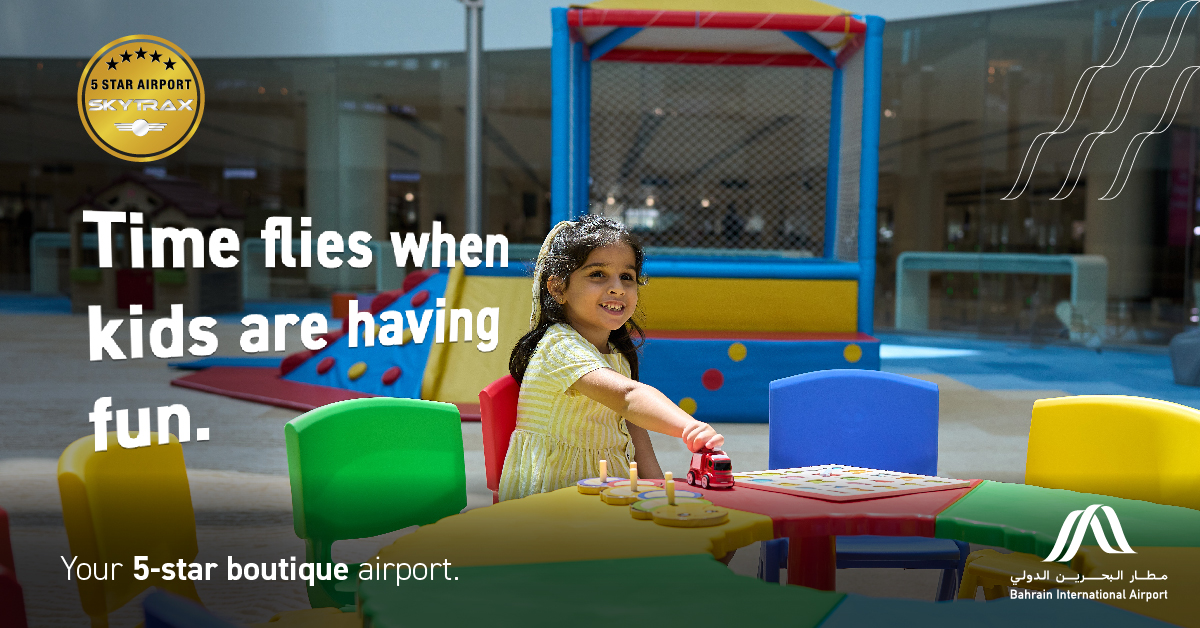 Great food for every mood
BIA boasts around 20 food and beverage outlets located conveniently around both the arrivals and departures zones. The first of its kind in the region, The Terrace Cafe is a stylish open-air concept and offers a wide selection of food and beverages alongside scenic views of the runway.
For something more substantial, try celebrity Chef Jamie Oliver's dishes at Jamie's Deli & Pizzeria. Stop by McDonald's, KFC, or Burger King for quick bites, or head to TGI Friday's,
Levito, or Jaipur Indo Asian for a filling meal. If you want to sample local flavors, head to Lumee On The Go or YaSalam!
Transit in style
Looking to put your feet up and unwind during your layover? Trust The Pearl Lounge and the Gulf Air Lounge to relieve you of your travel fatigue. These luxurious lounges both have a unique ambience, replete with exclusive amenities like live open kitchens, cold buffets, business areas, gaming rooms, and shower facilities.
Transit passengers can kick back at the Bahrain Airport Hotel, located just off the main concourse at Departure Gate 15. The hotel's massage and relaxing spa treatments are perfect to keep you looking and feeling fresh.
BIA is a world-class airport that offers passengers an exceptional travel experience, characterized by Bahraini warmth and hospitality, cultural richness, and modernity. It reflects not only the country's heritage, but also its vision and ambition for the future. Book your tickets to Bahrain today and experience its hospitality yourself.