On The Go Tours are an award-winning travel tour operator specialising in unforgettable group tours and tailor-made holidays. From Egypt to Ecuador, Morocco to Madagascar, we love helping you see the world your way, unlocking the finest sights and experiences the world has to offer. Whether you're after culture, adventure, or just want to kick back and relax, our outstanding local guides get you to the heart of your destination and deliver truly authentic experiences.
There's plenty of misconceptions about Colombia circulating around out there, some based in facts that are now a decade or two out of date while others have simply been left to go unanswered.
However, with Colombia recently awarded one of Lonely Planet's coveted entries on the 'Best in Travel 2017' list and even snagging a place in our top recommendations for next year, it's about time these myths were dispelled.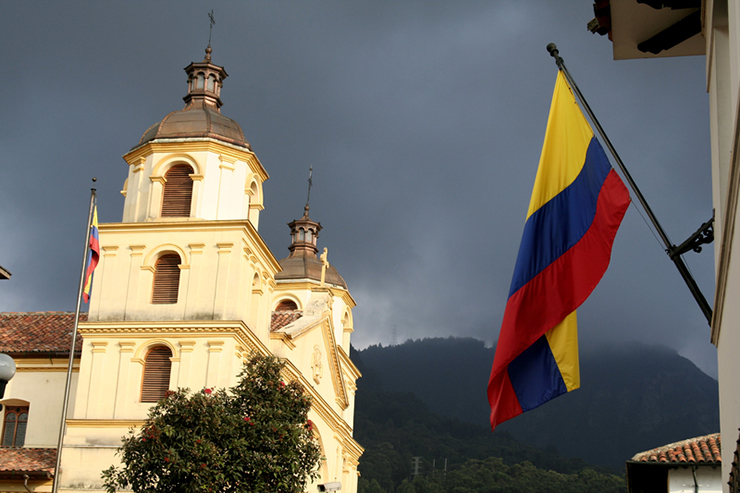 Here we tackle the most common of these misunderstandings and set the record straight.
Myth #1 – Colombia is dangerous
At the turn of the millennium Colombia was largely considered the kidnapping capital of the world with a shocking eight reported abductions each day. No wonder many people still view Colombia as a dangerous place to visit but that was 16 years ago and things have changed.
Thanks to ongoing peace talks between the Colombian government and the guerilla groups largely responsible for these kidnappings, abductions have fallen by a whooping 90%. Some parts of Colombia still warrant the advice of 'all but essential travel' by the UK Foreign & Commonwealth Office, however. These areas tend to be rural regions that few travellers have ever even heard of where government control is not as tight as elsewhere.
You'll find that the main traveller hubs like Popayan and Cartagena fall into areas deemed safe to visit and as long as you avoid those deemed risky and use your common sense, there's no reason why Colombia should be any more dangerous than the likes of America and the UK.
Myth #2 – Colombia is overrun with drug cartels
If you've ever heard of Pablo Escobar or watched the Netflix series Narcos you may have an image of violent drug barons ruling the roost in Colombia's cities. This was certainly the case back in the 1980s and 1990s when the infamous drug trafficker was one of the most powerful and influential men in the country. Bloody feuds with rival cartels and the government meant high murder rates that created a climate of fear and insecurity for the people of Colombia.
Since then, and with the help of the United Nations, Colombia has been on the frontline in the war against drugs. There have been successes and there have been failures. At points during the last decade both Bolivia and Peru have eclipsed Colombia as the world's largest producer of coca leaves, the base ingredient of cocaine, which should put the matter in some perspective, and drug-related violence has been halved.
There's still a long way to go and it's a difficult road ahead as demand for the illegal substance shows no sign of abating. However, many cities that were once the epicentre of the cartel world have been cleaned up with heavily invested regeneration projects.
The city of Medellin is a case in point. With a shiny new transport system, attractive green spaces and thriving commercial districts, it's a dynamic metropolis that instils a sense of pride in its residents. Plenty more urban centres are booming with tourists rather than traffickers, where it's possible to escape Colombia's tarnished reputation.
Myth #3 – Colombia is politically unstable
Colombia has a chequered past when it comes to politics. Civil war has blighted Colombia's history for close to 100 years from early incarnations as conflicts between dispossessed peasants and landlords in the 1920s to the intense violence of opposing political parties in the 1950s.
Since the 1960s the communist-inspired FARC guerilla movement has been fighting for greater equality and land reform, often with ghastly results. But 2016 marked a new chapter in this story with a peace agreement signed after four years of negotiations.
Like any political matter, it's far from a clear-cut resolution but the prospect of a lasting settlement seems likely. All this is helped by the fact that, for the most part, Colombians are happy with their current president, Juan Michael Santos, who was awarded a Nobel Peace Prize earlier this year for his contribution towards this resolution.
Originally elected in 2010, under Santos' presidency Colombia has been the safest it's been in a long while. Crime is on the decline, the economy is on the up and relations with the USA have never looked rosier. As well as this far-more inviting environment that Colombia now offers travellers, the people themselves are making the most of this period of relative stability. Read any travel blog on Colombia and you'll hear travellers waxing lyrical about how warm and friendly Colombians are towards foreign visitors – just one more reason to visit.
Myth #4 – Colombia is off the beaten path
With all these rumours of Colombia being a dangerous, drug-ridden and unstable place to visit, you might assume that it's spent the last few decades miles off the tourist radar. You'd be wrong.
The most intrepid of travellers have been visiting Colombia long before it recently became the hottest new destination in South America. A Colombian stamp in your passport was a badge of honour amongst backpackers who opted for the thrill of adding to their itineraries a country deemed a no-go zone.
In more recent times, cruise ships have featured the port city of Cartagena on their sailing routes around the Caribbean with hoards of day-trippers descending on the gorgeously preserved old colonial town.
While this may be off-putting for some, what this means for today's visitors is a great choice of accommodation and tourist-oriented restaurants in the most popular spots. Getting between places is relatively easy thanks to generally reliable public transport and there's numerous local outfits offering all manner of outdoor activities from hiking to scuba diving, kayaking to mountain biking.
Myth #5 – Colombia is missing that one special attraction
India has the Taj Mahal, Egypt has the Great Pyramids and closer to home, Peru has Machu Picchu. You may be forgiven for thinking that Colombia is lacking that one highlight that makes you immediately want to pack your bags and fly halfway around the world. And if your idea of a bucket-list attraction includes crowds and a saturation of images showing you what to expect before you've even left, then you'd be right.
If, however, you prefer out-of-the-way, little-visited and largely unheard of attractions then Colombia's Ciudad Pereira is that one special attraction for you. Abandoned for hundreds of years and accessible only by foot, the 'Lost City' of the Taironas offers an unrivalled opportunity to get off the beaten path and discover your inner Indiana Jones.
Set high up in the Santa Marta mountain range, the ruins certainly can't compete with those of the Inca Citadel in Peru but that's not the magic of this remote place – the true appeal is in the 5 day hiking adventure it takes to get there.
Traversing rugged jungle, crossing rivers and hanging suspension bridges, and passing by rustic villages, the trail to the lost city is practically untouched by tourism, in stark contrast to the popular Inca Trail that hosts up to 500 trekkers each day. Aside from the mountain views, once you arrive at the archaeological site you'll be rewarded with the remains of more than a thousand circular stone terraces. Every year the trek becomes more and more popular so get in quick!
This article originally appeared on On the Go Tours