This article has been reviewed by Wego's editorial team to ensure that the content is up to date & accurate.
As international tourism is currently put on halt, all eyes are on domestic attractions around the kingdom. One such destination is the Jebel Firhayn, also known as the edge of the world.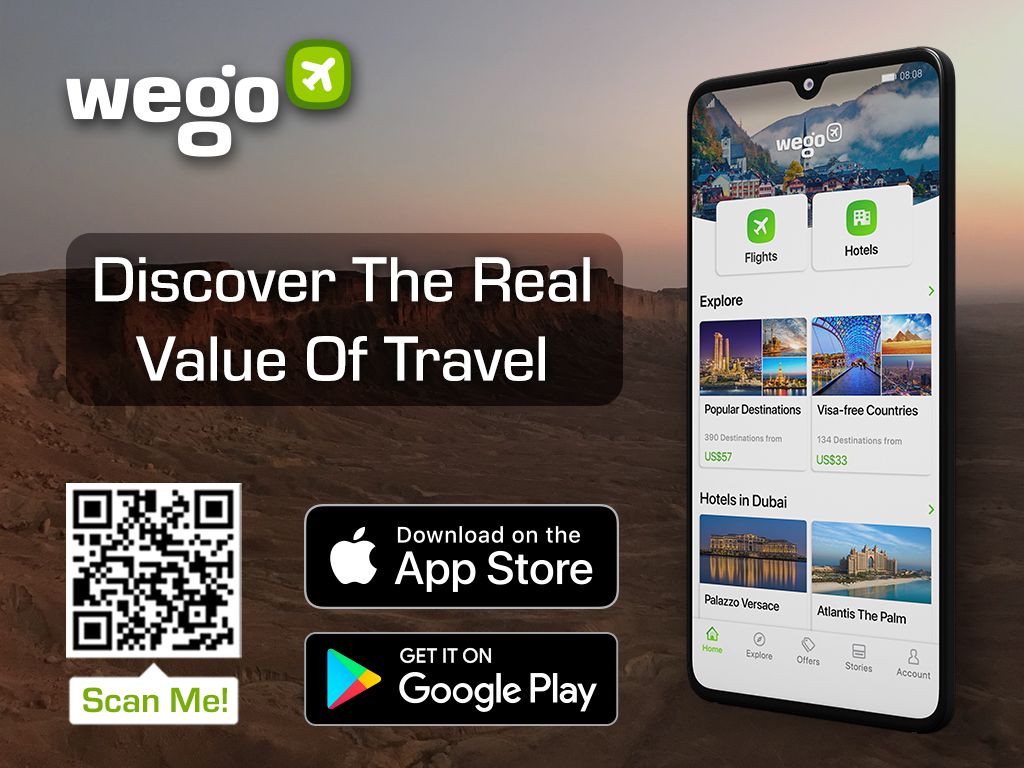 Jebel Firhayn acquired this somewhat intimidating epithet due to it being nestled upon a rocky desert surrounded by awe-inspiring geological wonders. Travellers flock to this so-called edge of the world to immerse themselves in the wonders of an ancient and uninterrupted view seamlessly woven into the horizon.
The Tuwaiq Mountain range
The destination lies some 90 kilometers from Riyadh and is part of the steep slopes of the Tuwaiq mountain range. The mountain range stretches some 700 kilometers from Jordan to the center of Saudi Arabia, where it has proudly served as the overseer of the valley since way before the time of the ancient trade route connecting the Arabian Peninsula and the kingdom of Persia.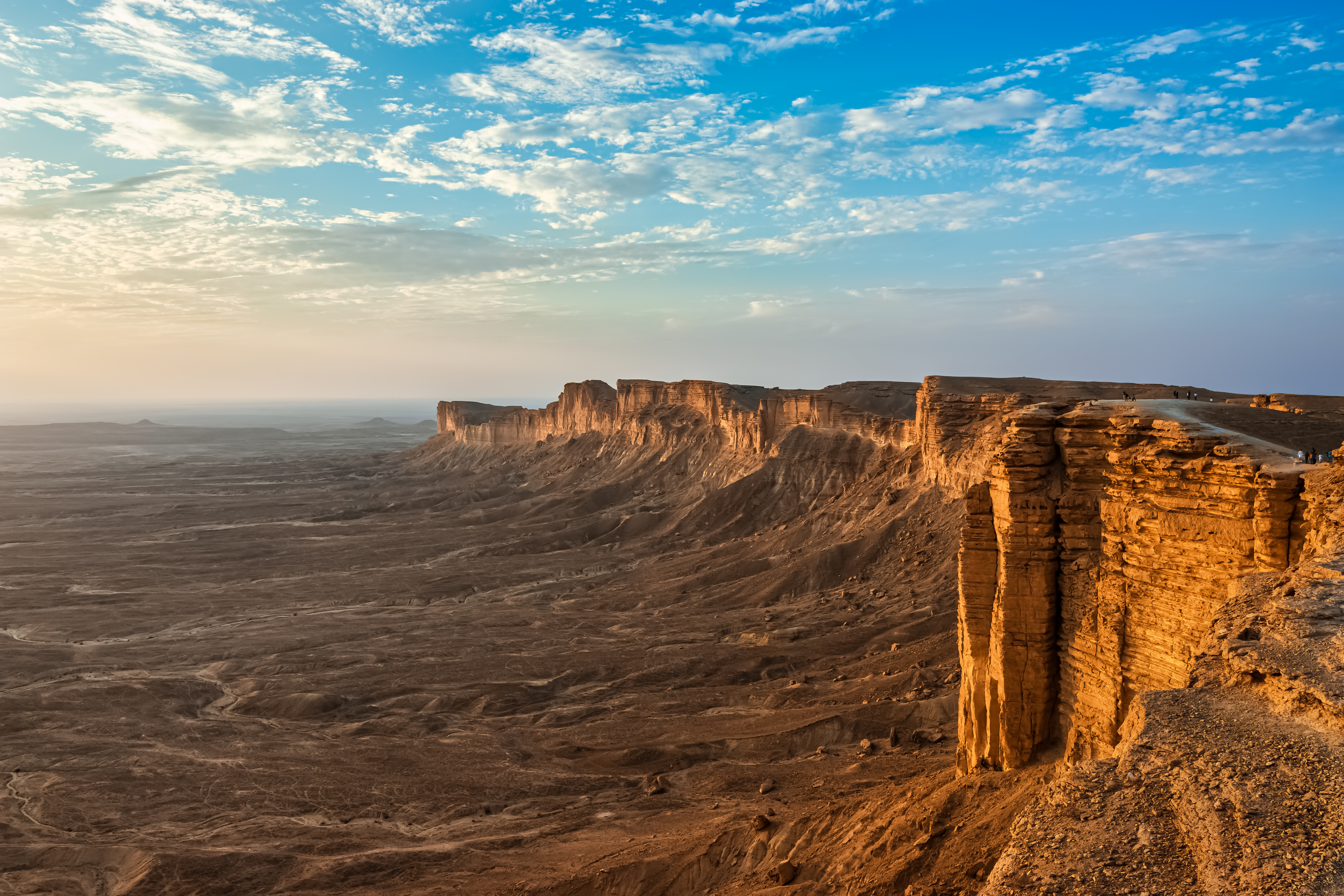 Furthermore, the Tuwaiq mountain range has also been discovered to contain fossils of coral reefs, shells, snails and ammonites. This means that the dry and arid desert we observe today was once submerged in a colossal body of water some 160 million years ago!
Here, tranquility reigns supreme
Standing upon the towering cliff, one will come to appreciate the stunning views of the valley below as lush acacia trees along with scores of wild animals and other plants are beautifully arranged as far as the eyes can see. The occasional herders with their livestock can also be spotted from time to time making their way through the winding rivers drained of their charge.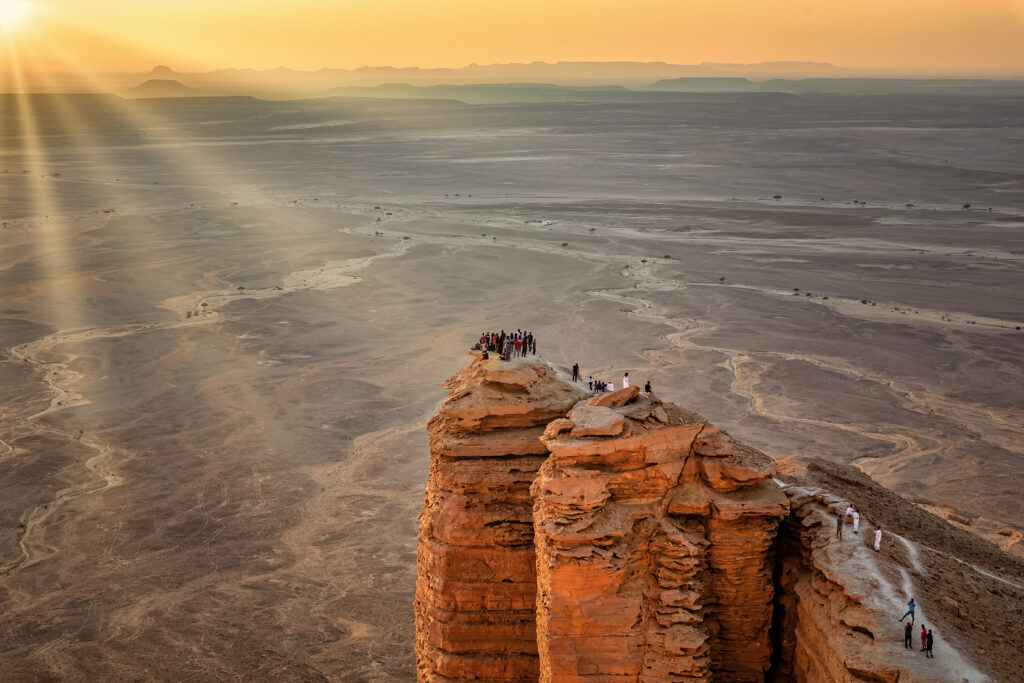 The edge of the world's exalted position allows for the occasional fog, rendering it beautiful and heart-wrenching at the same time. The fog accentuates the naturally occurring edge carvings dating back millions of years. Observing the surroundings from the summit at such a time means availing oneself to an otherworldly view as time seemingly crawls to a halt. 
Adventurers also frequent the edge of the world to partake in activities such as hiking, camping, horseback and camel riding as well as quad-biking, all available in the nearby Acacias Valley. This camping ground also provides the perfect opportunity for anyone to observe an exceptional desert sunset and a starry sky.
Reaching the edge of the world
To reach this exalted place, one must make use of an SUV equipped with a reliable GPS. It is also advisable to go in groups of vehicles to minimize the risks associated with traversing an arid and unforgiving desert. Numerous tour operators offer day trips with the option of camping for the night.
The best time to embark on this journey to the world's edge is during the winter when the skies are clear and the temperatures are less punishing.