This article has been reviewed by Wego's editorial team to ensure that the content is up to date & accurate.
At the end of Ramadan, the ninth month of the Islamic lunar calendar, Muslims worldwide gear up to welcome Eid al-Fitr, a joyous and triumphant day where the faithful individuals claim the ultimate prize; their return to a state of purity. On this day, prayers are offered, kinships are strengthened, and alms for the poor are given.
Celebrating Eid al-Fitr takes many forms, but one common tradition is the exchange of greetings among Muslims. This is a way for individuals to express their wishes and aspirations to each other, and it serves as a sign of mutual respect and acknowledgement. In our guide, we'll provide tips on how to convey your Eid al-Fitr greetings in a meaningful way.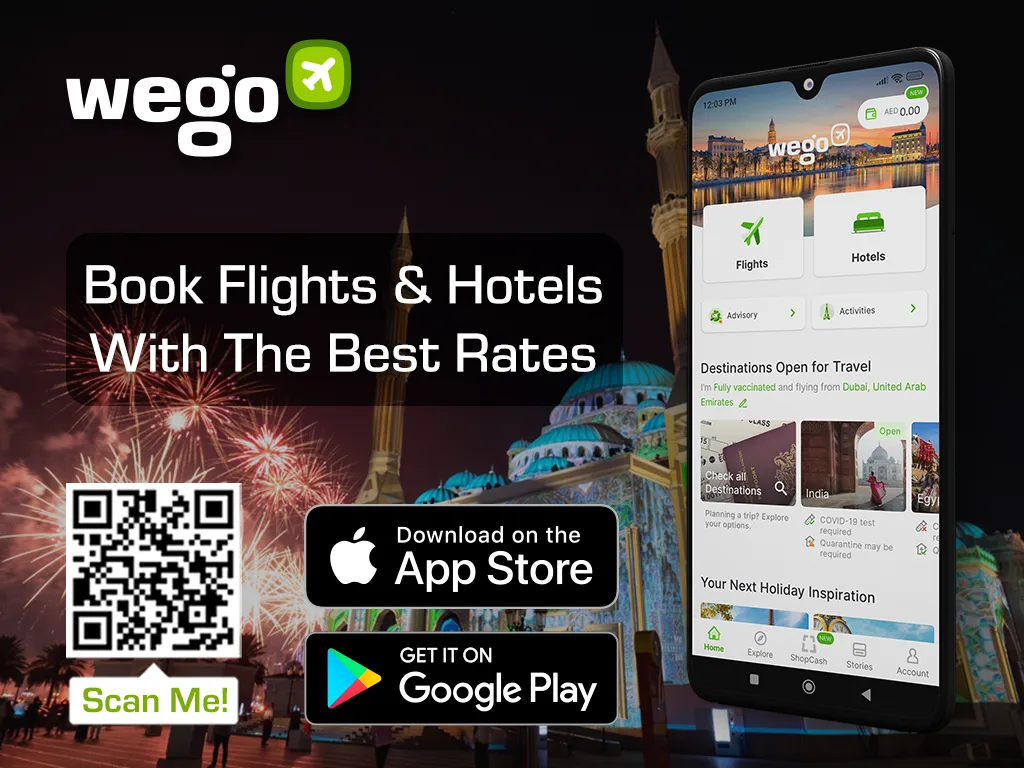 Eid Mubarak meaning
The phrase "Eid Mubarak" originates from two Arabic words: "Eid", meaning "festival/feast", and "Mubarak", meaning "blessed". Therefore, when Muslims say "Eid Mubarak", they are conveying a message of a "blessed festival" or a "blessed feast".
The term "Eid Mubarak" is commonly used in Islam during two significant celebrations: Eid al-Fitr and Eid al-Adha. Although these celebrations have different meanings, the phrase "Eid Mubarak" is used for both as they are both grand festivals that have been blessed by Allah.
Eid Mubarak as a greeting
When Ramadan comes to an end, Muslims around the world begin to celebrate Eid al-Fitr by exchanging greetings and well-wishes with their fellow Muslims, family, neighbors, and colleagues. This is a demonstration of mutual respect and acknowledgement among themselves.
There are various ways that Muslims express their greetings, but the phrases "Eid Mubarak" or "Eid Fitr Mubarak" are the most commonly used greetings worldwide. However, Muslims often translate these greetings into their local or community language. Regardless of the language used, the fundamental meaning of the greeting remains the same – to extend congratulations to fellow Muslims on this auspicious day.
How to respond to Eid Mubarak greetings?
Responding to Eid Mubarak greetings is an important part of the celebration. It's essential for Muslims to know how to reply appropriately to demonstrate mutual respect and appreciation.
Muslims can respond to "Eid Mubarak" greetings from their relatives or colleagues by saying "Khair Mubarak". This phrase conveys a wish for similar blessings to the greeter. Alternatively, they may respond by saying "Jazakallah Khair," which is an Arabic expression for thanking the greeter for their kind words.
When to extend Eid al-Fitr greetings?
Eid al-Fitr greetings are typically extended during the celebration of Eid al-Fitr, which falls on the first day of Shawwal in the Islamic lunar calendar. This year, Eid al-Fitr is expected to occur on 21 April 2023, but the exact date will be confirmed closer to the end of Ramadan.
For more information about Eid al-Fitr dates and celebrations, please refer to our dedicated article below.
[Total:

106

Average:

4.9

]