This article is reviewed regularly (on a monthly basis) by Wego's editorial team to ensure that the content is up to date & accurate.
Updated 1 October 2021
The highly anticipated mega global event Expo 2020 Dubai, all set to commence from October 1, offers visitors a once in a lifetime opportunity to experience a world of tomorrow, with an assemblage of dazzling, unique and special events planned for a period of six months till March 31, 2022. You can view the complete events calendar here. 

Get your Expo 2020 ticket at Wego
We are proud to announce that Wego is Expo 2020 Authorized Ticket Reseller, meaning you can now purchase your tickets easily from us!
Join us at the world-class event showcasing cultural experiences, cutting edge innovations, and mind-blowing ideas featuring more than 190 countries. Get your Expo 2020 tickets at Wego now!
Top Expo 2020 events
On a daily and recurring basis, select events will take place at one of the many world-class venues at the Expo. We have compiled a list of the most anticipated events planned for Expo 2020 Dubai that you should not miss. 
Awakening of Al Wasl 
Video courtesy of Duha Haj Yahya
After sunset, Al Wasl Plaza's dome awakens as an illuminated canvas against the night sky, capturing the imagination of visitors as it tells stories from the Arab region, our natural world, the cosmos and humanity's endless quest for a better future. The immersive 360-degree projection surface will be augmented by Al Wasl's immersive surround sound and light system, creating a playground for the senses.
Time: Sunset, daily
Venue: Al Wasl Plaza
Colours of the World
Each day, the "Colours of the World" Parade will treat audiences to a unique cultural fusion experience. This vibrant, colourful, and moving celebration will feature international participants, performers and musicians from all over the globe that radiates energy and brings a blast of fun. Artists from the 192 participating nations at the Expo will feature in this busy entertainment programme, which will include home-grown talent, regional favourites and global headliners.
Timings: 12:45 PM daily
Venue: Ghaf Avenue
Late Nights @Expo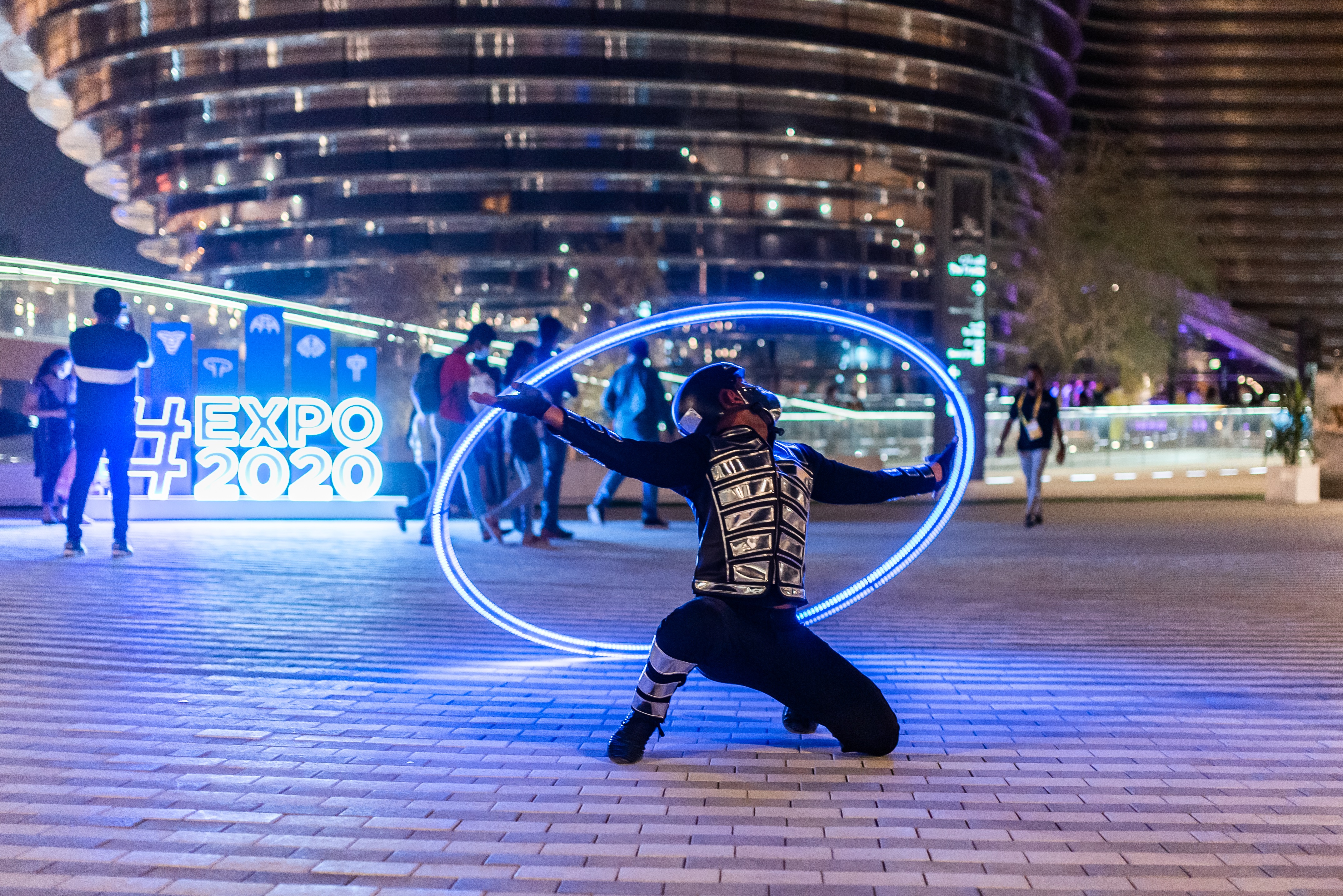 At Expo 2020, the fun doesn't stop as the night sets. Explore a whole new level of vibrancy at the live late-night shows and events aimed at breaking barriers between musical styles, generations and cultures. Late Nights @Expo is a must-see fixture on the Expo calendar, generating exciting new content for Dubai to share with the world.
Timings: 22:30, Thursdays & Fridays
Venue: Jubilee Stage
Expo beats

Expo beats is a unique monthly festival that will take visitors on a journey around the world through music, dance and culture. From the 'Island Beats' of Hawaii, the Philippines and the Caribbean to the rhythms of 'Tribal Beats', these festivals will blend genres, create fusions and expose everyone to both traditional and contemporary sounds in new and exciting ways.
World Beats: 7-9 October 2021
Jubilee Beats: 18-20 November 2021
Tribal Beats: 16-18 December 2021
City Beats: 20-22 January 2022
Desert Beats: 17-19 February 2022
Island Beats: 10-12 March 2022
Timings: 4:00 PM onwards
Venue: Jubilee Stage
Firdaus Orchestra
Music sensation and Oscar-winning composer A.R. Rahman has put together an all-women ensemble from the Arab world, celebrating culture and diversity featuring musicians of 23 nationalities and ages ranging from 16 to 51, demonstrating how music is accessible to and for everyone. Starting from 23 October, the concerts will also feature works composed by A.R. Rahman for the orchestra's inaugural performance on the global stage.  
Date: 23 October 2021
Venue: Terra, Expo 2020 Dubai
National Day and Honour Day
Each participating country has its own National and Honour Day Ceremonies as a moment to honour country leaders and celebrate the beauty of each International Participant's culture in all its colours and traditions. One of the most anticipated events at Expo 2020 is the UAE National Day celebrations which falls on 2 December 2021. The Expo will host the UAE Golden Jubilee celebrations during November, building up to the national day itself on December 2. 
Timings: 10:15 daily
Venue: Al Wasl Plaza
Expo Young Stars

Every morning of the academic calendar, students from schools all across the UAE will gather as part of the Expo Young Stars Programme. Together, they will sing and dance on the stage of the stars at the heart of Expo 2020 Dubai. This is where they will share their story – written, choreographed and directed by students, proving to be a moment for friends, family and students to always cherish.
Timings: 11:15, 12:15 and 13:15
Sunday-Thursday,
January-March 2022
Venue: Al Wasl Plaza
Expo 2020 Closing Ceremony
The six-month event will conclude with the Closing Ceremony, which is expected to be as spectacular as the Opening Ceremony, which took place on October 1. If the current stable COVID-19 situation continues and the Expo remains open to the general public next year, it will definitely be an event one shouldn't miss.
Date: Thursday, 31 March 2022