This article is reviewed regularly (on a monthly basis) by Wego's editorial team to ensure that the content is up to date & accurate.
Updated 4 October 2021
Expo 2020 Dubai, which opened its doors on October 1 is all set to dazzle visitors with its unique assemblage of special culinary establishments offering dishes from every corner of the world. 
With more than 200 food outlets, you are spoilt for choice, with options ranging from Expo's dedicated dining venues and facilities to cuisine cooked and served at many international pavilions to deliver the best culinary experience as you explore the massive event.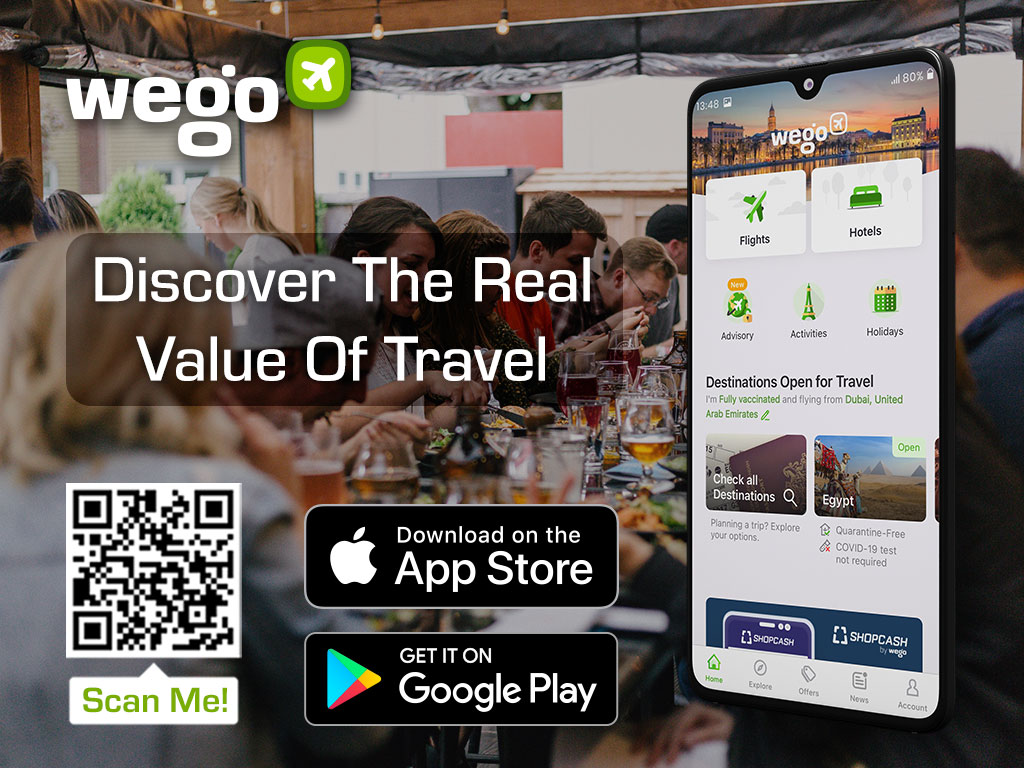 Get your Expo 2020 ticket at Wego
We are proud to announce that Wego is Expo 2020 Authorized Ticket Reseller, meaning you can now purchase your tickets easily from us!
Join us at the world-class event showcasing cultural experiences, cutting edge innovations, and mind-blowing ideas featuring more than 190 countries. Get your Expo 2020 tickets at Wego now!
Top restaurants at Expo 2020
One of the best ways to experience a country is by tasting its cuisine, and at Expo 2020, you can eat your way around the world without having to leave the UAE. The following is our recommendation of the top culinary establishments you should not miss at Expo 2020. 
If fine dining is your thing, the Atlantis certainly does not disappoint. 
The Future of Food: The Epochal Banquet
Created for Expo 2020 Dubai, The Future of Food: The Epochal Banquet is a multi-sensory food journey to the cuisine of tomorrow. Enter the year 2320 as immersive multi-sensory studio Bompas & Parr and Expo 2020 bring you a pioneering two-hour culinary experience inspired by space, microbiology, artificial intelligence and hyper-intelligence. The radical new concept, designed to highlight the impact of AI on the future of dining, will stir your senses.
Diners will experience a three-course set menu featuring numerous world firsts, taking creativity, innovation and technology to a new level. Bookings are available on the Expo website as an add-on to your entry ticket. 
Type of cuisine: International
Opening times: Daily 12:30-00:00
AI Experience times: 1 PM, 6 PM and 9 PM daily
Duration: 2 hours-2.5 hours
Location: Opportunity District – OS01 F

Jubilee Gastronomy
Fine dining is redefined at Expo 2020 Dubai as Jubilee Gastronomy presents a schedule of unique gastronomy experiences at their signature 'Chef's Table' concept. Hosting an intimate lunch and dinner degustation experience every Tuesday throughout Expo 2020 Dubai, 26 of the world's greatest chefs will create a signature four and nine-course menu, followed by appearances from celebrated local chefs twice weekly. 
Jubilee's signature menu by Chef Guilherme will be available throughout. Book your reservations at Jubilee here to secure your space. 
Type of cuisine: International
Opening times:
Saturday-Wednesday: 10:00 – 12:00
Thursday-Friday: 10:00 – 01:00
Location: Al Wasl – Rooftop, Parcel C
Scarpetta Mercato
Scarpetta will be bringing its first ever burrata bar to the UAE. The philosophy of Scarpetta's kitchen is one of creating bold flavours by amplifying the essence of seasonal ingredients. The signature pastas are made in-house daily and are paired with the highest quality, locally sourced ingredients. 
Scarpetta's famous spaghetti tomato and basil is nothing short of classic simplicity in both taste and preparation. Book in advance here to make your reservation. 
Type of cuisine: Italian
Opening times:
Saturday-Wednesday: 11:00 – 00:00
Thursday-Friday: 11:00 – 01:00
Location: Mobility District – Ground Floor, MS 02 Right side
La Patisserie
La Patisserie keeps the love of food at heart for those little moments of bliss we all deserve. The light crunch as you take a bite of a warm croissant. The sweet indulgence of a slice of decadent chocolate cake. The smell of freshly baked bread as it mingles in the air with roasted coffee beans.
If you're passing by, be sure to treat yourself. Have an indulgent moment – you deserve it.
Type of cuisine: Cafe / Bakery
Opening times:
Saturday-Wednesday: 10:00 – 22:00
Thursday-Friday: 10:00 – 00:00
Location: Mobility District – Ground Floor, MS01 Left Side
Sustainability District – Ground Floor, SS04 Left Side
Mudrá
Vegan? Head to Terra – The Sustainability Pavilion for Mudrá, one of the best plant-based restaurants from world-leading plant-based chef Matthew Kenney. Celebrity chef Matthew Kenney brings his plant-based approach to Mediterranean and Middle Eastern cuisine, taking artistic licence to create vibrant, playful adaptations of traditional cultural dishes. 
Expect variations on plant-based shawarma, stuffed flatbread, an extensive list of original mezze options, as well as a craft cocktail, beer and wine programme. Click here to book your reservations now. 
Type of cuisine: Vegan
Opening times:
Saturday-Wednesday: 10:00 – 00:00
Thursday-Friday: 10:00 – 01:00
Location: Sustainability District, Rooftop, Terra – The Sustainable Pavilion
Arabian Tea House
Arabian Tea House is one of the first traditional Emirati restaurants. It opened in 1997 and remains an oasis of peace and calm, where tourists and residents alike come time and again for a journey back to the city's past and to explore its cultural heritage. 
It showcases Emirati cuisine to the world, prepared with ancestral original recipes, and create an ambience where people can experience Emirati hospitality.
Type of cuisine: Emirati
Opening times:
Saturday-Wednesday: 10:00 – 00:00
Thursday-Friday: 10:00 – 01:00
Location: Opportunity District – Ground Floor, Parcel B
Garden 1
More than 75 venues, such as Garden 1 at the Expo, serves alcoholic beverages, and you will be able to enjoy mouth-watering menus and drinks all night. Garden on 1 Sports Lounge is a fun and casual hangout for sports lovers. 
Watch the latest sport while you sip on classic drinks and craft ales, and enjoy a host of grazing dishes perfect to share. The restaurant offers a relaxed, casual environment open to large groups. Enjoy live music, live sports, bingo and quiz nights.
Type of cuisine: International
Opening Times:
Saturday-Wednesday: 12:00 – 23:30
Thursday-Friday: 12:00 – 01:00
Location: Mobility District, Sports, Fitness and Wellbeing Hub
Expo Street Food
In addition to renowned restaurants available across the venue, you will find a Food Truck Park in every district, each serving delicious grab-and-go fare, from pizza, hot dogs and Lebanese snacks to ice cream, waffles, mini pancakes and more. Ideal for a quick pit stop to refuel with friends and family, these casual outdoor venues have plenty of seating – and you won't leave hungry. 
Where: Opportunity, Mobility and Sustainability districts.