With so much good food to be had in Hong Kong, you'll be hard-pressed to keep the calories under control. Well, the curry fishballs and piping hot dai-pai-dong style dishes may be craze-worthy, but the city is equally rich with #fitspiration. With so many cloud-covered peaks, beautiful winding trails and azure blue bays, Hong Kong's natural beauty needs #nofilter. So make some space for a little outdoorsy activity on your next visit — these 5 treks are definitely #fitspiration material!
[Find the cheapest flight ticket to Hong Kong this summer!]
Lantau Peak
The highest point on Hong Kong's Lamma Island, Lantau Peak stands high and mighty at 934 metres. The trail leading up to the peak is well-marked, and sections with steep inclines have stairs for easier footing. Incredible vistas of nearby hills, beaches and the ocean abound. But that's not all — those who shrug off the initial steep incline and 2-hour trek will be rewarded with some of Hong Kong's best panoramas, a silent blessing from the Tian Tan Buddha — and a comfortable joyride back down via cable-car.
Sunset Peak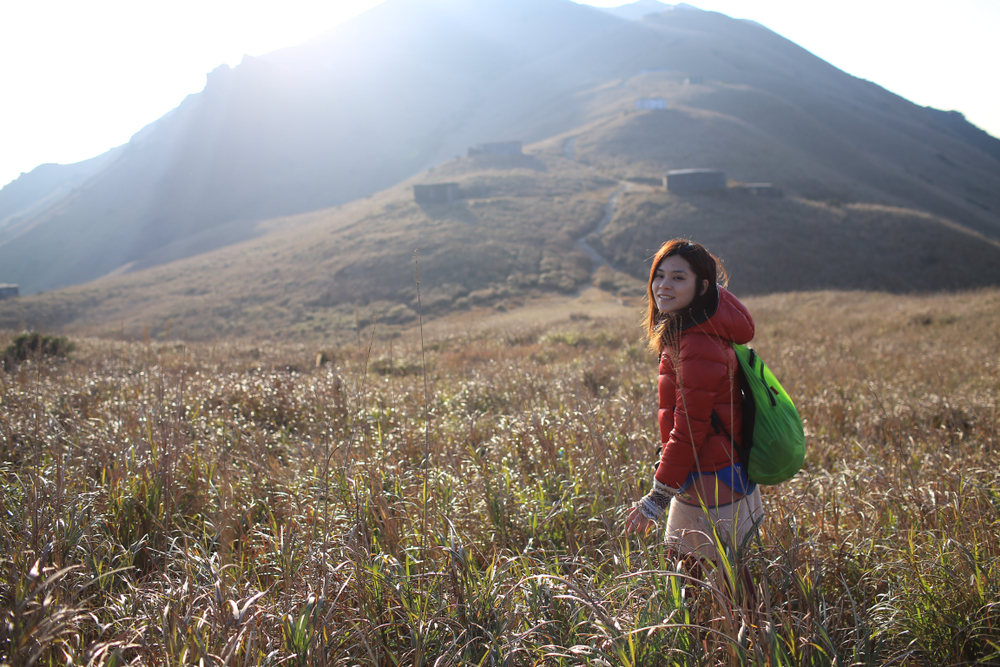 Lantau Peak's slightly petite cousin packs a ton of surprises along the trail, but the real eye-catchers are the endless sea of silvergrass rustling in the wind, and antique stone huts every now and then. Trekkers will begin at Pak Kung Au Pass — a recommended spot for a pre-trek picnic — and may choose to end off with a splash in picturesque Silver Mine Bay.

Tai Mo Shan
Hong Kong's highest peak was once a fiery volcano spewing red-hot destruction in its wake, but Tai Mo Shan today is a gentle giant offering many an excellent vantage point for capturing both sunset and sunrise photos. Once famous for the unique blend of "mist tea", trekkers today often visit not just for the breathtaking views, but also to drop by for some homely dim-sum at nearby Chuen Lung Village.  
[Visit Discover Hong Kong website for more travel information!]
Tai Mo Shan is a great place for capturing views of the Kowloon Reservoirs and Tsuen Wan skyline, but be warned — this giant is often shrouded in clouds, which not only obscures the view, but turns down the temperature too.
Tai Long Wan
Folks who miss the white beaches and clear waters of Boracay, take heed — Tai Long Wan promises the same white sandy beaches minus the touts and the crowds. Unadulterated and relatively remote, Tai Long Wan is arguably (until now) one of Hong Kong's best kept secrets. Beautiful coves like Sai Wan and Chek Keng provide natural beauty with rare privacy, and the waves in the area are ideal for a surf or two.
For the budget traveller, getting to Tai Long Wan requires a 6 km trek. A long one, particularly in the summer heat, but the many waterfalls, rock pools and awesome natural vistas along the way will more than keep your cool.
[Don't miss the best Hong Kong hotel deals this summer!]
Dragon's Back
This is one trek that needs no introduction — easily accessible to all levels of hikers and easy to get to from the city, the Dragon's Back trail is a popular mention in many Hong Kong guidebooks. Voted "Best Urban Hiking Trail" by TIME Asia back in 2004, this legendary trek offers stunning views of Tai Long Wan, Tai Tam and the South China Sea.
Folks who have done Mt. Batulao in Batangas will find this trek to be rather similar. Just like Mt Batulao with its series of connected mini-peaks, the Dragon's Back gets its name from the ridges connecting Shek O Peak and Wan Cham Shan. Technically speaking, you'll be summiting not just one, but many mountains!
[Click to see the best way to enjoy Hong Kong this summer]
Hong Kong's breathtaking outdoor treks provide a welcome respite from the skyscraper labyrinth of the city, and most of them are easily accessible by public transport. In this city of good bites and great views, there's food for mind, body and soul. So put on your running shoes or trekking boots on your next visit — Hong Kong's nature abounds with adventure!
Looking for more #fitspiration? Hong Kong's great outdoors is your playground — from breathtaking treks to pristine beaches and rustic island getaways, keeping fit — and having fun — can not get any easier.