This article is reviewed & updated annually by Wego's editorial team to ensure that the content is up to date & accurate.
One of the much-awaited Hindu annual festivals is Ganesh Chaturthi, an observance honouring Lord Ganesha, the elephant-headed deity. The eldest child of Lord Shiva and Goddess Durga, Ganesha is also named Ganapati or Vinayak. He is revered as the deva of intellect, the messiah of people from distress, and a patron of art. He is the one with the tusk, Ekdanta, and the face of an elephant, Gajanana.
According to the Hindu Purnimata calendar, the celebration takes place on the Chaturthi of Shukla Paksha in the month of Bhadrapada, meaning, the fourth day of the fortnight between the new moon and the full moon of the lunisolar calendar's sixth month Bhadon. Animated rituals, prayer offerings, extravagant embellishments, and sweets, with various public performances span over nearly 10 days. At the end of this period, the visharjan or idol immersion takes place.
Ganesh Chaturthi date and time for 2021
This year, in 2021, the Ganesh Chaturthi falls on September 10, Friday (Drikpanchang)
Begining of Tithi: 12:18 a.m., September 10
End of Tithi: 09:57 p.m., September 10
The muharat or the auspicious moment for puja is different across cities:
11:17 

AM

 

to 

01:45 

PM
 – 
Pune
11:03 

AM

 

to 

01:33 

PM
 – 
New Delhi
10:52 

AM

 

to 

01:19 

PM
 – 
Chennai
11:09 

AM

 

to 

01:38 

PM
 – 
Jaipur
10:59 

AM

 

to 

01:27 

PM
 – 
Hyderabad
11:04 

AM

 

to 

01:33 

PM
 – 
Gurgaon
11:05 

AM

 

to 

01:35 

PM
 – 
Chandigarh
10:19 

AM

 

to 

12:48 

PM
 – 
Kolkata
11:21 

AM

 

to 

01:49 

PM
 – 
Mumbai
11:03 

AM

 

to 

01:30 

PM
 – 
Bengaluru
11:22 

AM

 

to 

01:51 

PM
 – 
Ahmedabad
11:02 

AM

 

to 

01:32 

PM
 – 
Noida
Lunar sighting to be avoided on Ganesh Chaturthi from around 9:00 a.m. to 9:00 p.m. (exact time different for all the above cities based on their local time) for approximately 12 hours. This is practiced by devotees so as not to fall prey to Mitha Dosh, a curse that falsely implicates someone for a crime.
The festival ends on Anant Chaturdashi after 10 days. Visarjan on September 19, 2021.
How is the festival celebrated?
Ganesh Chaturthi is celebrated in homes, at temples, and also in the public spaces where huge decorative pandals or mandaps are structured to house the clay idols of Ganapati. In homes, people install small clay statues or place a picture of Lord Ganesha at the entrance, hoping for an obstacle-free and lucky new beginning.
For public celebrations, funds are collected and pandals are built. Beyond the religious significance, this sees a spur of cultural activities. Singers and theatre artists perform on stages on one side and simultaneously, most places also see blood donation camps, free health check-ups, donations, and food distribution among the poor.
Aarti songs or bhajans dedicated to the Lord reverberate in the air. At many places, you'd also feel like dancing in devotion as Bollywood numbers like Deva Shree Ganesha or Sadda Dil Bhi Tu (Ga Ga Ga Ganapati) blare through the speakers. Post the 10th day, the idol is taken out on a procession and immersed in a nearby waterbody. There's a whole lot of singing, dancing, and chanting 'Jai Ganapati!' that goes on during Visharjan, making it one gala affair.
Decorations during Ganesh Chaturthi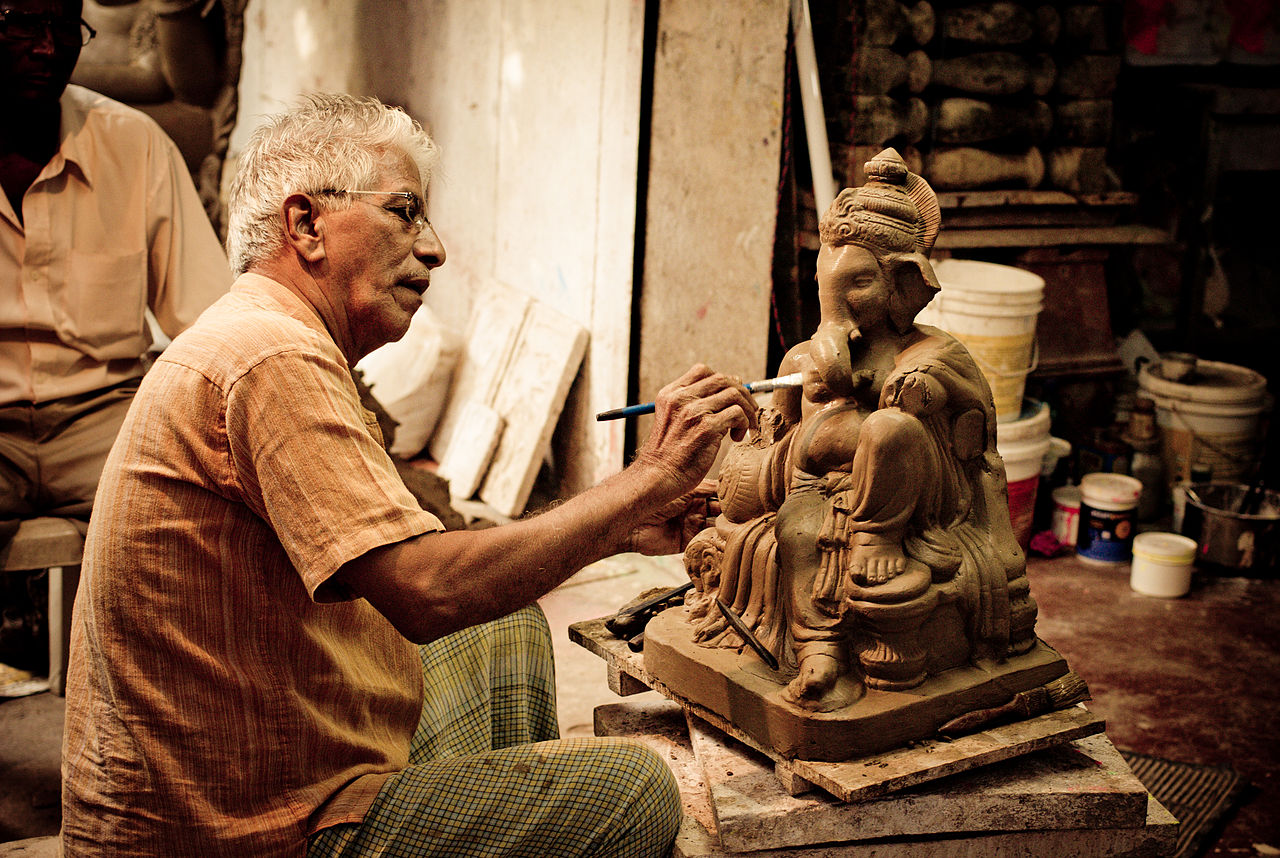 With every place, both home and public spaces, becoming dotted with small and mighty idols of Ganapati, extravagant decorations ensue. The idols are usually ordered a month or so before from the local artisans. Other puja accessories and decoratives, including LED lights, wall hangings, etc, are bought and kept ready days ahead of Ganesh Chaturthi.
Flowers are a must. Offering red flower (red hibiscus) is often considered auspicious and if not available, other flowers with Tulsi leaves can be used. An indispensable inclusion in the rituals is durva grass, a herb that legend says had relieved Ganesha when he swallowed a demon to protect the world. Colorful rangolis and beautiful bandhanwars also spruce up the aura of the celebration.
Food offering during Ganesh Chaturthi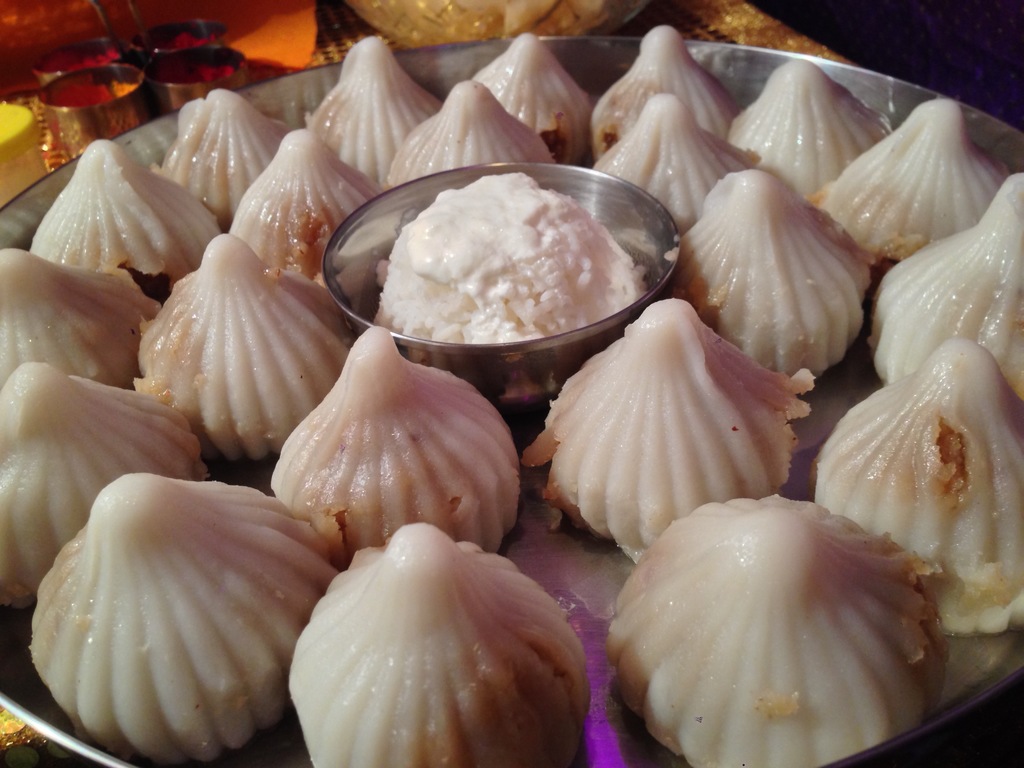 Food is an integral part of any Indian festival, and especially so for Ganesh Chaturthi because modak is said to be his favorite sweets. It is a delicious sweet dumpling made of rice flour stuffed with grated coconut and gur (jaggery). And for the love of his sweet delight, Lord Ganesh is also sometimes called by the name Modakpriya.
It, therefore, has become customary to include a variety of sweets in the prasad or prasadam (food offered to the deity) during Ganesh Chaturthi. Laddu (besan and motichoor laddu are a no brainer), karanji, vrundallu, nevri, chalividi, etc. are some of the sweet offerings made to the lord in an array of delightful flavors by different groups of people.
Top places to celebrate Ganesh Chaturthi in India
It is said that if you want to have a truly cultural immersive experience, the best time to visit any place is during a festival. While Lord Ganesha is a much-loved deity of the Hindu pantheon, and in his honor, almost the whole country gets decked up, there are a few special mentions that take this fiesta to a completely different level.
Below are some of the notable places where you can visit to witness the Ganesh Chaturthi festival in its grandest form and how they may be celebrated differently this year.
Please bear in mind that it is important to abide by COVID-19 entry regulations and restrictions which may be in place in the below-mentioned destinations.
Mumbai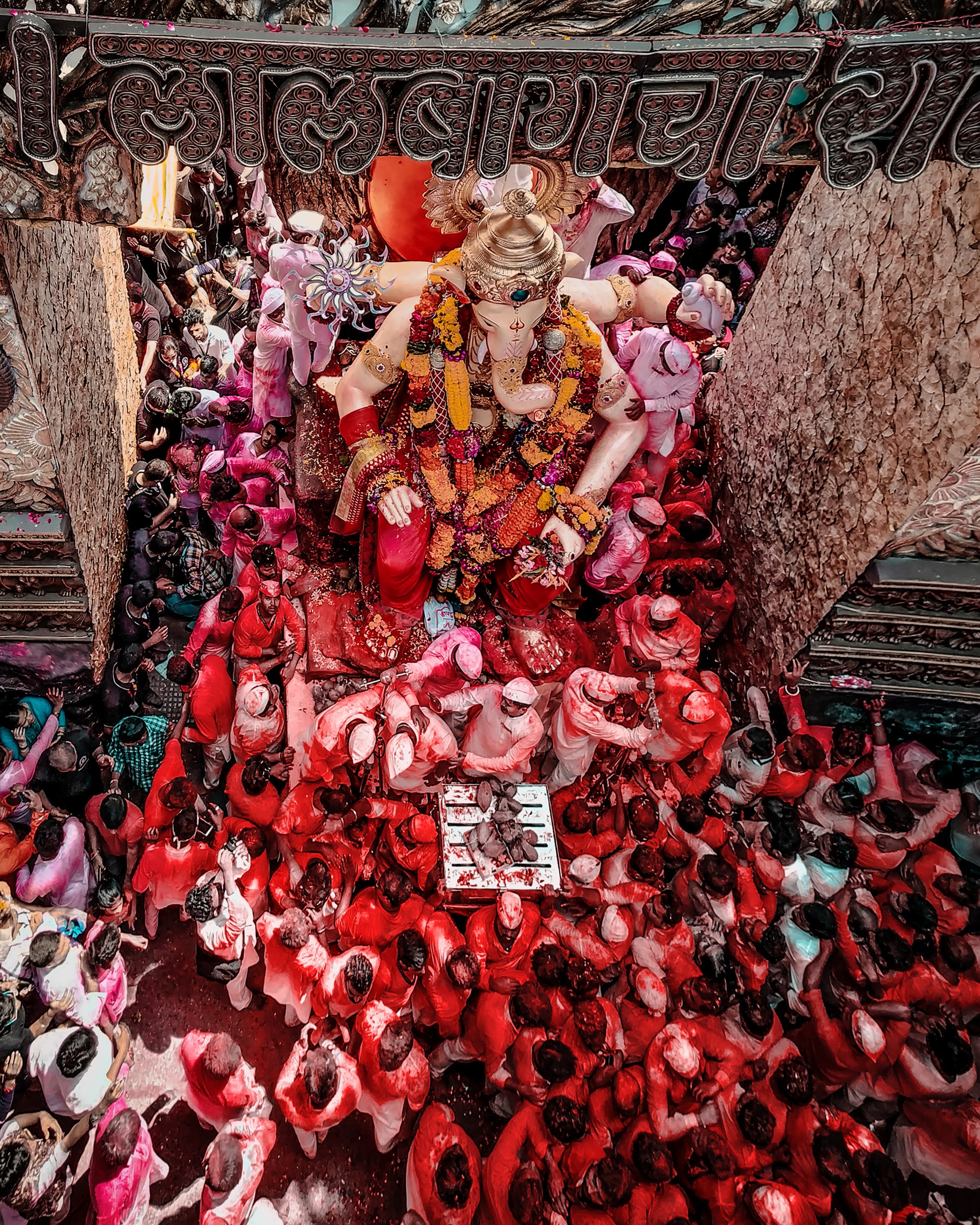 The commercial capital of India knows its way to celebrate festivals in India and leave any resident or non-resident in awe. No other place in the country match up to the city of dream's Ganesh Chaturthi celebration. In 2019, over 38,000 idols were immersed on Visharjan day across 129 locations in Mumbai. Yes, it is that magnificent!
The celebration takes place either in homes or is organized by different societies, the sarvajanik (public) puja pandals. A healthy competition goes on between different organizations that try to take home the prize for the best pandal and idol. A few places in the city that boast of a great pandal are:
Lalbaugcha Raja in Lalbaug, Central Mumbai is the most venerated pandal in the city. The sheer size of the idol is bound to take you aback.
Khetwadi Ganraj in Grigaim, South Mumbai showcases the best-embellished idol. Well, we're talking of gold and diamond jewelry for the statues here, which has also been accredited as the tallest in Mumbai.
Ganesh Galli Mumbaicha Raja in Central Mumbai is among the oldest pandals in the city and offers some extraordinarily creative theme-based pandals to look out for.
Andherica Raja in Andheri pulls celebrity crowd during the festival. On one hand, the pandal is now over half a century old while on the other it is quite famous for granting the devotees' wishes.
Some adjustments this year: Maharashtra State Department has issued a guideline on the festival, including limiting the height of the idol similar to the guideline issues last year.
Pune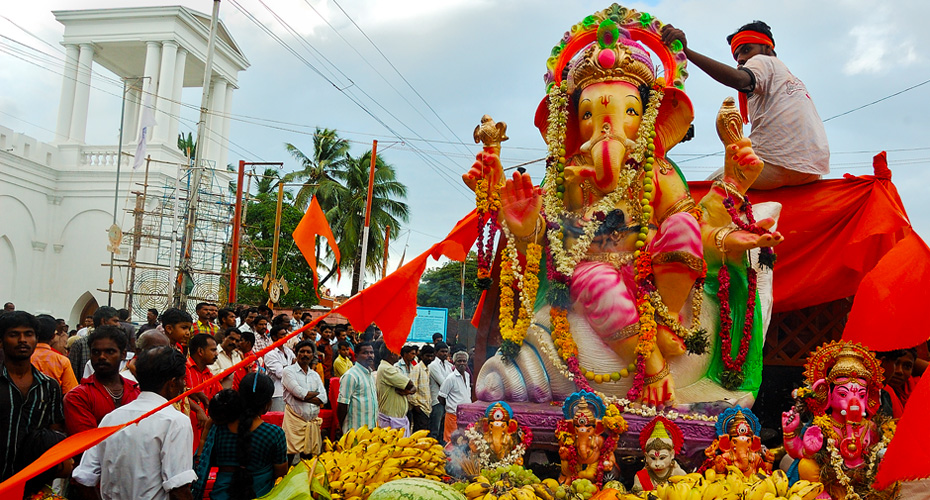 While no one really knows for sure when the celebrations for Ganesh Chaturthi began, it did take a grand form in the 17th century here in Pune during the founder of the Maratha empire Shivaji's rule. During this time, Peshwas considered Lord Ganesha as their patron deity.
As the cultural capital of the state of Maharashtra, the city has still retained its own traditional celebration of Vinayaka Chaturthi, with classical performances, drama, and traditional sports becoming the highlight of the festival. While every corner of the city gets all decked up during the 10 days, the best five cloud-pleasers are: Kasba Ganpati, Tambdi Jogeshwari Ganpati, Tulsi Baug Ganpati, Guruji Talim, and Kesariwada Ganpati. Daghdushet Halwai Ganpati is yet another notable pandal that never fails to awe-inspire the visitors with its replication of famous monuments.
Some adjustments this year: In view of the ongoing COVID-19 pandemic, the Govt. of Maharashtra has issued guidelines on what is allowed and not allowed this year. The processions remain banned for a second year.
Hyderabad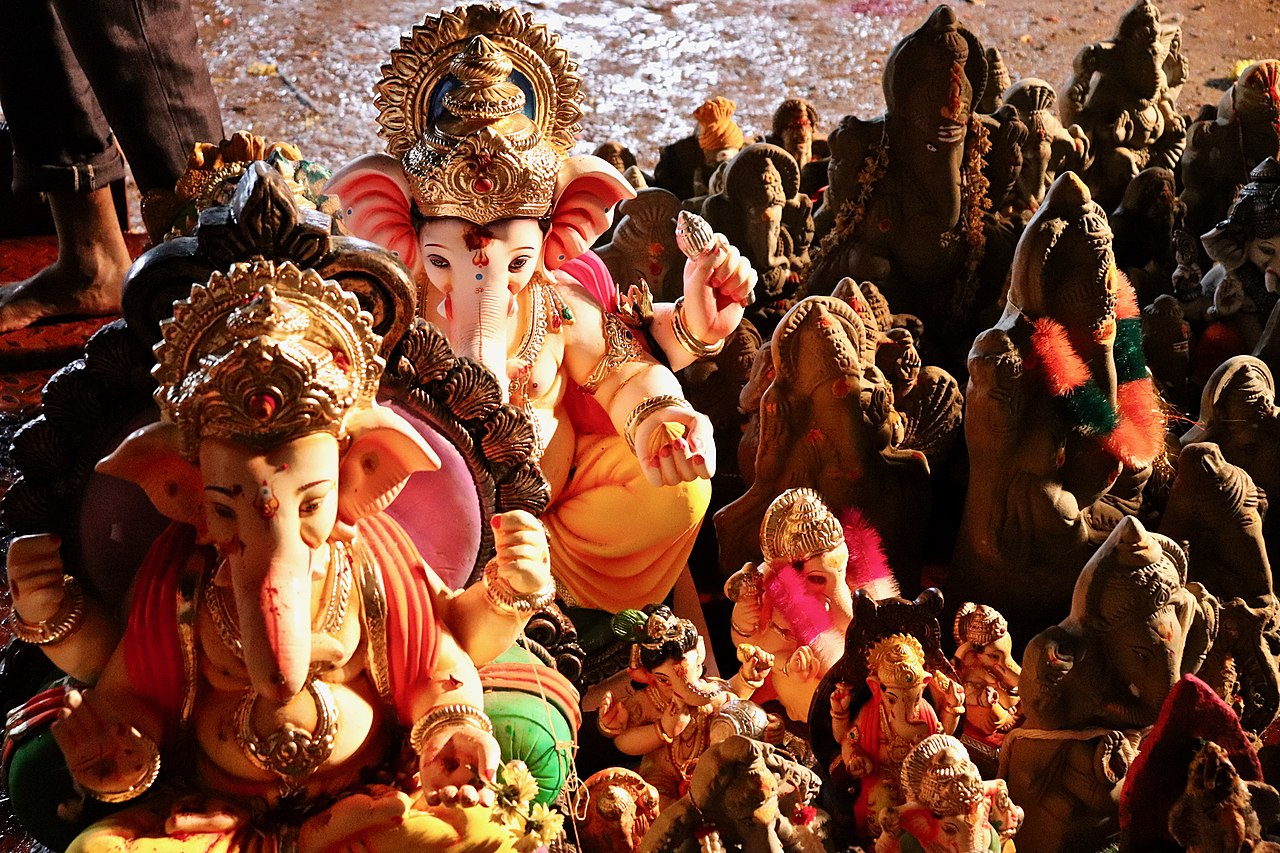 Fun fact: in 2014, to commemorate the completion of 60 years of Khairtabad Ganesh Utsav Mela, the organizing committee decided to build a 60 feet Ganesh idol holding a 5600 kg laddu in the left palm, making it one of the tallest Ganesh idols to be ever made in history. It was in fact, the tradition of the committee to increase the idol's height by 1 meter every year for the previous six decades, having started with just a 1 foot tall idol. While the size was reduced post-2014, in 2019, it again went up to 61 feet.
Beside Khairtabad, Hyderabad as a whole witnesses nearly 75,000 pandals with a few lakh devotees making their way to offer prayers during the ten-day period. Balapur, Kamalanagar, Durgam Cheruvu, Kamalanagar Chaitanyapur, New Nagole, and Gowlipura in Old City are dotted with beautifully decorated pandals and Ganesh idols. Look out for the laddu auction at Balapur Ganesh. All of the immersions take place in the Hussain Sagar Lake and are a spectacle not to be missed!
Goa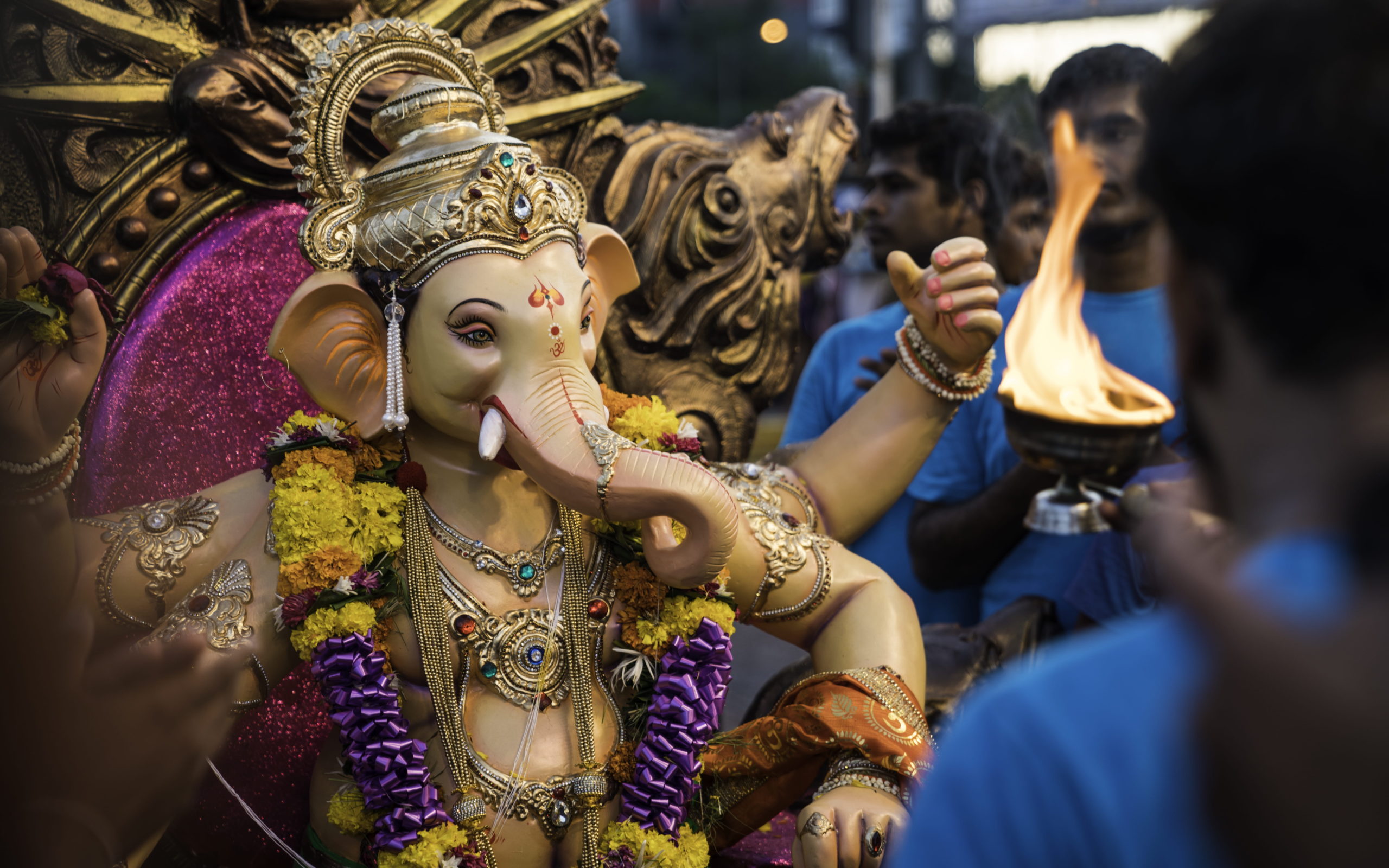 This year, the government has planned to soon announce the regulations that will be in place in Goa as the state just opened doors to tourism. In Goa, the celebration of Ganesh Chaturthi dates back to the age of the Kadambas (rulers in the 10th to 14the CE). So while Goa is known for its pristine beaches, Portuguese colonies, and the susegad lifestyle, Goa sees a different picture when it comes to celebrating the birth anniversary of Lord Ganesha. In the local dialect Konkani, the festival goes by the name of Chavat.
It is the time of family get-togethers and unanimous celebrations. Pandals are set up, idols are adorned, and aartis are sung to please the Lord. On the third day of the month, women fast and worship Devi Parvati and Lord Shiva. The next day is the harvest day (Navyachi Pancham) when they bring in freshly cut paddy from the fields and commence the puja.
In Mapusa of North Goa, thousands of devotees flock to the Ganapati temples at Khandola and Ganeshpuri. A yet another village that springs to life is Marcela. It is the home to many Hindu shrines and the artisans in the village are extremely talented. You'd find Ganesh idols crafted of bamboo, cane, coconut, and arcenut.
Some adjustments this year: The State Government is in the process of formulating an SOP to announce guidelines and perhaps regulations for the celebration of Ganesh Chaturthi. Make sure to be on the lookout for any updates which we will keep you posted on this page.