Australia's Gold Coast is also referred to as Surfers Paradise. Both names suit the miles and miles of golden beach that the relaxed city was built beside, and with a slower pace and mild winters, it's extremely popular for family holidays for both local and international visitors.
Just a short drive away from the beaches, the Gold Coast's hinterland is the luscious green behind the gold; a truly magnificent example of Mother Nature in a uniquely Australian style.
It's hard to believe that so many unspoilt national parks and small mountain villages oozing with charm, antiques, chic galleries and cafes with locally grown, fresh rhubarb pies, exist so close to the coastline. The best time to explore is during the cooler months between April and October.
The closest township to the coast is the lovely Mount Tamborine. Great for a day trip or overnight stay, you can explore the huge amount of locally grown produce in cosy cafes, some with the most stunning coastal views. Take a cycling tour through roads with towering rainforest trees, or stroll an elevated skywalk.
In Lamington National Park sign up for a nocturnal tour to Natural Bridge and see the illuminated local colony of glowworms, or explore markets for handcrafts, local art and fresh made jam.
If you love a good walk, there's many opportunities to suit all levels of comfort. Walking through ancient Gondwanan rainforests along the edge of a long dormant volcano is mind-blowing. The sounds of the forest, the unique whip-birds and even the rare Albert's Lyrebird accompany the majesty of these trees left untouched for thousands of years.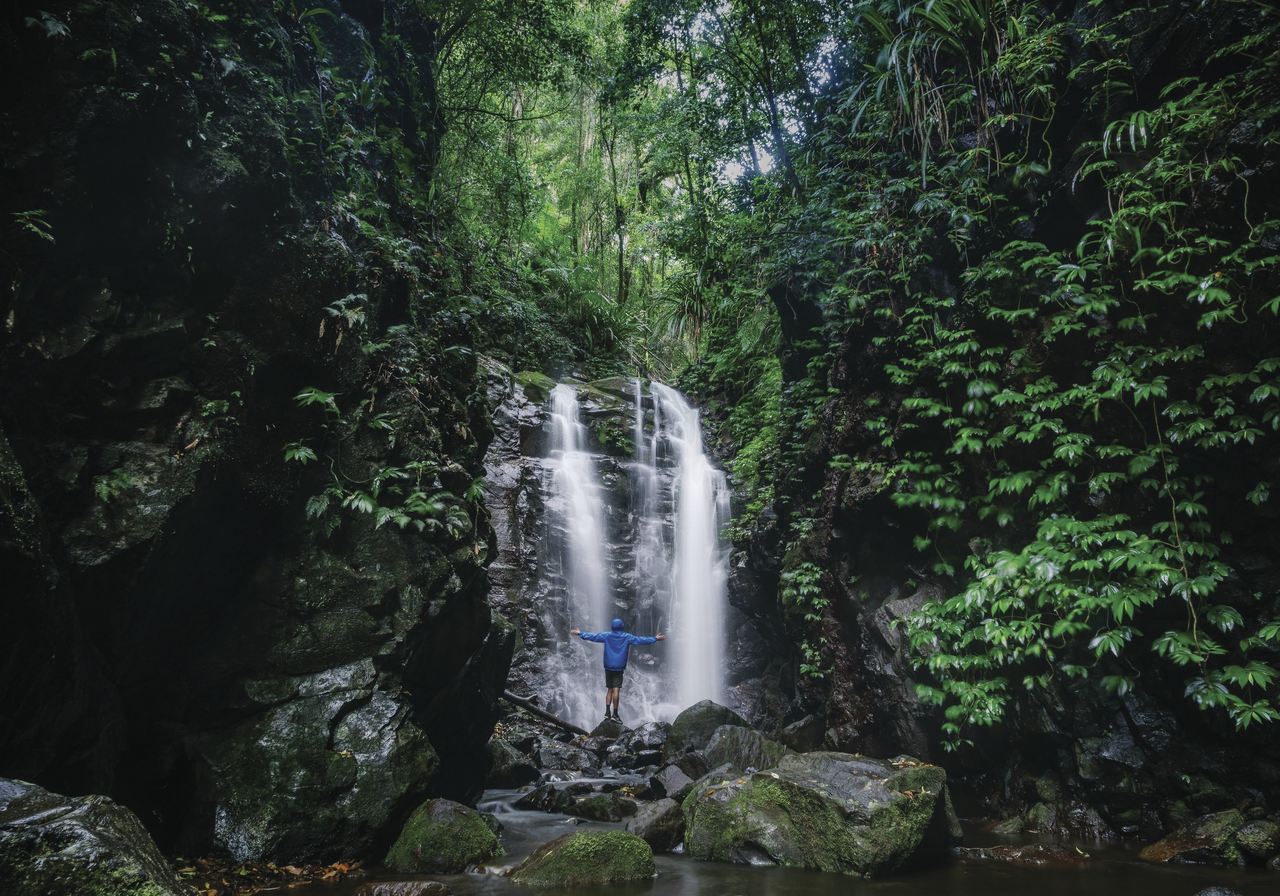 Take the trail that links the World Heritage-listed Lamington and Springbrook plateaux in the Numinbah Valley and wander around Egg Rock and Turtle Rock.
To think the Tweed Volcano erupted 25 million years ago really adds some perspective to these natural gems. Sparkling clear waters gush through natural streams and waterfalls with only birdsong permeating the sounds of silence.
Check out Woonoongoora, or as local Yugambeh people call it; the 'Queen of the Mountains' and hear the ancestral stories about the ways these rivers and valleys came about.
Driving, walking, cycling, or even horse-back riding, whichever way you do it, you'll not soon forget one of Mother Nature's most spectacular coastal mountain ranges.
Find the best flights to Coolangatta here.
Images courtesy of Tourism Australia