We do love London, and for so many things. Its long history, literary giants, great pubs, unique comedic style, irresistible Royal watching and let's face it, absolutely fabulous shopping.
Any authentic fashionista will tell you that the British capital has been a world leader in style, creativity and design for years.
Who doesn't love some serious retail therapy at Oxford, Regent, or the eclectic and bohemian Carnaby Street? As London Fashion Week approaches (25 to 28 February this year), the world's greatest designers, fashion publishing elite and most instagrammed models anywhere, will flock to the UK city.
With appropriate timing, London Heathrow (together with World Duty Free), one of the busiest airports in the world, which sees its fair share of shoppers from all corners of the globe recently shared their insights into international traveller preferences of lipstick colour from 50 destinations that fly from the UK hub.
Makeup, perfumes and beauty products are popular airport purchases, and Heathrow boasts Europe's largest beauty range with 120 brands, 12,500 beauty products and 1,451 shades of lipstick!
So pucker up and find out which shade is most popular with travellers from your country. Let's go around the world in 50 lipsticks!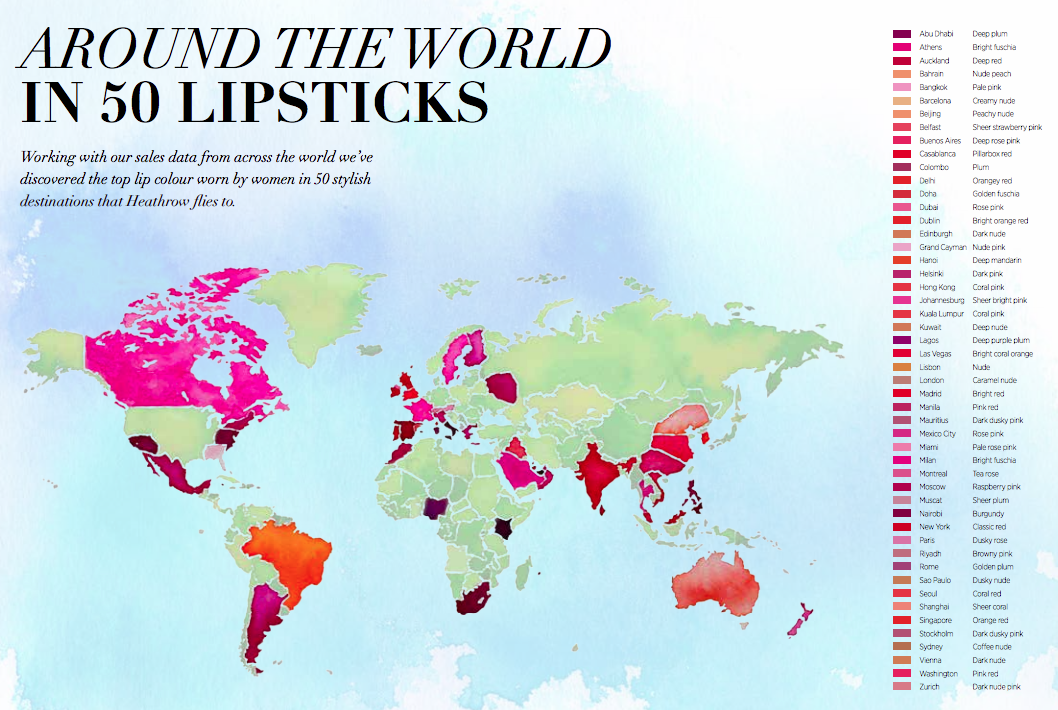 (Illustration: Heathrow Airport)
Singaporeans lean towards Orange Red, while Sydney siders choose Coffee Nude. Naturally, New Yorkers go for a Classic Red, standing out in a city that never sleeps.
Caramel Nude was the choice for Londoners, and for both Hong Kong and Kuala Lumpur travellers, Coral Pink is most popular, while Bangkok visitors go for Pale Pink.
If you're like me, you'll board the plane with a number of 'test' lipstick streaks on your hand appearing that you've just been attacked by a tiger with nail polish on.
Your carry-on bag will also contain at least a dozen perfume testers that will keep it smelling wonderful for weeks. Actually, I think they might be called 'scent strips', although I've also discovered they're known as 'mouillettes' or 'perfume blotters'.  But that's a whole other story…