This article has been reviewed by Wego's editorial team to ensure that the content is up to date & accurate.
The United Arab Emirates is often called the ultimate travel destination, and it surely deserves the cachet. The country may be known for its skyscraping modern buildings and high-end shopping malls, but it has an equally remarkable endowment of natural beauty. There are several mountain ranges stretching across different Emirates and giving travellers a plethora of hikes and treks to explore.
Hiking has always been a popular outdoor activity, and is more so now, as health-conscious people look forward to combining travel and fitness. Hiking burns calories, improves blood sugar levels, strengthens muscles, and boosts bone density, all while you enjoy the picturesque surroundings and fresh mountain air. What more could you ask for?!
Read on to find out about the best hiking trails in the UAE.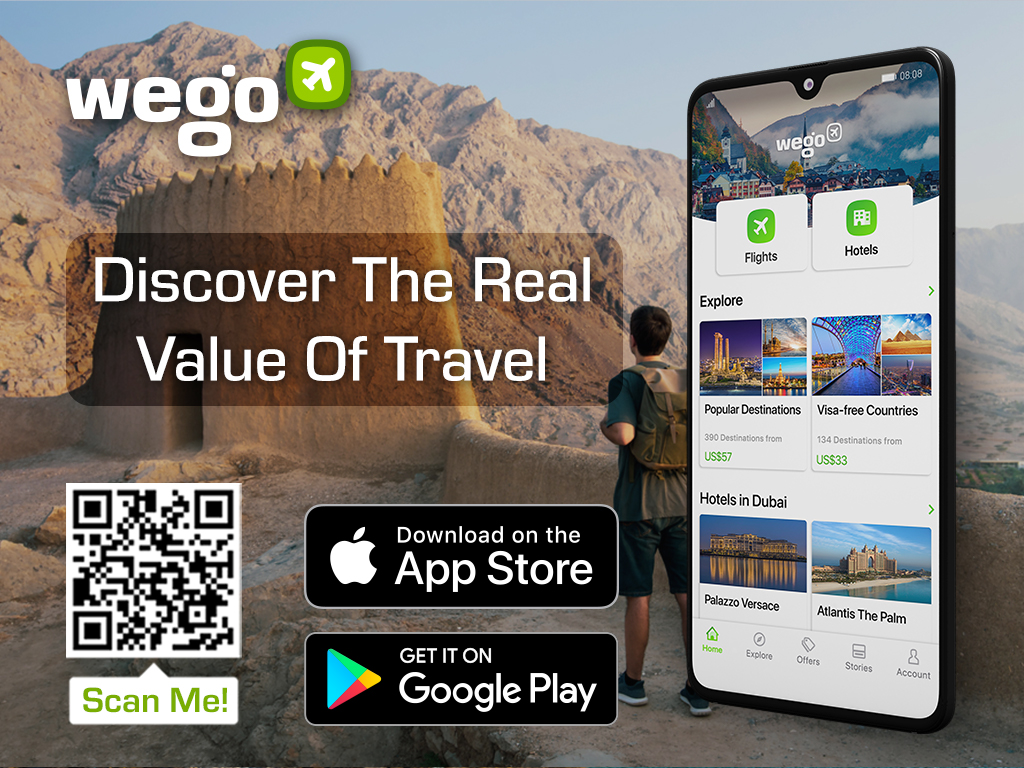 Jebel Jais, Ras Al Khaimah
Jebel Jais bears the honor of being the tallest mountain in the UAE (1,934 meters high) and home to the world's longest zip-line. The Leopard Canyon trail, arguably the most popular route here, forks into different paths, with the longest being around 8.5km, and hikers can conveniently choose one according to their fitness level.
Three of the four main dry canyons in Ras Al Khaimah, namely Thunder Canyon, Wasat Canyon and Trident Canyon, are located on the East Flank of Jebel Jais. The trails are considerably longer, with some lasting even two days, so make sure you plan ahead.
Difficulty Level: Beginner, Intermediate and Advanced
Hatta, Dubai
Nestled in between the Hajar mountains and sprawling over an area of 140 km², Hatta is one of the best ways to discover nature in Dubai. From sandy patches to rocky terrain, from zorbing and axe-throwing to kayaking, Hatta offers something to every traveller. The hiking routes all start at the Hatta Wadi Hub and are color-coded: green for the easiest route, blue for the intermediate, red for the advanced trail, and black for the most challenging one. The Hatta Dam area also has camping options where you can spend the night, barbequing and unwinding in front of a bonfire.
Difficulty Level: Beginner, Intermediate and Advanced
Hajar, Fujairah
Hajar is a must-visit destination for all hikers, but especially for those who want to gain some altitude. The trail leads hikers to the peak of the mountains at 1,910 meters above sea level, presenting them with splendid views of the surrounding hills and terrains.
There is a wide range of hiking routes of varying difficulty levels, from 2-hour jaunts to strenuous 10-hour hikes. The Hajar mountains are also the perfect camping spot for outdoors-loving people, as well as shutterbugs, thanks to their hard-to-beat vantage points and unspoiled natural beauty.
Difficulty Level: Intermediate and Advanced
Jebel Hafeet, Abu Dhabi
Situated in Al Ain, Abu Dhabi, Jebel Hafeet is famous for being the highest peak in the emirate and the second highest in the entire UAE. Its summit is at a whopping 1,240 meters above sea level, so the trails, although relatively short, are quite steep and uphill, demanding greater stamina.
Needless to say, this one is more suitable for experienced trekkers. Your efforts, however, won't go unrewarded, as the trails offer unparalleled panoramas of Al Ain, and the views at the peak especially, are sure to take away your breath.
Difficulty Level: Advanced
Al Rabi, Sharjah
With the exclave city of Khor Fakkan on one side and the Gulf of Oman on the other, the Al Rabi trail guarantees its hikers an unforgettable outdoor experience. It begins from the Al Rabi Tower and then winds uphill across two mountains to the summit.
The trail is well-marked throughout and is studded with picture-perfect resting spots for visitors to catch their breath and absorb the beauty of the place. Even children and first-time hikers can easily complete this scenic trek, making it a great spot for a quick family get-away.
Difficulty Level: Beginner
Wadi Lasal, Sharjah
If you are looking for a trail with captivating views and scenery, without any of the excruciating climbs, Wadi Lasal has got you covered. The ascent, being only about 204 meters, is achievable for people of all age groups. The trail is not only ideal for beginners and novice trekkers but is also a popular choice amongst mountain bikers for its smooth, undulating routes.
Although there are no signposts here, you'll come across plenty of farmers who can point you in the right direction, and if not, just follow the river downstream, as it will take you to either the dam or the road.
Difficulty Level: Beginner