Hong Kong is a vibrant city with many fantastic places to visit. Traditional Cantonese culture that blends well with the modern city landscape make the city is like no other. Luckily, all of the worthy places can be reached by public transportation in no time. No matter how tight your vacation in Hong Kong is, the MTR, bus, tram, even the iconic red taxi always got your back. If you are a Hong Kong first-timer, we recommend you to spend 3D2N with this itinerary!
[Find cheap flights to Hong Kong]
Day 1
Morning – Dim Sum or Congee for breakfast
Hongkongers begin their daily life with a hearty breakfast. If you are looking for a halal menu in the morning, go straight to Ammar Mosque & Osman Ramju Sadick Islamic Centre in Wanchai and up to the 5th floor. The Islamic Center Canteen serves halal dim sum and other Hong Kong delicacies at affordable prices. They come in enough portions to start your day fully charged. Not staying around Wanchai? You can just find the nearest congee shop which will also boost your energy in the morning.
Afternoon: Artsy morning at Hong Kong Art Center & Graham Street Mural
Start your journey at the Hong Kong Art Center, just 20-minute walk from Islamic Center Canteen. The Hong Kong Arts Center (HKAC) is the place where all kinds of art melts together. In this building, you can enjoy exhibitions, movies, performing arts, and of course join some art classes.
Catch the bus number 40M from Shui On Centre to Lyndhurst Terrace to see Graham Street Mural. You won't want to miss the chance to take a pose at the famous graffiti walls. Not far from the old townhouse painting, there are some hidden street arts, some are curated by HKwalls, at the staircase between Hollywood Road and Square Street, Sheung Wan.
[Recommended Hotels in Hong Kong]
Next: Lunch and wash away the heat with ice cream!
Feeling your stomach grumble? Walk 3 minutes to Kau Kee at 21 Gough Street for lunch. Order the mouthwatering beef brisket with e-fu noodle for HKD55 to experience the almost-century old brisket broth recipe melt inside your mouth.
With the afternoon getting hotter and when you need a cool dessert, just one step away from Kau Kee, you will find Oddies Foodies. Their egg waffle and sweet gelato are perfect to swoosh away Hong Kong's summer heat.
[Click to see more fabulous things that Hong Kong offers this summer]
Next: Catching sunset on top of The Peak
Need a breathtaking sunset to close your first day in Hong Kong? We recommend you to go to The Peak Tram at Central Hong Kong. As this is one of the most popular tourist attractions, there will be quite a queue. Other than the famous tram, take bus number 15 from Exchange Square (800 meters walk from Oddies Foodies) and off you go for around 40 minutes ride straight to The Peak without long lines.
Evening: Dine at Aladin Mess and shop at Causeway Bay
After blessing your sight with the beautiful cityscape of Hong Kong at sunset, take bus number 15 again to Queen's Road East and continue with tram to Foo Ming Street to go to Aladin Mess. This halal Indian restaurant is where you will be savouring tasty chicken tikka, lamb karahi and refreshing mango lassi to refuel your energy. Continue the journey at Causeway Bay, the largest shopping center in Hong Kong, not just to enjoy the sale but also the sight of thousand of lights in the exquisite street-maze.
Day 2
Morning: Tofu breakfast at Kung Wo Beancurd Factory
Affordable in price but rich in taste, the legendary tofu place, Kung Wo Beancurd Factory may be the most authentic food joint you will visit in Hong Kong. Do not be fooled by the narrow alleyway in the bustling morning market because the savoury fried tofu and the silky tofu pudding will brighten your entire morning.
Next: Secondhand and electronic shopping at Apliu Street Flea Market
After filling your stomach, only 4 minutes away from Kung Wo Beancurd Factory, lies Apliu Street Flea Market a.k.a the heaven for electronics and gadget junkies. There are also second-hand shoes and clothing hawkers on both sides of the road. Many shops are already open in the morning, but be careful for delivery vans and vehicles since the pedestrian-only hours began at only at noon until 9 PM.
Lunch: Halal-certified Ma's Restaurant
Feeling hungry again after lurking for electronic parts and gadgets? Walk 750 meters to Ma's Restaurant. The halal-certified restaurant is recommended by many and enjoyed by most since you may taste Hong Kong local food other than dim sum. Try the beef goulash and always remember to order more than one portion.
Next: Shopping and Getting on the Super Long Escalator at Langham Place
Now that you have been full and recharged, take a leisurely walk to Langham Place to shop at more than 200 retail stores. The biggest shopping mall in Mongkok is always ready to provide you with branded stuffs from international fashion brands, beauty products, as well as many delightful eateries. Don't forget to try the long escalator that runs from 4th floor all the way to 8th floor. The Langham Place is located at the heart of bustling city and listed as one of must-visit place in Hong Kong for its vibrant shopping experience.
Next: Fun Dinner at Dim Sum Icon
After the sun sets, it's time to relax and have a good laugh while eating your dinner. Take the MTR to Tsim Sha Tsui Station and find Dim Sum Icon where no one could tell you to not play with your food. The famous Kobitos and Gudetama dim sums are waiting for you to poke, squeeze, and bite them whole. Be sure you have your Instagram Story or Snapchat ready to share the hilarious eating experience here.
Evening: Unforgettable Star Ferry Cruise
Nothing beats the ever-beautiful Hong Kong at night. When the sky is dark, the whole city is illuminated with thousand of lights. Since this is might be a rare sight for you, this great light-watching experience should be enjoyed religiously. Book your ticket for single-night cruise from Tsim Sha Tsui Pier to Central Pier for HKD190 or just add few more dollars to book A Symphony of Lights Harbour Cruise to get the best view of the most popular light show on earth.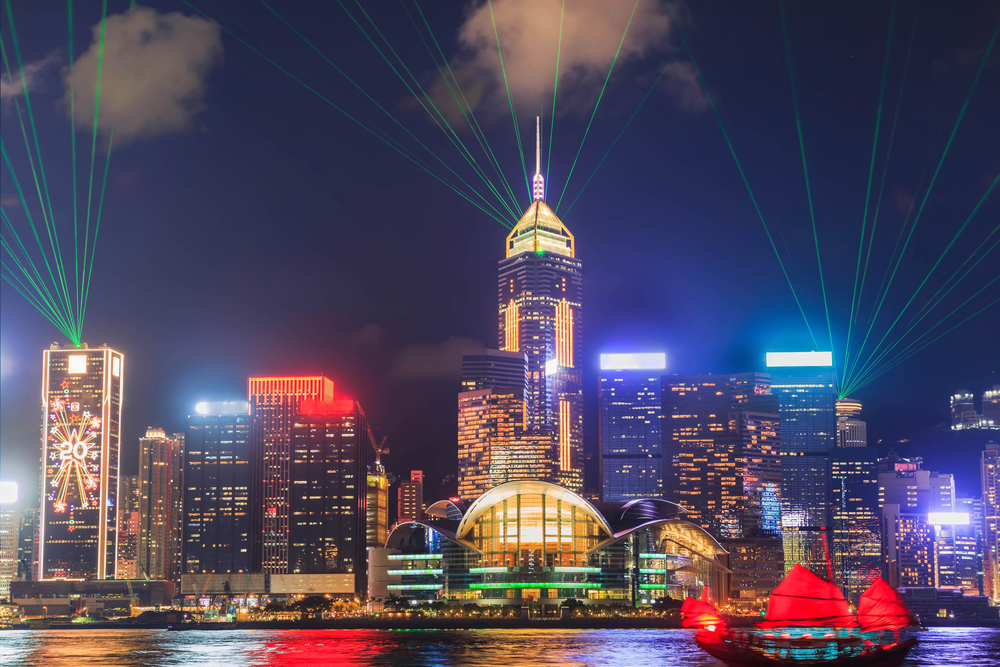 Day 3
Morning: Check-in Baggage at the Airport Express Station
Did you know that Hong Kong Station and Kowloon Station has one of the most convenient baggage check-in service? Yes, you may go early in the morning, check you baggage in at the nearest Hong Kong or Kowloon Station, and you get to spend the last hours in Hong Kong worry-free.
Next: Harbour City Shop and Sightseeing
Spend your last HKD at the beautiful Harbour City. If you have nothing else to buy, Harbour City is still worthy place to visit while spending your remaining hours on the island. Sit back at Ocean Terminal Deck or take some picture with the city landscape as the background. Nothing compare to the breathtaking view of Hong Kong skyscrapers, right?
Next: Last Shopping & Dining in Hong Kong
Still have few hours before your flight? Visit Ladies Market for fashionable clothes or small merch to bring home. You can also go to Fa Yuen Street or known as Sneaker Street to buy 1-2 pairs of sneakers. Before heading to the airport, grab a light bite to fill up your stomach with pineapple bun, Hong Kong style french toast and milk tea from Lan Fong Yuen.
There are so many places you can explore in Hong Kong even with limited time and we have shown the possibility above. Now, make sure to bookmark this article to get you ready exploring and tasting the best of Hong Kong.
—
You might also like:
– Cooling Down with 7 Sweet Treats in Hong Kong
– Coolest Hipster Cafes and Restaurants in Hong Kong to Check Out This Summer
– Beat the summer heat with these "Soul Cool" Hong Kong must-eats!