This article is reviewed regularly (on a monthly basis) by Wego's editorial team to ensure that the content is up to date & accurate.
Updated 7 October 2021
Expo 2020 Dubai has returned back to the Emirates after a delay of over a year, with 192 participating nations, each having its own dedicated pavilion representing what its country stands for. These international pavilions, notably the India pavilion, are indeed a sight to behold. 
The India pavilion, accurately representing its close strategic relationship with the host nation UAE, has put together a massive, 4-floor pavilion showcasing the grandeur of India, allowing you to be a part of the country's rich heritage delivering the true essence of India. 
Get your Expo 2020 ticket at Wego
We are proud to announce that Wego is Expo 2020 Authorized Ticket Reseller, meaning you can now purchase your tickets easily from us!
Join us at the world-class event showcasing cultural experiences, cutting edge innovations, and mind-blowing ideas featuring more than 190 countries. Get your Expo 2020 tickets at Wego now!
The India pavilion
The India Pavilion at Expo 2020 will showcase a modern, robust India — high on technology while simultaneously exhibiting the beauty of Indian art, culture and cuisine throughout the 182 days that the event will run. 
This pavilion is a state of the art building, one of the largest pavilions at Expo, whose design elements would also reflect the vibrant diversity of India's rich culture, heritage, thriving business milieu, and multiple other aspects. 
Expect a showcase of India's past, present, and future
Consisting of four floors, the India Pavilion will showcase the latest technologies and create an ambient, futuristic environment with installations powered by augmented reality and projection mapping.
As you enter the pavilion, you will walk into a starry tunnel that will transport you to outer space for you to witness India's journey into space. As you move further ahead, you will witness India's achievements in the health and wellness sector, highlighting India's vast history of Ayurveda and alternate medicine systems.
The first floor

 will bring you to a world of mesmerising projections and mirrors that present a kaleidoscope of India's colours and cultural vibrance.


The second floor

 bears witness to India's bilateral partnership with the UAE and the plethora of opportunities that this partnership opens up.


The third floor

 will open doors to 'Corporate India' and its growing prowess in various sectors.
Apart from various thematic sections, the India pavilion also hosts an amphitheatre, conference rooms, state pavilions, restaurants, souvenir shops, and much more.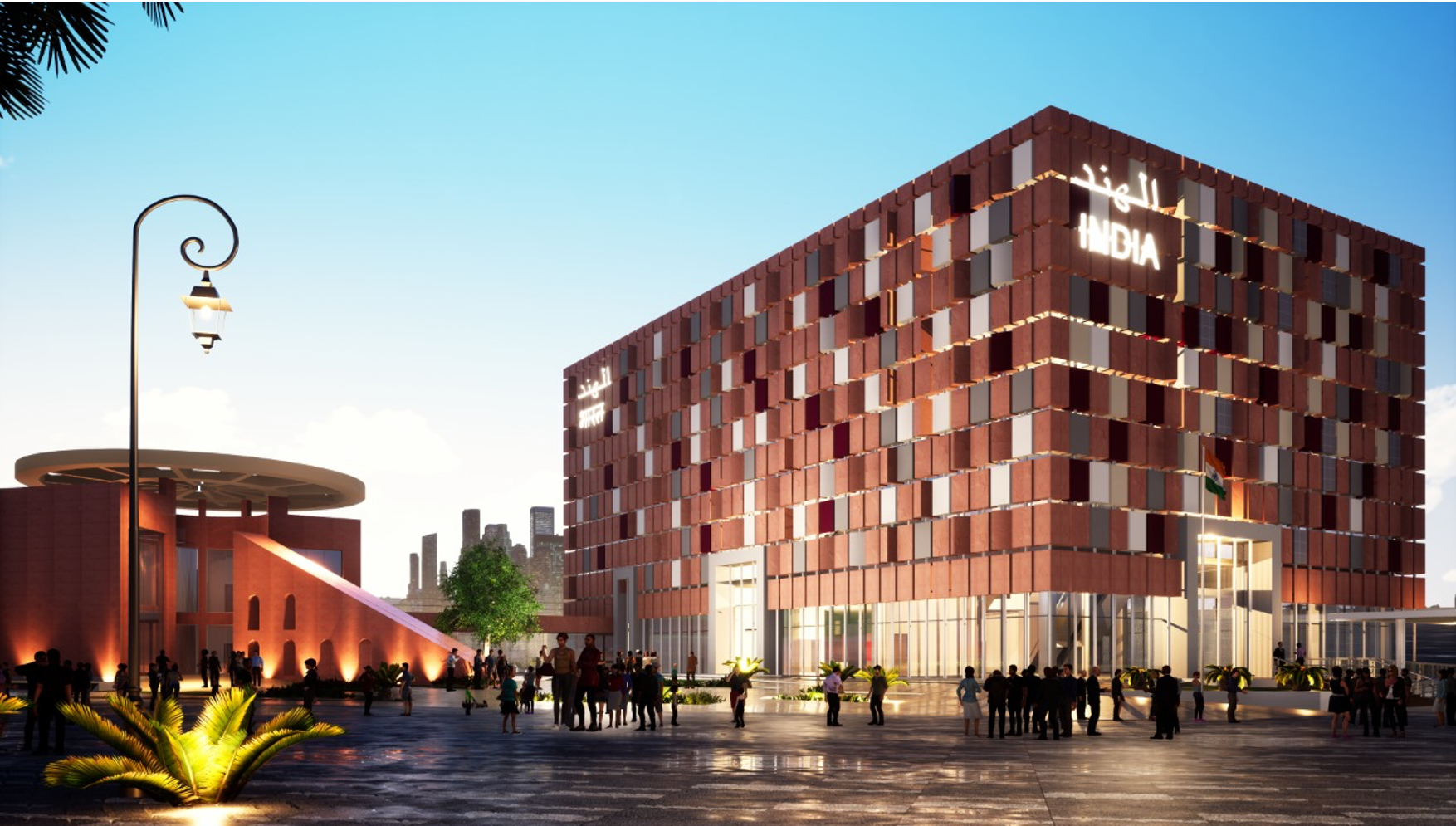 The pavilion is housed in a "living, moving" building
Made up of 600 individual blocks, the facade at the India pavilion will be using kinetic architecture – a mosaic of rotating panels that will showcase 75 stories about the history and literature of the country over 26 weeks.
During the day, the facade will create different moving patterns to celebrate 75 years of India's Independence and every week, these patterns will take the shape of three stories of the 25 sub-themes. Evenings will see the facade turn into a vibrant show with sound, light and projections. India will come alive in action on this facade!
Indian events and festivals will be celebrated here
The India Pavilion is one of those few pavilions at Expo 2020 Dubai that will host numerous conferences, B2B meets, cultural programmes, food festivals, online workshops, cinema screening, debates, and various competitions. 
The organisers behind the pavilion have put together a calendar of events that reflects the diversity of Indian cultures and themes. Festivals of India that occur between 01 October 2021 to 31 March 2022, from the sparkling festival of lights, Diwali, to the colourful celebration of Holi, will be celebrated in all their glory and grandeur. You can find the complete calendar of events here. 
Opportunities for business ventures 
In addition to the spectacular entertainment sessions, the India pavilion at Expo 2020 offers fantastic opportunities for business and international trade. From opportunities across states and union territories to sector-specific investments and local start-ups to global conglomerates, the pavilion is open for trade, investment and networking events.
India pavilion theme: Openness. Opportunity. Growth
Nestled at the Al Fosan Park adjacent to the Opportunity district of the Expo 2020 Dubai, India Pavilion is created on the theme of "Openness. Opportunity. Growth." Under this, the pavilion will be focusing on 11 primary themes – Climate and Biodiversity, Space, Urban and Rural Development, Tolerance and Inclusivity, Golden Jubilee, Knowledge and Learning, Travel and Connectivity, Global Goals, Health and Wellness, Food Agriculture and Livelihoods, and Water, each having a dedicated zone all underneath one gigantic roof.
In keeping with the themes of the Expo, visitors will get a glimpse of Indian innovations and successes in the fields of Space Technology, Robotics, Electric Mobility, Edu-tech, e-Commerce, Energy, Cybersecurity, Healthcare, Cryptocurrency and Blockchain. The vastness of the theme allows visitors to explore and experience India's strengths and achievements in all its glory.