This article is reviewed regularly (on a monthly basis) by Wego's editorial team to ensure that the content is up to date & accurate.
Updated 24 September 2021
Sunny beaches and pristine coasts, towering peaks and vast green plains, quaint hill stations and lush green forests- the Indian landscape is one of the most diverse countries in the world. Drenched in culture and vibrancy, India is decked with elegant palaces, majestic temples and other monuments of historical and artistic importance. 
It is no surprise that India is a country economically dependent on travel and tourism as it attracts a large number of foreign tourists throughout the year. The pandemic, which has stalled tourism operations across the country, has understandably left tourists longing to return to India. 
So, is India open for international tourists right now? When will international travel resume in the country? Here is the latest information regarding India tourism 2021, including entry requirements and guidelines.
Is India open to tourists right now?
In short, no. The government has suspended issuing tourist visas due to the ongoing pandemic situation. 
Since March 2020, India has shut down all its domestic and international flights to control the contamination. While the country has resumed domestic travel, scheduled commercial international flights have been suspended until 30 September.
When will tourism resume in India?
Amid a decline in COVID-19 cases in the country, India may soon reopen its doors for foreign tourists for the first time in one-and-a-half years, as announced by officials recently. A formal announcement allowing foreign tourists to visit India may come within the next 10 days, an official from the Home Ministry said. 
In an attempt to revive the tourism, hospitality and aviation sectors, the government has already announced that the first five lakh foreign tourists will be issued visas free of cost. The e-tourist visa has been suspended since March 2020. Benefits will be available only once per tourist. The free visa will be issued till 31 March 2022, or on a first-come-first-serve basis, whichever is earlier. 
Places to visit in India
From the scenic little villages of the Himalayas to the idyllic shores of Kerala, this remarkable country offers a diverse feast for the senses.
Taj Mahal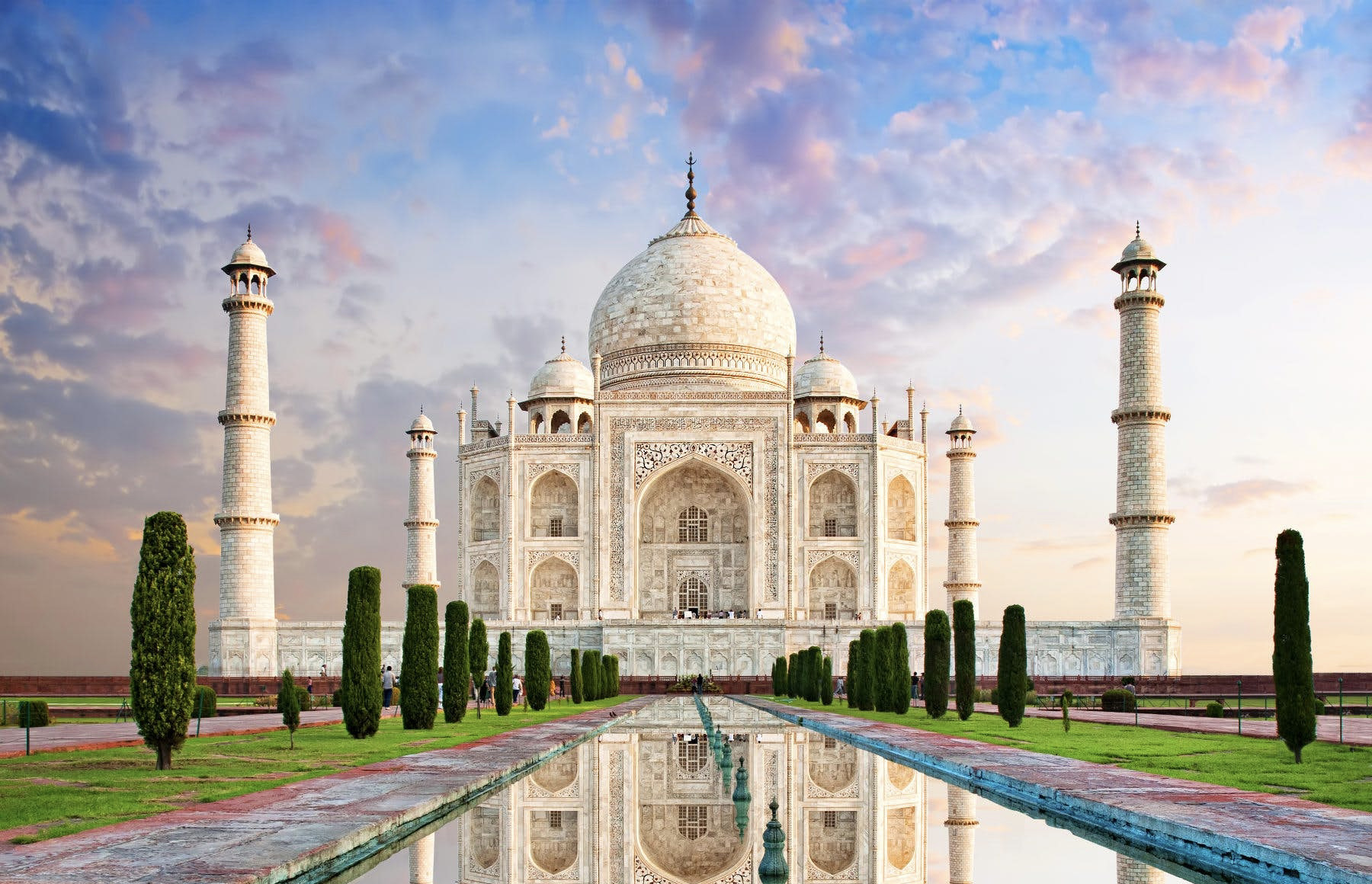 Image © lonelyplanet.com
Unarguably the most noteworthy and iconic monument of the country, the Taj Mahal, standing majestically on the banks of River Yamuna, is lauded as one of the seven wonders of the world. The mausoleum is crafted in soft and pure marble, jewelled with semi-precious stones. Known as the symbol of love, dedication and purity, Taj is beauty personified. 
Leh-Ladakh
Pristine, untouched landscape surrounded by the sky-piercing Himalayan peaks, adorned with crystal waters Leh, in Jammu and Kashmir, is the main city in the Ladakh region, one of the coldest deserts in the world. As the winter months approach, the city is enveloped in a blanket of snow, making it a paradisiacal setting for winter sports.
Varanasi
One of the oldest living inhabitations of the world, the sacred city of Varanasi or Benaras, nestled on the banks of the holy Ganges river, has been attracting pilgrims for centuries. When celebrated author Mark Twain described the city as "older than history, older than tradition, older even than Legend", he couldn't have been more right. 
Goa
Located by the glistening waters of the Arabian Sea on India's western coast, the pocket-sized paradise of Goa is any traveller's dream. Fancy the sun and sea coupled with sleepless nights of parties and exotic seafood? Goa is the right destination for you having so thing to offer for everyone, from trekkers, backpackers, nature lovers and to those who simply want to languish in its slow-paced and relaxed vibes. 
Kerala
Bestowed with a pleasant and cool climate throughout the year, Kerala, widely known by its moniker "God's Own Country" is blessed with a unique set of geographical features, making it one of Asia's most sought after tourist destinations. Serene beaches, tranquil stretches of emerald backwaters, lush hill stations and exotic wildlife are just a few of the wonders the small yet beautiful state of Kerala has to offer. 
Government advisory for open tourist attractions
The standard operating procedure for the opening of all Centrally Protected Monuments and Museums, as announced by the Archaeological Survey of India are as follows:
Only those monuments/ Museums which are in the non-containment zones will be open for visitors.

There will be a cap on the number of visitors to select monuments. Find the complete list 

here

. 

Entry tickets shall be issued by e-mode only. No physical tickets will be issued until further orders.

At the parking, cafeteria etc., only digital payment is allowed.

There shall be designated routes for entry & exit and movement within the monument. The route shall be one way only with a single line maintaining norms of social distancing.

Visitors shall be asked to stick to time limits inside the monument as far as possible.

All sound and light shows and shows at monuments shall remain suspended till further order.

Vehicles shall be parked in designated areas. The contractor who runs the parking area shall collect the parking fee through digital payment only. No physical cash transaction is allowed.

The cafeteria and kiosk inside the monument shall only serve bottled water on digital payment.
Things to observe 
Popular tourist attractions within the country have opened up for locals, albeit with a few restrictions. Please take note of the following safety measures:
The visitors should strictly follow social distancing. 

Face masks are mandatory everywhere. 

Only asymptomatic persons are allowed will be allowed to visit the site of attraction. 

No food/eatables shall be permitted inside the premises.
India entry requirements
As of now, only the following categories of passengers are allowed to enter. You can fly to India only if you fall in one of these categories.
All Overseas Citizen of India (OCI) cardholders and PIO cardholders holding passports of any country

All foreign nationals intending to visit India for any purpose, including their dependents on the appropriate category of a dependent visa, except those on Tourist Visa

Foreign nationals in cases of family emergencies

Nationals of Nepal and Bhutan
Testing requirements
All travellers to India, including children and infants, must fill an online Self-Health Declaration form on the Air Suvidha Portal.
They also have to take a COVID-19 RT-PCR test not more than 72 hours before departure and upload the negative result on the portal. Exemption from this test is provided only in case of death in the family and must be applied for at least 72 hours before departure.
Additionally, travellers from these countries are required to undergo RT-PCR testing upon arrival: UK, EU, Middle East countries, South Africa, Bangladesh, Botswana, China, Mauritius, New Zealand, and Zimbabwe. 
Quarantine requirements
All international arrivals in India must undergo home quarantine/self-health monitoring for 14 days or as warranted. They have to upload an online declaration in this regard on the Air Suvidha Portal.