Summer is here, and the hills are calling, right? So why not get out on those backpackers' trail meant just for wandering souls like yours. If you are not the one to go for those European backpacking trips shown on every teen movie ever – here's all you need to know on how to plan a solo trip within India for the same thrill. Here's our list of 5 places where you can go for your first ever solo trip in India – and within a budget!
DELHI TO MANALI
An adventure lover's paradise – Manali is visited by solo backpackers all year round. From activities like trekking, skiing and river rafting – thrilling will be an oversimplification to describe your time there. The latest addition to these thrill rides is the paragliding spot over the Solang Valley. For trekking those majestic mountains, you will find numerable trekking companies if you want to book before-hand or hop on the wagon with any backpacking group! Visit in June for the pleasant weather but do get away from the main tourist trail to explore a whole new side of this eccentric resort town.
Places to see/Things to do: River rafting, Paragliding, Trekking.
Distance from Delhi: 538km
How to reach from Delhi (Flights to New Delhi):  
By road – State-run buses by HRTC ply at regular intervals from Delhi to Manali with fare starting from ₹767 one-way
Where to stay: Hotels starting from ₹347
MUMBAI TO IGATPURI
Igatpuri is that escape to the lap of nature that you will need to feel like the ultimate free bird. From stunning river valleys to high-altitude forts offering scenic views of the entire area – this hill station has it all. Blessed with a satisfactory climate all around the year, Igatpuri is the best option for that first budget solo trip. Join a trekking group to the Camel Valley and Kalsubi Peak to name a few places.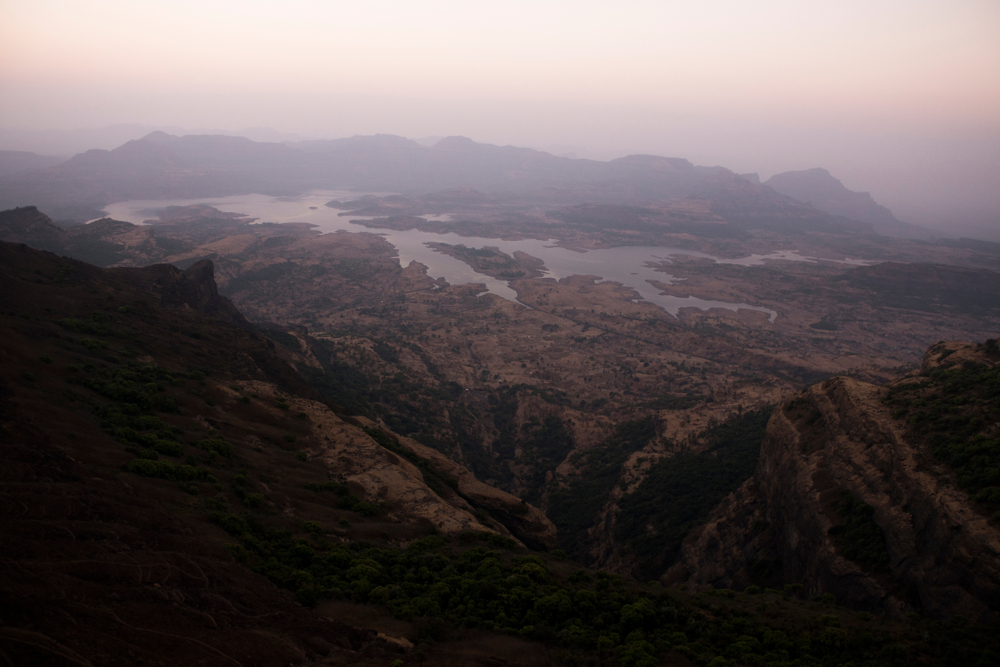 Places to see/Things to do: Bhatsa River Valley, Camel Valley, Tringalwadi Fort, Kalsubai Peak, Kulangadd.
Distance from Mumbai: 120km
How to reach from Mumbai (Flights to Mumbai): 
By rail – Take the Darbhanga Express from Mumbai towards Darbhanga Junction at ₹140 one-way
Where to stay: Hotels starting at ₹919
KOLKATA TO DARJEELING
The title of "Queen of Hill Stations" is justified when you reach Darjeeling. The rolling hills and the sprawling tea-gardens will be a welcome getaway from the city hustle. The main town of Darjeeling has ample market places and old significant Victorian buildings that have a history of being discovered. Many tourists from all over the world end up spending a few carefree days of their trip in Darjeeling – a perfect occasion to expose yourself to travel stories from far and wide. Take a day to enjoy the town before embarking on your trekking journey to the various hamlets dotting the hills.
Places to see/Things to do: Sunrise at Tiger Hill, Lolegaon, Samthar, Upper Ponbu, Kalijhora, Joretar.
Distance from Kolkata: 616km
How to reach from Kolkata (Flights to Kolkata):
By rail – Train from Sealdah (train no. 12343) to New Jalpaiguri at ₹350 (one way)
By road – Get a shared cab from the train station at New Jalpaiguri at ₹100 per seat.
Where to stay: Hotels in Darjeeling starting at ₹460
Hotels in Siliguri starting at ₹552
BANGALORE TO PONDICHERRY
Insta-worthy beaches to cute little French cafes have only one address – Pondicherry. Now known by the name of Puducherry, this is one of the best places to visit near Bangalore during summer. A small French colonial town, located on the Coromandel shores will give you the perfect beach vibes. The pristine shores, as well as the mouth-watering seafood, makes it one of the favourites amongst tourists – both foreign and domestic. The local cuisine is very much influenced by the French culture so you'll quickly find croissants and baguettes in your breakfast options! The breathtaking weather along with the endless choice of water activities makes this the fitting summer destination.
Places to see: Serenity Beach, Auroville, Sri Aurobindo Ashram, Rock Beach, Pondicherry Museum, water activities at the Karaikal beach
Distance from Bangalore: 320km
How to reach from Bangalore(Flights to Bangalore):
By bus: From Majestic Bus station to Pondicherry buses run daily at ₹392 onwards
By train: Catch the Puducherry Express (train no. 11005) from the Yeshwantpur Railway Station at a ticket price of  ₹260 one-way.
Where to stay: Hostels from ₹250 onwards
CHENNAI TO YELAGIRI
An intriguing place to visit – Yelagiri offers visitors an unparalleled scenic beauty along with countless fun and joviality between destinations like the Ropes & Knots Adventure valley, Amirthi Zoological Park, etc. The climbing trails winding all around this charming town plays host to many natural sports like paragliding, rock climbing, trekking, boating and what not! Sign up for the Yelagiri Adventure Camp started by the Tamil Nadu Government to get a package deal on an even wider variety of fun activities to make your stay adventurous.
Places to see/Things to do: Trekking, Camping, ATV rides, parallel zip lines, Shooting, Water Zorbing, Human slingshot, Yelagiri Forest Hill, Ropes & Knot Adventure Valley
Distance from Chennai: 228km
How to reach from Chennai (Flights to Chennai):
By train: From Chennai Central get a train (train no. 12685) to Jolarpettai at ₹190 one-way. Take a share cab from the Jolarpettai station at ₹200 per seat
Where to stay: Hotels starting from ₹300
So say cheers to new adventures and a very cool summer ahead!