The weekends are usually for relaxing , and it would be a shame to not put it to good use and go on that short trip you had been stalling for long. Here is the detailed list of long weekends in 2020 and few recommendations for your next trip.
JANUARY 2020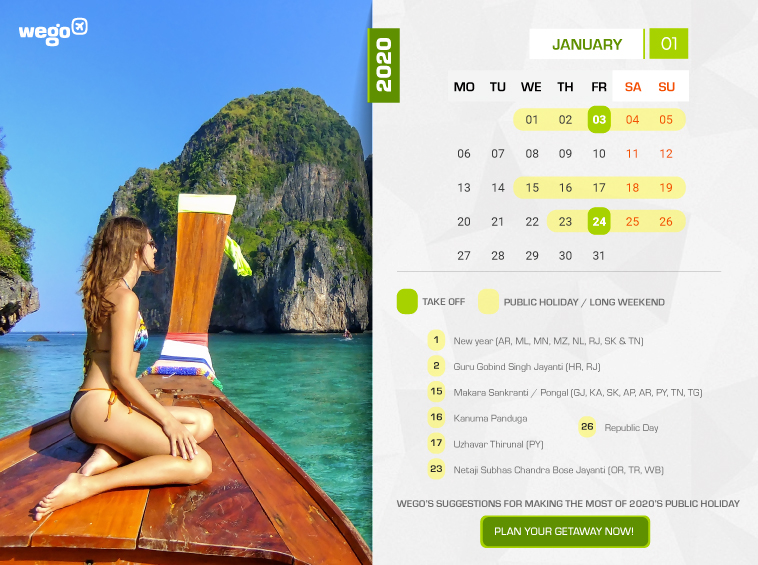 Where to go?
Jaipur (Domestic): The 'Pink City' of India, Jaipur, is a palatial wonderland with its unparalleled beauty, spectacular architecture, and vibrant, regal history. Jaipur is one of the best places to visit in January in India if you love literature and books. The Jaipur Literature Festival will be your Mecca! A grand festival solely dedicated to literature had been long due, and JLF made it possible for all of us. So, what is the Jaipur Literature Festival? It is the annual literary festival that takes place in the royal city of Jaipur in January.
Sri Lanka (International): Sri Lanka is one of the warm places to visit in January. This island retreat has lovely beaches, charming hill stations, exhilarating wildlife, and heritage monuments. All these places together make a winter holiday in Sri Lanka a perfect vacation. It is no doubt one of the best countries to visit in January.
FEBRUARY 2020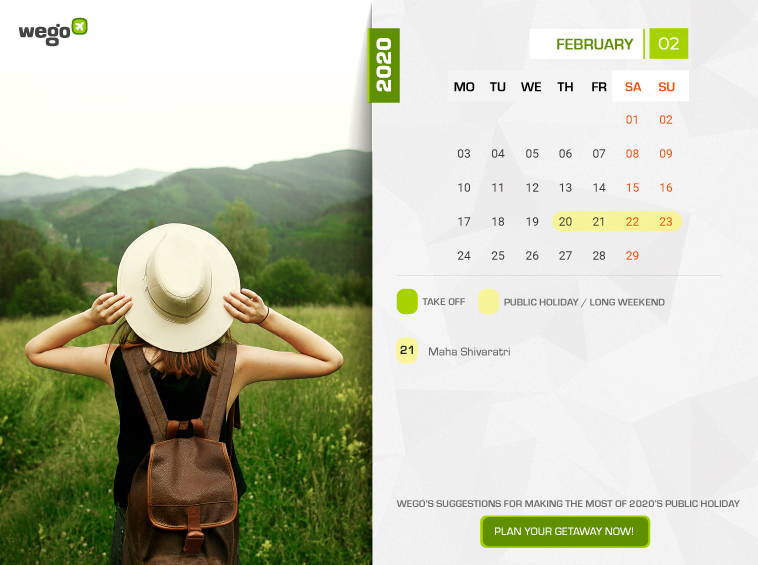 Where to go?
Andaman and Nicobar (Domestic): From the historical town of Port Blair to the beautiful white beaches of Neil and Havelock Islands, the Andamans offer something for every tourist. Andaman is a wonder of nature and a perfect destination for travelers and backpackers alike.
Bangkok (International): Bangkok is not only the capital city of Thailand but the country's biggest metropolitan city, built around the Chao Phraya River delta. Visit Dusit Zoo and Famous Wats once you land there.
MARCH 2020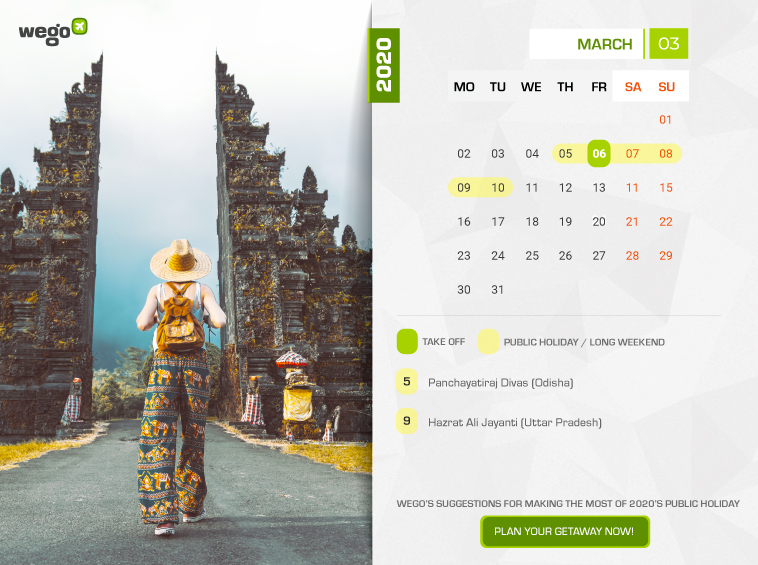 Where to go?
Sikkim (Domestic): The panoramic perfection of the snow-capped Himalayas, the heady scent of flower-bedecked meadows, the vibrant culture, and joyous festivals makes Sikkim a holiday destination that is at once seem fascinating. You can choose from themes like Eco-tourism & Wildlife Village Tourism, Adventure Tourism Wellness, Health, Yoga, Herbal and medical tourism Religious, culture, Heritage, and pilgrimage Tourism.
Morocco (International): Morocco is the Tooth Fairy of travel destinations — mythical, colorful, and otherworldly. Snow-capped mountains overlook open-air spice markets. Whether you are going backpacking through Morocco, visiting on tour, or own your budget trip, Morocco will leave an impression.
APRIL 2020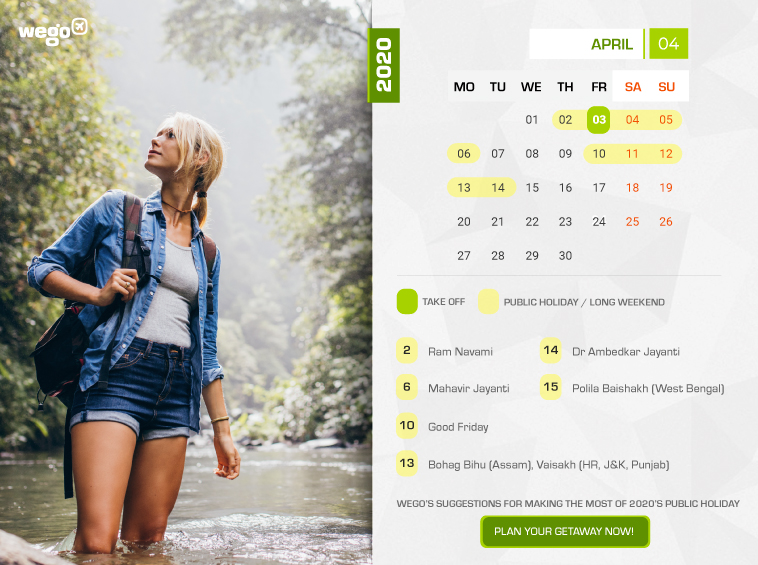 Where to go?
Darjeeling (Domestic): Darjeeling is a gem of a place known for its youthful vibe combined with modern as well as colonial charm. Darjeeling hill town is located at an altitude of 6,710ft in northeast India. The nearest airport is Bagdogra, and the nearest major railway junction is New Jalpaiguri (NJP).
Greece (International): Greece is known for its fascinating history and natural beauty. The countless islands, sandy beaches, ancient archaeological sites, and a balmy Mediterranean climate make it one of Europe's prime tourist destinations. Besides the capital, Athens, top things to see on the mainland include Ancient Delphi and the monasteries of Meteora.
MAY 2020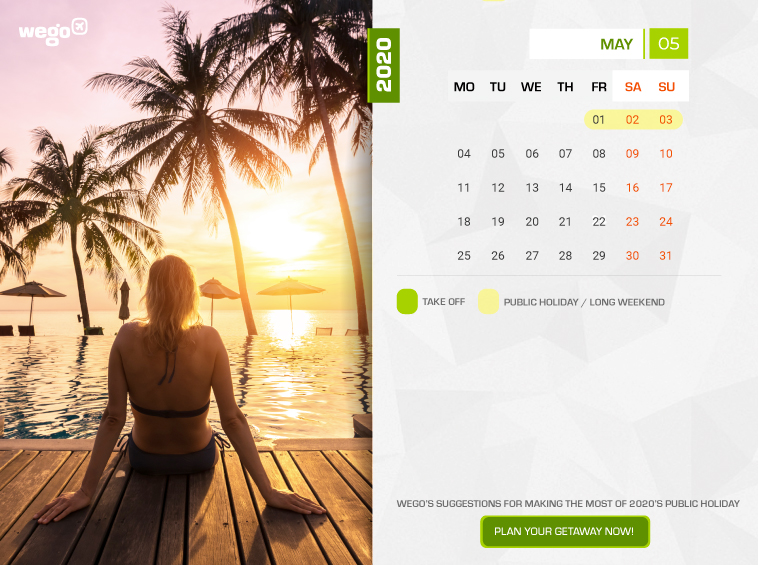 Where to go?
Spiti (Domestic): The meaning of "Spiti" is "The Middle Land," i.e., the land between Tibet and India. It's a dry but breathtakingly beautiful region that remains under snow for eight months in a year in the mighty Himalayan mountain range. A century ago, Rudyard Kipling in Kim called Spiti "a world within a world" and a "place where the gods live".
Malaysia (International): The capital of Malaysia, Kuala Lumpur boasts a shimmering skyline, which is dominated by the world's tallest twin towers – Petronas Towers. The country presents a perfect balance of modern amenities and natural habitats.this may discover Malaysia, truly Asia.
JUNE 2020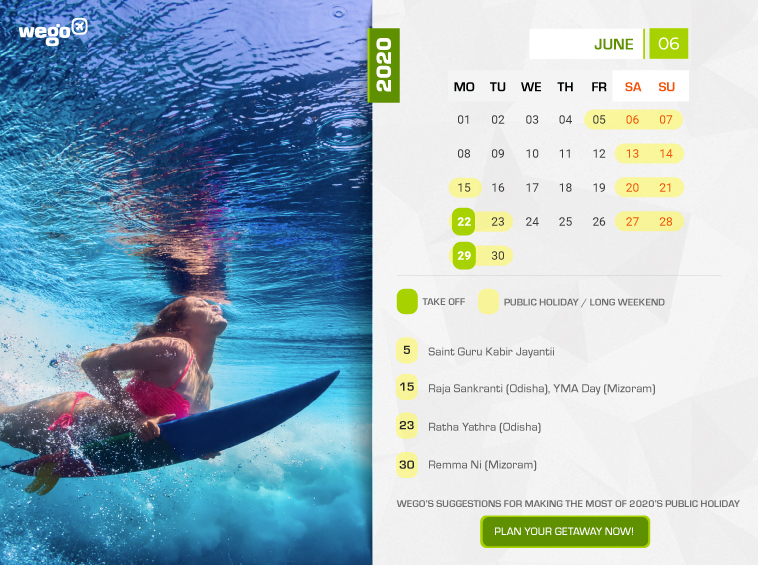 Where to go?
Srinagar (Domestic): Srinagar is a destination that is packed with the splendor of nature, which makes it one of the top places to visit in June. Srinagar is synonymous with gorgeous valleys and mountains, beautiful gardens, panoramic scenes, and stunning lakes, all at best. The stunning placid mountain-backed Dal and Nagin Lakes, the burgeoning gardens, the unique accommodation in houseboats, and the tranquil waterways make Srinagar truly a paradise for nature lovers and holidaymakers. The place can be visited with family or friends alike.
Canada (International): By the time June rolls around, Canada's summer season has started but is not yet in full swing, meaning fewer crowds – hurrah! Long, warm days enable you to completely immerse yourself in the country's great outdoor offerings, from freshwater fishing to camping. Many of the hiking trails are open too at that time, allowing you to soak up the breath-taking vistas at Banff National Park and beyond.
JULY 2020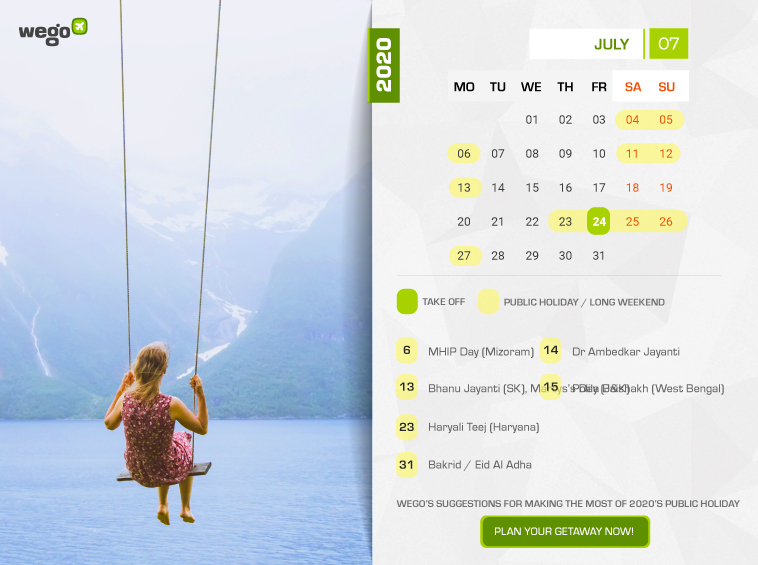 Where to go?
Ooty (Domestic): Udhagamandalam, popularly called as OOTY by the tourist, is the Queen of Hill Stations. Nestled amidst the Nilgiris, Ooty is blessed with opulent nature and a pleasant climate throughout the year. Coonoor – 19 Kms, Kotagiri – 31 Kms are the other smaller nearby hill stations.
Phuket (International): Get ready to be blown by the exotic beaches, forested hills, and limestone rock formations of Phuket. It has something for any taste and budget, with hundreds of hotels to choose from, a wide choice of dining and partying options.
AUGUST 2020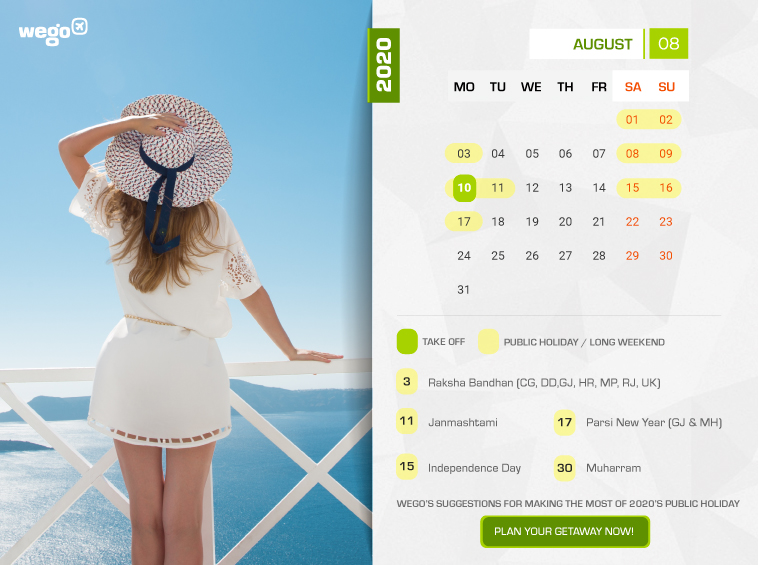 Where to go?
Mussoorie (Domestic): The pristine, natural beauty of Mussoorie, makes it a trendy choice. If you want to enjoy the beautiful sight of the rolling green slopes juxtaposed with the snow-capped peaks of the Himalayas, Mussoorie is the prominent choice. With its always pleasant, sometimes cold weather, the town makes for a perfect getaway.
Vietnam (International): offering overwhelming natural beauty and rich heritage, the country takes you on a journey through its ancient architecture and its vibrant culture. A five day trip to Vietnam will charge you up for the remaining 2020.
SEPTEMBER 2020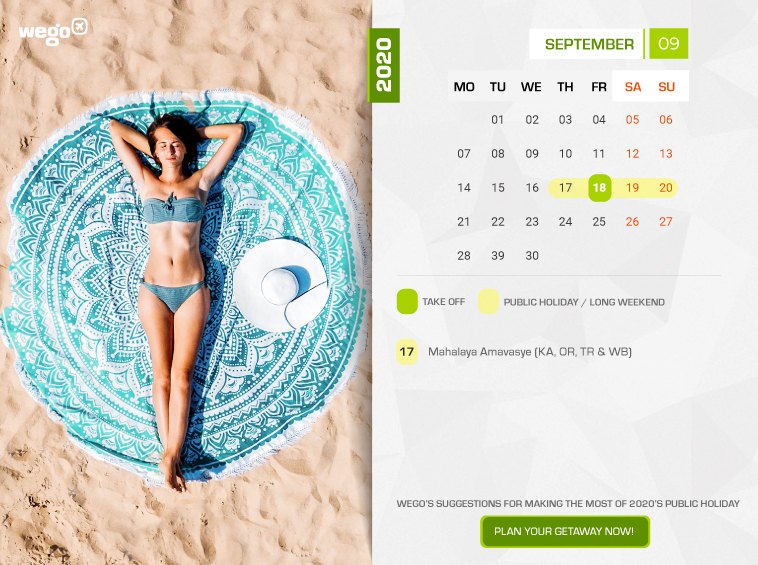 Where to go?
Valley of Flowers (Domestic): It is located in Chamoli district (near Badrinath) of Uttarakhand, approximately 300 km to the north of Rishikesh. This is a picturesque national park, gracing the beauty of Western Himalayas. Being a snow-clad valley almost throughout the year, the best time to visit the place is between June-September. It has a large variety of endemic alpine flowers, such as golden lily, waterfalls, and streams.
Barcelona (International): September is a superb time to visit Barcelona as the climate is still warm and the beaches are not as jam-packed as they would be in the earlier months. Its bright shorelines, world heritage sites, magnificent churches, and Catalan culture, make for an ideal late-summer getaway. La Mercé, Barcelona's yearly summer festival, is celebrated in this month too.
OCTOBER 2020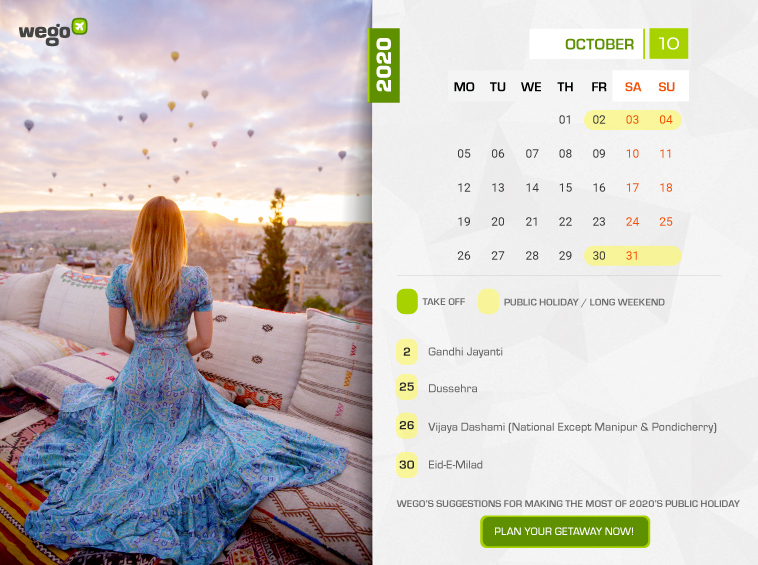 Where to go?
Bir-billing (Domestic): Bir Billing is a popular destination located in Joginder Nagar valley known for adventure sports such as paragliding, treks, and also as the town for meditation. Bir is considered as one of the best spots in the world for paragliding. Bir Billing is also famed for its soulful Tibetan monasteries set amidst scenic and peaceful settings.
Dubai (International): Dubai is all about the futuristic charm of modern skyscrapers, legendary nightlife, exotic landscapes, and desert safaris. From shopping enthusiasts and adventure-seekers to foodies and families, this bustling city has an eclectic mix of activities and places to suit all tastes.
NOVEMBER 2020
Where to go?
Jaisalmer (Domestic): This "Golden City" is located close to the Pakistan border and close to the Thar Desert. The city's most prominent landmark is the Jaisalmer Fort, also called Sonar Quila or Golden Fort. Unlike most other forts in India, Jaisalmer Fort is not just a tourist attraction. It houses shops, hotels, and ancient Havelis (homes) where generations continue to live.
Singapore (International): Singapore is a unique island-state with a long history and layered culture; it is an eco-urban pioneer with sights, sounds, and tastes that are entirely exclusive to the land. Shopping is a delight in Singapore, offering some much-needed retail therapy for wandering soles, it also comes as a nice little respite from the humid outdoors.
DECEMBER 2020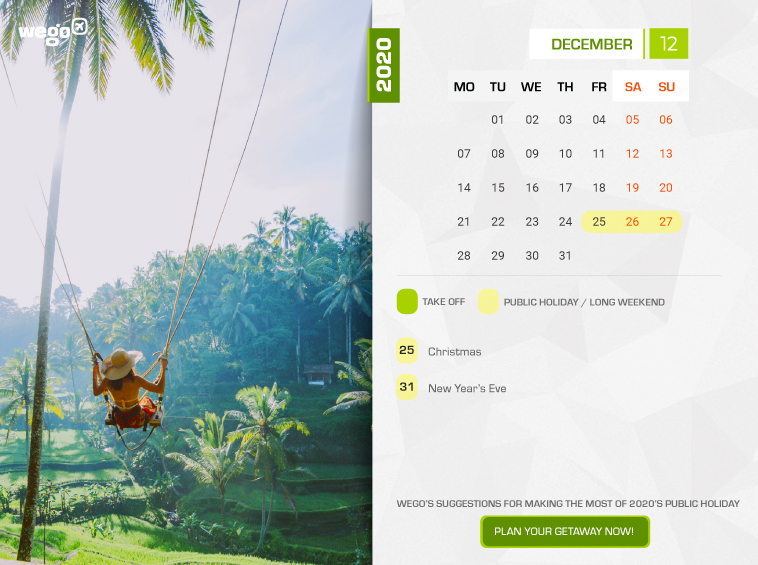 Where to go?
Goa (Domestic): Mention the word "Goa," and the feeling of belongingness creeps in if you have visited goa even once. Beaches, parties, rides, and that vital dose of vitamin D on the beaches sums up the goa experience.goa is as lively as ever in December. So create a "goa plan 2020" group and get on it.
Maldives (International): The Maldives is a small island nation situated in the Indian Ocean. The country is known for its beautiful atolls. Coconut trees and tropical fruit plants cover beaches. Maafushi is easily the most well known and popular local island in the Maldives.
So, 2020 brings some good news for people who like to travel a lot. With, our full list of long weekend, you can plan your holidays now.