This article has been reviewed by Wego's editorial team to ensure that the content is up to date & accurate.
Updated August 2023
Goa is the first place that comes to mind when we think of travel in India. Pristine beaches, calm and clear seas, long roads winding through verdant mountains, and tall coconut trees swaying in the breeze. Who wouldn't want to spend their vacation in this paradise?
Now, the tourism industry in Goa has received a major boost with the introduction of a world-class airport, the Manohar International Airport, also known as the Mopa Airport. Keep reading to learn about Goa's new airport and how it will make the state more accessible.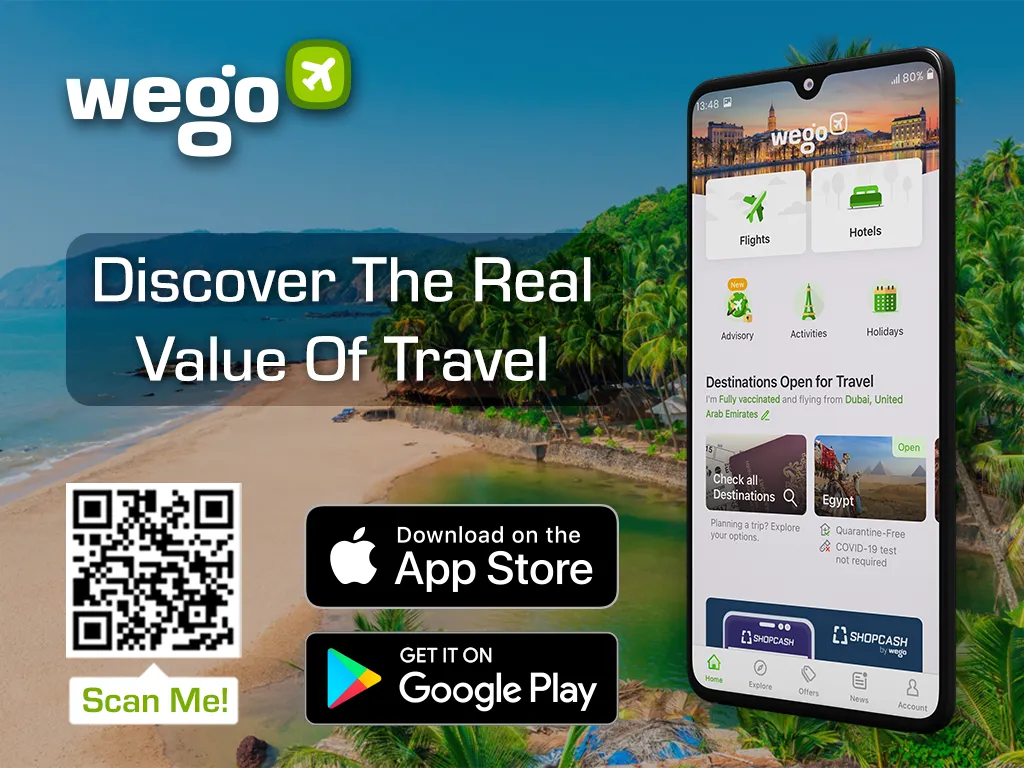 Mopa Airport in Goa latest news
The Manohar International Airport (MIA) in Mopa, Goa, has been designated as an immigration check post for individuals with e-visas, allowing smooth entry for international travelers. MIA began hosting international flights on July 21, receiving its first flight from London-Gatwick airport. Operated by GMR Goa International Airport Ltd, MIA's e-visa facility aims to streamline the entry process and anticipates the addition of more international carriers in the future.
Book cheap flights to Goa
Mopa Airport in Goa
India's favorite travel destination, Goa, is getting a second international airport, making the beautiful coastal state even more accessible worldwide.
The new international airport in Goa is officially named The Manohar International Airport but is commonly called Mopa New Greenfield Airport. Mopa Airport was developed by GMR Goa International Airport Limited (GGIAL), a special purpose vehicle (SPV). Mopa Airport has a passenger terminal building spread across 700,000 square feet, offering plenty of space for passenger operations. During peak hours, the terminal can handle over 1,000 inbound and outbound passengers per hour, guaranteeing an efficient and seamless flow.
The airport sprawls across an area of 2.132 acres and, according to the Government of India, will triple the number of tourists coming to Goa and further boost the state's flourishing tourism sector.
Mopa Airport code
The airport is coded 'GOX' as per IATA and 'VOGA' as per ICAO.
Mopa Airport location
The Mopa Airport is located in Mopa, Pernem Taluka, North Goa District, Goa, India. Its exact coordinates are 15.7302°N 73.8631°E.
Mopa Airport vs Dabolim Airport
With the inauguration of the Mopa Airport, Goa now has two international airports, Dabolim in the south and Mopa in the north.
The newly established Manohar International Airport (MIA) in Mopa, Goa, emerges as a promising solution to alleviate the challenges faced by the existing Dabolim International Airport. Dabolim, operating in conjunction with the Indian Navy, which grapples with operational limitations leading to airside congestion during busy times.
In stark contrast, Mopa's modernized airport promises a respite from the cramped and outdated facilities of Dabolim. Notably, MIA offers a distinct appeal to frequent flyers, boasting a dedicated check-in area and lounge for general aviation. This amenity sets Mopa apart from Dabolim and positions it as a premier choice.
Furthermore, MIA's advantage lies in its night parking options for aircraft and unrestricted operational hours, effectively addressing the persistent issues faced by Dabolim. This flexibility adds a significant edge, making Mopa Airport an attractive option for aviation operators.
Consequently, Mopa Airport could readily become the preferred hub for general aviation operators in the vibrant state of Goa, elevating the overall travel experience. With its modern facilities and forward-looking operational approach, MIA holds the potential to reshape air travel in the region and cater to the needs of a diverse range of travelers.
Mopa Airport flight schedule
Flights commenced at the new airport on 5 January 2023. The new Mopa airport will handle about 200 air traffic movements daily.
The most popular destination from the Mopa Airport is Mumbai, with around 260 flights between these two destinations in a month.
Indigo
IndiGo is operating 168 weekly flights between Mopa and 8 domestic destinations like Hyderabad, Delhi, Mumbai, Bangalore, Chennai, Pune, Jaipur, and Ahmedabad
Flights between Mopa and Delhi, Mumbai, Bengaluru, Pune, Jaipur, Chennai, and Hyderabad will operate on a daily basis.
Flights between Mopa and Ahmedabad will operate all days of the week except Wednesday.
Akasa Air
Akasa Air has commenced flight operations from the Manohar International Airport (Mopa), connecting Goa with Delhi, Bangalore, Ahmedabad, Mumbai and Bengaluru.
SpiceJet
SpiceJet operates domestic flights from Manohar International Airport to Mumbai, Pune, Ahmedabad, Chennai and New Delhi.
Vistara
Vistara operates domestic flights from Manohar International Airport to Mumbai, Bengaluru and New Delhi.
Transport options to and from Mopa Airport
The following are some of the means of public transportation options you have at present to get in and out of the Mopa airport in Goa:
Bus service
The Kadambara Transport Corporation Limited (KTC) operates daily electric buses to and from the Manohar International Airport (Mopa), connecting it with the towns of Margao, Sinquerim, Calangute, Mapusa, and Panaji in Goa. Find out the complete bus timetable, routes, and timings here.
The bus fare depending on the routes, are as follows:
From Calangute via Baga, Arpora, and Mapusa to Mopa airport – INR 200 (USD 2.44)
From Mapusa to Mopa airport – INR 150 (USD 1.83)
From Panaji via Mapusa to Mopa airport – INR 200 (USD 2.44)
From Margao via Panaji and Mapusa to Mopa airport – INR 400 (USD 4.88)
You can book your bus e-ticket from the KTC website.
Cabs & Taxi service
The state government has now launched a Blue Cabs service outside the airport. These cabs will be owned and run by locals of Pernem taluka, where the new airport is located.
Moreover, besides the Blue Cab service, passengers travelling to the Mopa airport can also avail of the taxis affiliated with the Goa Miles app and also those registered under the state-run Goa Taxi App.
You can avail of the taxi service online by booking your taxi from the Goa Miles website.
[Total:

131

Average:

4.8

]