This article has been reviewed by Wego's editorial team to ensure that the content is up to date & accurate.
Updated February 2023
The first place that comes to mind when we think of travel in India is Goa. Pristine beaches, calm and clear seas, long roads winding through verdant mountains, and tall coconut trees swaying in the breeze. Who wouldn't want to spend their vacation in this paradise?
Book cheap flights to Goa
And now, flying to this paradise has become even easier. Keep reading to learn about Goa's new airport and how it will make the state more accessible.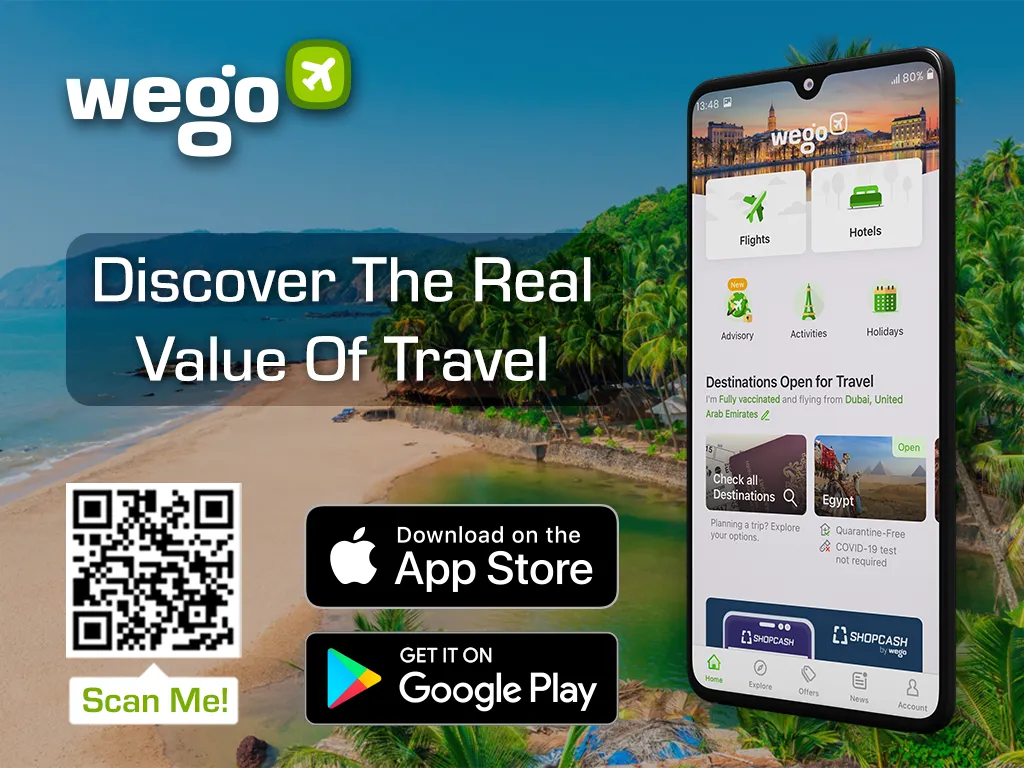 Mopa Airport in Goa news
According to official reports, Goa's new Manohar International Airport (Mopa) is expected to become a regional air travel hub as it will have overnight parking facilities for aircraft, making it a potential base for domestic airlines to build a network based in Goa.
To ease travel to the airport, Chief Minister Pramod Sawant has announced that the government had requested the Konkan railway to explore the possibility of running trains from Pernem to Cancaona to benefit air passengers.
As stated by the chief executive officer of IndiGo, Pieter Elbers, "To start a new airport operation with immediately 168 flights a week to eight different destinations and 1.5 million customers expected this year speaks to the potential in order to develop the base here as well, and for that, we need parking positions and that is part of the discussions we are having,"
Mopa Airport in Goa
India's favourite travel destination, Goa, is getting a second international airport, making the beautiful coastal state even more accessible from all across the world.
The new international airport in Goa is officially named The Manohar International Airport but is commonly called Mopa New Greenfield Airport. It will be located by the Mopa village in Pernem, North Goa, about 35 km from Panaji and 100 km from South Goa.
The airport sprawls across an area of 2.132 acres and, according to the Government of India, will triple the number of tourists coming to Goa and give a further boost to the state's flourishing tourism sector.
Mopa Airport code
The airport is coded 'GOX' as per IATA and 'VOGA' as per ICAO.
Mopa Airport flight schedule
Flights commenced at the new airport on 5 January 2023. As of now, the new Mopa airport will handle about 200 air traffic movements each day.
Indigo
IndiGo has planned 168 direct flights every week to and from the new airport. These flights will connect Goa to at least 8 Indian cities, including Delhi, Mumbai, Pune, Bengaluru, Ahmedabad, Jaipur, Hyderabad and Chennai.
Flights between Mopa and Delhi, Mumbai, Bengaluru, Pune, Jaipur, and Hyderabad will operate on a daily basis.
Flights between Mopa and Chennai will operate all days of the week except Wednesdays.
Flights between Mopa and Ahmedabad will operate all days of the week except Sundays.
GoFirst
Travellers can expect 42 non-stop GoFirst flights every week to and from the Mopa airport. This includes daily connections to Mumbai, Bengaluru, and Hyderabad.
Akasa Air
Akasa Air has commenced flight operations from the Manohar International Airport (Mopa) with six flights connecting Goa with Mumbai and Bengaluru. The airline will also commence more flights to Mumbai, Hyderabad and Bengaluru in the coming fortnight.
Transport options to and from Mopa Airport
The following are some of the means of public transportation options you have at present to get in and out of the Mopa airport in Goa:
Bus service
The Kadambara Transport Corporation Limited (KTC) operates daily electric buses to and from the Manohar International Airport (Mopa), connecting it with the towns of Margao, Sinquerim, Calangute, Mapusa, and Panaji in Goa. Find out the complete bus timetable, along with their routes and timings, here.
The bus fare depending on the routes are as follows:
Margao via Panaji to Mopa airport – INR 400 (USD 4.90)
Mopa airport via Mapusa to Panaji – INR 200 (USD 2.45)
Mopa airport via Calangute to Sinquerim – INR 200 (USD 2.45)
Mopa airport to Mapusa – INR 150 (USD 1.84)
You can book your bus e-ticket from the KTC website.
Cabs & Taxi service
The state government has now launched a Blue Cabs service outside the airport. These cabs will be owned and run by locals of Pernem taluka, where the new airport is located.
Moreover, besides the Blue Cab service, passengers travelling to the Mopa airport can also avail of the taxis affiliated with the Goa Miles app and also those registered under the state-run Goa Taxi App.
You can avail of the taxi service online by booking your taxi from the Goa Miles website.
[Total:

124

Average:

4.8

]