"Where did you go for your honeymoon?" That is one of the most common question that I get asked as a travel writer. The air was thick with anticipation for my answer to the most exotic and wanderlust destination.
So, you could imagine the reaction I got when I replied Beijing. It was the most anticlimactic scenario and almost laughable. However, this country left me with beautiful memories that befits a honeymoon, albeit an unusual one.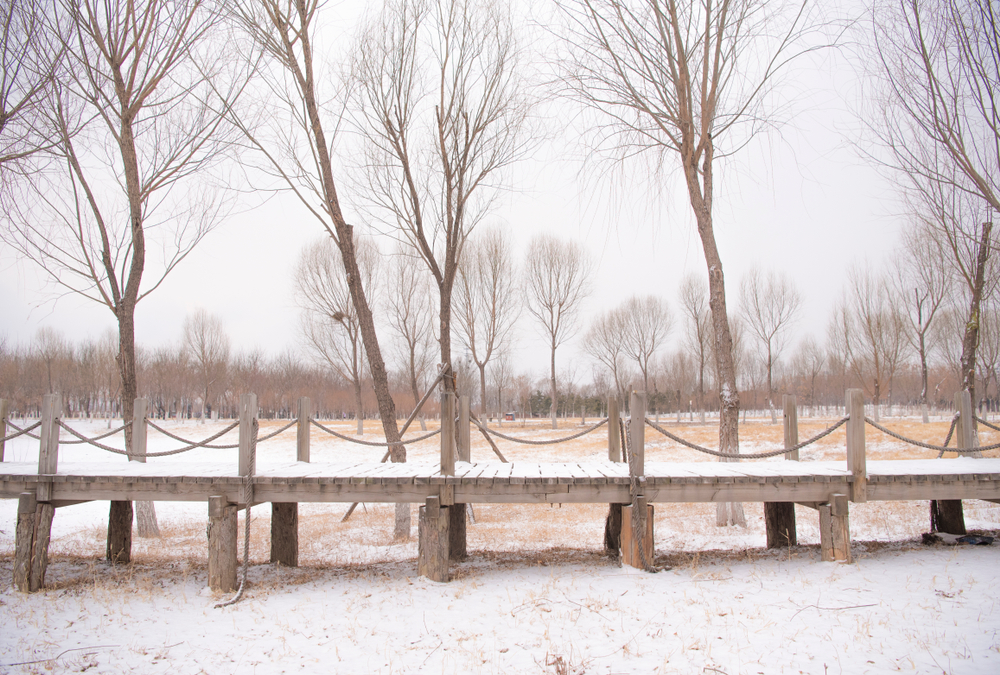 Snow in Beijing is rare, especially in December. Yet our stars aligned, or maybe the capital knew it was our honeymoon and maiden trip. On our first morning in Beijing, it started snowing, as if welcoming us.
Beijing
Our first three days were spent in Nanjing and with only two days left, we headed to Beijing! Intercity travel gave us an excellent opportunity to ride one of China's revolutionary technological advancements: the bullet train.
This high-speed rail is to be experienced by anyone traveling across cities! Only then, one will begin to understand why China is such an intriguing hodgepodge of ancient culture and modern technology.
There were two items on my Beijing trip bucket list. One is to see the Forbidden City, and the other is to climb the Great Wall of China. Without taking any detours, we headed straight for the palatial heart of the nation: 故宫 (Gùgōng), also known as the Forbidden City.
Tian An Men Square
Our local guide started us off at Tian An Men Square. This square is the compass of the Monument to the People's Heroes, the Great Hall of the People, the National Museum of China, and the Mausoleum of Mao Zedong.
It also carries a grim past known as the June Fourth student-led protest or Tiananmen Massacre.
Mausoleum of Mao Zedong takes center stage with the portrait of the ubiquitous Chairman Mao hanging to consecrate the founding father of the People's Republic of China.
Just north of Tiananmen Square is the destination we were headed.
The Forbidden City
How did Beijing Forbidden city come to be? History has it that Zhu Di became the Yongle Emperor and moved the capital from Nanjing to Beijing.
Construction began in 1406 on what would become the Forbidden City. It's hard to wrap our heads around just how massive the Forbidden City is. There are 980 buildings with over 8000 rooms, and all 72,000 square meters was home to 24 emperors for 492 years.
It was astounding to realize that the entire compound was constructed without any modern machinery. Back then, the laborers had to use ingenious ways to move these massive bricks for these fortified walls.
We were told by a local that it was forbidden because no commoners were allowed in, and none of the palace residents were allowed out.
The massive red oil-painted beams frame and support hundreds of symmetrical buildings. The Imperial palace showcases ancient artifacts, carvings, imperial furnishings, beautiful tapestries, and motifs of dragons and phoenixes.
Chinese are highly symbolic in their architecture and designs. The dragons themselves have a hierarchy, and the imperial dragon motif is used only by the Emperor. To tell the dragons apart, you need only look at the number of claws; an imperial dragon has five claws while others have three.
The Forbidden City is now a 14th century UNESCO World Heritage Site, the most well-preserved imperial palace, and the largest ancient palatial structure in the world.
We explored the palace on our own, and there was so much to appreciate. We also had the foresight to come prepared with snacks and drinks for the 4-hour tour. It was frigid, and there was still a considerable amount of crowds, although December was considered an off-peak period.
The Forbidden City is a place where you would have to visit at least twice! Unlike any other attractions I have visited, this place is profoundly more meaningful. It is not only a tourist attraction, but it is part of my roots.
Great Wall of China
I wanted to be able to visit at least one of the wonders of the world. Thus it was a dream come true to see the majestic Great Wall of China and an extraordinary experience.
To be on the quieter side of the Great Wall, we were told to travel further out. Thankfully, it was the wet season, and there were little crowds. I would imagine that would have dampened the experience.
The climb up the wall was treacherous as the snow made the walls wet; it was also a workout because of the incline. It was so fulfilling to reach a point high enough to admire the verdant view and, despite the cold, that fueled us to conquer greater heights. Our legs finally surrendered, and we headed down with a story to tell.
The quieter sections are Gubeikou, Jinshanling, Huanghuacheng, and Jiankou. Then again, China is not exactly a remote country, so having people everywhere should be nothing out of the ordinary.
It was freezing up atop the Great Wall, but the view was glorious. We thoroughly enjoyed our little expedition, although the grounds were slippery with an extremely steep incline. It felt very precarious to be taking photos with stiff cold fingers and tiny phones.
If I could do this trip over, I would have brought my DSLR and capture this magnificent wonder in its deserving glory.
On the flight back home, we have decided that for our next trip, it would be nice to visit the picturesque side of China. For now, we have so much to share with everyone who was worried the honeymoon would be lackluster.
Looking back, the fact that it snowed on our first day in Beijing added a special touch to our honeymoon, because it was the first time both of us experiencing snow. It could have been a scene straight out of a romance movie.
The snow was the most magical parting gift from China and combined with my experience in Nanjing, this whole trip turned out to be a truly unforgettable honeymoon.