In 2010 when Myanmar's repressive military government freed Aung San Suu Kyi from years of unjustified incarceration, the world took notice.
Suddenly, closed doors opened.
Strict visa laws applied to foreign tourists were relaxed.
Interested bystanders bent on visiting Myanmar soon as possible welcomed the change with open arms and wallets.
Almost overnight, Myanmar became the go-to country for all serious travellers.
You simply had to go there before everyone else did.
I can't tell you how many times I've heard that given as a logical reason for visiting Myanmar: 'Go there before it changes forever' is the clich© at the tip of many globe-trotting tongues.
If a popular destination can be smacked by impressions of desperation, Myanmar is it.
I don't believe all of Myanmar will change virtually overnight. The country has been isolated from the world for so long that real change won't happen quickly. For now, change is mostly cosmetic. Politicians like those in power in Myanmar change stripes to suit a different tiger. Big business smells money and moves in fast to make an even faster buck. Where does this leave the majority of Myanmar people? I say, well behind.
Slow travel is what Myanmar is all about. Slow change follows suit.
What have I learned about Myanmar?
To begin, let's study some basic facts about tourism in Myanmar as it is right now.
During high season (November until April) hotels in tourism hot spots such as Pagan, Yangon, Lake Inle and Mandalay are packed to the rafters.
No surprises here.
Why?
First, there aren't enough hotels to satisfy demand. Infrastructure isn't keeping pace with demand despite more hotels going up almost overnight, particularly in Yangon.
Second, those four destinations rightly offer much to travellers and they're justifiably popular. Beyond the four, mass tourism support is rudimentary at best.
Third, this quartet of Myanmar hot-spots is linked by frequent air services. The majority of roads in Myanmar are rougher than a local drug lord. For time poor travellers, flying is the essential transport mode. As a consequence, new airlines have popped up overnight to meet demand. I'm not certain about how well international safety procedures are followed but the country is keen on investment from foreign visitors so risk factors have been studiously reduced. A safe flying policy appears intact though I have my doubts as Myanmar's government is anything but transparent.
How to avoid overcrowding and extortionate pricing during high season?
Visit in the off or low season.
I was in Myanmar during the beginning of the monsoon. Hotels had rooms to spare. Prices were lower. Tourist sites were uncrowded. Like the Thais, Myanmar tourism apparatchik has embraced the descriptive phrase 'Green Season' as an attractive monsoon moniker. Certainly the slightly cooler though damp weather is enticing instead of May and June's sweltering heat.
Most travellers will begin and end their Myanmar visits in Yangon, the country's largest and busiest city. Since the capital was moved to Naypyidaw in 2005, (apparently on instruction from a general's astrologer whose advice was so esteemed by the superstitious leader that an entire city was built at huge expense in the middle of nowhere) Yangon's administrative and government buildings are now mostly vacant or under restoration while morphing into 5-star hotels or perhaps museums. No doubt a shopping centre is planned for a number of those great old relics.
Yangon does nonetheless possess a nostalgic allure. When the British turned backwater Rangoon into the capital city in the late 19th century, the adoption of Victorian Raj-style architecture was apparently compulsory for urban planning under home rule. Much of that stuck-on heritage still exists; serving nicely as Yangon's claim to fame amongst most travellers.
Compared to other southeast Asian cities where 19th century Anglo-Gallic architecture is saved only because crony connected developers can't quite get their greedy hands on the land, Yangon's look of faded glory is conversely refreshing, Just in time, local crooked property developers realise that in Yangon, maintaining an the old look, if only for the building's facade, might just be the ticket to increased profitability.
The 'Rip it down if it's old and falling apart anyway' mentality isn't so prevalent in Yangon… yet.
If UNESCO grants World Heritage listing to Yangon's CBD, as it's rumoured to do, the nail on the heritage coffin won't be struck down hard and the glorious faded ruins will get a fresh lick of paint as they're tarted up for increasing numbers of tourists.
This current state of transition in Yangon partly fuels the 'Go there before it changes' attraction about Myanmar. Most savvy, albeit cynical, travellers realise how money talks universally and how its perverse influence on local history may save a fading impression of colonial glories.
Given the current Myanmar military government's total embrace of corruption on a gigantic scale, no one would be mildly surprised to see the rules bent to suit the aims of the powers that be. Yangon's past is not yet guaranteed for saving.
Of course, Yangon isn't all about  nostalgic architecture tripping. It's the home of the country's most important Buddhist shrine, the sublime Shwe Dagon Pagoda.
What St. Peter's Basilica is to devout Italian Catholics, the Shwe Dagon Pagoda is to devout Burmese Buddhists. Eight hairs of the Buddha are embedded in the main pagoda, unseen but most assuredly there, so I was told by my guide and everyone else I asked.
The great gold wrapped Shwe Dagon is Yangon's true beating heart. A whole great industry revolves around it and the thousands of daily visitors paying tribute to Buddha's teachings.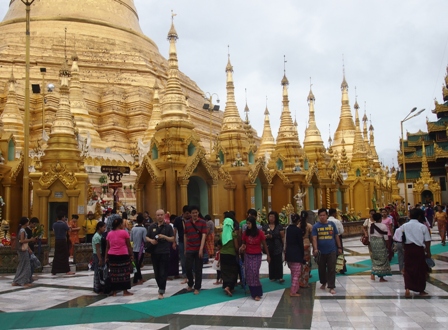 Food markets and restaurants proliferate. Monasteries filled with monks whose dawn perambulations, begging bowls in hand, saffron coloured robes swishing about their sinewy bodies populate the surrounding streets. Shops selling Buddhist relics mix in with florists selling kaleidoscopic arrays of plants for offering to Shwe Dagon's numerous shrines. Astrologists operate out of miniscule holes-in-walls dispensing advice to starry eyed clients, me amongst them. (Apparently I shouldn't trust all my closest friends and a new business venture will grant me great riches next year.)
I visited Shwe Dagon every day during an eight days visit to Yangon. If only to hang out at a 'mohinga' cafe (the country's ubiquitous fish noodle soup, served normally at breakfast) or to sip from tiny cups of 'lapayee', Burmese super-strong sweet,  milky tea, about 10 cents per cup, watching the world proceed slowly by. During monsoon season when rain hammers down with the force of a boxer's punch and humidity is soaking wet high, no one moves very fast.
Yangon's other vital organ, its stomach, comparing favourably to Shwe Dagon's beating heart, is the riverfront. Not a tourist site per se, the commodious wharves is busy from dawn to dusk with all manner of intrastate shipping. Low slung barges loaded with bananas, sugar cane, pineapples, rice and untold tonnes of cargo ready for shipment downriver to the Delta or upriver to otherwise inaccessible towns lining the great Irrawaddy River.
On the Yangon, a tributary of the Irrawaddy, the city is alive and thriving. No industrial cranes operate at these inner city wharves. It's all manpower or no power. Shifting 50 kilo bags of rice up and down shaky gangplanks while balanced on narrow shoulders is a job not suited to the weak or sick.
If you visit Yangon, two stops are obligatory on the local tourist trail: Shwe Dagon Pagoda and the river wharves. See them both and begin to understand how this city truly operates.
One day I ventured with an excellent guide for a walk on the wild side. We made an excursion to the Yangon River's opposite bank to Dalah village, where the rents are cheaper the living is harder and from where the local folk commute daily on grimy crowded ferries. No bridges have been built over the Yangon River. Its bed is too silty and the bridge foundations would prove too costly were two explanations I was given.
Over in Dalah town, I visited yet another food market, this one so squalidly dirty that even I was a bit shocked. When you spy another decrepit pariah dog lying next to a slab of pig meat or a skinny chicken carcass covered in flies on a filthy bamboo table, butcher squatting nearby, machete in hand ready to chop off a gristly bit (the pig's not the dog's) for that night's curry, the overall impression is one of complete exasperation touched with despair. How could I feel otherwise?
Average annual incomes in Myanmar are stuck at the bottom end of extreme poverty levels as measured on OECD scales including annual income, nutrition, work accessibility, education levels and provision of health care.
Villagers migrate to cities such as Yangon in search of a liveable wage, hopefully with cash left over for the family steadfastly awaiting help in the home village. Despite political change, life for the great majority of Myanmar's people continues to be inexorably challenging.
Worse still is a dog's life. I felt sorry for all the street dogs I met in Myanmar. Theirs is not a contented life on the Buddhist wheel of reincarnation. Dalah's dogs appear to have been meted an exceptionally dismal allotment in this life.
My guide and I sat under cover in a cafe out of the rain for a couple hours, chatting about politics and Myanmar's unexpectedly rapid change to modernisation. We had hired a cyclo-rickshaw to cart us around. The driver was a fun guy, ever ready with a smile, sporting iron strong thighs toughened from hauling commuters to and from ferry wharves and the bustling though sodden market. Heavy rains for the past week nearly inundated most stallholders' businesses. Dengue fever was rife. Hospitals were full of patients brought down by the dreaded 'break-bone fever'.
On another day, without a guide in tow, I hopped aboard the slow train around Yangon. In a country with few railroads, Yangon is blessed with a circle line. I kid you not.
From Yangon's faux Oriental folly of a central station, trains depart approximately once every two hours or so, one heading clockwise, another anti-clockwise. Punctuality is admirably respected. This adherence to an almost British sense of punctiliousness is in stark contrast to the state of the rail bed and engine speed.
A TGV train this is not.
For about one dollar, you get nearly three hours of gently unfolding glimpses of life, like looking through a coffee table book filled with arresting images. Fetid slums swimming amidst barges of floating rubbish intersperse with narrow paddies planted edge to edge with water spinach or rice. Some neglected paddies supported cloaks of suffocating water hyacinth; others were bright spots of lotus plants whose blossoms tilted towards the sun hiding behind heavy dark clouds. Fellow passengers napped or chatted on their phones.
Mobile phones have proliferated in Myanmar since the price of a phone fell from USD$2,000 to less than USD$10 in a quick three years. Though internet connection in Myanmar, even in Yangon, is still wonky and the government controls access to online search engines, people seem to have embraced device-life here as much as anywhere else in modern society.
Each station, there were 38 and we stopped at each one during our circumnavigation of Yangon, provided an opportunity to wave at passersby: noodle sellers, nut purveyors, cold drink hucksters and idle onlookers lazing the day watching slow moving trains. Through open windows, no flyscreens or shades, just open space to let in fresh air, rain or clouds of flying insects, passengers are treated to outer Yangon's rural scenery, the occasional water buffalo lifting its horned head from a swampy paddy or a horse cart trundling off into the distance to a market town up the Irrawaddy Delta.
This was the best value commuter experience I've had anywhere.
My very first stop in Yangon, not twenty minutes after passing through a surprisingly congenial Customs & Immigration procedure, was at Aung San Suu Kyi's house located next to Inya Lake in the city's toniest neighbourhood. 'The Lady', as she's known universally in Myanmar no longer lives full time in the house where she was imprisoned for so many years. Instead she lives mostly in Naypyidaw or she's travelling overseas or throughout Myanmar.
Being something of a political animal incessantly curious about what makes governments tick, I also visited the National League of Democracy's national headquarters in Yangon. I leave it to you dear reader to follow up on the vagaries of contemporary Myanmar politics. Suffice to say, it's a nasty business where power is held in the hands of a small group of very nasty people, some related to the ruling junta who pull puppet strings behind the scenes.
Travelling in Myanmar requires a degree of incredulity checking. Gossip-mongering is rife. I heard tales that made my blood run cold; or my ire was raised conversely to boiling point. A few kleptocrats closely connected to government or actually in charge of it, have attained ill-gotten wealth that would cause a blush in the face of a Marcos or Assad or even a Mobutu or two.
The NLD headquarters continue to serve as a focus for military agents spying on campaign workers and visitors. The dingy drinks stalls directly across the road from where Aung San Suu Kyi's volunteers crusade for transparency and justice in national government is where clandestine observers (i.e. paid thugs) are staked out, though their presence is not as stark as it was before the by-elections of 2012. I waved at a couple of them in hopes they'd photograph me from a flattering angle. No such luck.
I also visited the Bogyoke Aung San Museum, the home where Myanmar's modern founder lived with his wife, two sons and daughter before his assassination on 19 July 1947 when he was a mere 32 years old. The house was owned by a Chinese woman and leased to Aung San. When he was killed she donated the house to his memory but the museum was created and opened to the general public only recently. The house was damaged during Cyclone Nargis in 2008, the worst natural disaster to strike Myanmar in recent times, coincidentally a catalyst for regime change due largely to the generals' attempt to isolate global recovery and rescue efforts from the hardest hit areas in the Delta. It is still undergoing repair though the damage was relatively slight. Aung San's assassination day is a national holiday in Myanmar. Known as Martyr's Day, it is marked in commemoration of the country's founding father and his independent legacy.
I came away saddened at the loss of such a young, intelligent and innovative man. The museum is small yet feels intensely personal. Some of his favourite books sit on shelves in a small office. Beds swathed in mosquito netting where the children slept look almost as if they were recently occupied.
By contrast, the National Museum in Pyay Road, Dagon Township is impersonal and austere. The Lion Throne is a remembrance of former royal glory days. Filled with artefacts of Myanmar's dynastic past when various regions held sway over greater Myanmar right up until the country was more or less unified by one ruler in the 1850s when Mandalay became the country's last capital under one king, this is Myanmar's showcase repository of national hegemony. Its curators have done a fine job, probably with minimal resources and they should be applauded.
By all means, visit both museums, easily done in a single day.
Yangon is thriving, there's no doubt about that.
Go there before it changes forever, won't you?
Tom Neal Tacker visited Yangon as a guest of Viator, Travel Indochina and Shangri-La hotels.