This article is reviewed regularly by Wego's editorial team to ensure that the content is up to date & accurate.
Updated 17 September 2021
As countries across the world are ramping up their immunization programs in a bid to end the pandemic, attention has now turned towards booster shots for the COVID-19 vaccine.
It's introduced to enhance immunity levels and to offer an additional layer of protection against infection for a sustainably healthy and pandemic free future.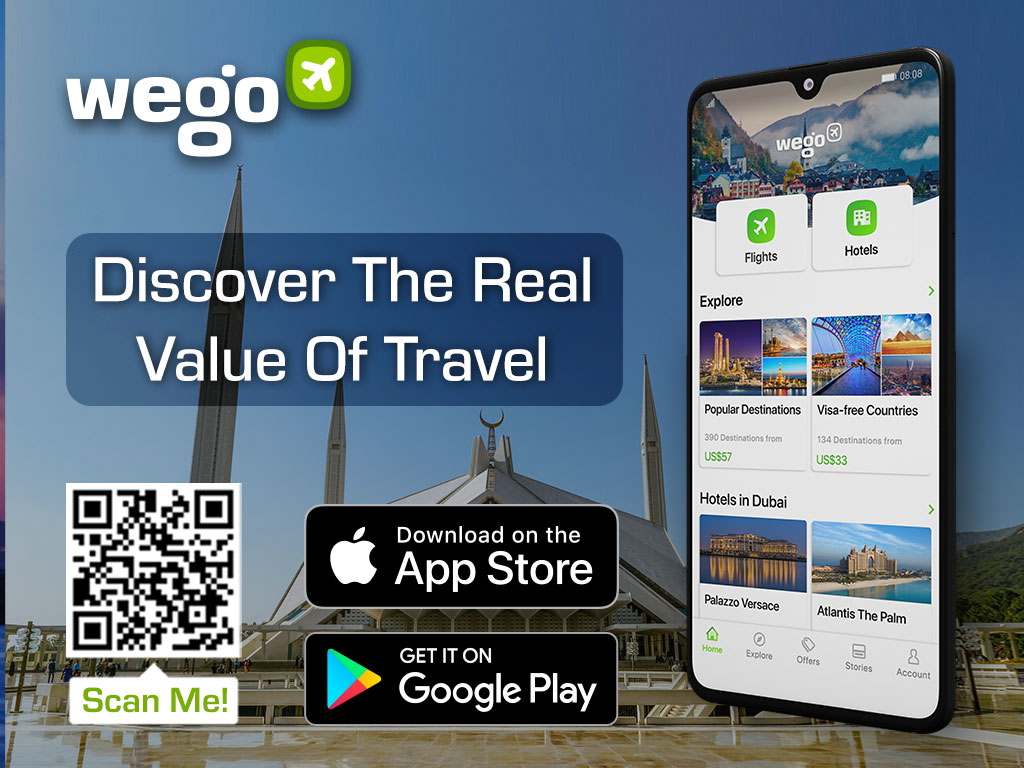 The Ministry of National Health Services has said that individuals travelling abroad can get a COVID booster jab across Pakistan from tomorrow. Here's what you should know about whether you are eligible for the additional vaccine shots, how and where to get them, and the status of other booster shots in the country.
Are booster shots available in Pakistan?
The Ministry of National Health Services has said that individuals travelling abroad can get a COVID booster jab across Pakistan from September 1.
Travellers who have received both doses of vaccine can take an additional booster shot of the country's approved vaccines. Only Sinopharm, Sinovac and Pfizer will be given as additional vaccines.
Who can get the booster shots?
According to the eligibility criteria, issued by the National Command and Operation Centre every individual of 12 years and above, with the mandatory requirement of a specific vaccine, will be able to get additional dose(s) after showing valid travel documents and evidence of the intended travel. The individuals will be required to submit a copy of this evidence at the relevant vaccination centre.
The criteria also covers the following categories of travellers who may be inoculated with the booster jab:
Workers going abroad for employment
Students going abroad for enrolment at educational institutes
Pakistani citizens who reside in other countries and require evidence of specific mandatory vaccine for their return to the country of residence
Those who travel for business or official purposes
Tourists and Hajj or Umrah pilgrims.
Where to get the booster shots?
The government has established a total of 21 dedicated vaccination centres in 18 major cities across Pakistan.
Punjab
Expo Hall No.3
Expo Center Rd, Trade Centre Commercial Area Phase 2 Johar Town, Lahore, Punjab, Pakistan

LDA Sports Complex
Ravi Park, Lahore, Punjab, Pakistan
Government General Hospital
Hospital Rd, Block A Samanabad, Faisalabad, Punjab, Pakistan
Shahbaz Sharif Sports Complex
Shamsabad, Rawalpindi, Punjab, Pakistan
MVC Hockey Stadium
Sialkot, Punjab, Pakistan
Quaid e Azam Academy for Education Development 
Asif Block Wahdat Colony, Lahore, Punjab, Pakistan
Sindh
JPMC- Jinnah Postgraduate Medical Centre
Rafiqui، Sarwar Shaheed Rd, Karachi Cantonment, Karachi, Karachi City, Sindh, Pakistan
Dow Ojha
Baba-e-Urdu Road Karachi, Pakistan

Children Hospital
Buffer Zone, North Karachi, Karachi, Sindh, Pakistan
DG Health Service Office 
National Highway 5 ,Adjacent Services Hospital، Phase 1 Qasimabad, Hyderabad, Sindh, Pakistan
Paracha Hospital
Takkar Muhalla, Sukkur, Sindh, Pakistan

Med Teaching Institute- Hayatabad Complex
Hayatabad, Peshawar, Khyber Pakhtunkhwa, Pakistan
CD Ratta Kulachi
Ratta Kulachi, Khyber Pakhtunkhwa, Pakistan
Benazir Bhutto Shaheed Hospital
Kehal, Abbottabad, Khyber Pakhtunkhwa, Pakistan
Wadudia Hall
Saidu Sharif, Swat, Khyber Pakhtunkhwa, Pakistan

Balochistan
PSH Quetta
Quetta, Balochistan, Pakistan
Islamabad
Taralai Health Centre
Islamabad, Pakistan
Azad Jammu and Kashmir
MVC AJK in City Campus
Muzaffardbad, Pakistan
DHO Office
Allama Iqbal Rd, Sector A-2 New Mirpur City, Pakistan
Gilgit-Baltistan
PHQ Gilgit
Hospital Rd, Gilgit, Pakistan
DHO Office Skardu
Gilgit, Pakistan
Booster Dose Vaccination Centers – Dedicated CVCs

A total of 21 dedicated CVCs will be established in 18 major cities across Pakistan. Other Covid-19 vaccines will be administered in these CVCs also. pic.twitter.com/nRiZ4MvHiR

— Ministry of National Health Services, Pakistan (@nhsrcofficial) September 1, 2021
How much will the booster shot cost?
The fee of the booster dose of vaccines shall be PKR 1,270 per dose across the country. The payment for the vaccination can be deposited in all branches of National Bank of Pakistan (NBP) in the Head of Account; C-Non-Tax Revenue, C02-Receipts from Civil Administration and other functions, C027-Community Services, Receipts; and C02721-Sale proceeds of sera and vaccines
Booster shots approved in Pakistan
As of now, only Sinopharm, Sinovac and Pfizer are being given as booster vaccines for fully vaccinated recipients.
Sinopharm booster shot
The Chinese developed Sinopharm vaccine has exhibited 78% vaccine efficacy and won the backing of the World Health Organisation after its Phase 3 trials. To extend the efficacy of the vaccine beyond six months, a third Sinopharm booster shot has been developed and is being administered in Pakistan at the moment for travellers.
Those who have been fully vaccinated by Sinopharm are eligible for a booster shot. While most Pakistani residents have not been fully vaccinated with Sinopharm, booster shots might become available in the near future if enough residents who are doubly vaccinated need additional immunisation.
Sinovac booster shot
According to a paper published by Chinese researchers, most recipients saw a decline below a key threshold in the antibodies triggered by Sinovac from six months after the second dose. Of participants who received two doses which were either two or four weeks apart, only 16.9% and 35.2% respectively still had a level of neutralising antibodies above the threshold.
Whereas when participants were administered with a booster shot, neutralising antibody levels increased by 3-5 fold in the four weeks that followed the booster shot when compared to the antibody levels seen in the four weeks after receiving the second dose.
Pfizer Booster shot
Pfizer plans to seek authorization for a booster shot worldwide, citing the possibility that protection against the coronavirus will wane six to 12 months after full immunization with the current two-shot regimen. 
As outlined by Pfizer's 2021 second-quarter earnings report, taking a booster shot following the two initial jabs increases the level of delta variant antibodies fivefold and elevenfold in the 18 to 55 and 65 to 85 age groups respectively. A third dose of the Pfizer-BioNTech vaccine is currently authorized for use in Pakistan.
Which booster shots may be on the horizon for Pakistan?
Pakistan's list of administered vaccines includes the ones now widely available in the world: Sinopharm, Sinovac, CanSino, AstraZeneca, Pfizer, Moderna, and Sputnik V.
Read on to know more about the developments in the situation surrounding booster shots for Pakistan's approved vaccines.
CanSino findings on booster shot
The CanSino vaccine has had its biggest base in Pakistan with a 65.7% overall efficacy and with an astounding 100% efficacy in the Pakistani subset.
According to recent studies conducted by China's CanSinoBIO, antibody levels in people inoculated with CanSino Biologics' single-dose COVID-19 vaccine fell by 30% after six months. The decline in antibodies does not necessarily mean the shots will lose their protection.
However, when a second dose (booster shot) was given after six months, antibody levels shot up about eightfold in the two weeks after the shot.
The Chief Scientific Officer, Zhu Tao also suggested that a third booster shot of CanSinoBIO's vaccine three to six months after the second shot of an inactivated vaccine generated significantly higher antibody levels. The CanSino vaccine's booster shot rollout could therefore potentially act as a booster shot for other Pakistan approved vaccines in the future.
Moderna findings on booster shot
The effectiveness of Moderna mRNA-1273 has been estimated at 94.5 percent based on the final research results of 151 cases and an average follow-up of more than two months.
Moderna has submitted an application to the US Food and Drug Administration to authorize a booster of its COVID vaccine after trial data showed a significant increase in antibodies against variants. The first two doses were 100 micrograms, while the booster was half that at 50 micrograms.
AstraZeneca findings on booster shot
The AstraZeneca vaccine which was recently approved by the Government of Pakistan boasts an impressive 90% efficacy against COVID-19 according to the peer-reviewed results of Phase 3 trials. The results also revealed that the vaccine was only 62% effective when participants were given two full doses, but its efficacy rose to 90% when a half dose followed by a full dose was administered.
Along with these findings, a study was also conducted which yielded similar results to the Sinovac study, where the antibody levels were higher post-booster administration compared to post-second dose AstraZeneca booster shots. This provided AstraZeneca with a strong rationale to begin the production of booster shots which has recently been put into action.
Sputnik V findings on booster shot
Developed by the Gamaleya Center in Russia in April 2020, the Sputnik V vaccine has one among the highest vaccine efficacies of 95%. Russian health authorities launched the booster shot for Sputnik vaccines around the end of June 2021 for those who had been sick with COVID-19 or for those immunized more than six months ago.
The makers of Sputnik V have said that they will soon offer a booster shot to other vaccine manufacturers. This booster shot will be "adjusted to work against the Delta variant of the coronavirus" as the Gamaleya Center study submitted for publication that the SputnikV is more efficient against the Delta variant.
Therefore the booster shot could prove useful in combatting the uproar of cases in Pakistan which was mainly contributed by the Delta variant.