This article has been reviewed by Wego's editorial team to ensure that the content is up to date & accurate.
The holy month of Ramadan is considered the holiest and most sacred month of the Islamic Hijri (lunar) calendar. Muslims firmly believe that it was during this exalted month that the archangel Gabriel descended from the heavens and revealed the Message to the Prophet Muhammad.
During the month of Ramadan, Muslims are required to elevate their level of spiritual and physical submission to God by way of fasting; that is to say, Muslims must abstain from eating, drinking, smoking and also husband-wife intimacy from the breaking of dawn until the setting of the sun.
As we prepare to welcome the holiest of months, here are the dates, calendar and guide to spending Ramadan 2021 in Dubai and the UAE.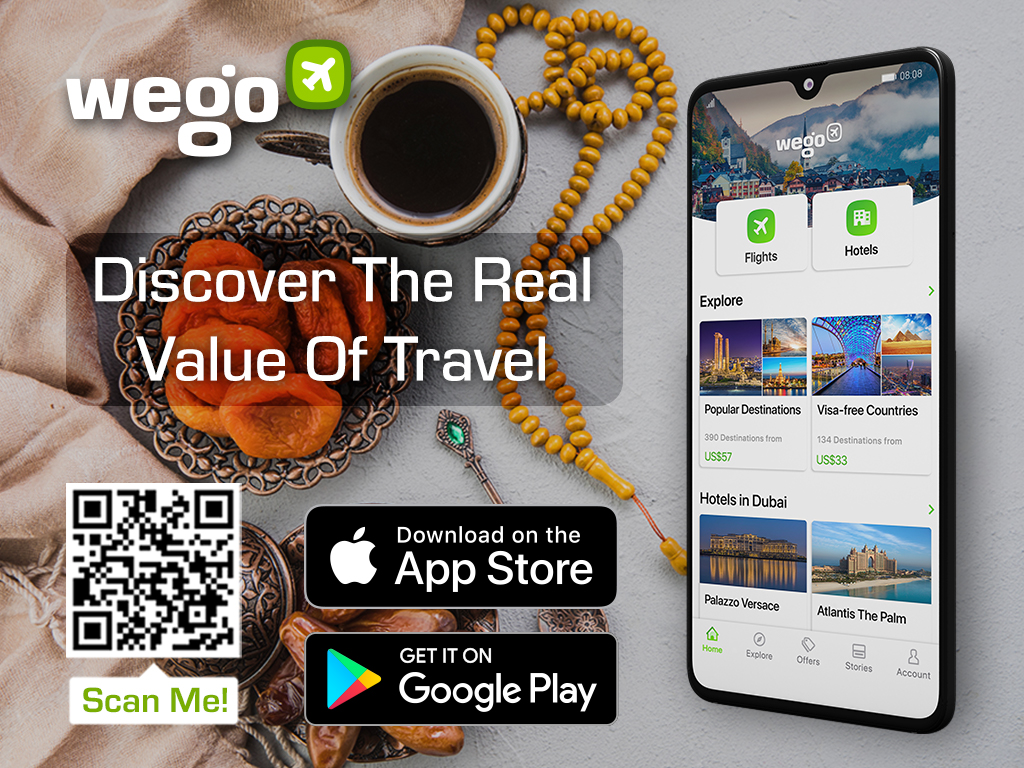 Ramadan dates and calendar 2021
The arrival of Ramadan has always been associated with a certain amount of mystique and contemplation. The exact date of the month's beginning is traditionally determined by religious scholars/authorities under the cover of night as they seek to observe certain sightings related to the appearance and cycle of the moon.
this year, Ramadan is expected to be upon us starting from 12 April and will last until 12 May 2021, followed by the Islamic festivities of Eid al Fitr. 
Ramadan in Dubai and the UAE
As working and operating hours are generally reduced during Ramadan, life in Dubai and the rest of the UAE becomes noticeably more subdued. The majority of residents tend to withdraw and escape the blistering heat, but for the most part, hotels and restaurants are functioning relatively normally. Hotels in particular typically offer attractive deals and offers to the delight of local residents who are all too happy to take advantage and book themselves a staycation.
Popular tourist attractions such as Wild Wadi Waterpark, Warner Bros World, IMG World of Adventure also remain open and do offer considerably cheaper prices of admission. Some shops in malls across the UAE are known to close down during the day and resume their businesses post-sunset.   
After Iftar (breaking of the fast) however, Dubai's vibrancy returns with lively all-you-can-eat banquets housed in numerous Iftar tents city-wide. Eateries and restaurants compete with one another by offering special menus and prices guaranteed to satiate even the most famished. Iftar provides the perfect opportunity for visitors to brush shoulders with the locals and experience the liveliness and hospitality of Arab traditions. 
Lastly, in place of alcohol and the pulsing nightlife, visitors may avail themselves to the Ramadan night markets. These night markets offer exotic traditional street foods and shopping experience set in a bazaar-like setup.
Some rules to observe
Dubai is an international city and one that, to an extent, embraces multiculturalism. As such, non-Muslim visitors may go about their day without having to refrain from eating and drinking provided they do so privately. Eating or drinking in public, chewing gum and smoking are frowned upon, as well as intimate gestures between couples.
Also, it's recommended to dress modestly when in public. Swimsuits and other summer outfits are fine and acceptable when in the hotel or by the pool, but when going shopping or visiting an attraction, please opt for modest and unassuming clothes.
Latest COVID-19 rules and restrictions
As much as we hope Ramadan this year will inch closer to some semblance of normalcy following the UAE vaccination drive, the UAE country did experience a surge in COVID cases earlier this month. In light of the development, there are a series of fresh measures being adopted in all the emirates across the country.
Some of which are as follows:
Dubai
Cinemas and gyms can only operate at 50 percent capacity, while malls and hotels are capped at 70 percent
Moreover, the capacity of all seated indoor venues are reduced to 50 percent 
Guests allowed on a hotel's swimming pool and/or private beaches are limited to 70 percent 
Pubs and bars are temporarily closed
Restaurants and cafes are expected to close by 1 AM and are not permitted to organize any type of entertainment activities
The capacity of seated indoor venues, including cinemas as well as entertainment and sports venues, is limited to 50 percent
International visitors and residents alike are required to provide a negative RT-PCR test certificate prior to arriving
Social gatherings, such as wedding ceremonies or private parties are capped at 10 attendees
For weddings, first degree relatives are the only ones permitted to attend. This applies to ceremonies held in homes, hotels and other venues
In all cases, social distancing measures must be observed at all times
Abu Dhabi
Attendance of government and semi-government offices has been limited to 30 percent
Weekly PCR tests for unvaccinated employees
Swimming pools, private beaches and gyms are capped at 50 percent, while shopping malls' operational capacity is capped at 40 percent
Restaurants, cafes, public beaches and parks at 60 percent, while taxis and buses are 45 and 75 percent respectively
Cinemas are closed, while sports halls are limited to 5 percent capacity
Parties and gatherings prohibited
Wedding ceremonies and funerals are allowed with attendees limited to 10 and 20 attendees respectively
Sharjah
Participants for social events and gatherings (such as weddings) being held at homes must not exceed 20 people. 
Four meters of social distancing must be observed at all times. Additionally, face masks must be worn at all times
It is advised to avoid any and all physical contacts such as hugs, handshakes and kisses
The duration of such an event must not exceed four hours. Tables are limited to 50 percent capacity
Ajman
All unvaccinated government employees are required to take a PCR test once every seven days. This also applies to the emirates of Umm Al Quwain and Ras al Khaimah
All food and beverage establishments must be closed for business by midnight.