There are seven men to every woman in Christchurch. A salacious fact onto which I clutched as tightly as my passport as I flew across the Tasman at the weekend. Six years ago, I saw my first ever fortune teller who emphatically predicted that not only would I meet a man who was either younger than me or young at heart, but I would meet him in New Zealand. At the time I was ecstatic, given I was flying to Queenstown that very weekend, convinced my luck was about to change.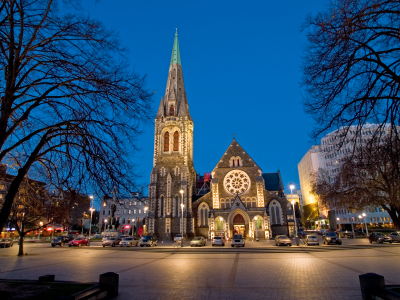 It was my first trip across the ditch and it was incredible, but all I managed to do was meet a male editor who, like me, was stuck all alone in a luxurious alpine lodge with a bunch of honeymooners. We overcame this awkward fact by pretending we were newlyweds who didn't spend any time together except over dinner at night, which confused the smug, happy couples, and is a story about which we still laugh to this day.
A year or so later I won another trip to Queenstown, a jaunty journey on which I invited my sister and about which I have previously blogged the perils that awaited us at our destination. We escaped white outs, igloos, icy mountains, a narcoleptic and a randy ram just by the skin of our teeth and with the assistance of copious amounts of whiskey. The only bloke I met on that trip was on the flight home and whom I wrongly accused of sitting in my seat, which made for some rather awkward hours back to Australia. I returned to New Zealand a year or two later, this time to attend a conference in Rotorua, where I vowed I could never marry a man who smelled strongly of sulphur.
But last weekend I went back, lured by a girl's weekend and the firm fact that there are now seven men to every woman in Christchurch, the odds surely on my side. I should explain this mathematical impossibility by letting you know that the reason there are so many men in town these days is that they are rebuilding this pretty city after the devastating earthquake of February 2011, in which 187 people were killed, 1000 buildings destroyed, and about more of which I will write later.
As per usual, my story begins before I even board the plane when a 60-something man at Sydney International Airport leans him arm against my body, before jumping in surprise and exclaiming: "Oh, I'm sorry, you looked like a table."
Now, I know my universal sex appeal holds no bounds, but even for me, this was a new low. A piece of furniture? A table wearing a leopard-print scarf, clasping an orange handbag and drinking a glass of red wine? Things have leapt off to their usual sterling start.
The clock is pointing glaringly past 1am when I arrive in Christchurch with my four new female friends and when we attempt to check in, the receptionist asks whether we are "here for the wedding?".
"Well, I am looking for a husband", I reply, before scuttling away to my room.
Half an hour later, there's a knock on my door, and just as I'm mentally praising the hotel for their prompt delivery of the man of my dreams, I open the door to find the receptionist who has decided that since one of us asked for a toothbrush kit, all of us must have forgotten our toothbrushes. I ponder this logic into the wee small hours of the morning.
Breakfast is at C1 Espresso caf© with owner Sam Crofskey, 37, who not only lost his original caf© across the road in the quake, but his house as well. Sam was working in his high street caf© when the earthquake hit.
"I was a little bit confused. The coffee grinders fell off and landed on my legs and the power went off and then I could hardly stand," he says. "We needed to get rid of the customers, the staff and then ourselves. We had more than 100 people in the caf© at the time.
"Out on the street everyone was distraught and I thought everyone was over-reacting. I thought we'd come back tomorrow and clean everything up. It took a lot more for me to understand the city was actually gone. When you are here with no power or phone you have no idea what's going on. I was like, my business is ruined, my house is ruined"¦that's annoying."
Sam moved C1 across the road to the old post office "" the first reinforced concrete building built in Christchurch "" and reopened in November 2012. These days, the caf© retains the old post office vault "" now used for a coffee machine; sparkling water is poured from a dentist tap; a sliding bookcase leads to the toilet; and burgers are delivered to patrons via tubes which run from the kitchen to tables.
And on the rooftop there's a vineyard and beehives with plans to build an eight-room boutique hotel here in the near future.
"We wanted to rebuild it as a legacy. There are lots of really cool things in Christchurch. We opened the doors and people flooded in. They really wanted to connect with the central city," Sam says.
"Christchurch was a broken city before the earthquake full of old, white people. It had no young people. But now people are doing cool stuff and are proud to be here. The lights are on and people are home now. The old rules are gone."
It's at this early point in my trip that the story I thought I would write about Christchurch starts to change. We head over to the CTV site where 115 people "" the majority of victims "" were killed in the earthquake. There's nothing there now but a simple plaque, dedicated to the dead. In the background, there's a colourful mural of a naked woman from the Calendar Girl's Strip Club, one of the first buildings to reopen, and presumably going great guns with so many men in town.
Across the road from the CTV site sits the Cardboard Cathedral, constructed from, among things, 96 gigantic cardboard tubes, as a gathering place for the devastated community. But one of the most touching sites in Christchurch sits just across from the cathedral "" 187 white chairs to commemorate every person who died in the earthquake. Visitors are invited to spend time there, reflect and even sit on a chair with the simple words: "choose one that speaks to you."
In the badly affected Anglican Cathedral, locals say when the quake hit, a statue of the Virgin Mary spun around and faced towards Christchurch. Outside here, there's a pile of "sorry stones" on which visitors have penned their condolences. Colourful Buddhist prayer flags flap in the breeze nearby.
But there's also hope among the rubble. In the aptly-named Re:START sector, businesses are blossoming out of shipping containers. New Zealand fashion designers are peddling their wares alongside cafes and craft stores. In New Regent Street entrepreneurs such as Rekindle are turning waste wood from demolished homes into beautiful jewellery, art and furniture.
Just out of town, other businesses, such as The Tannery Boutique Retail and Arts Emporium are finding previously hard-to-secure council approval for businesses is much easier these days, as the city rebuilds. There's even a Ministry of Awesome in Christchurch these days, where some of the city's creatives gather to discuss ways to recreate devastated areas.
It's a city of gap fillers and anchor projects. Colourful graffiti art adorns massive walls, impromptu gardens are planted everywhere and street installations are a delightful discovery around every corner. The town clock, which stopped at 12.50pm "" the precise moment the earthquake hit, still stands in the town.
As for the men, to be honest, I'm so enraptured by this city's story of resilience and resurrection, I forget to look. The earth moved for me in Christchurch, just not in the way I expected.
The Global Goddess travelled as a guest of Christchurch and Canterbury Tourism.