Over the last few years Romania has been getting some well-deserved attention from tourists around the world, many of whom flock to stunning Transylvania.
This ancient region is well known for its beautiful mountains, historic cities and castles, and breathtaking forests. But there's so much more to Romania than Transylvania, as I discovered a few years back on a 2-month Romanian road trip.
Romania is very much a country that is best explored up close and personal. A Romanian road trip is the perfect way to lose yourself in its beauty.
While major highways are still largely under construction, the country benefits from a wealth of country roads, iconic mountain passes, and easily missed trails. Winding through villages and natural beauty, this network can take you to places you'll rarely read about online.
So, let's hit the road now, and discover the beauty beyond the sites of Transylvania.
Getting started
Roads have improved a lot in the 7 years I've lived here, and it's easier than ever to take on a Romanian road trip.
Car hire is pretty affordable and can be arranged in advance, allowing you to pick up your wheels directly from the airport you fly into. There are even companies that rent out motorcycles for the bikers out there!
The best way to discover this country is to grab a map, and make it up as you go along. It's worth having a few things you'd like to visit circled on the map, but as for the places in between, just see what you find!
Wild camping is legal throughout much of the country, though there are plenty of B&Bs to stop at. You'll also find restaurants and markets more or less anywhere you go, even in some of the more remote areas.
The rolling hills of Maramures
Located in the north of Romania, Maramures is a land of fairy tales, rolling green hills, medieval villages, and tradition. The old ways are preserved in this very special part of the country, where the vast majority of villagers continue to live a self-sustainable lifestyle.
It's a stunning area to visit, with humble natural beauty at every turn, and many opportunities to wild camp under a brilliantly starry sky.
Your drive will take you on meandering roads that cut through forests and tiny villages where you're more likely to see a horse and cart than another vehicle.
Look out for the famous wooden churches of Maramures, and the iconic, carved wooden gates that can be found at the entrance to villages and houses alike.
To truly immerse yourself in the local lifestyle, it's well worth heading to the Village Hotel in the village of Breb. Here, you can take guided tours of the surrounding area, feast and drink with the villagers, help out with the chores, and learn the local customs.
Heading east out of Maramures will take you into a series of national parks, packed full of mountain trails to hike, fantastic flora, and amazing wildlife.
Check out the Maramures Mountains national park, and the Rodnei Mountains National Park, both of which offer unparalleled peace and tranquillity. The Prislop Pass winds up through the Rodnei mountains, and into Bucovina, the next stop on our trip.
Mountains and gorges in Bucovina
Bucovina encompasses the north-east part of Romania, and is a land of mountains, waterfalls, rivers, and stunning gorges. The roads here are superb for road trips, wide and winding, passing through breathtaking views.
Though one of the smallest parts of the country, many Romanians consider Bucovina to be the most beautiful part of the country.
Bucovina is also a land of craftspeople and artists, which is clear to see when passing through villages such as Ciocanesti, with its colourful houses.
Keep your eyes peeled for the famous painted monasteries that are dotted throughout the region. Meanwhile, Calimani National Park, fondly known as the place where the mountains kiss the sky, is great for hiking.
If you need a cosy place to stay, Vatra Dornei is a town in the mountains, with beautiful parks, access to mountain resorts, and a bustling town centre.
Follow national road 17B south east for a stunning drive along the banks of the bubbling Bistrita River. There are several opportunities to stop for a picnic or wild camping, with the tiny river island of Zugreni being a hidden treasure.
There's something in the water in Moldova
Not to be mistaken with the Republic of Moldova which is a country in its own right, the Moldova region of Romania lies to the east of the country.
Leaving the mountains behind for the most part, Moldova still has much to offer to the road tripper. Historical towns dot the region, such as Iași and Piatra Neamț, which bring together the old and the new, and are buzzing with culture.
Those seeking an escape to nature can find vast expanses of forest, lakes, and gorges to explore. But for a special experience, it's well worth seeking out the old health spa town of Slanic-Moldova. Doctors still recommend the healing waters, and the resort remains a popular place to escape the hustle and bustle of the modern world.
Slanic-Moldova is famous for its mineral water and has about 15 natural springs, all with different tastes, ranging from sulphuric and eggy, to iron rich and bloody.
The resort is situated in an area of stunning natural beauty, surrounded by forests, streams, and waterfalls, along with several camping opportunities.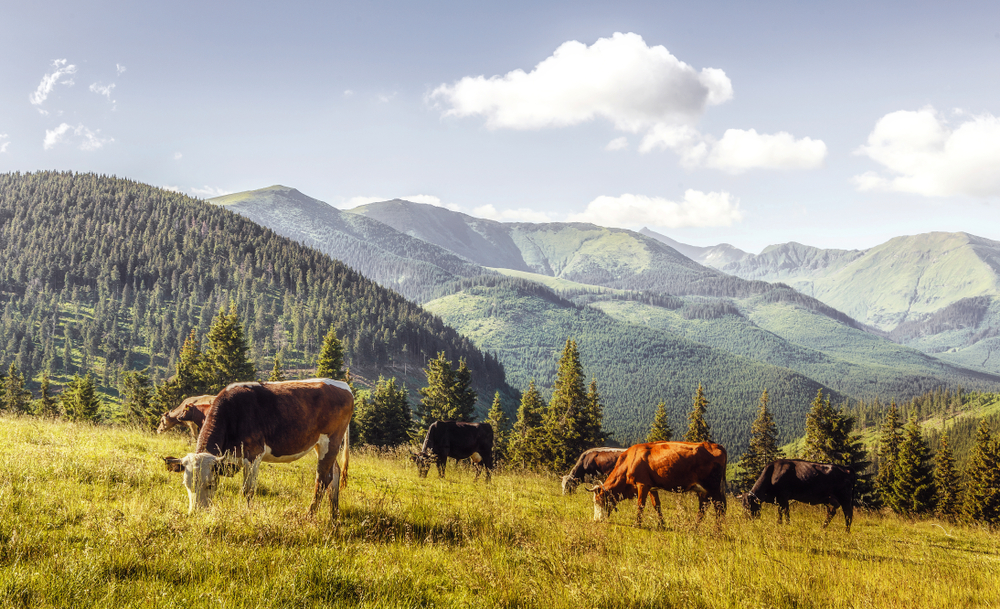 The wild roads of Romania can take you far beyond the tourist trails of Transylvania, and open up a hidden world of outstanding natural beauty, humble people, and incredible experiences. So, what are you waiting for?