If you are planning to surprise your special someone for an important occasion like Valentine's, birthdays or anniversaries, Europe is the destination to go. The continent has a lot of romantic hotspots that would surely woo the one you love and also make it memorable for them. However, a lot of Europe's top romantic destinations are often crowded with people and it may break the mood between you and your partner.
So, where can you go? Fly to Berlin, Germany!
Why Berlin?
When you hear about Germany, you don't immediately associate it with romance. If you like to know more about Germany, do visit germany.travel. People would mostly attribute it with its history and the fact it is the capital city of the country. Munich, Berlin and Frankfurt have so much to offer. In fact, Berlin actually has several secret spots that are sure to catch the hearts of couples hoping to enjoy their romantic vacation without worrying about the crowds.
Here is the list of romantic places around Berlin you can visit with your special someone for Valentine's Day or whenever you visit the country:
1.   Fairy Tales in Märchenbrunnen
The first site on our list is the iconic fairytale fountain of Volkspark Friedrichshain, Märchenbrunnen.
Literally translated to "fairy tale fountain", this fountain was constructed starting in 1907 under the direction of architect Ludwig Hoffmann. Hoffmann wanted to create a fountain that features fairytale characters. It took 7 years before the fountain was opened to the public.
The style of the fountain is neo-Baroque and it features the detailed statues of popular fairy tale characters like Hansel and Gretel, Snow White, Cinderella, Sleeping Beauty and the Brothers Grimm. When World War II occurred, the fountain had been vandalized and damaged repetitively. However, several restorations were done to restore the fountain to its original state.
Today, the fountain is back to its original charm and if you are hoping for a sweet selfie with your partner, it would make the perfect backdrop! Not to mention a fairy tale proposal.
2.   Picnic and paddleboat at Treptower Park
Want to bring your partner to a romantic picnic while in Berlin? Treptower Park is the perfect place to visit.
The park is Berlin's second largest park and was the home of the 1896 Great Industrial Exposition. Later on, the park became the home of a Soviet War Memorial made by architect Yakov Belopolsky in remembrance of the 80,000 Soviet soldiers who died in the 1945 Battle of Berlin.
The park has everything you would need for a picnic or a date, from concession stands selling ice cream and beer, trees providing great shade, to beautiful scenery. Locals recommend walking to Insel der Jugend, the island of youth, and lay your picnic mat in its clearing. Once you finished eating, you can rent one of the paddleboats on the waterfront and take your partner on a short boat ride around the park. If you visit at the weekend, you can also check out the weekend markets as a remembrance of your trip.
3.   The Waterfall at Viktoriapark
Would you ever believe that there is a waterfall in the middle of Berlin? If you don't believe it is possible, you should check out the Waterfall of Viktoriapark.
Opened in 1894, this park in Kreuzberg, Berlin is home to the Befreiungskriege, a monument dedicated by King Frederick William III of Prussia for the liberation wars during the Napoleonic Wars. It is also the home to the Kreuzberg waterfall, a man-made waterfall that starts from the foot of the Befreiungskriege and ends at Grossbeerenstrasse and Kreuzbergstrasse. It is said that the waterfalls were designed after Zackel Falls in Kamienczyk or the Giant Mountains' Podgornej.
Every summer, the waterfall is opened and it is the perfect place for you and your partner to relax and watch. It can even be your picnic backdrop or just a romantic backdrop for your photo.
4.   Cross the Bridge at Schloss Charlottenburg
Nothing screams romantic than a romantic walk on the bridge at Schloss Charlottenburg and its grounds.
Schloss Charlottenburg is the largest palace in Berlin and features both baroque and rococo style architecture that makes it a regal sight to behold. Every summer, the palace grounds are filled with beautiful flowers and ripe citrus trees. It also has a beautiful lake and moats which reflects the backdrop of the castle.
One of these lakes has a beautiful bridge that has a perfect view of the castle, making it a perfect photo hotspot and a place where you and your partner can gaze at each other or take in the romantic aura around you.
5.   Oberbaum Bridge at Sunrise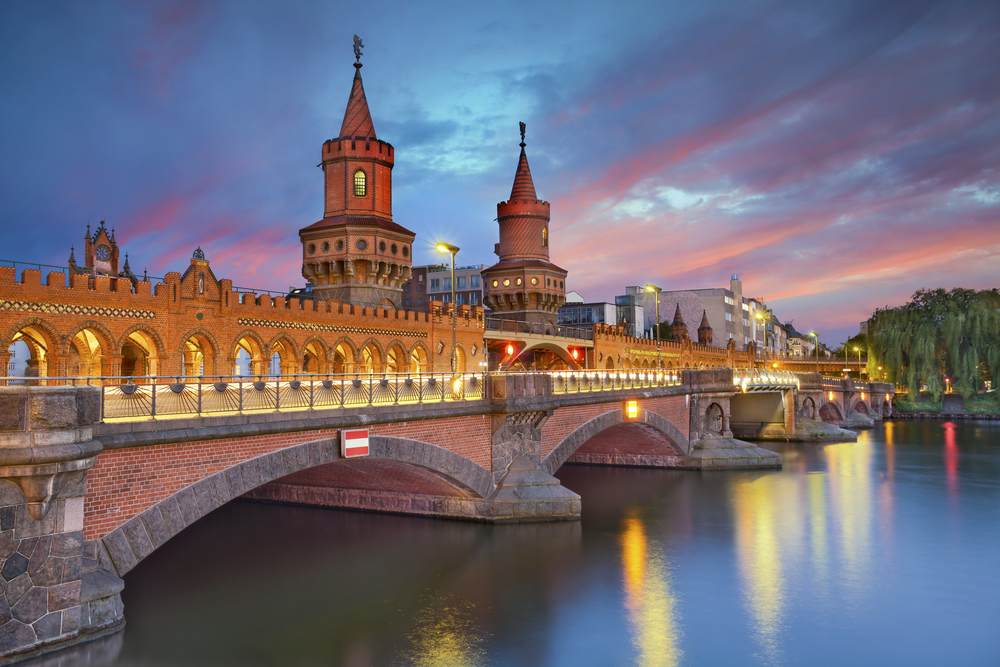 Want to start the day right with your partner? Why not make your way to Oberbaum Bridge and watch the sunrise from there?
This double-deck bridge was originally built in 1732 as a drawbridge and connects the boroughs of Kreuzberg and Friedrichshain. It was changed into a stone bridge in 1896 and considered an icon of Berlin's unification after the Berlin Wall was dismantled. The bridge has been restored to its original state after the Cold War and several elements have been added for visitors to check out during their visit.
Many locals also stress that it is the perfect place to view the sunrise because of its location so make it a point to bring your partner there to welcome the new day after partying.
6.   Treasure hunt in the hidden rose garden of Humboldthain Park
The final spot you should check out is this hidden gem within Humboldthain Park.
Considered by many locals as one of the city's hidden romantic spots, Humboldthain Park was opened in 1942 and has a swimming pool, playground and a water garden for visitors to explore.
If you are bringing your partner along, you can bring them to the park's hidden rose garden. The rose garden is said to be the perfect place to walk with your partner and even have a picnic surrounded by lush roses. You can add some spice to your picnic by purchasing the local wines produced in the nearby vineyards close to the park.
Conclusion
Berlin is not just a regular capital where all you can see are modern structures that don't scream out the romance in any way. However, when you check out these spots, you will definitely change your opinion about this beautiful city and realize its hidden romantic appeal. While you are there, check out the unique and romantic hotels in Berlin. Who knows, you may even discover the other romantic places in the city that would definitely make your trip magical.