It was a choice between Lake Como or Lake Garda, both of which are captivatingly scenic. The former is the choice for holiday home of many Hollywood A-listers; George Clooney, Richard Branson. While the latter has a nostalgic charm of a classic novel.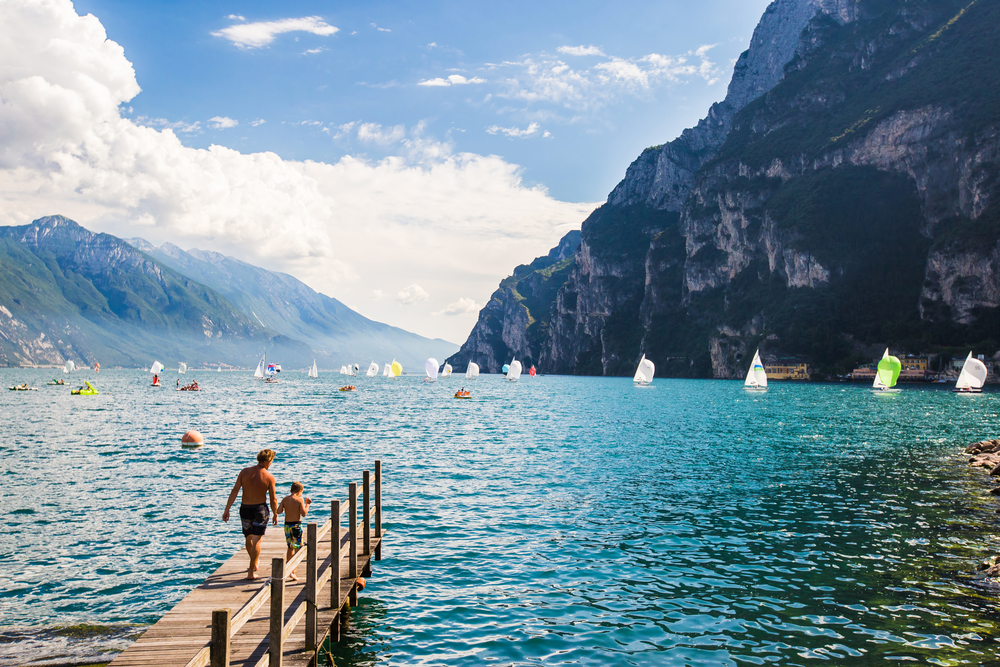 Ultimately, the biggest lake in Italy, Lake Garda, had us at Castles and liquid gold. It is situated in the northernmost region, and with its Mediterranean climate, the colors, mood, and scenery of the 370km Lake Garda changes with the wind.
There is something beguiling about the fact that the lake was formed by a glacier during the last ice age! Its backdrop of snow-capped mountains and  natural rhythm to life has inspired art and to some of the world's most famous poets and painters.
Sirmione and Scaliger Castle
With just over 8000 residents, the fortified town of Sirmione in Lake Garda is a beautiful place to start this journey.
The crown jewel of the city has to be the Scaliger Castle. This most complete and well preserved Italian castle is surrounded by emerald waters and has a beautifully intact port. Climb up 150 steps up to the tower for a breathtaking 360-degree view of Lake Garda and the town of Sirmione.
The streets are worth losing a couple of hours to casual strolling and discovering of restaurants and shops. There are delightful weekly markets where you can find anything from hats to truffles, and you will realize how passionate the Italians are about all things Italian!
A word of advice though, do check the schedule of the markets before you head down to one, as they may only be open on certain days.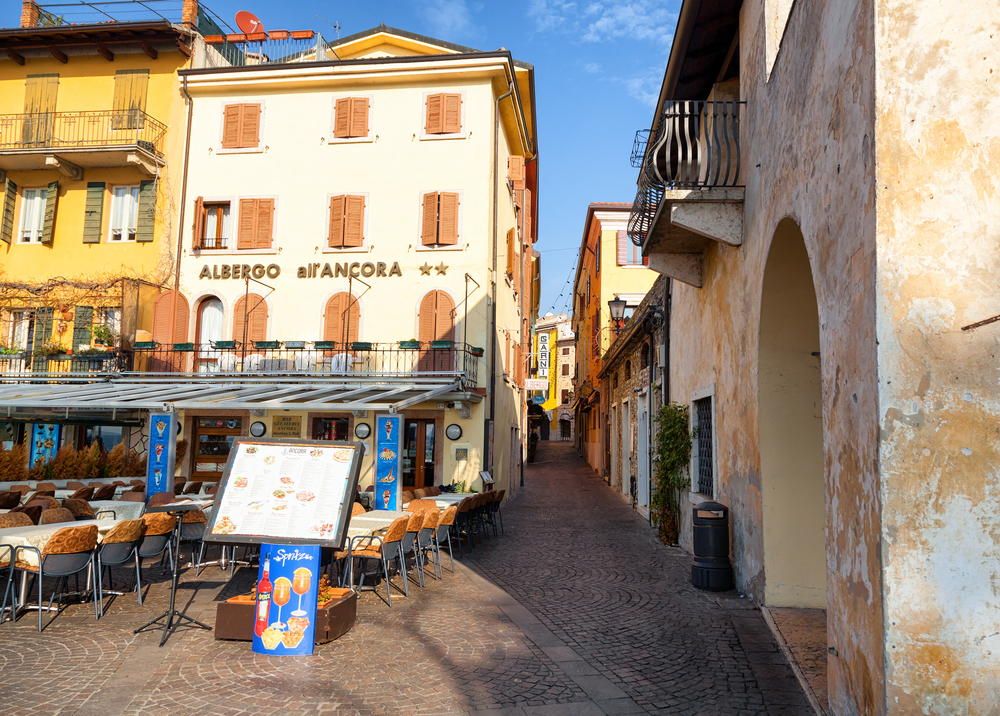 The alleyway will tempt you to indulge in gelato and some of Lake Garda's finest eats. Dinner can be lavish at Ristorante Risorgimento with perfectly prepared dishes, or it can be cozy at La Fiasca, a humble, authentic trattoria where you can savor Lakes Garda's local cuisines, such as the Bigoli Pasta with Sardines.
Gardaland
A little detour for anyone who wants to dial up the pace of their trip. A few rides on the eight roller coasters available will get the adrenaline pumping.
Once voted as the world's top 10 visited theme park, Gardaland is a popular day trip for even the locals. Ideally, you would want to be there as soon as the doors open and strategize a battle plan as to which rides to attack first, so as to maximize the experience of a crowded amusement park.
Limone sul Garda and
Lemon museum (La Limonaia del Castel)
If gravity-defying rides are not your predilection, then taking a peaceful boat from Sirmione to a small town of Limone sul Garda might be more your cup of tea. Home to just over a thousand people, it is a compact little town that is big on charms.
The most distinctive sight in Limone is its Lemon greenhouses and the other citrus trees that decorate the town. Learning about the introduction and prominence of this fruit in Limone is a zesty history lesson, and an interesting way to spend the afternoon.
Limone Cycle Path
Lake Garda is one of the most stunning lakes, and in Limone, there is a bike path suspended 50 m above the lake that offers unrivaled views while you go for a ride. Cyclists and pedestrians share the track and can get rather crowded.
Despite that, the views are worth it, and there is the ambition to extend it to 140 km in 2021.
Limone is a picture-perfect village with its tucked-away stalls, shops, colorful houses, and a secretive boat harbor. And before you leave, fill your bottles from the water fountain at Parco Villa Boghi, a lovely garden, and take in the exquisite view of a lake Garda.
Boat to Riva Del Garda
Riva del Garda is the second largest town, with a deep history that dates back to World War 1, and breathtaking mountainous views embracing you everywhere you go.
Another boat ride from Limone will bring you here. The relics from the first world war will delight history buffs, and its excellent climate and perfect winds make for a summertime paradise for outdoor sports.
Even for a sedentary person, there will be no regrets hiking up Ponale. It is an easy trek with a spectacular view that is straight out of the James Bond movie, Quantum of Solace.
Another magnificent sight to behold is Cascata del Varone, just 3 km from Riva del Garda. Touring the cave will leave you a unique waterfall experience, and also a little drenched.
Olive groves are in abundance in Lake Garda, and some of the world's best production of this liquid gold are found right here.
Responsible for the majority of the olive oil production in Garda is a cooperative, Agririva Riva Del Garda, founded in 1926. Renowned for its olive oils and certified organic for its farming, this gourmet shop is also an authentic place to wine and dine!
Arco at Lake Garda
It is also worthwhile to drive north to nearby towns like Arco, also called a natural clinic for its pristine air quality. You can plan a morning to the weekly market (open only on fixed days), then followed by an afternoon frolicking at Arboretumin Arco, a botanic garden, or visit their many magnificently restored churches and castles.
Lake Garda is all about wandering around with the best of mother nature's beauty as your backdrop. There is truth in the saying, "Not all who wander are lost," as there are so many treasures in Lake Garda to be found!