Macao's roulette of vibrant festivals just never stops spinning — the city's traditional Chinese roots, rich Portuguese influence and sleek cosmopolitan outlook all converge in an energetic blend of endless festivities, and a visit any time of the year will certainly guarantee you a glimpse of the city's enthusiasm for life. Fleets of dragon boats racing down Nam Van lake during the Dragon Boat Festival will leave not only the waters trembling with excitement, showdowns between wushu grandmasters at the annual Wushu Masters Challenge will bring out your inner fire and beautiful lotus blossoms will fill the city with summer charm during the Macao Lotus Flower Festival.
And these are just the opening acts! Macao lives and breathes festivals all year round, but if you really want to catch the city at fever pitch, these 3 festivals are hands-down the best of Macao's festival roulette!
   1. Macao International Fireworks Display Contest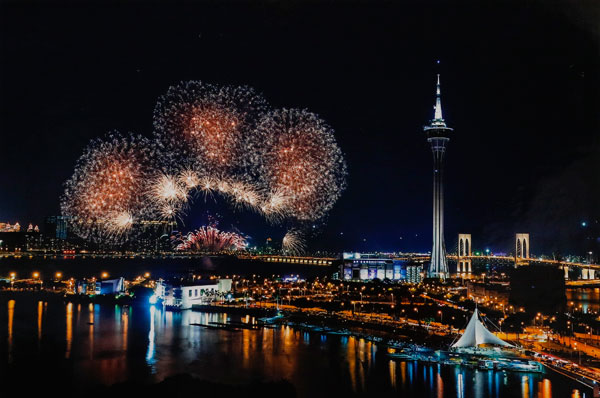 image credits: https://macaulifestyle.com/event/29th-macao-international-fireworks-display-contest-2018/
Nothing quite shouts excitement like seeing the sky light up in a mesmerising display of beautiful fireworks, and the Macao International Fireworks Display Contest certainly knows how to to put up one fiery act. Macao's night sky, Sai Van lake and the city's unique skyline all come together to provide the perfect canvas for this grand display of pyrotechnic wizardry, and the sheer number of fireworks during the event makes it visible from many vantage points across Macao.
image credits: Macao Government Tourist Office
More than 100 teams from around the world have taken turns conjuring up pyrotechnic spectacles, splattering a fleeting riot of colours across Macao's night sky and sea. Past winners hail from many countries, and star teams from Japan, Canada and France constantly rank among the top three. The world's best fireworks teams will all gather for several nights in Macao, making the Macao International Fireworks Display Contest one of the world's most acclaimed fireworks festivals.
Fireworks are part of Macao's Chinese cultural traditions, and the International Fireworks Display Contest represents the perfect marriage of one of the city's traditional industries with its modern, cosmopolitan outlook. The first edition of the event in 1989 only featured five teams from Portugal, Japan, China and Taiwan; past editions of the contest have seen more than 100 teams participating in the fireworks display, and the most recent run in 2018 saw 10 teams competing for grandest display.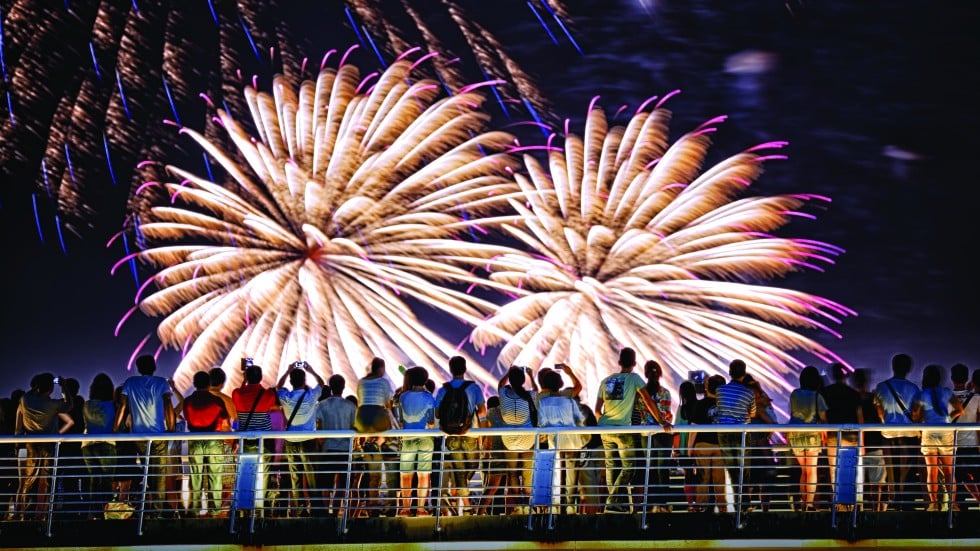 image credits: http://www.scmp.com/destination-Macao/article/2017666/fireworks-art-take-centre-stage-Macao-international-fireworks
The annual Macao International Fireworks Display Contest is usually held over multiple Saturdays in September and two 18-minute sessions of fireworks will be conducted each night. This year's edition will be held on 8th, 15th and 24 September as well as 1st October at 9 p.m. and 9.40 p.m by the seafront area in front of the Macau Tower.
2. Macau Food Festival
image credits: https://en.yp.mo/events/148.html
If the Macao International Fireworks Display Contest is a feast for the eyes, the Macau Food Festival is surely its gastronomic counterpart. A epicurean showcase of literally mouthwatering proportions, the annual Macau Food Festival promises a gourmet experience that not only introduces local Chinese, Portuguese and Macanese dishes, but also takes your tastebuds on a globe-trotting journey across foreign cuisines as well. It's one of the world's largest gastronomic fun fairs, and a mecca for food lovers.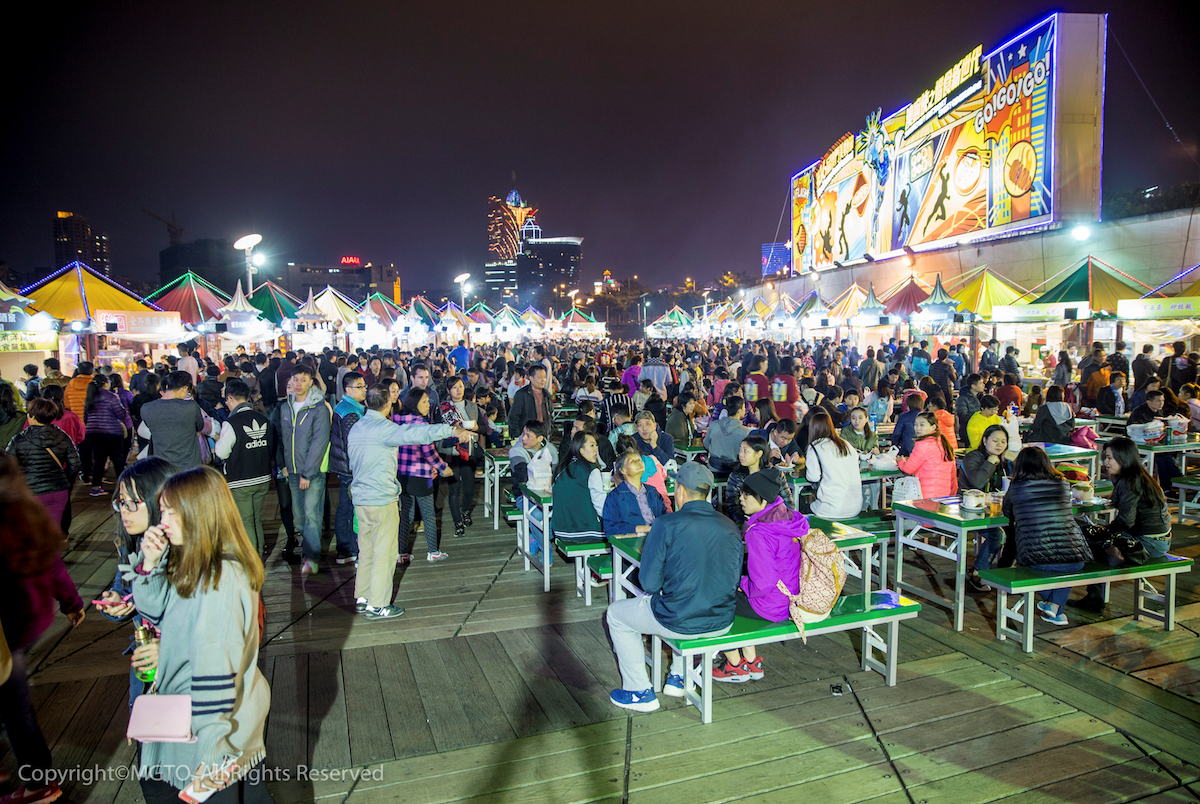 image credits: Macau Government Tourist Office
The 18th Macau Food Festival will be held from 9th to 25th November this year. Every edition of the Macau Food Festival has a theme, and this year's one is no exception. Previous themes showcased World Heritage sites in Macao and even mechanical dinosaurs, and the 2018 run of the festival intends to evoke the theme of global delicacies in Macao. Besides the many food stands hawking a ridiculously vast array of dishes, the festival will also have a number of  game booths, live performances and eating/drinking competitions.
True to this year's theme, more than 150 stalls selling dishes from around the world will set up shop in a global food market organised according to "food streets".  Each food street will specialises in a certain cuisine, and some of them have unique cultural activities and performances. Recent editions of the Macau Food Festival included familiar eats like grilled chicken wings and potong ice cream over at "Southeast Asia Street", as well as delicious seafood and fresh sashimi shipped and prepared by the top-notch Japanese chefs and eateries over at "Japanese Street".
3. Macau Grand Prix
image credit: Macao Government Tourist Office
Singapore's F1 Night Race is the only one of its kind in the world, but did you also know that the Macau Grand Prix is the only street circuit racing tournament that features both cars and motorcycles? With the F3 and Motorcycle Grand Prix events, the Macau Grand Prix has double the heat and double the rush. And that's not all – GT race-car events are also held during the Macau Grand Prix, so it's triple the thrill!
image credit: http://www.bikesportnews.com/news/news-detail/2017-Macao-gp-irwin-tops-first-practice-by-1.4s
The Macau Grand Prix's Guia Circuit's urban features, tight turns and fast straights make it one the world's most challenging circuits, and most of the biggest names in the racing scene like Ralf Schumacher and Takuma Sato first made their marks here. The event has also witnessed some of the greatest moments in racing history, and motor racing fans will remember what a heart-stopper of an event this was in 1990 and 2017.
With 4 supercharged days of non-stop excitement, the streets of Macao aren't the only ones heating up during the races. Each day of the Grand Prix will feature many car and motorcycle races, ranging from practice and qualifying rounds to the much-anticipated Formula 3 Macau Grand Prix title race on the closing day. 
image credit: https://Macaodailytimes.com.mo/racing-expert-calls-f3-guia-legends-race.html
With more than 6 decades of history and international fame, it's easy to see why this event is the most prestigious on Macao's long list of festivals. From motorcycle to the Formula Three title race, the Macau Grand Prix is among the biggest stages for motor racing legends old and new. 
The 65th Macau Grand Prix is set to blaze across the tarmac from 15th to 18th November this year.  This coincides with the 18th Macao Food Festival, which runs for a longer period starting 9th November. With awesome food to try and great races to watch, can there possibly be an even more "shiok" experience?
Whether you'll be enthralled by spectacular fireworks, mouthwatering food or epic motor races, Macao's best festivals all guarantee an exciting experience. Macao knows how to live the good life, so drop by today and join in the non-stop celebrations!