Wego, the one-stop solution for all your travel-related needs, just got an exciting update: a feature which allows you to book hotels now and pay later at ZERO interest. With the new Tabby payment option, you can enjoy the flexibility of planning your trip without paying the fee immediately.
Keep reading to learn more about this exciting new feature! 
Book hotels now, pay with Tabby later
Wego has introduced a new form of payment gateway called Tabby. By choosing to use Tabby, users can secure their hotel bookings on the app (available on both Android and iOS) and pay the fee later in instalments, with NO interest, fees, or hidden costs of any kind. 
Moreover, Tabby lets users split the payment via different channels, which is again, free of cost.
How to use Tabby?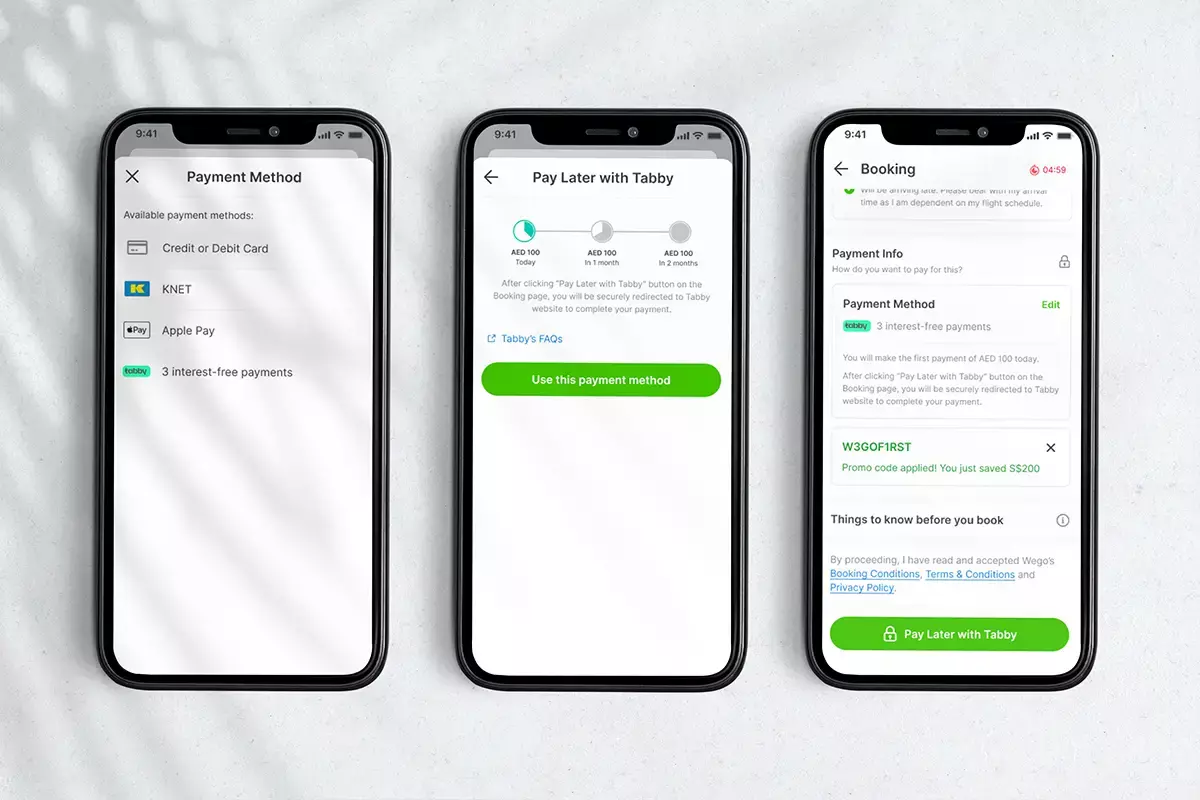 Using Tabby as your method of payment is quite simple and straightforward. All you have to do is:
Choose the hotel of your choice on Wego. 

While selecting the payment method, choose "3 interest-free payments" by Tabby. 

On the next page, click "Pay Later with Tabby". 

After clicking the "Pay Later with Tabby" button on the Booking page, you will be securely redirected to Tabby's website to complete your transaction. 
Where will the Tabby feature on Wego be available?
Currently, Tabby payment on Wego is available only when booking hotels through the app in Saudi Arabia, UAE, Egypt, Bahrain and Kuwait.
Is there a maximum limit for each purchase?
The maximum purchase limit varies according to your country of booking. For instance, the current price cap for bookings from the Emirates is AED 8,000 and for SAR 5,000 for Saudi Arabia. The minimum purchase amount for UAE users is AED 10.