It takes a lot to impress children as most of us know. And how do you choose a destination that you will enjoy but will also keep those a little shorter than us happy as well? Take them to Brisbane!
Australia as a whole offers a wide range of great family experiences, so many in fact it can be difficult to make a choice! Queensland's capital city of Brisbane is definitely a family friendly option, so here's some great ideas on where to take the kids in Brisbane. Many of these are actually free, and I believe you'll find that mum and dad will enjoy it just as much as the kids do.
Brisbane Botanic Gardens
With the cityscape of Brisbane in the background, the Botanic Gardens are an oasis, filled with manicured sub-tropical gardens  featuring Australia's unique flora amidst water trails. The kids will love following paths through an array of exotic trees, and forget finding Pokemon – for those who can't take their eyes away from their smartphones, they can follow a choose-your-own-adventure style story with "The Infected" online game, and search the gardens for a cure to a fictional deadly city plague.
For the little ones, there's Storytime in the gardens.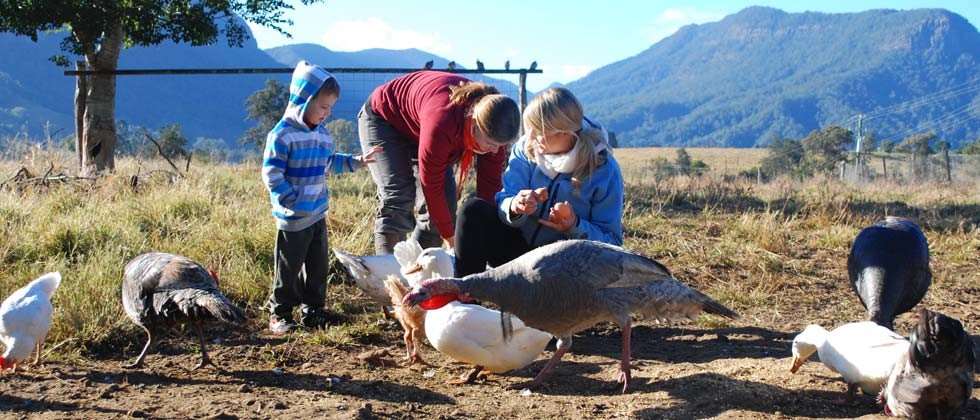 Australian farm life
There's nothing quite like a true Aussie farm experience to get the kids excited. There's a few on the outskirts of Brisbane worth a trip including Lillydale Farmstay (image above), Branell Homestead, Tommerps Dairy and more. Watch them squeal with delight as they feed chickens, turkeys, ducks, horses, and even learn how to milk a cow.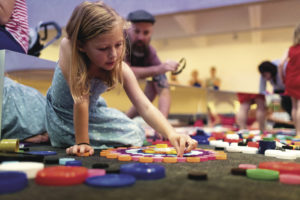 South Bank
You can spend hours (or a couple of days) at South Bank, exploring its 17 hectares of prettily designed parklands with beautiful river views and masses of cool events designed to entertain families of all ages.
Swim at Australia's only beach in the middle of the city at Streets Beach, or share some culture with the little ones at the Queensland Art Gallery, Gallery of Modern Art, or the seriously fun Queensland Museum and Sciencentre for some interactive and educational fun.
Riverlife
This tropical city sits on the Brisbane River which flows through the city towards the coastline where it meets Moreton Bay. The Riverlife Adventure Centre takes full advantage of the city's great climate and gentle river providing fun and adventure for every age group.
At the bottom of the sheer Kangaroo Point Cliffs you can hire a bike, scooter or even some rollerblades, and cruise along the bike paths at your own pace. If you're happy to get wet take a leisurely kayak down the river or try your hand at stand up paddle boarding.
Wheel of Brisbane
Just great fun, and a brilliant way to get your bearings and see just what it is that makes Brisbane so special – from above. Climb aboard one of 42 air-conditioned capsules and gaze at 360° views of the city, reaching a height of around 60 metres. You can board from the Parklands at South Bank.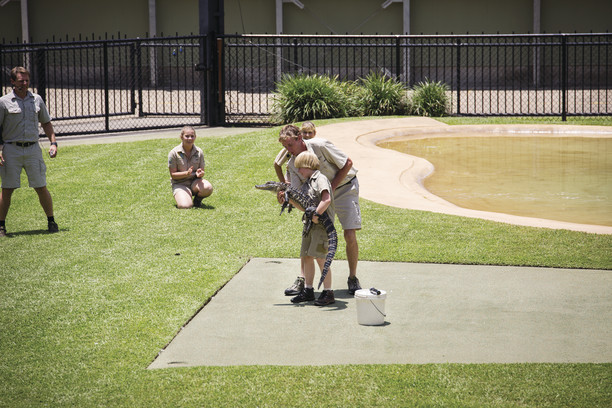 Wild, wildlife
Home to some of the world's most deadliest creatures, but also to some of the cutest, don't miss the opportunity for the kids to get an up-close and personal experience at many of the wildlife parks near Brisbane.
Visit Australia Zoo, made famous by one of the world's most legendary wildlife warriors, Steve Irwin and check out crocodiles, snakes and some of the most awesome lizards you've ever seen.
For a more cute and cuddly experience, visit the Lone Pine Koala Sanctuary and feed baby kangaroos, and see some sleepy koalas and many more.
Ride into the sunset
The Queensland coastline is hugged by a series of mountains covered in natural bushland and rolling green hills. One of the best ways to take in the vast natural environment is on horseback. There's a variety of horse-riding schools where kids can receive some private lessons, or just take a short trail ride lead by experienced horsemen and women, not far from the city.
Champion's game
Australian's love their sport, and rugby league and Australian rules football are favourites. It's a family affair so join thousands of football loving Aussies as they cheer on their favourite teams at Suncorp Stadium.
Dolphin encounters
Catch a fast boat out to Moreton Island and apart from enjoying a wonderful day on the Bay, feed some of the wild dolphins who visit in the shallow waters at Tangalooma Resort. If you decide the island is too lovely to leave, you can stay overnight and then plan some more water activities likes fishing and snorkelling.
Go on, take the kids to Brisbane. It will put a smile on everyone's faces!
Images courtesy of Brisbane Marketing, Tourism Australia, Tourism & Events Queensland