Despite the popularity of its traditional dishes, Germany is blessed with an incredibly diverse gastronomy extending to so much more than just beers, sausages, cheeses and the occasional strudels. Between its iconic pastries, generous main courses and comforting drinks, the German cuisine stands out for its variety and exquisiteness in incorporating various aromas, textures and flavors into the German specialities as we know them today. 
Versatile and diverse, the German cuisine varies from one region to the next and is strongly influenced by local culture as well as contributions from its neighboring countries. The diversity is particularly apparent when observing Berlin, the nation's capital boasting a lively foodie scene featuring fares from all over the world. 
With its versatility, Berlin's foodie scene caters to those looking for a fulfilling dining experience as well as those opting for a cheap and quick bite on the go. This is a city where biergartens, first-class restaurants and out-of-this-world street food hawkers coexist in peaceful harmony as they fill the local plates.
Bist Du schon hungrig? Let us embark on a soul-warming journey through the land of poets and thinkers.    
Getting to know Berlin
It is said that to truly capture the essence of a city, one must immerse in its gastronomic delights. What better way of doing so then by acquainting ourselves with the many local specialties typical of Berlin. From the famed currywurst to the mouth-watering eisbein (pork knuckle), here are some of Berlin's most noteworthy dishes.
Currywurst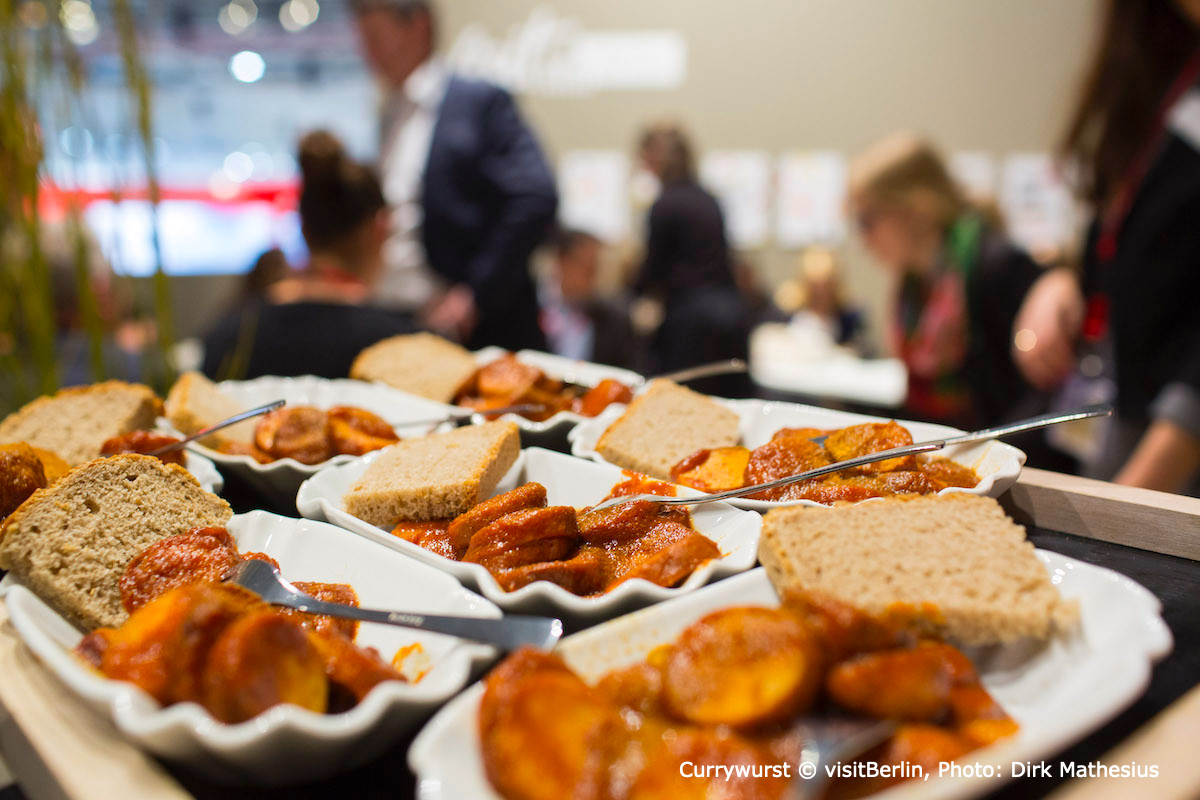 Currywurst just might be the one Berlin food enjoying the most renown. Part of its charm is undoubtedly the apparent simplicity of its appearance, but don't let it fool you; despite the snack's humble presentation, its flavor runs deep and varies considerably depending on where you acquire it. The currywurst consists of cooked or grilled sausages cut into small pieces and served with tomato sauce and curry powder. It's typically accompanied by french fries and German rolls.
Eisbein
A culinary classic of impressive delicacy and skill, the boiled or grilled pork knuckle is the main theme of this typically German dish. The pork is served with sauerkraut and pea puree in place of mashed potatoes (at least in Berlin). Due to its extended cooking time, the meat is both flavorful and tender and simply melts in your mouth.
Döner Kebab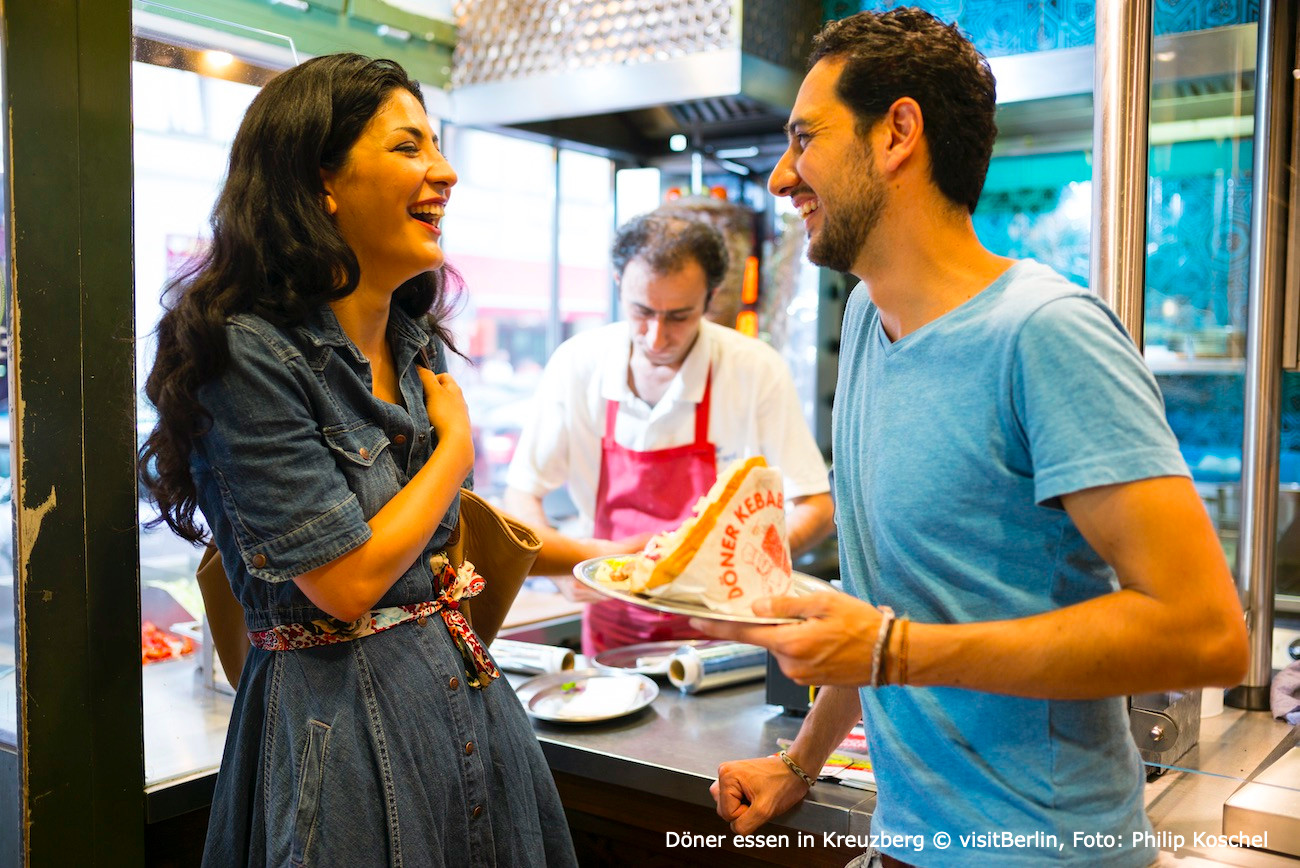 A gastronomic contribution courtesy of the Turkish community of Berlin, Döner Kebab is a treat consisting of finely grilled minced or sliced meat served in half a Turkish flatbread. The flatbread is further enhanced with the addition of green salad, tomatoes, onion and various sauces. Originally hailing from Turkey, the Doner Kebab has made its home in the hearts (and probably the arteries) of Berliners.
Wiener Schnitzel
Viennese breaded veal cutlets served with sauerkraut, french fries or potato salad, which is another traditional delicacy of Berlin. Although veal is commonly used, it may be substituted with beef, pork or even chicken depending on the individual preferences. Wiener Schnitzel is probably the safest bet for anyone unfamiliar with the Berlin foodie scene.
Berliner Weißbier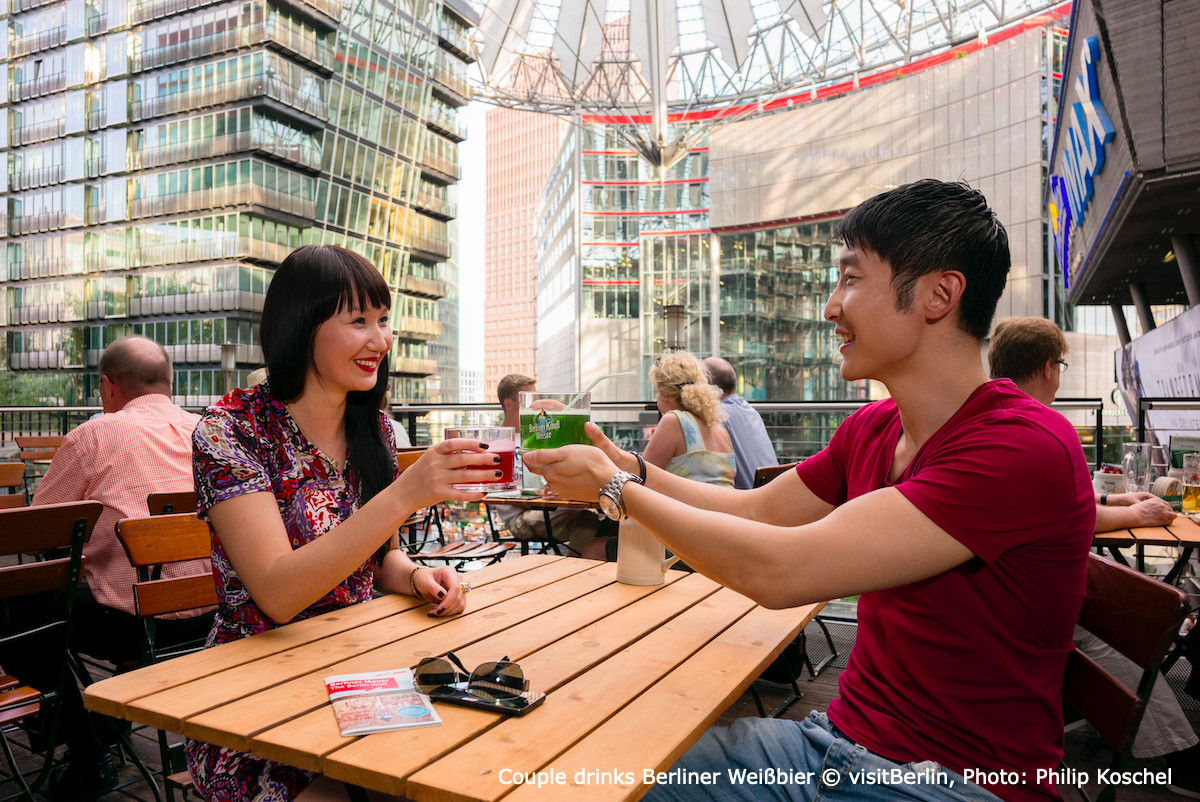 With its numerous beer gardens providing solace for Berliners looking to savour their drinks under the dappled shade of the trees, you'll find the Berliner Weißbier as the city's quintessential beverage.
The Weißbier is typically light, cloudy and goes well with a variety of meat, cheese and even salad. This delightful beverage delivers that pleasurable sensation of well-being we simply cannot do without. While many do prefer the Weißbier along with the addition of flavored syrup such as raspberry and woodruff, enjoying the beverage straight is also a popular option. Typically served in a bowl-shaped glass, the Berliner Weißbier is indeed known as an exquisite drink, with Napoleon even referring to it as 'the champagne of the north.'
Halal-friendly eateries in Berlin
Known for its sizeable Muslim population, Berlin has its share of excellent halal establishments. These halal eateries prepare specialties ranging from Arabic and Turkish to Indian and Indonesian where Muslims may dine with peace of mind. Below are some of the available varieties of halal food dotted nicely throughout Berlin.
Middle Eastern cuisine
Muslim travellers of Middle Eastern origin will find the abundance of Arabian dishes in Berlin satisfactory. From Syrian to Iraqi cuisine and everything in between, all the major gastronomic highlights of the Arabian peninsula and the Persian Gulf are well represented here.
Some of the more prominent Middle Eastern cuisines include the crispy and fresh Falafel, sandwiches with Hummus and Halloumi, perfect for when you need to have a quick bite on the go. If you have a bit more time on your hands, try the comforting Shawarma straight from the pan accompanied by Baba Ghanoush, Tabbouleh and possibly some refreshing Olive Salad.    
Turkish cuisine
Meat is the name of the game when it comes to Turkish cooking. The ever-popular Kebab, Sis, Köfte and Dürüm, have made their presence known and are rightfully considered as prominent Berlin specialties. 
Turkish eateries scattered throughout Berlin have been grilling, sizzling and roasting for their patrons for about half a century now. If you pay any of them a visit, you'll find that many of them feature a large charcoal grill, on which the lamb, beef and chicken is grilled to perfection. And since many of their patrons speak Turkish; you'd be forgiven to thinking that you've been magically transported to an Istanbul grill house somehow. 
Other halal cuisines
While Middle Eastern and Turkish dishes are arguably the more prevalent halal options, gastronomic delights from other regions can also be found here. If you're looking for Indian cuisines, Berlin offers some of the most comprehensive establishments serving authentic delights such as Tandoori, Biryani and Tali dishes.
Southeast Asian halal cooking is also available in Berlin in the form of exotic Indonesian dishes. Though not as prominent as the aforementioned, restaurants serving Indonesian delights are indeed available in Berlin. More popular Indonesian dishes include Nasi Padang, Sayur Lodeh, Soto Ayam, Martabak along with many other traditional dishes and beverages.
This article was made possible with the kind support of the German National Tourist Board in partnership with Wego and visitBerlin. Discover and experience the arts, cuisine, history, language, literature, and travel destinations of Germany.
For more information on traveling to Germany during this time, please click here